Which trends offer opportunities or pose threats on the European market of natural ingredients for cosmetics?
The overriding trends to pay attention to as an exporter of cosmetics ingredients are sustainability, responsibility and 'natural'. These trends overlap and incorporate different dimensions. However, their overriding aim is to achieve positive global impacts on the environment and society. These trends are here to stay and companies across the value chain will be under increasing pressure to pursue ambitious goals in these areas. These trends pose threats to companies that do not make commitments and take action to be sustainable and responsible.
1.

More and more companies committing to UN Sustainable Development Goals (SDGs)

More and more companies are now making commitments aligned to the United Nations' 17 Sustainable Development Goals (see figure 2). The SDGs provide a useful framework for managing and reporting on steps your company is taking to become sustainable. As a supplier in a developing country, it is good idea for you to align your activities to the SDGs as well.

Companies want to demonstrate their sustainable and responsible credentials. All companies that want to take actions to be sustainable need a framework, or approach, that provides structure, measurability and accountability for their activities.

While the SDG framework does not offer certification, the United Nations provides guidance on actions companies can take to support SDG implementation in their operations. The SDGs also complement many other sustainability initiatives such as the UN Global Compact and SEDEX. Guidance available from the UN includes industry-specific guidance with useful resources. The downside of the SDGs is that companies can use them without third-party substantiated data. However, buyers that are committed to responsible sourcing will carry out their own verification. Transparency is a key requirement underlying all steps to become a sustainable and responsible company.

Figure 1: The 17 UN Sustainable Development Goals

Source: United Nations
Developing activities based on the SDG framework will enable you to align your own actions with those of your customers and their customers. If you do not pursue any activities relating to social and environmental responsibility or do not substantiate what you claim to be doing, you are at risk being overlooked by potential buyers, especially those that have made such commitments.
An example of a cosmetic ingredients supplier that is using the 17 SDGs as part of their sustainability framework is Fairoils in Kenya. Fairoils describes which specific SDGs they are working towards, providing a mission and progress statement for each one.
Figure 2: Fairoils, Kenya, UN SDG mission statement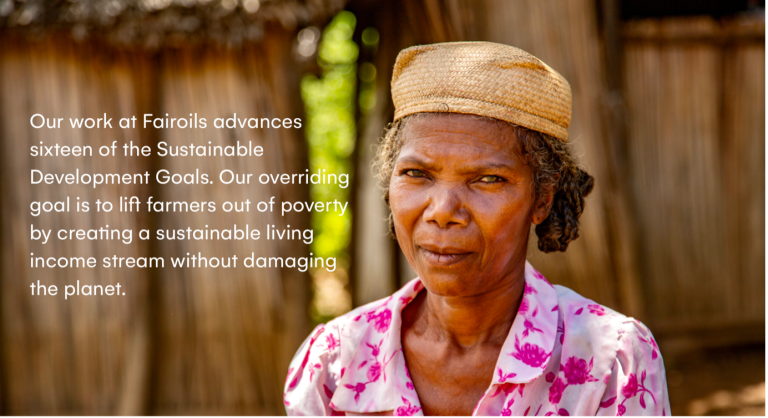 Source: Fairoils
European companies have to show their stakeholders what specific actions they are taking to substantiate their claims of sustainability, and your company must do the same. The 17 SDGs provide a ready-made, easy to use framework with plenty of resources and guidance available. Therefore, make sure your company presents its efforts in the context of and aligned to the SDGs.
Tips: 
Implement activities that help your business achieve net zero emissions.
Publish your targets and progress on your website.
Use the SEDEX, ESG, Global Compact and UN SDG frameworks to structure and systematise your activities.
2.

Ethical sourcing is a key expectation of the cosmetic industry

Ethical sourcing is a key part of being a sustainable supplier. Merely using the framework of the 17 SDGs to guide your approach to being a sustainable supplier is not enough. You also need to demonstrate that you are an ethical supplier. Fortunately, there are several low-cost tools and frameworks available to systemise your ethical commitments and activities. They include the UN Global Compact, SEDEX and ESG (Environment, Social and Governance). All are easy to introduce and you will be expected to be using at least one of them.

These ethical frameworks focus on a narrower set of commitments than the UN SDGs. They come out of rising consumer expectations about fair workforce practices, eliminating bribery and corruption and not harming the environment. These expectations will not diminish and in fact companies are under greater pressure to do even more. In the European Union, these ethical frameworks are moreover becoming law, as will be discussed below.

SEDEX is a popular ethical auditing tool used by many companies in the cosmetic industry. Its overall aim is to help companies develop business practices to address social and environmental risks in their supply chains. SEDEX is based on the principles of the United Nations Guiding Principles for Business and Human Rights (UNGPs), the UN Sustainable Development Goals (SDGs), the Ethical Trading Initiative Base Code and International Labour Organization Conventions.

SEDEX is a membership organisation for both buyers and suppliers. Suppliers complete a self-assessment questionnaire with questions about labour, health and safety, environment and business ethics. Suppliers can elect to make their ethical profile data available to registered buyers. They can also choose to have a third-party 'SMETA' audit done at a later stage, which is based on the same assessment questionnaire.

PT Mignon Sista International, based in Indonesia, supplies a wide range of essential oils and spices. They started business twelve years ago and have grown into a successful exporter that complies with many international standards. What was missing was a framework they could use to demonstrate their commitment to operating ethically and responsibly. As a first step towards this, they became a member of SEDEX in 2021. They completed the self-assessment and are in the process of the third-party SMETA audit.

Figure 3: Certifications held by Mignon-Sista International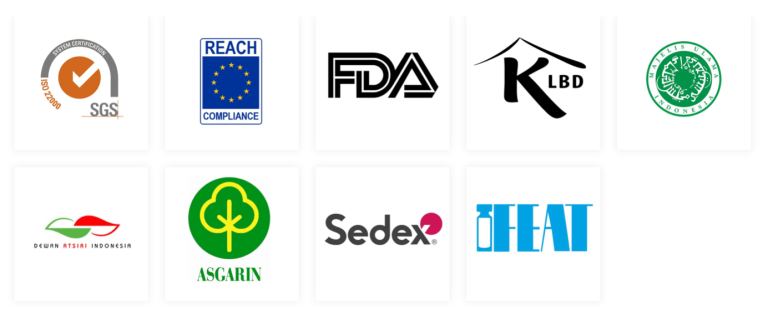 Source: PT Mignon Sista International
The UN Global Compact framework is a self-assessment procedure based on 10 principles and built around four pillars: human rights, labour, environment and anti-corruption. According to the UN Global Compact website, "By incorporating the Ten Principles of the UN Global Compact into strategies, policies and procedures, and establishing a culture of integrity, companies are not only upholding their basic responsibilities to people and planet, but also setting the stage for long-term success." To date, more than 16,000 businesses have joined the UN Global Compact.
To join the Global Compact you must (a) prepare a letter of commitment (LOC) addressed to the UN secretary-general and signed by your company's highest-level executive in which your company commits to implement the Ten Principles of the UN Global Compact, (b) take action in support of the Sustainable Development Goals and (c) submit an annual communication on progress (COP).
ESG, which stands for 'Environment, Social and Governance', is a general framework first introduced to inform investors about companies' social and environmental impact and governance beyond simply generating revenue or making a profit. According to an article about ESG published by the UK's National Development Bank, the Confederation of British Industry found that two-thirds of investors take ESG factors into account when investing in a company. This means ESG has the potential to grow your business while benefiting the environment and community.
A final aspect underpinning efforts around supply chain sustainability and responsibility is traceability. European cosmetic ingredient businesses have always taken a keen interest in the origins of their raw materials, but this interest has reached a new level in recent years. European buyers expect more traceability information, going all the way back to the source of raw materials. This development is tied to the significant increased importance of responsible sourcing and sustainability. Traceability is now a fundamental component of risk assessment and monitoring of supply chain developments.
Illustrating the importance of traceability is the extract below from the Givaudan Responsible Sourcing Policy, explaining what this means at Givaudan.
Traceability back to source for raw materials
Givaudan is committed to creating transparent sourcing networks with traceability to the raw materials source, as supply chain transparency serves as the foundation for assessing and monitoring risks, as well as enabling engagement with our suppliers to support improvements towards meeting our Policy.
We expect our direct suppliers to support our commitment to traceability by providing information of the steps and actors within their own supply chains to the primary production level. In this respect we require our direct suppliers to deploy the standards outlined in this Policy to their own supply chain partners up until the source of the raw material.
Unlike the food industry, in which traceability is legally enforced, there is no such requirement in the cosmetic industry. However, higher consumer expectations about social and environmental responsibility in supply chains are driving companies to invest in certification schemes to substantiate their publicly stated commitments. This is serving to increase requirements on all suppliers throughout the supply chain.
Looking to the future, the more stringent requirements that European businesses face from not only lawmakers but also consumers will cascade across the supply chain to reach you as a cosmetic ingredient supplier as well. You have to be ready to meet this challenge. To learn more about future EU regulations on sustainable and responsible corporate conduct, see the section below.
Tips:
Implement activities that help your business achieve net zero emissions.
Publish your targets and progress on your website.
Use the SEDEX, ESG, Global Compact and UN SDG frameworks to structure and systematise your activities.
Develop a baseline for measuring your social and environmental commitments. Make sure you have easy-to-measure and easily verifiable targets and communicate what you are doing.
3.

Environmental protection and naturals are priorities for consumers

Consumer buying trends are shifting towards cosmetic products that are more sustainable. This is generally understood to mean products that are not harmful to the environment, and especially those with a higher content of natural ingredients. As a supplier of natural ingredients for cosmetics, you should therefore highlight your environmental credentials at both the company level and ingredient supply chain level. For example, what actions are you taking to move your company towards becoming a net zero company? What are you doing to ensure that the production or sourcing of raw materials you process into cosmetic ingredients is environmentally sustainable?

According to the market research group Kantar's 2022 Global Beauty Report, sustainability is leading the global conversation about cosmetics and there is global consumer emphasis on using sustainable products.

Figure 4 shows the shift in consumer opinion between 2017 and 2021 on the importance of not using products that are harmful to the environment. In European countries this share has increased, notably in France, Germany, Spain and the UK, which are the largest markets in Europe.

Source: Kantar Global Beauty Report 2022

Note: only European countries are shown in this graph

Kantar concluded that the use of naturally produced ingredients has become consistently more important to consumers worldwide over the past five years. In France, 23% of consumers said it was a reason to purchase face and body products in 2017, compared to 32% in 2021. There were similar shifts in Germany and the UK. (see figure 5). Therefore, natural and vegan products are continuing to grow in popularity as consumers around the world become more conscious of the ingredients in and sustainability of what they are buying.

Source: Kantar Global Beauty Report 2022

Note: only European countries are shown in this graph

Apart from the environmental aspects of using natural ingredients, consumers are increasingly interested in how people are treated during every step involved in getting ingredients into the products they buy. This is making natural ingredients a highly desirable component of cosmetics. They are seen as being safe, with a low environmental impact and potentially high social impact.

This trend or consumer expectation offers opportunities for suppliers across the whole value chain, from raw material producers and collectors up through cosmetic product manufacturers. Businesses throughout the European supply chain are therefore investing in developing their sustainability and environmental, social and governance credentials and ESG reporting. In effect, this means they are allowing more public scrutiny of their business activities.

As a supplier of natural ingredients to these European businesses, you should take parallel steps in your own operations. Not taking action is a threat to your business. Looking to the future, you can expect consumer preference for sustainable products that do not harm the environment to continue growing. This will create an increasing need to demonstrate positive social and environmental impacts in raw material supply chains.

There is a wide range of certifications and standards to choose from, covering ethical sourcing, responsible sourcing, fair trade, natural and organic. All of these standards fit under the broad umbrella of sustainability. Natural, organic and fair trade are more relevant for niche markets as the products that meet these standards represent only around 5% of the European market. However, social and environmental responsibility in supply chains can no longer be considered optional.

Four private certification bodies that certify suppliers of natural, organic, fair and ethical ingredients for use in cosmetics are described below.

Union for Ethical BioTrade (UEBT)

The UEBT certification label is awarded to companies that meet the criteria of the UEBT standard for respectful sourcing. These companies are committed to ethical sourcing of ingredients from biodiversity and treating people and biodiversity with respect. The UEBT standard is based on the Convention on Biological Diversity to conserve and sustainably use biodiversity and ensure fair and equitable benefit-sharing.

Fair for Life certification guarantees that human rights are safeguarded at all stages of production. Workers are assured of good and fair working conditions and smallholder farmers receive a fair share. By providing means for social community projects and empowering people, Fair for Life is improving the livelihoods of thousands of smallholder farmers and workers.

NATRUE is a certification scheme for natural and organic cosmetics. In addition to final product certification, there are also two categories for raw materials: Approved Raw Materials and Certified Raw Materials. The difference is that 'approved' raw materials are not organically certified but only have their documentation checked by NATRUE. 'Certified' raw materials are in fact organically certified and this certification must be verified. Both categories also meet other NATRUE criteria. Their product database is a useful source for finding companies that may be potential customers or competitors.

COSMOS is a certification scheme for natural and organic cosmetics. Their product database is a useful source of information about companies that offer COSMOS-certified raw materials. These companies may be potential customers or your competitors.

A self-assessment scheme for natural ingredients has been developed by ISO. The aim of ISO16128 is to aid ingredient selection for formulations and thereby meet growing consumer demand for natural cosmetics. The standard is not a certification but a set of guidelines on definitions for natural and organic cosmetic ingredients. It offers a framework to determine the natural content of ingredients and formulations and so increase transparency for both manufacturers and consumers.
Tips:
Set up a policy and practices based on that policy to ensure you are eliminating or working to eliminate your impact on biodiversity.
Look at what more you can do to 'reduce, reuse, recover, repair and recycle' in your company. For inspiration, read the example below about Mitra Ayu Adipratama in Indonesia.
Establish a baseline, set a target and then measure your progress and communicate it.
Communicate honestly about your progress rather than trying to hide any poor performance. Show accountability for areas that still need improvement and be open about addressing outstanding issues.
Consider obtaining one of the certifications or approvals for your natural ingredients described here.
For more information about ISO16128, see the CBI study: What requirements must natural ingredients for cosmetics comply with to be allowed on the European market?
4.

Cosmetic companies focused on cash flow

The global economy is slowing down. Consumers are cutting back on spending and although the cosmetic industry has historically been resilient to economic downturns, recent increases in logistics and energy costs present significant challenges. This is impacting everyone in the value chain, from producers to consumers. Companies are responding by taking more serious measures to manage their cash flows, reduce stocks, extend payment times and cut costs. As a supplier of cosmetic ingredients, you have to respond the same way, by shortening your cash flow cycle, reducing costs and adding value wherever you can. Clearly aligning your business to the key natural and environmental trends must be part of your strategy.

In October 2022 the IMF reported that global economic activity was experiencing a broad-based and sharper-than-expected slowdown, with inflation higher than seen in several decades. The cost-of-living crisis, combined with the Russian invasion of Ukraine and lingering Covid-19 pandemic all impacted this outlook. The increased cost of logistics is related to this. The IMF forecasted that the global economy will shrink to 2.7% in 2023, compared to 3.2% in 2022.

Figure 6: GDP growth projections by regional markets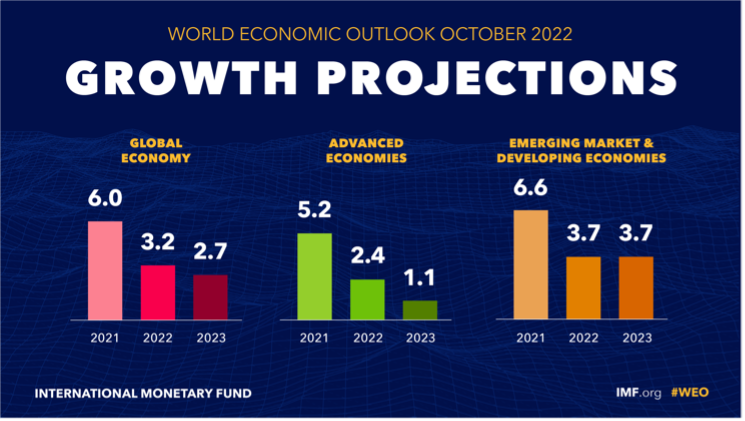 Source: IMF
This is the weakest growth profile since 2001, with the exception of the global financial crisis in 2007 and acute phase of the Covid-19 pandemic in 2020-2021 (see figures 6 and 7). The growth projection for the Euro area is lowest, at 0.5%.
In 2023, global inflation is forecast to decline from its peak of 8.8% in 2022 to 6.5% in 2023, and then decline further to 4.1% by 2024. Emerging and developing economies are expected to see higher inflation and advanced economies lower inflation than these global averages.
As stated, the cosmetic industry has historically been resilient to economic challenges. According to a report published by Beauty Matter in August 2022, although the beauty industry was able to withstand many pandemic-related challenges, there is not a single beauty brand today that has not been impacted by supply chain challenges, rising interest rates, inflation and price increases.
Over the past year since the Covid pandemic, the cosmetic industry has seen a return to growth (see figure 7). Retail sales increased by 4.3%, which was above the rate of inflation.
Source: Fair Venture Consulting
At the same time, the Covid pandemic and its impact on shipping costs and other logistics were still affecting imports of vegetable oils and essential oils from non-European countries. Although retail sales of cosmetics increased in 2021, imports of ingredients from non-EU countries were down in 2021 compared to 2020.
Interestingly, total EU imports, including from within the EU itself, were up in 2021 (see the CBI study on the demand for natural ingredients for cosmetics on the European market). This suggests that buyers were avoiding long-distance, expensive imports with high risks of delay in favour of buying stocks already held in Europe.
Looking to the short-term future, suppliers in developing countries can expect shorter timelines between purchase order discussions and purchase orders being placed. You can also expect payment terms to be extended. Of course, this will have a negative effect on your cash flow. Like your customers, you should therefore be monitoring your cash flow extra carefully and talking with your suppliers about orders and payment terms. If you have not done so already, talking to your bank and other financial service providers about purchase order financing may also be an interesting option. In that case, keeping your customers informed is essential. With the costs of business going up across the board, you need to be open and clear about any cost increases you pass on to your customers.
Over the longer term, we expect the cosmetic industry will continue on its overall growth trajectory above the rate of inflation. However, given the need for more investments in environmental, social and governance activities, cosmetic ingredient suppliers are going to face economic challenges. You will need to carefully examine your marketing strategy to ensure you can continue to maintain your added value proposition and differentiate yourself from the competition.
Tip:
Closely monitor your business cash flow. Ensure invoices are paid promptly and try to negotiate better terms with your customers and suppliers.
5.

The European Green Deal will impact suppliers of cosmetic ingredients to Europe

The European Green Deal is a package of measures designed to make the EU the first climate-neutral continent by 2050. It will impose higher sustainability standards on production and industrial processes and impact SMEs that are part of global supply chains to Europe. These suppliers will have to provide more information about products they export to Europe. This will push up your costs in the short term but ultimately make you more competitive in a sustainable global market.

With climate change and environmental degradation posing existential threats to Europe and the world, the European Green Deal (EGD) aims to overcome these challenges by transforming the EU into a modern, resource-efficient and competitive economy, based on:
Zero net emissions of greenhouse gases by 2050
Economic growth decoupled from resource use
No person and no place left behind
The EGD has numerous components that work together. While many focus only on the European continent, some that involve global supply chains will impact all stakeholders in those supply chains. A good example is the proposed Regulation on deforestation-free supply chains. Recognising that the EU's large economy is contributing to environmental degradation and biodiversity loss elsewhere in the world, this regulation takes steps to eliminate, reduce and mitigate those negative impacts.
The new law, which is in the final stage of approval, will ensure that a set of key commodities on the EU market will no longer contribute to deforestation and forest degradation either in the EU or elsewhere in the world. Since the EU is a major economy and consumer of these commodities, this measure will help to end a large share of global deforestation and forest degradation, thereby also reducing greenhouse gas emissions and biodiversity loss.
When the new rules enter into force, all companies that import or export palm oil, cattle, soy, coffee, cocoa, timber, rubber and any derivatives of these will have to do strict due diligence. This will also affect the cosmetic industry as soy, cocoa and especially palm oil are base materials in cosmetic products. Other commodities will be added to the list over time as more information becomes available about the effects of European consumption on deforestation and forest degradation. Companies in developing countries that work with these commodities will also be required to introduce due diligence systems and take adequate mitigation measures.
EU demand for 'deforestation-free' products is expected to grow beyond these commodities, boosting sustainable businesses and business models across the world. Many companies, especially cosmetic industry leaders, will want to differentiate themselves by going above and beyond the legal minimum requirements and introducing similar due diligence for all raw materials used in their products. Some, such as Givaudan, have already started doing this. Givaudan's responsible sourcing policy is that all products they buy must be deforestation and conversion-free.
There are a number of certification systems which provide guarantees that commodities from this list are deforestation-free. One is the Rainforest Alliance's Sustainable Agriculture Standard, available since 1 January 2014, which does not allow the destruction or conversion of natural ecosystems.
Another certification scheme that covers more speciality ingredients, and especially the types of vegetable oils, essential oils and other plant extracts commonly supplied by CBI's target audience, is the UEBT Ethical BioTrade standard. A minimum requirement of this standard, effective from 1 January 2014, is that current cultivation, wild collection or related activities have not caused conversion or deforestation of intact ecosystems.
One company certified under the UEBT standard is Kaza Natural Oils. Founded in 2016 and based in Zimbabwe, they offer a wide range of natural vegetable oils from southern Africa. Their oils include baobab oil, marula oil, Kalahari melon seed oil and Ximenia oil.
Figure 8: Kaza Natural Oils statement

Source: Kaza Natural Oils
Their claims about ethical and sustainable sourcing are backed up by membership of UEBT. UEBT members commit to advancing their own ethical sourcing practices. By adhering to the UEBT standard, customers and consumers have the assurance that their products are made with ingredients sourced with respect for people and biodiversity. Kaza Natural Oils' investment in certification to have their ethical and sustainable policies and procedures validated by a third-party certifier is a great step forward. It responds to rising expectations around human rights and environmental protection while also increasing their visibility.
Tips:
Implement activities to achieve zero net greenhouse gas emissions by a set deadline.
Publish your targets and progress on your website.
Use the SEDEX, ESG, Global Compact and UN SDG frameworks to structure and systematise your activities.
6.

Upcoming EU rules on sustainable and responsible corporate conduct could impact suppliers of cosmetic ingredients

In November 2022 the European Council approved the European Commission's proposal for a Directive on Corporate Sustainability Due Diligence. This proposed legislation aims to create more positive impacts in the areas of human rights and environmental protection across global value chains. Companies will need contractual assurances from their business partners along the supply chain. When this law enters into force it will put more pressure on all companies to take steps to comply. Taking those actions now will prepare you to improve your relationships with business partners along with your value proposition and your long-term commercial success.

This directive comes out of the European Green Deal (discussed above) and recognition that corporate conduct across all sectors of the economy is key to the success of the European Union's transition to a climate-neutral and green economy and to deliver on the UN Sustainable Development Goals. The legislation aims to contribute to these goals by requiring companies to do due diligence on human rights and environmental protection. Companies will have to identify and, where needed, prevent, end or mitigate their activities' adverse impacts on human rights and the environment, including pollution and biodiversity loss.

Some European companies are already using voluntary standards (several are described in this and other CBI studies) in response to market pressures to act sustainably as well as to avoid reputational risks. However, these standards provide no legal assurance to companies or victims if harm occurs. In other words, they provide too little information about the rules and how to comply. The European Commission has furthermore concluded that voluntary actions have not resulted in large-scale improvement across sectors. In fact, negative consequences have been observed in and outside the European Union.

Initially, the new legislation will target large European companies with global turnover over €150 million and 500 or more employees. However, the EC has also identified an initial group of high-priority industries, including textiles, agriculture, fisheries, agricultural raw materials, foods and minerals, for which the threshold will be lower. Companies involved in these industries will fall within the scope of this legislation if they have a global turnover of €40 million or more and more than 50% of it comes from trade in those specific industries and if they have 250 or more employees. Natural ingredients for cosmetics can be obtained through agriculture and from minerals, which are both priority industries under this legislation. Additional sectors will be introduced in time.

A corporate due diligence policy has to extend across a company's whole supply chain. Therefore, you will need to set up policies and practices that identify and, where needed, prevent, end or mitigate your activities' adverse impacts on human rights and the environment. The same will apply to your suppliers.

To enforce these policies, European companies have to use 'contractual cascading', requiring contractual assurances from all of their supply chain partners that they, too, are compliant with the company's own due diligence policy. European companies can use suitable industry initiatives or independent third-party verification to confirm policy compliance. One upside for SMEs is that European companies have to bear the costs of verification.

Looking to the future, you are recommended to develop policies and practices that can identify and, where needed, prevent, end or mitigate your adverse impacts on human rights and the environment.
Tips:
Read the European Commission's Corporate Due Diligence legislation proposal.
Review the responsible sourcing policies of large companies such as Firmenich and Givaudan that are already following due diligence polices.
Do a due diligence audit of your company using the sourcing policies of Firmenich and Givaudan as a guide.
Discuss the upcoming EU legislation with your suppliers.
7.

More and more companies in the cosmetic industry are making declarations to achieve net zero greenhouse emissions

Efforts to achieve a balance between the greenhouse gases added to and removed from the atmosphere are driving the development of new technologies to process ingredients and reduce transport emissions, including in the cosmetic industry. While some new technologies present opportunities for you, others such as biotechnology and policies aimed at reducing shipping distances for goods pose threats to the traditional processing and export of some cosmetic ingredients. You will have to develop contingency plans to cope with these changes.

Among the wide range of environmental objectives, the aim to reach 'net zero' is the primary motivator driving many environmental efforts. Net zero means achieving a balance between the greenhouse gases added to and removed from the atmosphere. When we no longer add more than we remove, we reach net zero.

The UK National Development Bank gives some examples of environmental practices businesses are implementing to achieve net zero:

A good example of how companies can apply technological developments in their business is PT Mitra Ayu Adipratama in Indonesia, shown below. Their efforts follow from their reduce, recycle and reuse principle.

Figure 9: Palm shells as fuel alternative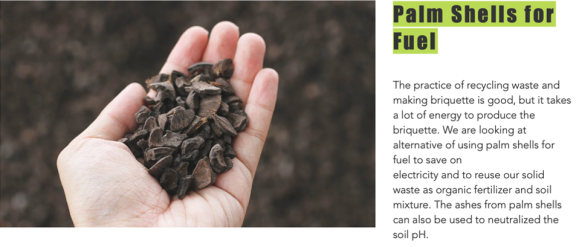 Source: PT Mitra Ayu Adipratama
At the other end of the spectrum are two technological developments that threaten the traditional cultivation and processing of cosmetic ingredients. They are biotechnology and plant cell culture technology. Neither present an immediate threat. However, they are attracting ongoing interest because of their potential to provide positive solutions for sustainability issues by minimising environment impact through smaller energy, carbon and water footprints. Conversely, they do little about creating employment in regions with less developed economies.
Another potential threat to exporters from developing countries is efforts European companies are making to reduce the distances ingredients travel to reach European consumers and, in any case, to reduce their CO2 emissions. This is also known as '0km'. Companies are developing more local sources and producing more using biotechnology. While the 0km movement works for ingredients that can be grown locally, it will not for those that can only be grown further away. However, it may drive companies to look for alternatives.
To counter these threats in the short term, you have to identify ways in which you can improve both your environmental and social performance. Job creation, fair wages and protecting workers' rights are key requirements for European buyers.
Looking to the long term, pressures to improve environmental performance will strengthen the business case for alternative technologies and steps such as local sourcing. Social benefits will not be a strong enough argument for using long-distance supply chains, with technologies that are inferior at protecting the environment. Negative social impacts in the supply chain will only provide more arguments to switch to alternative technologies.
Tips:
Take all possible steps in the short term to improve environmental and social performance in your supply chains. For example, reduce energy use and switch to renewable energy sources. Also take steps to prevent any abuses in your supply chain and to ensure diversity and inclusivity in your workplace.
Find out how to measure your carbon footprint. Contact the relevant government ministry, universities or private sector for more information.
Keep track of developments in plant cell culture technology and biotechnology by subscribing to online trade magazines. Connect with universities in your country that may be researching these topics.
Discuss the threat of technological developments with your industry association and work with other companies to counter these threats.
Partner with universities and other research organisations to develop and use technologies that will help you achieve net zero greenhouse gas emissions.
This study has been carried out on behalf of CBI by Fair Venture Consulting.
Please review our market information disclaimer.
Follow us for the latest updates
Search
Enter search terms to find market research