Entering the European market for canned fish
Europe has a large appetite for canned fish, but is able to fulfil the demand by importing from non-European countries. As the COVID-19 pandemic drags on, more Europeans turn to convenient, easy-to-prepare products that they can prepare at home. But as they turn to canned fish products, they are also becoming more demanding in terms of health, safety and sustainability. This fact sheet focuses on tuna, mackerel, anchovy and sardines, specifically.
1.

What requirements must canned fish comply with to be allowed on the European market?

The European Union has established a thorough control system to monitor all goods coming into Europe including all canned products. All canned fish sold to Europe must pass safety requirements for food. If you want to export canned fish to Europe, your country must be included on the list of approved countries. In order to become an approved country, the national authority must submit a formal request to the Directorate-General for Health and Consumer Protection of the European Union.

The approval is granted on the basis of your public health and control systems. This means that your country must be able to ensure that the fishery products exported meet the strict health requirements of the European Union.
What are mandatory requirements?
When exporting canned fish products to Europe, quality, health and safety are the basic requirements an exporter should ensure. Below, you will find the most relevant requirements specific to exporting canned fish to Europe. It is also important that you read our Buyer requirements study for an understanding of the general requirements for exporting fish and seafood to Europe. 
Ensure legal fishing by providing catch certificates
Europe does not tolerate illegal fishing, so all fishery products (including canned fish) must have a catch certificate to enter Europe. As an exporter, you should be able to comply with this requirement, and it applies to all trade of marine fishery products, whether processed or not, originating from developing country fishing vessels and exported to Europe by any means of transport. It also applies to catches originating from European fishing vessels to be exported to developing countries. As an exporter, you should follow European guidelines to prevent and eliminate illegal, unreported and unregulated (IUU) fishing.
IUU fishing, according to the European Union, is any fishing that is in forbidden areas, uses illegal methods or goes unreported. IUU fishing has a negative effect on the sustainable management of global (and local) fish stocks and creates unfair competition for anyone who fishes legally and responsibly.
In developing countries, the catch certificate schemes are relevant to you if you are responsible for activities of fishing vessels, processing and export. Your 'competent authority' validates the documents and information submitted by the operators to determine if it is compliant with conservation and management measures applicable to the products listed in the documents.
The 'competent authority' is the government department in your country that the European Union considers the most capable (competent) of monitoring the seafood and fisheries products destined for the European Union. The European Union enters into an agreement with this department, giving them responsibility for the mandatory control measures before export.
Exporters must meet quality and packaging requirements
Canned fish may all look the same on the outside, but there are some differences in the quality of the fish required by European buyers. In Europe, canned fish is usually packaged in brine, oil or other sauces. For canned fish, quality is usually determined by the quality of the flakes. For example, solid canned fish means the fish is packaged as a whole loin piece, chunks come from broken pieces of loin and flakes are the leftover pieces. Premium products are also identified by the MSC label or other certifications, or the fishing gear used. For example, pole-and-line-caught tuna are perceived as more sustainable and are usually sold as premium (sometimes even gourmet) products.
Exporters must contact their buyers if they have special requirements for the packaging. However, European regulations state some mandatory information to be included on the package. The package must show the net quantity (net weight) in grammes or kilogrammes. The drained net weight of the food must also be shown if a solid food is sold in a liquid like water, brine or oil. The complete name of the food and the net weight must be visible. In terms of the shape of packaging, canned tuna is usually packaged in round tin cans and sardines and mackerel in oval tin cans. Anchovies are usually packed in tin cans or jars. Cans and tins also usually have easy-open 'peelable' features with rings that can easily open the product.
Table 1: Packaging of canned fish
Canned fish

Packaging*

Canned tuna

80 g olive oil

120 g in water

145 g in water

145 g in sunflower/olive oil

160 g in water

160 g in sunflower oil

85 g in pouch

Canned mackerel

115 g in extra virgin olive oil

120 g in chili pepper sauce

125 g in water

125 g in sunflower oil

165 g in spicy sauce

Canned anchovy

45 g in olive oil

46 g in olive oil

50 g in olive oil

55 g in glass jar in olive oil

100 g in glass jar in olive oil

200 g in with olive

Canned Sardines

95 g in extra virgin olive oil

100 g naturel

105 g in olive oil

106 g in soybean oil

110 g in water

110 g in tomato sauce

120 g in sunflower oil

120 g in citrus
*Packaged in tin cans unless otherwise indicated
Source: Seafood TIP (2020)
Make precise labels
Exporters should note that labels must provide precise information on the harvesting and production of the canned fish, in addition to the commercial and scientific name of the species. A product's can or jar labelling must indicate the name of the food (for example, 'mackerel in olive oil'), net quantity, food operator, identification mark, list of ingredients (quantity of main ingredients and allergens), 'best before' date and storage conditions. A bar code or traceability code can also be included on the labelling.
Canned fish imported into Europe must be traceable at all stages of production, processing and distribution – from the harvest to the retail stage. In December 2014, a stricter rule on labelling was enforced by the European Union; these requirements are enforced in order to avoid misleading and confusing buyers.
Traceability (in the form of traceability codes for the canned fish) is increasingly becoming an added feature on labelling. Such traceability codes allow consumers to become engaged with the canned product's journey. The consumer can go online and check the journey of the fish from catch to production and route to market. An example of this is the 'Can Tracker' initiated by John West, which promotes transparency by 'discovering the story behind your can'. This can be an added feature that exporters can explore.
Double-check the safety and health requirements in Europe
With the onset of the pandemic and the risks that COVID-19 carries, health inspections in Europe have become stricter. It is important that your business process ensures the highest quality of your product, from production to storage and distribution. Products are usually rejected or called to attention if they have excessive levels of heavy metal content, infestation or contamination.
If a health risk is detected in 1 or more consignments of canned fish, control authorities will follow up notification on measures taken and the outcome of investigations. Identification of potentially harmful products is published and reported via the Rapid Alert System for Food and Feed (RASFF). Consider it a final border check before your product enters Europe. The portal also indicates the distribution status of the product as well as its origin.
Mercury is a heavy metal that is found in all canned fish species, but the levels of mercury differ from species to species, with large predators having particularly high mercury levels. Too much heavy metal in fish products can harm vulnerable people like children, pregnant women and elderly people; the European Union has maximum mercury levels for different fish and seafood species.
Fish and other seafood are the most significant contributors to mercury consumed by the European population. Meat from tuna is the biggest contributor to methylmercury intake. It is also usually the reason why tuna products are recalled or are red-flagged in the RASFF. The maximum level of mercury for tuna is 1.0 mg/kg. The maximum cadmium (another controlled heavy metal) level for sardines, tuna and anchovy is 0.10 mg/kg. Heavy metals like mercury, if consumed in large doses over an extended period of time, can act as a neurotoxin once in the body and can interfere with the brain and the nervous system. Just like mercury will build up in fish over time, it can also be accumulated in the human body.
Although mercury content is the primary concern, exporters should note that there are also other active substances that the European Union has issued MRLs (MRL: maximum residue level) for. Your government must submit a plan with the guarantee that it offers monitoring of such residues and substances. The initial plan must include details on the structure of the non-European Union country's competent authority.
What additional requirements do buyers often have?
The best way to know the additional requirements is to directly ask the buyer, because there is no standard way of dealing with terms of payment and delivery, with each party negotiating for the terms that best suit them. In these negotiations, the size of the company and the volume of its purchases, as well as the competition the buyer or seller faces, can determine the bargaining power of each party. Furthermore, most buyers require sustainability seals on canned fish products, and this MSC certification is becoming more of a standard than an additional requirement. For exporters, it is good to invest in sustainability as early as possible.
Sustainability seals give you a huge competitive advantage
European consumers, particularly from northern Europe, are becoming increasingly aware of sustainability; 1 way to prove that your canned fish is sustainable is by securing the Marine Stewardship Council (MSC) seal on your canned fish. Getting the MSC certificate means that your fishery has demonstrated compliance with standards relating to management and sustainability.
The MSC programme encourages global fisheries and markets to reward well-managed fisheries. The MSC seal applies to wild-caught species and therefore applies to the canned fish products referenced in this product fact sheet, such as tuna, mackerel, anchovy and sardines. Other important seals featured include those for dolphin-safe tuna, which states that no dolphins were harmed in the process of catching the tuna.
Before being MSC certified, a fishery must undergo a Fishery Improvement Project (FIP) in which it undertakes a set of planned actions in order to increase sustainability. This includes 'time frames, milestones, resource use, responsibilities, and budgets needed to move a fishery towards more sustainable production. FIPs are intended to help potential MSC clients set out and implement actions to allow the fishery to meet MSC performance requirements within a specified timeframe.'
Getting an MSC seal helps ensure you build a reputation among the European importers of being a reliable and trustworthy exporter. It is also a worthwhile investment in today's marketplace, where sustainability plays a huge role in trade. The MSC certificate is a sign that the fishery is a certified sustainable source and that the supply chain is strictly monitored and assessed.
Social responsibility labels are becoming more important
Corporate Social Responsibility (CSR) activities are worth undertaking when you export to Europe. European consumers do not only care about the environmental impact of your product, but also its social attributes such as workers' rights, gender equality and human rights. Part of CSR is already being addressed by the MSC seal, but there are separate seals for CSR such as the Sedex, which focuses on improving the working conditions in the supply chain, and the ISO 28000 for security in the supply chain.
What are the requirements for niche markets?
In Northern Europe, traceability through digitalisation is becoming a trend, and more European buyers are looking into the inclusion of traceability in their products. This way, end consumers can be assured that their products come from the original source. This is why some canned fish products, particularly canned tuna, have QR codes on their packaging: to show all steps of their supply chain. It is a new standard for niche markets looking to make their products more traceable and transparent while building a story around the products (for example about the journey from ocean to plate).
Other companies and retailers, such as Rio Mare, feature an online traceability system where consumers can simply enter a code to find out about the story behind each can, from the moment the fish is caught through to processing, canning and sterilisation. Read this MSC study on how DNA testing helps to ensure traceable and sustainable seafood and to decrease seafood fraud.
Which channels can you use to put canned fish on the European market?
The European canned fish industry is usually vertically integrated, meaning the fishing, processing, and canning sector are complementary and interdependent. For exporters, it can be hard to gain access in this market without the help of someone from within the European canned fish industry. Therefore, although the retail and food service sector interests dominate the market, it is often better to deal with traders and processors directly than with retailers or food service providers.
How is the end market segmented?
Imports of canned fish mostly go to the retail sector and the food service sector. During the onset of the COVID-19 pandemic, most of the demand for canned fish was from retailers. Therefore, retail is the best chance to get your products on the shelves of European supermarkets. However, retailers or supermarkets rarely import directly from suppliers. The best way to enter the European market is through traders, agents and processors, preferably based in the major importing nations in Europe (Spain, Italy and France) or trading nations (Germany and the Netherlands).
Retail markets in northern and western Europe prefer sustainable tuna (such as MSC or tuna from fisheries undergoing a FIP). Investing in sustainability is a must in order to access these markets.
Figure 1: End-market segmentation for canned fish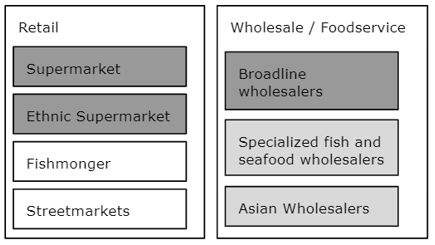 Source: Seafood TIP (2020)
Figure 1 shows the main retail and wholesale/food service end-market segments in Europe. The darker segments are the most interesting for you, as a producer of canned fish, as these are the ones in which there is the highest demand for your products.
It shows that the retail and food service sectors are the main end-markets for canned fish. Major supermarket chains in Europe (Tesco, Sainsbury's, Lidl and Aldi) have their own brands of canned fish. In Spain, for example, which is the largest market for canned tuna in Europe, canned fish is mainly sold in large-scale retail outlets, representing 90% of total canned fish sales.
A study by the FAO shows that large retailers have begun promoting their private labels in recent years, which have now become market leaders in both volume and value. Private labels from supermarkets represent 75% of the canned fish purchased in Spain.
The food service sector is a smaller end market than the retail sector. It mainly comprises wholesalers and the hospitality industry, which buy canned fish for restaurants, hotels, caterers and food chains. This is mostly focused on canned tuna used in food service. For the food service sector, this product is usually sold in 1.7kg cans, much larger than the ones sold in retail. As a producer, ask your buyer if they have particular size specifications that they prefer.
In 2015, Caterer's Choice, the United Kingdom's leading importer and supplier of canned goods, introduced its MSC-certified canned tuna to the food service sector, which is used by caterers, schools, and restaurants.
Tips:
As an exporter, remember that retail is the largest market for canned fish because it is a commodity product, which offers convenience and low cost to consumers. Make your product stand out and offer value-added products. Experiment with different flavours in canned fish!
Consider trading with the Netherlands and Germany. Dutch and German traders often also supply Eastern European markets. Discuss what products may be of interest to markets in Eastern Europe and what can be supplied through these channels. Be imaginative in presenting your product to the food service sector. Think in terms of how the sector can use canned fish on menus or ranges of dishes.
Being MSC certified is definitely a plus in entering the marker for the food service sector, particularly for caterers who want to be known for their transparency and sustainability.
Through what channels does canned fish reach the end market?
Most businesses in the canned fish sector are vertically integrated, which means that a single company owns the entire supply chain. 1 example is Sapmer, a French tuna fishing company that catches and processes its own fish from the French overseas territories in Mauritius and Seychelles. If a processor does not own its own fishing fleet, it is likely that the company already has a stable relationship with a canned fish supplier. This is why it can be so difficult to penetrate the sector.
As you can see from Figure 2 below, if you want to enter the European market, it is advisable to go through agents and traders (middlemen). There are 2 main advantages to using a middleman: first, it allows the exporter to gain insight into the European market from someone within the industry. Traders or importers can also provide you with connections for markets that would otherwise be difficult to access. Second, they can also provide you with updates regarding market fluctuations and your competition.
Some retailers also deal directly with exporters, although this is rare. While this may yield higher margins for the exporter, there are also risks involved, especially from the importers' perspective. Without an actual presence in the supplying country, importers must bear the risks involved with stock availability and quality control at origin.
As a general rule, the longer the supply chain, the lower the margins for the exporter. But remember that this also depends on the volumes being exported. Large volumes also mean lower margins than small volumes. Depending on the importer's needs, developing countries that can produce huge quantities can be an advantage for processors looking into bulk buying. However, this does not necessarily mean that you cannot be a preferred supplier if you cannot produce huge quantities, especially if your product is high quality, sustainable and traceable.
Recent trends in Europe show that large processing companies have begun investing in their own high-quality private labels. Spain, the tenth largest importer of canned food in the world according to the Food and Agriculture Organization (FAO), is a good example. Several Spanish canneries, such as Grupo Calvo, Jealsa Rianxeira and Frinsa, have developed their own private labels, which (were you to work with them) offer a smaller profit margin, yet ensure a stable demand.
Figure 2: European market channels for canned fish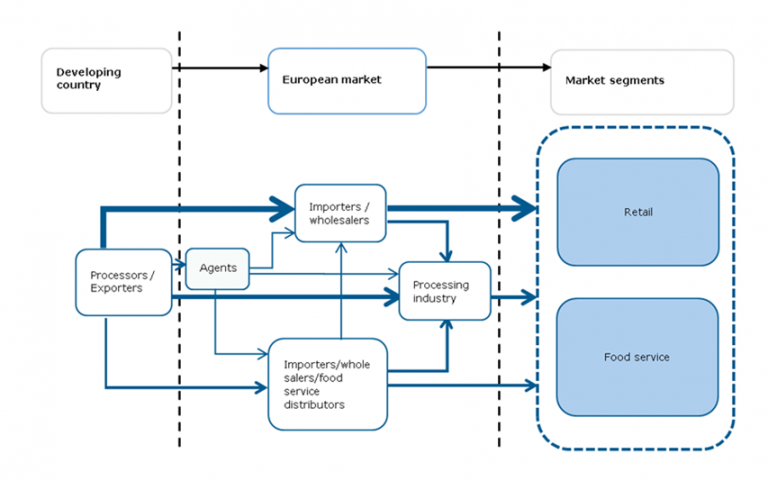 Source: Seafood Trade Intelligence Portal (2019)
What is the most interesting channel for you?
As indicated in the previous section, the most interesting channel is going through traders and importers, as they can provide the best knowledge and expertise in the European market. Although the retail sector is your end market, it is not advisable to deal with it directly unless you already are an established supplier with all the needed additional requirements, such as MSC certification, or traceability features, such as a QR code. However, the COVID-19 pandemic taught us that European buyers are also looking for ways to shorten the supply chain. Therefore, you may have a chance to directly sell products to them. Read these tips by CBI about how to deal with your buyers amid COVID-19.
To get into the retail and food service sector, it is worthwhile to check importers that can connect you to the right market. You can also work with a local agent who speaks the language and knows the distribution channels of the country where you want market access. Agents also establish contacts between buyers and suppliers like you. They can act as a substitute for your sales force and should provide you with up-to-date market information.
When dealing with an importer, ask relevant questions such as how to make your product stand out among many other canned fish products. Growing segments in the Europe (as discussed earlier) include ready-to-eat canned fish and value-added products such as pouches and salad cups. These are all representative of the consumers' habits and choices. A variety of sauces, spices and oil are also being added to canned fish products to entice consumers.
Aside from getting a middleman to deal with the transactions, it is also worth approaching processors from Spain, Italy, France and Portugal, especially since their products ultimately end up in the retail and food service markets. Spain has the most processing plants (over 60), followed by Italy (over 10 plants, mostly for bluefin tuna), France (5-8 plants), and Portugal (5‑7 plants). Making a deal with the right cannery can smooth the way to getting your products on European retail market shelves.
Remember that these canneries also often own their own fishing fleets that supply them with the raw material for processing. However, this also means that they are limited by either their catch size or their quota limit. When their fishing fleet supplies less than the capacity of their facility, potential suppliers like you can step in.
If you choose to contact a processor directly, it is useful to reach out to processing organisations in Europe. The European canned tuna processing sector is composed of well-organised associations in each country. Some of the major European tuna processing organisations that you can check out for potential buyers are the following.
ANCIT (Associazione Nazionale Conservieri Itticiedelle Tonnare)
ANFACO (Asociación Nacional de Fabricantes de Conservas de Pescados)
ADEPALE (La Fédération française des Industries d'Aliments Conservés)
ANICP (Associação Nacional dos Industriais de Conservas de Peixe)
Tip:
It can be intimidating to deal with European importers if you are a beginner and/or a small player. As a start, consider partnering with already established exporters while learning about the market.
2.

What competition do you face on the European canned fish market?

While there are already established dominant countries in the canned fish market, this does not mean that you have no chance to enter the European market. During the pandemic, and moving forward, it is important to keep finding new markets. This section helps you check out the competition.

As mentioned earlier, Europe also imports canned fish products from within the European Union. Bear in mind that as a developing country looking into exporting to Europe, European countries such as Spain and Italy are also huge processors, importing and re-exporting products within Europe.
Which countries are you competing with?
Morocco
Europe is Morocco's largest trading partner, with 64.6% of Morocco's exports going to Europe. With European buyers looking into shortening their supply chains, Morocco benefits from its easy access to Europe (compared to Asian countries) as well as its longstanding history of trade relations. In 2000, the European Union and Morocco established a free trade agreement (FTA), which made the 2-way trade of goods much easier. Morocco is also a huge processing partner of Spain, with products reprocessed and then re-exported to Europe from Morocco. Moroccan processors also serve as the main suppliers for major importing nations, thanks to cheap labour, as well as the ease of movement and access.
In fact, Morocco dominates Europe's imports of canned sardines and canned anchovies. Morocco is the leading sardines exporter with 46,277 tonnes of canned sardines delivered to Europe in 2019. Much smaller volumes came from Thailand, the Philippines and other countries.
The canned anchovy market is also dominated by Moroccan suppliers, who control 59% of the total European market. They exported 12,864 tonnes in 2019. The country's export volume has been on an upward trend since 2015 and increased by 6% from 2018 to 2019.
Canned mackerel supply in Europe is dominated by European suppliers (83%), with the other 17% coming from non-European countries, mostly imported from Cape Verde, China and Morocco.
Tips:
Check existing trade relations between your country and Europe. An FTA can be beneficial when selling your products to Europe, as tariffs are automatically eliminated.
To learn all about FTAs, check out the key countries with which Europe has signed deals.
Ecuador
Ecuador is the leading supplier of tuna loins to Europe, which are used as raw material for the processing industry, particularly in major processing nations such as Spain and Italy. As such, the country has already established solid ties in Europe's tuna processing sector. With huge processing companies located in Ecuador, it is no wonder that it is also the main supplier of canned tuna to Europe.
The COVID-19 pandemic has caused great distress in Ecuador, because many processing facilities were forced to close down due to the quarantine measures and because many workers were affected in its processing hub in Manta. However, despite the reduced capacity at the height of the lockdowns in March 2020, the country managed to export to Europe again. While there have been some setbacks in the beginning of 2020 in its exports to Europe, Ecuador is expected to bounce back easily.
Let us look at the available data. In 2019, non-European suppliers controlled 66.5% of the imported volume of canned tuna to Europe. Among these developing countries, Ecuador controlled 27% of the total exports to Europe. In 2019, the country exported 104,450 tonnes to Europe, which was 48% more than what it exported in 2015.
Like Morocco, Ecuador has secured a free trade agreement (FTA) with Europe, including a trade deal allowing them to export canned tuna at 0% tariff. Ecuador's competitive pricing is also a major driver of increased imports. While China has a strong competitive pricing for the main raw material for canned tuna, which are tuna loins, Ecuador has secured the largest share in canned tuna exports, while also increasing its deliveries to Europe, as shown in Figure 4 below.
China
China is not really a huge supplier of canned fish, but it is a country to watch out for. China's canned tuna exports were affected because of the halt in the processing facilities due to the impact of COVID-19. However, China continues to be a threat in terms of exporting tuna loins to Europe, which are used as the main ingredient in canned tuna. The Product Fact Sheet about tuna loins shows that Chinese exporters have taken over a huge chunk of Ecuador's market share in Europe.
For canned mackerel sourced from non-European suppliers, China (2,422 tonnes) had already beaten Morocco by 2018 (1,642 tonnes), in terms of volume exported to Europe. China's volumes have also increased by more than 30% since 2015, and canned mackerel exports from China once again increased to 2,549 tonnes in 2019.
The volumes may not be a huge threat yet, but keep in mind that China has a booming reprocessing industry and has the capability for mass production in their factories at a cheaper rate. It is also widening its overseas fishing operations. In the long run, China can be potential competition in the export of canned fish to Europe.
Philippines
The Philippines is an important player in the European canned fish trade. In 2019, the Philippines exported 37,308 tonnes of canned tuna and 600 tonnes of canned sardines to Europe. The Philippine Statistics Authority showed that Europe was the fourth-largest export market of the Philippines in 2019, accounting for nearly 12%, or $8.2 billion.
The Southeast Asian country is currently under the Generalised System of Preference Plus (GSP+), which allows the country to export over 6,000 products to Europe at zero or reduced tariff, with a zero tariff for the export of canned fish.
The European Union is currently negotiating a free trade agreement with the Philippines. However, this might be in peril due to the human rights abuses concerns in the incumbent government under President Rodrigo Duterte.
In 2020, the European Parliament threatened to remove the GSP+ in the Philippines due to the human rights concerns. If this is removed, this could prove to be detrimental to trade between the Philippines and Europe, as expressed in this report by the Tuna Canners Association of General Santos City, the main tuna hub in the archipelago.
An example of a major canner in the Philippines is Century Pacific, under General Tuna Corp., which currently controls 85% of the country's European market share for canned tuna. Other canneries include Philbest Canning Corp., Ocean Canning Corp., Seatrade Canning Corp., Celebes Canning Corp. and Alliance Select Foods International, Inc.
We are combining these 2 small island nations here because they both belong to the Eastern and Southern African Region located in the Indian Ocean. These 2 countries play a very significant role in the export of canned tuna to Europe, particularly to France, with French canning companies owning factories on both islands. These 2 countries, along with Madagascar and Zimbabwe, signed an Economic Partnership Agreement (EPA) with the European Union in 2009. This trade deal allows the countries to export canned tuna duty-free to Europe.
European fishing fleets, mainly from France and Spain, usually supply these countries' processing industries. Canned tuna produced in Seychelles and Mauritius is exported to Europe under brands like John West and Petit Navire.
Which companies are you competing with?
Silver Food
Silver Food is 1 of the largest canning facilities and market leaders in Morocco. The firm specialises in fish canning and other by-products. It specialises in the production and export of canned sardine, mackerel and anchovy. It owns popular brands such as Mario, Atlanta and Silver, plus a range of distributors and private labels.
Silver Food products are distributed in over 30 countries across Europe, North America, the Middle East and West Africa. Silver Food is very active in various fairs and exhibitions, which also attract potential customers, such as the Gulfood trade show held at the Dubai World Trade Center and the Seafood Expo held in Brussels. The company also focuses on adapting to different business cultures and practices to develop strong partnerships across the globe.
According to its website, 50% of the company turnover comes from export transactions.
Thai Union
The Indian Ocean Tuna (IOT) Factory is the only canning factory in Seychelles and is owned by Thai Union. Currently, Seychelles' canned tuna sector is facing some challenges, now the Indian Ocean Tuna Commission has introduced new limits on skipjack catches, the main tuna species used for canning. The quota for yellowfin has also been reduced in order to help the stock recover. These measures are likely to affect their production in the short term, particularly for French brands such as Petit Navire.
This cannery, located in Victoria in the Seychelles, is 1 of the biggest in the world. Thai Union is a major competitor, not only because it is a well-established name in the European canned tuna trade, but also because it controls other international and well-known brands such as Chicken of the Sea and John West.
NIRSA
NIRSA is 1 of the major tuna canning processors based in Ecuador and owns the largest fishing fleet in Ecuador, with 13 tuna vessels, 6 sardine boats and 8 smaller vessels, all properly equipped to maintain the quality of the catch. In the market, canned tuna from NIRSA is marketed in different versions: in water, olive oil, sunflower oil, and as other value-added canned products, such as tuna in salads or with different flavours.
In 2018, Nirsa invested €31.41 million in a new processing plant in Posorja which processes pelagics such as mackerel, sardine and tuna. It has a processing capacity of 240 metric tonnes per day.
3.

Which products are you competing with?

Canned fish products are a usual staple in the retail market because of their convenience and ease of access. This means that these products already have an established market in Europe, particularly for canned tuna, which comprise the largest volumes of European imports. In order to analyse which products you are competing with, first we have to take a closer look at how the 4 products mentioned in this study compete with one another.

Figure 5 clearly shows that canned tuna imports are the product most in demand in Europe, with 573,915 tonnes of canned tuna imported in 2019. There is a stable demand for this product among European nations, particularly from processing countries like Spain and Italy. As mentioned earlier, tuna is also the most consumed species in Europe, with demand even growing in Eastern Europe.

For canned tuna exporters supplying Europe, tuna volumes far exceed those of other products. However, developing countries usually compete in the canned sardines and canned anchovies' market, which also both show stable demand. In 2019, Europe imported 26,763 tonnes of canned anchovies, which represented a slight increase from the previous year. Looking at the data, there is still is a stable demand overall.

As previously discussed, the canned mackerel market is dominated by European sellers, thus there are more opportunities in selling canned sardines or canned anchovies to European buyers.

Secondly, canned fish also competes with new product formats available in the market. As discussed previously, the product ranges for shelf stable products are expanding rapidly and the current market has a lot to do with it. For example (aside from the usual easy-open canned fish lids), pouches, easy-open cups and plastic cups are becoming more popular among retailers. These customised, value-added products are what exporters must be aware of.

In the long term, these value-added products will continue to evolve, as consumers want the least amount of preparation. The multicultural diversity of Europe also impacts the way Europeans consume their food. Companies are becoming more experimental in their recipes and product offers, in order to cater to the changing and growing European population.
Tips:
Keep track of the different formats available in the market. Check out huge European retailers such as Lidl, Aldi, Tesco or Carrefour to learn about the various products sold in retail.
In the United States, tuna pouches are experiencing significant growth in sales, as more consumers demand on-the-go products. Monitor retail sales trends and gain insights from experts at the Global Seafood Expo and the Global Seafood Market Conference.
4.

What are the prices for canned fish?

Indications of margins according to the final retail price for canned fish can be very difficult to obtain, as processors are usually very reticent about their own costs and margins. Prices of canned products also vary depending on the distribution channel (such as supermarkets, retailers or online markets), the price of the raw material, as well as the brand or the sauces or ingredients included in the product. As a result, exporters will only have a rough idea about the overall margins.

Retailers are ultimately the end market for canned fish. In this section, we will take a look at some of the consumer prices for canned tuna, canned mackerel, canned anchovy and canned sardines.

Table 2: Examples of consumer processes for canned fish in 2020
| | | | |
| --- | --- | --- | --- |
| Product | Price (euros) per item | Retailer | Country |
| Rio Mare tuna in olive oil 240 g | 5.85 | Carrefour | France |
| Saupiquet tuna in water 400 g | 4.99 | Carrefour | France |
| Carrefour white tuna 160 g | 2.99 | Carrefour | France |
| Princes mackerel in water 125 g | 1.49 | Albert Heijn | The Netherlands |
| John West mackerel fillet in tomato sauce 115 g (MSC) | 1.95 | Albert Heijn | The Netherlands |
| Fish Tales mackerel fillet in oil 125 g | 1.79 | Albert Heijn | The Netherlands |
| Gut & Günstig Sardines in sunflower oil 125 grammes | 0.79 | Edeka | Germany |
| Gut & Günstig Sardines with lemon 125 grammes | 0.79 | Edeka | Germany |
| John West anchovies in olive oil 60 g | 2.65 | Tesco | UK |
| Tesco anchovy in olive oil 50 g | 0.77 | Tesco | UK |
| Tesco anchovy fillets in olive oil 100 g | 1.66 | Tesco | UK |
Source: Seafood TIP (2020)
Determining the margins is also difficult, given that most companies keep this information confidential. In a study carried out by European Market Observatory for Fisheries and Aquaculture Products (EUMOFA), the price structure for canned tuna is indicated as depicted below. This gives an overview on the price transmission from the raw material to the determination of the retail price. It is important to note that the price of raw material is crucial in the canned fish sector, since the raw material price usually comprises 35-40% of the retail price.
Tips:
Remember that there is a demand for sustainably sourced tuna in Europe. Quality, health, convenience and sustainability will be the focus of European importing nations in the long term; price is only a major driver in the short term.
The European canned tuna industry was featured in EUMOFA Monthly Highlights. Check out the strategy of the canned tuna industry on page 40 of this case study via this link.
This study has been carried out on behalf of CBI by Seafood TIP.
Please review our market information disclaimer.
Follow us for the latest updates
Search
Enter search terms to find market research