Exporting coffee to Poland
Poland has been a traditional market for instant and low-quality coffees, but specialty coffee is gaining ground with an ever-growing number of specialty roasters. Urban areas such as Warsaw and Kraków have developed a bustling scene of quality-oriented roasters, cafés and coffee festivals. Certification still plays a small role on the Polish coffee market, but it has strong growth potential..
1.

Product description

There are two main types of green coffee beans:
Coffea arabica: Plantations are generally at altitudes over 1,000 metres, making it a so-called highland coffee. The average length of coffee beans of this variety is around 9 mm. Their colour is greenish to blue-green. The coffee beans have a strong, full flavour. Arabica beans have a caffeine content of approximately 1.2%.
Coffea robusta: Robusta coffee can be considered a lowland coffee, as its plantations are below 1,000 metres. Robusta beans are small, round and generally brownish to yellowy green. Their beans have a higher water content than Arabica coffee. They generally have a less powerful flavour. Robusta beans have a caffeine content of approximately 2.3%.
In Europe, the Combined Nomenclature (CN) uses Harmonised System (HS) codes to classify products that are traded. The HS codes for green coffee beans are given below. Available data do not distinguish between conventional and specialty coffees.
Specialty coffee is defined by the Speciality Coffee Association of Europe (SCAE, integrated into the Specialty Coffee Association (SCA) in 2017) as the art of manufacturing a quality cup of coffee which is judged by the consumer to have a unique quality, characteristic taste and personality superior to the common beverages offered. This beverage consists of coffee beans which have grown at a designated location and been processed under the highest quality standards for raw processing, roasting, storing and finally preparing to a beverage.
| | |
| --- | --- |
| HS Code | Description |
| 090111 | Coffee, not roasted, not decaffeinated |
| 090112 | Coffee, not roasted, decaffeinated |
2.

What makes Poland an interesting market for coffee?
Poland shows an upward trend in direct imports from producing countries
Poland is a relatively small coffee importer in Europe. In 2017, the total imports reached 117,000 tonnes (€ 268 million), which represents 3% of the total amount of coffee imported in Europe that year. Polish imports are mainly sourced from German importers. In 2017, over 75% of Poland's imports were purchased in Germany.
Direct Polish coffee imports from producing countries accounted for 21% of Poland's green coffee imports in 2017, amounting to 24,000 tonnes (€ 53 million). In spite of a small decline between 2016 and 2017, these imports show an upward trend in recent years; between 2013 and 2017, direct imports grew at an average annual rate of 5.2% in volume and by more than 10% in value.
Increasing interest in speciality coffee
The number of specialty coffee shops in Poland is on the rise. It illustrates the interest of Polish consumers to incorporate quality and variety in their coffee-drinking experience. The example of Szczecin presented as a "great Polish city to visit for a coffee" illustrates this trend. Moreover, the increasing interest of coffee companies in sourcing high-quality Arabica coffees reveal a growing market demand for specialty coffees.
The specialty coffee market in Poland is marked by an increasing number of specialty coffee roasters. These roasters cater for niche markets and bring concepts such as direct trade to light (as discussed in our study of trends for coffee).
Poland also has its national chapter of the Specialty Coffee Association, since this niche market is beginning to flourish in the country.
However, specialty coffee is still a niche market in Poland, accounting for less than 1% of the coffee market in 2016. The most common type of coffee consumed in the country is instant coffee, which represented as much as half of the market in value in 2013.
Poland is a latent market for certified coffees
Poland is a small market for certified coffees, but it shows positive growth prospects. A few large importers (for example, Bero Polska) and roasters/brands (for example, Strauss Cafe) in Poland purchase UTZ-certified coffee (now integrated into Rainforest Alliance). These companies are mainly active on Poland's mainstream market.
Within niche markets, Fairtrade shows potential among Polish consumers who are increasingly interested in the ethical aspects of coffee production and trade. It is a new market for Poland; the first Fairtrade certified coffee to be imported directly into Poland was Pizca del Mundo in 2012. Coffee is the largest product category within Fairtrade certified products in Poland, accounting for 70% of the total sales in 2016 (a large share also organic certified). However, only 28% of Polish consumers recognise the Fairtrade logo.
3.

Which requirements must coffee comply with to be allowed on the market in Poland?

Buyers in Poland follow the requirements of other buyers in the European Union. You can only export your product to Poland if you comply with those requirements. In our study of buyer requirements for coffee, you can find a detailed analysis of these requirements. The main issues are highlighted below:
Legal requirements
You must follow the European Union legal requirements applicable to coffee, mainly dealing with food safety. Traceability and hygiene are the most important themes. Special attention should be given to specific sources of contamination. Pesticides, mycotoxins and Salmonella are the most common for green coffee beans, though coffee is considered low-risk.
Quality requirements for coffee
Quality management system certification may be required by European buyers. A system based on hazard analysis and critical control points (HACCP) is often required as a minimum standard, but some buyers will also expect you to have certificates such as International Featured Standards: Food (IFS) or British Retail Consortium (BRC).
Corporate responsibility
Corporate responsibility and sustainability are growing in importance within the coffee sector. Although Poland registers limited consumer awareness on these subjects, it has significant growth potential.
Tip:
Adopting codes of conduct or sustainability policies on the environmental and social impact of your company can help you to stay ahead of developments in these issues.
Quality criteria
Green coffee beans can be classified using two methods:
Grading is usually based on the following criteria:
altitude and/or region;
botanical variety;
preparation (wet or dry process, washed or natural);
bean size (screen size), sometimes also bean shape and colour;
number of defects (imperfections);
roast appearance and cup quality (flavour, characteristics, cleanliness);
density of the beans.
Higher quality coffee (specialty coffee) is graded according to a cupping score. Fragrance, flavour, aftertaste, balance, acidity, sweetness, uniformity and cleanliness are important topics in the grading process (see below for more information).
The definition of specialty coffee has not been formally established within the coffee industry. A cupping score below 80 is considered standard quality and not specialty. This is in line with the Coffee Quality Institute, which states that coffees graded and cupped with scores above 80 are considered specialty coffees. The cupping protocols of the Specialty Coffee Association also consider a score of 80 as being below specialty quality. However, the exact minimum scores defining specialty coffee differ per country and buyer. Some buyers consider 80 as too low and demand a cupping score of 85 or higher.
Roasting
Coffee can be roasted in several ways. In general, lighter roasts are less heavy and more acidic. They have more flavour than the darker roasts. Darker roasts have more body.
The degree or darkness of roast, as well as its duration, has a direct impact on the flavour profile of coffee.
There are other important variables which affect the flavour or can develop the potential of the coffee. Some of them are:
roasting time;
charge temperature;
rate of rise;
drum speed or air flow and cooling speed;
first and second crack timing;
sensory experience of the roaster.
Labelling requirements
Labelling of coffee exported to Poland should be written in English. Labels should contain the following topics to ensure the traceability of individual batches:
Product name
Country of origin
Grade
Net weight in kg
Certified coffee: name/code of the inspection body and certification number.
Tips:
The transparency of the supply chain is an asset in the specialty segment. In addition to labelling, communicate a traceable, clear and direct link between producer and consumer with your partners or on your website.
Do you sell specialty coffee? It is important for buyers to know what the cupping score of your coffee is. It is not mandatory, but it could be relevant to add to the documentation for the coffee that you are exporting.
Packaging requirements
Green coffee beans are sensitive to water absorption. As a result, they are transported in woven bags made from natural fibre (jute or hessian). This process allows for free circulation of air.
Most green coffee beans of standard quality imported into Poland are packed in container-sized bulk flexi-bags. These bags hold roughly 20 tonnes of green coffee beans. The rest of the green coffee is transported in traditional 60-kilo jute sacks, which have a net volume of around 17–19 tonnes.
Materials such as GrainPro or other innovative materials can be used to pack specialty coffees.
Tips:
Check the website of the International Jute Organization for manufacturing specifications of jute bags for the food industry (IJO Standard 98/01). Take these specifications into account when exporting to Europe.
Learn how to calculate the cupping score of your coffee at the website of the Specialty Coffee Association (SCA).
Ensure the preservation of the coffee quality. Thoroughly clean and fumigate containers before loading the beans. Protect the cargo from moisture during loading to avoid mould. Ensure appropriate temperature, humidity/moisture and ventilation conditions during processing and transport. Protect the cargo from pests such as beetles and moths. Prevent contamination of beans by foreign materials (such as dust) by keeping facilities and equipment clean.
Requirements for niche markets
Poland offers limited opportunities on niche markets for Organic and Fairtrade certified coffees. However, buyers operating in a wide range of products such as importer Bero Polska or highly specialised buyers such as roaster Café Borówka illustrate the possible market prospects for sustainably-certified coffees.
Tips:
Search for a certification body whose standards are recognised by the European Union. It will help you to make sure that your Organic certification is recognised. The European Commission's Agriculture and Rural Development website provides a thorough explanation of import regulations and other related issues.
Check out the website of Fairtrade Poland for a list of companies in Poland manufacturing and distributing Fairtrade certified products.
4.

What competition do you face on the Polish coffee market?

Poland sourced 21% of its imports in 2017 directly from developing countries. The main suppliers from developing countries in 2017 were:
Vietnam (10% of the total Polish imports);
Brazil (3%);
Uganda (3%);
India (2%);
Honduras (1%);
Colombia (0.5%).
Between 2013 and 2017, supplies from developing countries increased by 5.2% annually, in spite of a slight decline in 2016/2017. The large share of Vietnamese imports in particular points towards a lower market segment which is predominant in Poland, consisting of Robusta varieties for products such as instant coffee. However, note that imports from Vietnam decreased by more than 10% between 2016 and 2017. As such, the strong growth in Honduran (+16% annually) and Colombian (+28% annually) supplies in the last 5 years shows a trend towards higher quality Arabica coffees in Poland, and imported directly from producing countries.
In addition, Poland imports a large share of its coffee through other European countries. The main coffee supplier to Poland is Germany with 76% of the total imports in volume in 2017, registering an annual increase of 7.8% since 2013. Belgium, Poland's second largest European coffee supplier, accounted for 2% of the total coffee supplies in 2017. This figure represents an annual increase of 42% annually since 2013.
Tips:
For more information on German coffee traders, many of which supply to Polish coffee roasters, see our study of the German coffee market.
Identify your potential competitors and learn from them in terms of marketing (website, social media and trade fair participation), product characteristics (origin, quality and oil content) and value addition (certifications and processing techniques). Well-structured websites where you can learn from your competitors include O'Coffee (Brazil), Bourbon Specialty Coffees (Brazil) and La Meseta (Colombia).
5.

Through which channels can you get coffee on the Polish market?

In Poland, the trading structure is different from traditional markets such as Germany, where Polish importers are not as large and not as actively involved in trading directly from producing countries. However, it's important to also understand the links between Polish roasters and German importers, since Poland sources a large share of its coffee supplies from Germany.

Direct imports of green coffee beans into Poland mainly enter via the ports of Gdynia, Gdańsk and Szczecin, where most importers, agents and some roasters are located. Bero Polska is the leading supplier of raw, soluble and gourmet coffee in Poland as well as Central and Eastern Europe; it has an office for coffee imports in the city of Gdynia. It belongs to the German coffee group Neumann and handles a large range of products, both conventional and specialty coffees.

Are you able to sell higher-quality coffees or even micro-lots which can attain superior prices? Most small roasters in Poland import such coffees from specialty importers in other European countries. In the case of Coffee Lab, for instance, specialty coffee is selected from the assortments of English, German and French suppliers (e.g. Falcon, List and Beisler, and Belco). However, a few others purchase green coffee directly from developing countries, such as Coffee Proficiency and Café Borówka.

Is your experience with entering new markets limited? You have the option to sell your coffee beans to an agent. Such agents function as an intermediary between you and the importer or roaster. In Poland, a few agents (and brokers) operate on the coffee market, traditionally located around the harbours in the north of Poland; for example, Łukasz Pelczarski Coffee And Tea Agents, in Gdańsk.

Figure 4: Market channels for coffee in Poland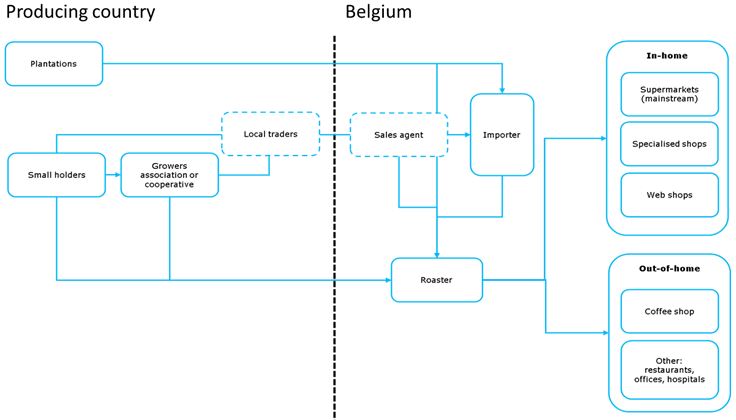 Retail market in Poland
The Polish market is dominated by international companies offering brand coffee. They include Mondelēz Polska SA, Nestlé and Jacobs Douwe Egberts, owner of the famous brand in Poland Café Prima.
Other coffee companies and brands in Poland include Tchibo Warszawa Sp, Strauss Group Polska (owner of the brand MK Café), Mokate and Pluton (the first Polish coffee brand).
The coffee shop market in Poland is fragmented, although market consolidation is increasing. International brands such as McCafé, Starbucks, Costa Coffee and Caffè Nero are expanding.
International retail hypermarkets dominate the Polish retail sector. Large retailers in Poland are:
Tips:
Target specific market segments depending on the quality of your green coffee and your volume capacities. If you have very high-quality micro-lots and are working through an importer, for example, discuss the possibilities to link up with high-end small roasters. You can also explore direct trade possibilities and connect with specialised roasters. If you work with bulk coffees, discuss certification trajectories and linkages to larger roasters operating on the mainstream market.
Be consistent, punctual and reliable, which is essential when doing business in Poland. Reply in time to enquiries by possible buyers (within 48 hours). Be open and realistic and do not make promises that you cannot keep. See our tips on doing business with European coffee buyers for more information.
Use our study of how to find buyers on the European coffee market to come into contact with Polish buyers.
See the website of Poland's national chapter of the Specialty Coffee Association (SCA) to learn more about events and publications on Poland's specialty coffee market. You can also use the website to come into contact with importers and roasters focusing on this segment.
6.

What are the end-market prices for coffee?

The end-market prices for coffee vary depending on which segment of the market is targeted. Our study of channels and segments in the European coffee sector provides an overview of the upper end, middle range and lower end on the coffee retail market and their main characteristics. Typically, the export prices of green coffee only account for around 5–25% of the end-market prices, depending on the coffee quality, the size of the lot and the supplier's relationship with the buyer.
Upper end (specialty): € 49.60 per kg (Czarny Deszcz – Indonesia Gayo Berijin – 250-gram packaging); € 43.80 per kg (Java coffee – Tanzania Magwila Idunda AA – 250-gram packaging);
Middle range: € 23.80 per kg (Tchibo – Barista Expresso Fairtrade – 1-kg packaging); € 12.33 per kg (Carrefour – Tchibo – 500-gram packaging); € 10.70 per kg (Tesco – Jacobs coffee – 500-gram packaging);
Lower end: € 6.89 per kg (Kaufland – Woseba Mocca Fix Gold – 500-gram packaging); € 6.61 per kg (Carrefour – Montmartre – 500-gram packaging); € 4.76 per kg (Kaufland – Astra Łagodna– 250-gram packaging).
Sources: Czarny Deszcz, Java Coffee, Kaufland, Tesco, Carrefour, Tchibo
Tip:
Monitor end-consumer prices of coffee to gain an idea of price ranges. Good sources for price information are the websites of supermarket chains (such as Carrefour) and specialty coffee web shops (such as Java Coffee).
Follow us for the latest updates