Using 'women's gold' to secure a future for Nigeria's shea workers

Nigeria is the world's biggest producer of shea nuts. The sector employs many women. Yet, their position in the industry is vulnerable. An innovative training project in the Nigerian shea industry is opening up a better future for over 1,000 women.
"The best thing about CBI's Train the Trainer project is its positive impact on the position of women involved in the shea industry in Nigeria", says Mobola Sagoe, gender expert.
Nigeria produces around 400,000 tonnes of shea nuts annually. At 53% of global output, the West African country is the world's biggest producer. There is a growing demand for shea from local, regional, and international buyers in the food and cosmetics markets. The global market value in 2023 is 2.28 billion USD and forecast to be 3.75 billion USD by 2030. So, the Nigerian shea industry has a promising outlook. 
'Women's gold'
Shea butter is often referred to as 'women's gold'. This is because of its rich golden colour and because it provides employment and income for an estimated 2.2 million Nigerian women. These women work as shea nut collectors, processors and exporters. Many of them are marginalised and impoverished. Also, gender issues are hindering workers from making a fair living. This has many reasons: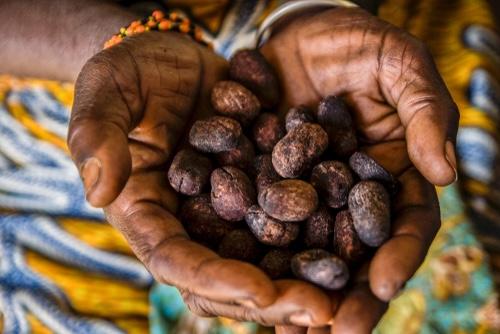 Lack of education;

Land rights issues limiting women's access to land;

The extreme demands of processing shea nuts and the poor returns: it takes a woman approximately 20 hours to produce 1 kg of shea, which sells locally for 1.7 USD;

Product quality issues;

The negative effects of climate change and deforestation on production;

Cultural, social, and legal limitations hindering women in their commercial activities;

A lack of access to buyers and capital.
CBI's innovative Train the Trainer approach
Together with the Nigerian government and the Shea Women's Association of Nigeria (SWAN), CBI has launched a project for women collectors in the Nigerian shea industry. This Train the Trainer project aims to foster greater gender equality and create safer, more sustainable, and more economically rewarding work. Also, the project aims to help women become players in the global export market. 
The project covers 4 strategic topics: 
Group development, leadership and management;

Shea nut aggregation and quality control;

Health, safety and environment training;

Finance, savings and loans training. 
This year, the training sessions took place during the shea-picking season, from June to August. Experts trained the women trainers in 3 different states: 
Niger State (23 collector groups, including in Agaie, Lavun, Bosso, Kontagora, and Megama); 

Oyo State (20 collector groups, including in Saki West, Atisbo, and Saki East local governments); 

Federal Capital Territory (10 collector groups, including in Abaji, Rimba, Kwali, and Zokwuto). 
These women passed on their newly acquired skills and knowledge to other women. Ebenezer Adepoju, one of the trainers involved, is excited about what he views as "... some remarkable results. In the first instance, 128 women were trained. These women went on to train almost 1,000 more women, directly or indirectly. Through this method, 60% of women collectors in these regions have adopted new, modern techniques."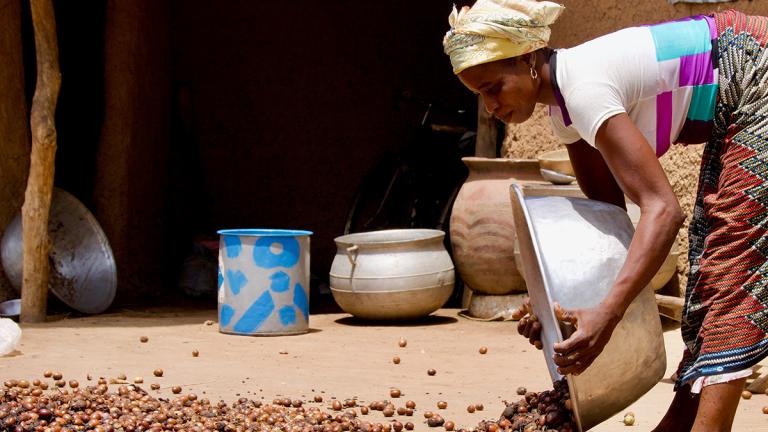 Far-reaching results
The programme helps the women collectors to cultivate and protect the shea tree. It also enables them to realise higher yields and better quality. Up-to-date and sustainable techniques are introduced at the processing stage. Then, the pickers and processors are connected with exporters to deliver quality products to the EU efficiently. Along the way, women are introduced to new ways of managing their finances, including the use of loans. This way, the whole shea sector is connected to achieve export-ready products. In turn, this creates value for the women involved.
The project staff member and gender expert Mobola explains, "The collaborative work of CBI, SWAN and local governments in the Train the Trainer project is empowering women. It gives them more expertise, confidence, opportunities, and a better economic standing. This affects whole households because families can afford better shelter, food, and clothing, and are able to send their children to school. This project changes everything!"
More 'wows'
The project involves ongoing monitoring and evaluation. This makes it possible for staff to address specific challenges that would otherwise be ignored. For example, if a season had been particularly dry and there was a smaller harvest, collectors often overpriced the nuts. This weakened their market position. Training them in financial stability has helped deal with this problem. 
One of the participants was Folashade Aderibigbe. Folashade was originally trained as a collector by her grandmother, who passed down generations of know-how to her. She says, "I was so happy to do the training. I heard about it through my connection with other women. My grandmother also appreciates the new method. It saves us time and resources, and creates better quality butter and a better future for us all."
Mobola summarises, "The project is going to bring more 'wows'! It is changing the community, changing the narrative of Nigeria through the shea pickers. Little by little, we are seeing in this project that poverty can be erased. We may not see it all, but it is happening!"
Learn more about CBI's Shea project Nigeria