Nigeria is located in the so-called 'shea belt'. This is the dry savannah region south of the Sahara Desert. The majority of the world's shea trees grow in this region. Market research shows an expected increase in the demand for shea-based food and cosmetics products. The Nigerian shea sector has the potential to grow to meet this increased demand.
In 2021, the Centre for the Promotion of Imports from developing countries (CBI) started the Shea Nigeria project. This project helps selected Nigerian small and medium-sized enterprises (SMEs) and cooperatives establish themselves in the European Union (EU) and regional markets. CBI helps the Nigerian shea sector to grow and improve the quality and sustainability of shea products. This project focuses on fairly sourced shea from women producers. We cooperate with different business support organisations (BSOs) within the project.
Project goals
This project aims to:
Increase the production of high-value, sustainable shea products for regional and EU markets;
Create decent work opportunities for women;
Ensure the long-term sustainability of the Nigerian shea sector.
To achieve these goals, the project focuses on:
Helping selected Nigerian Shea export organisations become competitive, add value and access the EU market;
Improving the income and working conditions of women producer groups. This involves ensuring health and safety measures are in place for several women producer groups;
Helping shea sector stakeholders jointly define and develop a sector export marketing plan.
Project participants and products
12 shea companies are taking part in this export coaching project. 
Name of company
Agriable Limited
Ates Okwy Limited
Dijmeds Ventures  Limited
GlobalPlex Trading Ltd
Hayloft Limited
Oklan Best Ltd
P.R.I. Global Ventures Limited
Prescient Global Nig. Ltd
Qu Viro Nigeria Limited
Salid Agriculture Nigeria Limited
Contact CBI to find out more or contact these exporters.
Partners
The Nigeria Export Promotion Council (NEPC);
The National Shea Products Association of Nigeria (NASPAN);
The Shea Empowerment Foundation (SEF);
The Small and Medium Enterprise Development Agency of Nigeria (SMEDAN);
Universities and research institutes such as Nigerian Stored Products Research Institutes and Consultative Group on International Agricultural Research;
The Global Shea Alliance (GSA).
Activities
This project includes:
Capacity development of selected export organisations;
Activities to strengthen the position of women collectors;
Activities focusing on health and safety and product quality;
Activities to strengthen sustainability in the sector. These activities specifically focus on gender, deforestation and Corporate Social Responsibility;
The development of services to improve the export-enabling environment;
Support to create a sector export marketing plan;
Market entry activities, such as network-building events and European trade fairs.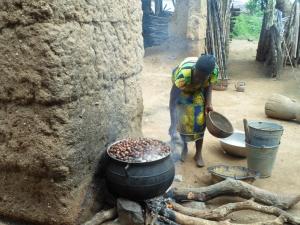 Get involved as an importer
Are you a European importer interested in shea products from companies in Nigeria? Contact CBI to get more information or to meet with suppliers in this project being trained to export to Europe.
Are you a European importer?
Are you looking for good, reliable suppliers in developing countries? Collaborate with us in one of our export coaching projects.
Get involved in this project