Success for CBI-supported company at Maison & Objet online tradeshow

In 2011, Robin Seyfert started Basha Boutique. Basha Boutique means 'House of Hope' in Bengali. The company creates employment for women in Bangladesh who are survivors or at high risk of human trafficking. The women make blankets, clothing and jewellery, which are exported worldwide. In March 2022, CBI gave Basha Boutique the opportunity to take part in Maison & Objet's online trade show. Robin was excited to participate, "We want to grow in Europe. This was our chance to attract more customers."
Basha Boutique's mission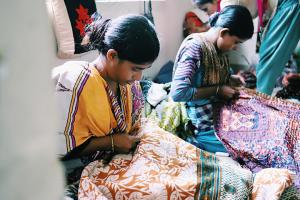 "There are a lot of women in Bangladesh that need decent work. That is how Basha Boutique started. Our first product was the Kantha," Robin says. Kantha is a quilt made out of saris discarded in the production process. We layer the saris and sew them together to make blankets. "This seemed like a product with nice symbolism. Like the discarded saris, we help transform these women's lives into something beautiful."
An online opportunity
Due to the pandemic, Basha Boutique did not get the chance to show its products at events. Luckily, this year, Maison & Objet offered its trade fair both online and offline simultaneously. As part of the Export Coaching Project on Home Decoration & Home Textiles, CBI gave Basha Boutique the opportunity to participate in the online version. "We got to display our products on the online platform. The platform allows people to email you if they are interested. Yesterday, I received an email from a company in Germany, and last week, I had a call from a business in France. Also, a company from Greece just ordered our products. So, it obviously catches different people's attention," Robin says enthusiastically.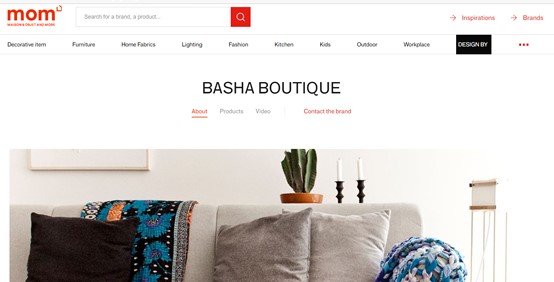 The benefits of an online trade show
Going to a typical trade show is very expensive. Robin sees the benefits of online trade shows, "This trade show was in Paris. Normally, we would have had to fly there with all our stuff and set up a booth. Doing it online is a lot more time and cost-effective. Also, I do not think many people go in person anymore. I think people are still not used to physically going to events. This autumn, we will participate in an offline edition of Maison & Objet. I am really curious to see how it will go."
Learn more
Read more about CBI projects. Would you like to learn more about Basha Boutique? Visit the Basha Boutique website and Instagram page.
Stay informed
To stay informed on our latest news, subscribe to our newsletter. Or join one of our upcoming webinars.