Chocolate tasting skills empower Central American cocoa growers

In the Connecting Central America project, CBI helps participants with their market expertise. For cocoa producers, sensory evaluation is extremely important. CBI focuses on this from the beginning. This skill takes time to develop, but it greatly benefits producers once they master it. Kampura is a high-quality cocoa producer in Guatemala. Manager Rodrigo Sevilla explains how his team has benefitted from better understanding the taste of their cocoa beans and being able to communicate about it.
An important set of skills
Like a sommelier in the wine business, someone trained in cocoa tasting can quickly identify taste and quality. Jörn Berger, CBI's cocoa and chocolate consultant in Central America, explains why it is important that farmers have this skill set. "We teach participants to identify different flavours and what these tell us about the post-harvest process and the final product," says Jörn. "In the chocolate industry, until a few years ago, sensory evaluation was a skill only a small group of people had. As most farmers did not have this skill, they could not adapt their products to provide the highest quality possible." The Connecting Central America project focuses on empowering cocoa businesses and helping them sell their products to top clients. CBI believes that knowledge and skills in sensory evaluation contribute to this.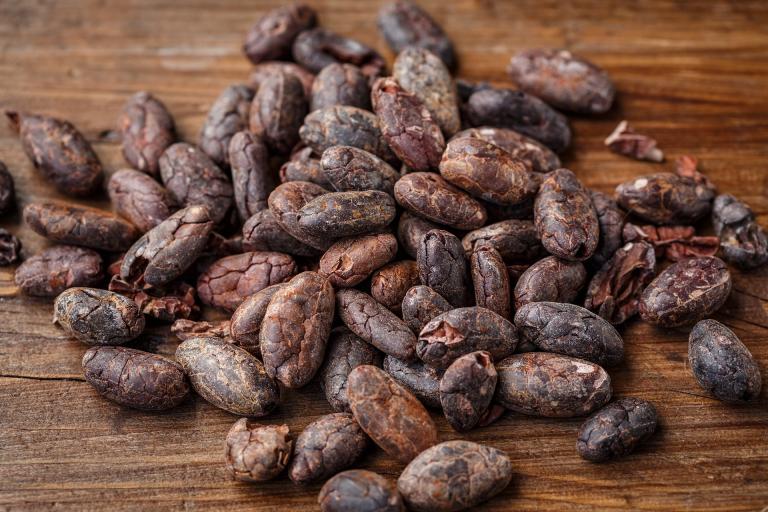 How to become a top taster
One company that learned a lot about sensory evaluation is Kampura, a family-owned agroforestry farm in Guatemala. Since joining the project, Kampura has become one of the first farms in the country with its own tasting laboratory. Manager Rodrigo Sevilla explains that he and his colleagues knew that sensory evaluation was important. But, before joining the project, they did not know how to start or where to get training. "I was very nervous when we started the training courses. Not everyone can become a good taster. What if I was the wrong person? At first, I was not very good at it. But it is something you can practise every day. Thanks to the exercises and training we received, I got better. Now I am on Guatemala's national tasting panel!"
Exploring Central American flavour profiles
Nubia Martinez is an agricultural engineer specialised in cocoa sensory evaluation. She trained participants in the project. Nubia explains what the training sessions involved. "We first had a 3-day course in Paris, at the Salon du Chocolat," she says. "We had lots of fun trying different cocoa liquors and chocolate. The first exercises were about introducing everyone to the world of tasting. We focused on learning to identify different flavours and smells."
Before the pandemic started, Nubia and the participants had time for one more in-person training session in El Salvador. After that, all training courses took place online. "We had to get creative," she says. "For example, we sent participants cocoa liquors from an award-winning producer to teach them about the post-harvest process's impact on the final flavour. Participants sent me samples of their cocoa with their evaluations so that I could tell them if they were correct. We sent them tests with essential oils from fruits, nuts and spices you can find in Central American cocoa varieties. This helped them learn to name what they could smell."
Talking about cocoa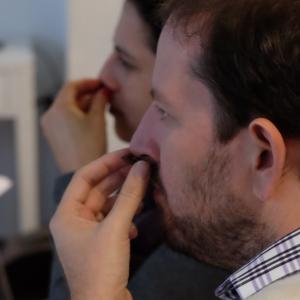 Rodrigo explains that investing time and money in these skills has really benefited Kampura's business. "Our farm has some excellent genetic varieties," he says. "The training we received gave us the tools to identify them and understand how to consistently get the best quality out of our beans. But the most important thing it taught us is how to communicate about the quality of our product. Before, I could only tell buyers that we produce high-quality beans. That is not enough. Now, I have the vocabulary to describe the flavour profile of our beans in detail. For example, I can describe the levels of acidity and intensity, whether there are notes of fresh or dried fruits, or caramel or nuts."
Interest in quality and taste is growing
Consumption of fine cocoa is increasing around the world. Cocoa companies need to understand what they are selling so that they can enter the right markets, get good prices for their products, and as a result, benefit farmers. "There is a lot of potential in Central America," says Nubia. "Appreciation for quality and taste is increasing, and producers are starting to understand the great genetic varieties they work with. Through this project, we want to highlight the flavour potential of these countries. Tasting skills are vital to this. They help farmers identify the quality of their product and promote it to international buyers in the right way."
More information
Would you like to see more of Kampura? Take a Virtual Farm Tour.
For more information on participating companies' achievements, visit the Connecting Central America Facebook Community.
Are you a European importer interested in products from Costa Rica, Panama, Nicaragua, Guatemala, El Salvador or Honduras? Contact CBI for more information or to meet with the suppliers in this project who are being trained to export to Europe.
The European Union (EU) co-finances the Connecting Central America project. The Secretariat for Economic Integration of Central America (SIECA) coordinates it. This project is part of the Central American Regional Economic Integration (INTEC) project.