Central American coffee companies ready for the European market

Since 2018, the European Union (EU), the Secretariat for Central American Economic Integration (SIECA) and the Centre for the Promotion of Imports from developing countries (CBI) have been working together to strengthen economic integration in Central America. Thanks to the support of local partners, the dedication of experts and the enthusiasm of entrepreneurs, the project has been very successful. In this article, we look at speciality coffee companies. ROSMA COFFEELAND and Proexports both took part in CBI's Connecting Central America project and have achieved outstanding results.
Improving CSR policies and practices
ROSMA COFFEELAND is a Guatemalan family business. It has 4 coffee farms on approximately 100 hectares of land. The company represents about 200 small producers. The financial director is a woman, and women manage 25% of small producers. The company joined the Connecting Central America project with the goal of exporting its delicious speciality coffees to Europe. Through its exports, ROSMA COFFEELAND aims to positively impact its small and medium-sized producers.
During the project, ROSMA COFFEELAND took part in marketing, finance and Corporate Social Responsibility (CSR) workshops. The CSR workshop helped the company identify its main CSR risks and opportunities. It also helped ROSMA COFFEELAND present itself better to potential buyers in Europe. With the help of CBI's online CSR Roadmap tool, the company realised which weak points to strengthen. It improved its communication and put its policies into writing. The company also noticed that it had not communicated about the positive steps it was already taking. Using the CSR Roadmap, ROSMA COFFEELAND communicated successes and strengths on its website.
ROSMA COFFEELAND's exports were zero in 2017-2018. In 2018, it managed to start exporting, and by the harvest of 2019-2020, it had quadrupled its exports. For the 2020-2021 harvest, it continued to increase its export quantities to European and non-European markets.
Would you like to know more about ROSMA COFFEELAND and its successes? Take a look at its success story video!
Increasing coffee exports
Another successful project example is Proexports. Proexports is a coffee company based in Estelí, Nicaragua. It exports coffee from different cooperatives that have administrative, organisational and financial potential. Its work model is based on a long-term strategic alliance with its cooperatives and international clients.
"The Connecting Central America project has been of great importance to our company. It has opened new European markets to us," says Reiner Molina, Proexports vice-president. One of the most important activities for Proexports was the Market Orientation Mission. During this mission, the company learnt more about the European coffee chain. It also learnt what customers demand in terms of service when exporting coffee. And it discovered that Nicaraguan coffee is well-positioned among European roasters. In general, the Central American region has a reputation for supplying good quality coffee.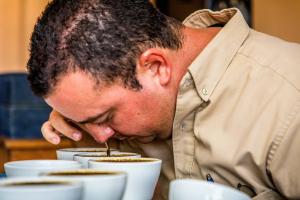 "Quality control is important to us. We have a Quality grader or Q-grader that guarantees market standardisation," explains Reiner. Proexports took part in the Connecting Central America Q-grader training in Costa Rica. And it now has a Q-grader taste and review its coffee before it exports it. So far, Proexports has had good feedback from importers on the quality of its coffee. Proexports also carries out quality approvals with its clients. The importers come to cuppings at the farms and define the coffee's profiles. Proexports uses these cuppings to provide consistent quality. The company's knowledge of the European market and its new business image and brand have helped it expand its exports.
The company has grown from exporting 27 containers (2015) to 180 (2020). In 2021, it continued to increase its exports to countries in and outside Europe. Proexports has expanded its market through consistent quality, perseverance and discipline.
Would you like to know more about Proexports and its successes? Take a look at its success story video!
Meet the companies
ROSMA COFFEELAND, Proexports and other companies from the Connecting Central America project will present their quality products at World of Coffee. This event is from 23 to 25 June in Milan, Italy.
Visit the companies at stand MS-G03 in the South Hall at the Central American Pavilion.
Connecting Central America
The European Union (EU) co-finances the Connecting Central America project. The Secretariat for Economic Integration of Central America (SIECA) coordinates it.