CBI helps Jordanian fresh fruit and vegetable producers enter new markets

Jordan produces large volumes of high-quality fresh fruits and vegetables. And the sector has considerable growth potential. CBI contributes towards improving the Jordanian fresh fruit and vegetable value chain by introducing water-saving technologies, for example. CBI also helps improve farms' Corporate Social Responsibility (CSR) conditions.
To help Jordanian fresh fruit and vegetable producers enter the European market, CBI started a 5-year project in 2018. The goal was to ensure all products meet the European Union's quality and certification levels. Hamdi Sarah, General Manager of Sarah Farms, participated in the project. He explains more about the project, his experiences and what he learnt.
Market opportunities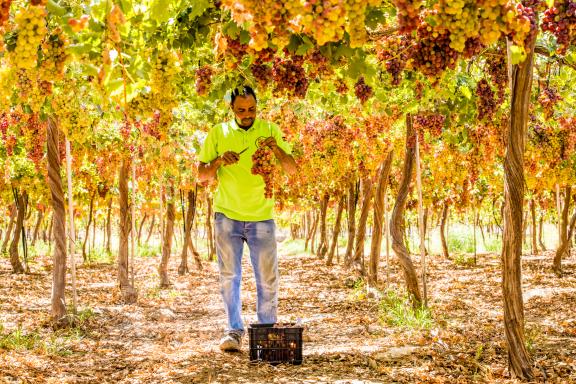 Sarah Farms is in the Jordan Valley. Thanks to the constant climate there, it produces high-quality grapes, pomegranates and dates. Before the CBI project, Sarah Farms only sold its products at the local market. But with the help of CBI, it now ships its goods to new markets.
During the project, Hamdi and his team learnt about the importance of the shelf life of their products. Because of this, they moved their packing house from Amman to their farm. The CBI project had a big impact on Hamdi's company. He explains, "Thanks to the CBI project, we reached one of the biggest hypermarkets in Jordan: Carrefour. We are now proudly one of their main vendors."
The importance of branding
Through the support of a local CBI expert, Sarah Farms gained insight into ways to improve the business. For example, one area of improvement was branding. "We faced challenges in the market because other producers claimed our product was theirs. That harmed our reputation," Hamdi explains. CBI helped Sarah Farms understand the importance of branding. And as a result, Sarah Farms designed a logo and started labelling all its products.
CBI also helped Sarah Farms get the GlobalG.A.P. certificate. This gives the company a competitive advantage in Amman and export markets.
Improving as a sector
Hamdi emphasises the importance of his team's change in mentality due to the CBI project. "CBI helped us understand our strengths and how to improve our weaknesses. All this support helped us change our mindset. I started to feel relaxed about my business because we provide value with our products."
Despite the COVID-19 pandemic, Sarah Farms was able to implement CBI's advice. Hamdi states, "Thanks to CBI's support, we are now one of the top vendors in Jordan. Although there are still challenges, like climate change and water supply, we are optimistic that we will be one of the pioneers and leading exporters to the region and beyond."
Learn more
Watch this video of Sarah Farms:
Or read more about the Fresh Fruit and Vegetables Jordan project.
The Jordan Exporters and Producers Association For Fruit and Vegetables (JEPA) supports this project.
Stay informed
To stay informed on our latest news, subscribe to our newsletter. Or join one of our upcoming webinars.