CBI helps cocoa farmers in Sierra Leone improve their production and export

Civil wars have affected the cocoa industry in Sierra Leone and Liberia. Via the Cocoa Mano River Union project, CBI wants to develop an inclusive and sustainable cocoa value chain in these countries. In Sierra Leone, CBI supports the distribution company, Village Hope. Village Hope helps local farmers improve their cocoa bean production. And the improved quality has already attracted the Dutch company Chocolatemakers.
"Our goal is to reduce poverty in rural Sierra Leone," says Jonathan Bart. He founded Village Hope after a long career in research and teaching in the United States. "The people in rural Sierra Leone are very poor. The farmers have a low level of education and only use simple tools. We pay farmers fair prices for their products. These include cocoa, coffee, cashew nuts, honey and wax. We also help farmers increase production and improve their products' quality."
Speciality cocoa beans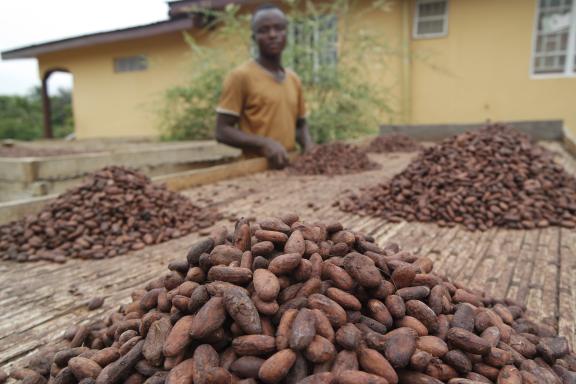 To support the local cocoa industry in Sierra Leone, CBI decided to help Village Hope support local cocoa farmers. Jonathan says, "CBI explained that people are willing to pay more for good-quality cocoa. So, we decided to help the farmers improve the quality of their cocoa beans. The drying and fermenting of cocoa beans are especially important."
There is a big quality difference in cocoa beans, with 3 categories:
Bulk beans: Farmers process these without supervision. The beans are cheap and of poor quality. Village Hope does not buy or sell this type of bean.
Improved beans: Farmers process these under the careful supervision of Village Hope experts. This results in higher-quality beans that are sold for a higher price.
Speciality beans: Village Hope buys these cocoa beans at harvest after careful examination. The best cocoa beans are processed at Village Hope's processing plant.
Training and advice
"CBI is responsible for the success we are having now, "Jonathan continues. "We received a lot of training and advice to improve the cocoa bean quality. One of our employees received expert training in sensorial tasting in Ghana. She is now skilled in evaluating both cocoa and chocolate quality. CBI also helped us attend major trade fairs and workshops on organic farming. We now want to introduce organic farming methods to the cocoa farmers we work with. This could triple their production yield, resulting in up to 300% more income."
Reducing child labour
Besides focusing on production, Village Hope also tries to prevent child labour. "This happens when working on a cocoa farm stops a child from going to school or puts them at risk," Jonathan explains. "Farmers that work with us have to sign a contract to exclude child labour. We carry out undercover checks on this."
Contributing to a better world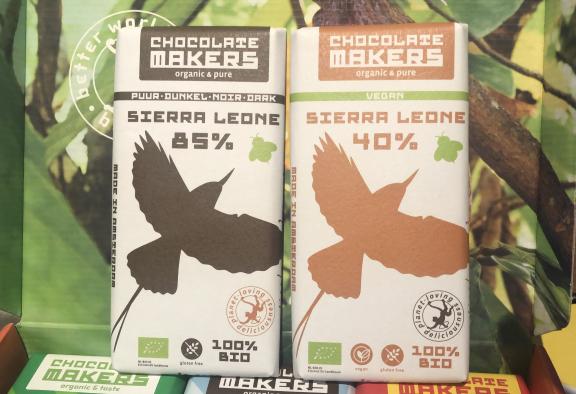 Village Hope wants to help as many farmers as possible. To do so, the company needs to sell larger volumes of speciality and improved beans. And to sell more, it needs new clients. CBI helped Village Hope find a new client: the Dutch company Chocolatemakers. The 2 companies are a perfect match. Rodney Nikkels, the founder of Chocolatemakers, explains, "Making the world a better place through chocolate is at the core of our business. We can help farmers in Sierra Leone escape poverty by paying them a good price. And for us, there is also an environmental reason for buying cocoa from Sierra Leone. We know that cocoa production in Sierra Leone is not associated with deforestation."
The confidence to collaborate
"CBI gave us the confidence to work with Village Hope," Rodney adds. "With CBI involved, we know that the farmers will be paid well and that no child labour is used. This collaboration ensures the high-quality cocoa we need for our chocolate. And as a tribute to Sierra Leone, we have now developed a new Single Origin Sierra Leone 85% chocolate bar. We expect it to be in shops in the summer of 2023. Hopefully, this will get Sierra Leone back in the spotlight as a cocoa-producing country."
Stay informed
To stay informed on the latest CBI developments, subscribe to our newsletter. Or join one of our upcoming webinars.