How does the European Green Deal impact the coffee sector?

Increasing concerns about the climate crisis have led the European Union (EU) to develop an ambitious set of actions. These actions form the European Green Deal (EGD). The EGD's impact goes far beyond Europe. It has an impact on coffee producers and exporters across the globe. The EGD makes it even more important for producers and exporters to show sustainability and integrate it into their business operations. More and more European buyers are looking for suppliers that can be accountable and transparent.
The European Green Deal (EGD) plans to make Europe climate-neutral by 2050. To reach that goal, the European Commission presented a list of actions in 2019. Some policies still have to be defined. 3 EGD-related regulations are particularly relevant for Small and Medium-sized Enterprises (SMEs) in the coffee sector.
Biodiversity Strategy for 2030
The first one is the Biodiversity Strategy for 2030. This introduces necessary steps to tackle biodiversity loss. The EU wants to reduce biodiversity loss and greenhouse gas emissions by promoting producers who make products that do not contribute to deforestation. One way to ensure produces do not contribute to deforestation is the EU regulation on deforestation-free products. This bans the sale of goods produced on deforested and degraded land. The list of targeted products includes coffee, beef, palm oil, soy, cacao and wood producers. 
The deforestation-free products regulation has consequences for the coffee sector as every coffee exporter must report on its operations and prove where its products are from. The European Commission also labels countries that grow coffee beans as low, standard or high-risk. High-risk regions have to meet more due diligence requirements than low-risk regions. 
Farm to Fork Strategy
The Farm to Fork Strategy aims to make food systems fair, healthy and environmentally friendly. One of the most important goals is to reduce pesticide use by 50% by 2030. So, the European Commission proposed rules to reduce the use of pesticides. These rules will help:
limit the amount of residue; and
stimulate using environmentally-friendly pest control.  
To reach the Farm to Fork Strategy's goal, suppliers and farmers need to look for modern alternatives to replace traditional pest control. Farmers may also have to adapt their farming practices to meet the new rules. And the rules may affect production costs and the economic return for producers.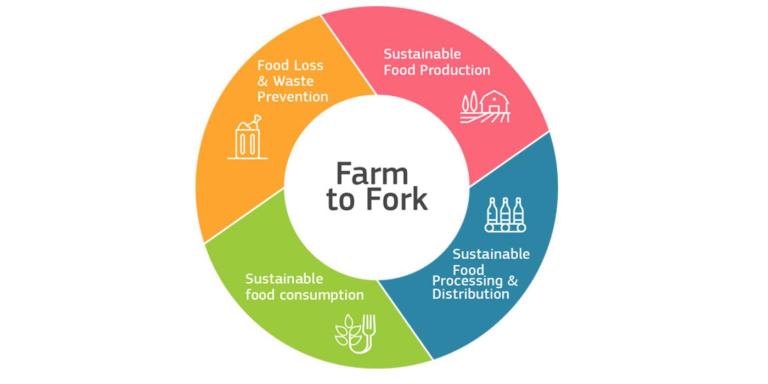 Source: European Commission (n.d.)
Circular Economy Action Plan
The EU Circular Economy Action Plan aims to make sustainable products the norm in the EU through:
mainstream circular production processes;
sustainable product design;
less waste;
alternatives for existing packaging.  
The European Commission only allows packaging into the European market after reviewing and, if needed, adjusting the requirements for packaging. These requirements will mainly impact exporters of pre-packaged coffee products and roasted beans.
What does the EGD mean for the coffee sector?
Some coffee producers, exporters, and other market players have an advantage when it comes to the EGD if they:
already meet environmental standards;
apply practices like agroforestry and regenerative agriculture;
meet social standards;
apply practices such as fair pricing and gender equality; or
have tighter controls over their supply chains.  
The EGD has made purchasing requirements stricter for coffee traders and suppliers. So, better information exchange is important for all parties in the supply chain. Besides this, it is becoming more and more important that suppliers manage land, water, forests and other resources responsibly.
Learn more
Read CBI's article The Green Deal - How will it impact my business? to learn more about the actions and policies and what they may mean for you.
To learn more about the coffee sector in Europe, read our market information page on coffee.
ProFound – Advisers In Development wrote this news article for CBI.
Stay informed
To stay informed on the latest developments in the coffee sector, subscribe to our newsletter.