Anuga: A fruitful fair for Moldovan companies

This autumn, the globally renowned food and beverage trade fair Anuga took place in Cologne, Germany. Companies from CBI's Moldova Agrofood project exhibited at the trade fair and made several business deals with importers. The honey and processed fruit producers exhibited together in the Moldova Fine Foods pavilion. CBI and sector association Moldova Fruct supported these companies.
The fruit processors did especially well at the trade fair. Tiferet, a processor of frozen fruit, took part in Anuga for the first time. And it managed to make deals for plums and apricots with buyers from Europe and the Middle East. Due to the high demand for berries in the European Union (EU), they also negotiated new sales contracts with their existing customers.
More successes
Tiferet was not the only successful company at the fair. Many other companies taking part in the CBI Moldova Agrofood project did well.  Rodo, for example, was new to the fair. The company offers dried fruits and fruit snacks. During the fair, it made several agreements with a German cereal company and a Croatian buyer for plums. The 3 honey producers from the project also had success.
Casa Albinei is a family-owned honey business that sells on local and export markets. They met with existing and potential new customers at Anuga and learnt about the latest market developments. They also introduced several healthy honey-based products and marketed their apitherapy activities. Honey producer Regina Naturii showcased the Superior Taste award it received from the International Taste Institute for its acacia honey. It also secured contracts for its honey for retail channels in the EU, United Kingdom and Asia. And Apinatur, a winner of a Superior Taste award for its buckwheat honey, made new valuable contacts for its high-quality honey.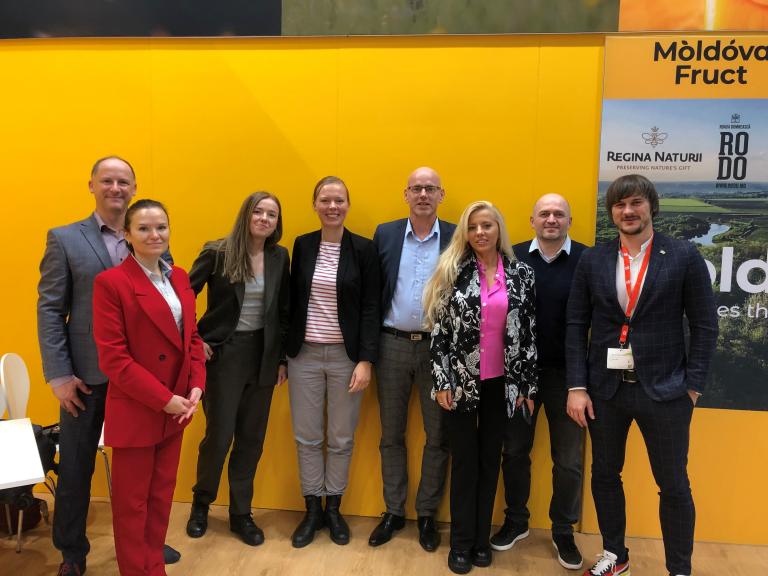 Contributing to future business opportunities
Anuga took place from October 9-13 in a hybrid format. It featured an online platform as well as a physical trade display. The fair was very popular and attracted more than 70,000 visitors from 169 different countries and 4600 exhibitors.
By attending Anuga, the Moldovan fine foods companies contributed to their future business opportunities and the visibility of Moldova as a country of fine foods. Their successes at the fair confirm that Moldovan taste indeed makes the difference!