Virtual B2B meetings: Fine flavour cacao & chocolate from Central America

Are you interested in discovering new sourcing regions? The Centre for the Promotion of Imports from developing countries (CBI) connects you with reliable, high-quality suppliers prepared to do business with a European partner. With the Connecting Central America project, CBI helps SMEs and cooperatives become more competitive in the European market. The European Union co-finances this project. SIECA coordinates it.
Many trade fairs and events have been cancelled due to COVID-19. For this reason, CBI now helps you virtually meet carefully selected fine flavour cacao and chocolate producers and exporters from Central America.
Meet quality suppliers from Central America
The Connecting Central America project presents cooperatives and private companies from:
El Salvador;
Guatemala;
Nicaragua; and
Costa Rica.
All participants focus on sustainability and social commitment. Participants offer products such as fine and aroma cocoa. Some of these products have organic certification. Some companies also process and offer fine flavour cacao derivatives, such as nibs, liquor and couverture.
For more information about the companies you can meet virtually, have a look at our virtual brochure (PDF).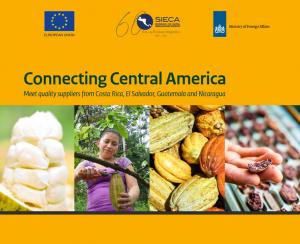 Opportunities for EU buyers
Arrange online meetings with carefully selected fine flavour cacao and chocolate and exporters. You can select producers and exporters based on your requirements. Online meetings can take place from the comfort of your (home) office at a time that suits you;
Find detailed information about the companies via their online profiles;
Meet with quality producers and exporters that have prepared with CBI for the online B2B meetings;
Find everything in 1 platform:

Directly connect with the companies through messaging;
Schedule video calls; and
Get help from the CBI team to find the right matches for you.
Register for online B2B Meetings
Register for the online B2B Meetings through the B2Match platform. You can register until 16 July 2021.
More information
For more information, visit our project page on the CBI website. You can also follow us on Facebook or contact us at devco-ca@cbi.eu.