From 80 to 600 tonnes of fish a year: Growth for Peruvian trout fishers

After joining CBI's export coaching project in 2015, Peruvian trout fishing group Consorcio Acuícola Junín grew fast. Production went from 80 to 600 tonnes of fish a year. Now, the group hopes to be ready for European export by the end of 2023. Consortium President Flavio Ventura Silva expresses, "Exporting to Europe would be the highlight of my career."
Exporting to the European market
Starting export to a new market can be challenging. There is much to learn, even for the most enthusiastic entrepreneurs. Peruvian trout fishing group Consorcio Acuícola Junín joined CBI's aquaculture coaching project between 2015 and 2018. This project gave small businesses in developing countries the tools and knowledge they needed to enter the European market.
Exporting is still a few years away for Consorcio Acuícola Junín. But, they are determined to make the most of the wait. They use CBI's training to stay ahead of the competition and remain the leading trout supplier in Peru as they work towards their long-term goal.
Trout fishing in the Peruvian Andes
Consorcio Acuícola Junín is a consortium (a group of businesses) of trout farmers. The consortium is in the Junín region of Peru in the Andes mountains, over 3,500 metres above sea level. The location is perfect for raising trout. "Our group includes several companies," explains Consortium President Flavio Ventura Silva. "A reproduction and incubation centre, 3 on-growing centres, 1 processing plant, and 1 trout oil and flour production centre."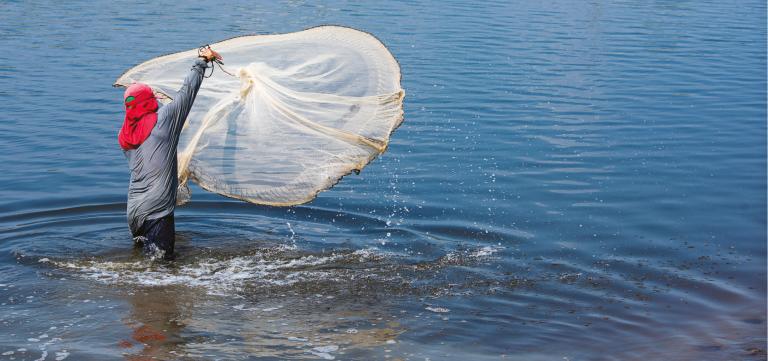 Flavio says that the consortium's motivation to improve has kept them ahead of the competition. "We sell our fish to the 4 biggest supermarkets in Peru," he says. "We are leading the market, but we always look for ways to improve. That is how we have always worked, and 6 years ago, it is what led us to CBI."
Growth during CBI's aquaculture project
During CBI's aquaculture project, the consortium received coaching and visited 2 important trade fairs in Europe. These included the Conxemar aquaculture trade fair in Spain and Seafood Expo Global in Belgium. CBI's external consultant and sector expert, John van Herwijnen, remembers Consorcio Aquícola Junín and their enthusiasm. "They took every opportunity to learn and grow throughout the project," he says. "When they went home and applied what they learnt to their business model, it helped them grow incredibly fast." During the project, Consorcio Acuícola Junín's production grew from 80 to 600 tonnes of fish a year.
Working towards international export
After joining the coaching project, businesses begin to connect with buyers and start exporting to Europe. For Consorcio Acuícola Junín, this goal is still a few years away. Flavio explains, "The amount of fish we process now is enough for the national market. To enter the European market, we need more production capacity. We also need the right certifications."
The group is currently working on this. But the main challenge they face is not in their control: national export procedures. John explains, "The political situation in Peru changes often. New ministers, new laws, new fishing policies. It affects the entire sector and makes it difficult to get products out of the country." In 2021, a new government was voted in. Companies are waiting to see how this will affect business at a national and international level.
Exporting to Europe: The achievement of a lifetime
Despite the ever-changing situation, Flavio has a positive and inspiring outlook. He is hopeful that his group will export by 2023. They are already talking to buyers in the Netherlands and Belgium. He adds that he would love to see his life's work completed: "It would be the highlight of my career," he says. "But I am also satisfied with how far I have come. I will keep contributing for as long as I can. Still, I also see the value in leaving behind a project for the next generation."
Read more CBI stories
You can find this story and many others in our 50 years of CBI e-zine.