Exporting sportswear to Europe
Primary tabs
Takes about 22 minutes to read
Sportswear is a growth market in Europe. The main reason is that many consumers are opting for healthier lifestyles and more exercise. Another factor is the growth of athleisure and crossovers between sportswear and leisurewear. If you are a supplier from a developing country, this market offers good opportunities. Keeping up with fabric and fibre innovations and targeting niches with interesting crossovers – for example, softshell jackets for casual and sportswear – are important success factors.
1 .

Product description

Sportswear or activewear is clothing, including footwear, worn for sports or physical exercise. Most Europeans engaging in sports or physical exercise wear sports clothing for reasons of comfort, performance and/or safety.

Sports fabrics are a vital part of sportswear. These fabrics are technical materials that help to keep the wearer comfortable during exercise, or that enhance his or her performance. The type of fabric required usually depends on the type and intensity of the activity.
Athleisure and sports-based crossovers
Today, more and more Europeans wear sportswear for casual and leisure activities as well as for sports. For example, many consumers wear sports shoes or designer sweat pants to school or work. This so-called athleisure or sports-inspired segment is the fastest grower in sportswear at the moment.
All major retailers and brands have adopted sportswear in their collections, while sports brands are crossing over into casual wear and fashion. Many apparel products are influenced by sports in terms of style, colours, fabrics and comfort, while sports clothing has become much more fashion-sensitive in terms of colours and design.
Figure 1: Example of a casual garment inspired by sports in terms of design and fabric

Niche sportswear
The term niche sportswear covers narrower, sports-specific segments within the wider range of sportswear. Niche sportswear exists for many different sports activities, such as yoga, running, cycling, golfing, hiking, snowboarding and skiing, surfing, tennis, sailing, climbing, horseback riding and many more.
Product specifications
Quality and key technical specifications
The functional requirements of fabrics for sportswear vary a lot. They depend on the type of sport, the environment and the level of activity for which the product is used. Key considerations include:
 protection from adverse weather (wind, rain, snow, sun, ultraviolet rays, and so on);
 moisture transport, or "wicking", and breathability – properties that keep the body dry by drawing moisture away from the body surface, especially in products that are in direct contact with the skin;
 thermal insulation, or heat transport – fabrics with breathable or insulating properties that help the wearer feel cooler in hot weather and warmer in cold weather;
 comfort (body temperature, fabric sensation, freedom of movement);
 easy care, anti-static, lightweight, durable, elastic and strong characteristics;
 performance – preferred fabrics enhance wearers' athletic performance and allow them to perform for longer periods of time;
 anti-bacterial properties that reduce body odour and textile discolouring;
 quick-drying fabric properties;
 bi-stretch fabric properties, which comprise fabrics made to stretch in two different directions, offering extra comfort and ease of movement.
Tips:
If you are aiming at the niche sportswear market, target several sports with similar functional requirements; for example, yoga, cycling and running; snowboarding and skiing; tennis and golf; sailing and climbing.
Cross over into the growing casual or athleisure market through designs that combine sportswear trends (style, fabric, comfort) with mainstream trends (design, colours).
Make sure that you use the right fabrics and designs to create sportswear that offers the right comfort and functionality levels, as these factors will determine your product's quality image.
Labelling
Textile products entering the European market have to be labelled. The label must include information about the fibre composition, using the fibre names laid down in European legislation. The purpose of these labelling rules is to ensure that consumers will know what they are buying.
Tip:
Do not forget to mention the characteristics of the fabrics on your hangtags. This process adds value to the product, even though it is not obligatory.
Colours and design
Aesthetic appeal is an important factor in sportswear. As more fashion retailers enter the sportswear market, stylish and fashionable sports clothing will have a competitive edge. Design and colour are strongly influenced by gender, environment and activity type.
Other key considerations include:
 comfort – for example, strategically placed panels can help ventilate sweat-prone areas, or thumbholes in sleeves can help keep hands warm;
 cut and drape – consumers like a slim silhouette, while sports garments that are too loose or too tight in certain areas may cause chafing and irritation. Tops that hit at mid-hip and pants that have wide, smooth, elastic waistbands are  common design features in sportswear garments for women;
 high-performance sportswear is often body-shaped to maximise comfort and reduce resistance;
 coverage and support – for example, draw cords, elastic waistbands, built-in bras and body-forming features that keep garments in place during rigorous workouts and in different body positions;
 storage – think of strategically placed pockets for devices and earphone holes in jackets, or quick-access, small, zippered pockets hidden in the back of pants waistbands that can fit keys, money, passes or cards;
 multifunctionality – for example, detachable parts such as zip-off pants, collars or sleeves.
Tip:
Carefully study the functional and design features specific to the type of sportswear which you want to produce and make sure that you can match them.
Materials
Synthetic fabrics such as polyester and nylon are the most commonly used fabrics in sportswear, as they tend to provide the best combinations of the required properties.
Knitted fabrics are also popular, as their elasticity offers freedom of movement and transmission of body moisture to the next textile layer in the clothing system.
Cotton is not recommended for active sportswear because of its tendency to absorb and retain moisture.
Popular sports fabrics
The following fabrics have become especially popular in sportswear:
 Lycra/elastane can be combined with cotton, polyester, viscose and many more fabrics. It increases the stretchability of the fabric and improves the fit.
 Mesh is a fabric with small holes that allows the air to circulate (see Figure 2).
 Neoprene, a foam-like synthetic rubber made from polychloroprene chemicals, insulates and is water-resistant (see Figure 3).
 Waterproof fabrics are widely used in outdoor sports to protect against weather elements.
 Microfibre, fabric made from extremely fine fibres, is durable and stain-resistant as well as retaining its shape.
 Waddings are non-woven materials made from synthetic continuous polyester filaments that trap air between the many fibres for insulation purposes.
 Sports fleece is also a popular insulation fabric.
Figure 2: Mesh fabric


Figure 3: Neoprene

Packaging
Products imported into Europe are subject to mandatory packaging requirements. These requirements aim to promote the reuse of packaging and to reduce waste. Retailers are responsible for the way that their products are packed for sale in shops, but they often ask suppliers to do this for them. Offering to meet their packaging requirements may strengthen your competitive position.
Different buyers will give you different instructions and preferences for packaging. These will usually cover the following aspects:
 the dimensions and quality of the cardboard boxes in which you pack products;
 the weight of the boxes (most buyers require a maximum weight of 15 kg for the sake of the health of the employees lifting the boxes);
 polybag format and quality;
 the position of the bar codes and the data on products, bags and boxes (many storage systems are automated, which means that the bar code has to be in a specific position on products and packaging or it cannot be read).
Tips:
Offer to meet your buyer's packaging requirements in order to strengthen your competitive position.
Make sure that your boxes are always full to prevent collapsing during transport.
Use UV-resistant packaging to avoid discolouring as a result of exposure to daylight.
Find out as many details as you can about your buyer's packaging requirements and wishes.
Ask where to place bar codes and data in order to align with the buyer's processing and storage systems.
Look for ways to reduce and reuse packaging waste. If you can improve your performance in this area, use this aspect as a selling point in communicating with buyers.
Do not use polybags that contain polyvinylchloride (PVC), as these are banned in Europe.
If you can, use polybags made from recycled plastic, also known as Green Dot polybags as they comply with the Green Dot standard for packaging materials.
2 .

Which European markets offer opportunities for exporters of sportswear?

Sportswear is a growing apparel segment in Europe. According to this 2017 Business Insider article, it has outperformed other apparel segments for the last three years.

A 2017 study by Global Industry Analysts estimates that the global market for sports and fitness clothing will reach a total value of over US$ 230 billion by 2024. Performance sportswear is the largest segment (US$ 78 billion in 2016), but athleisure is the main growth driver (source: Strategyr.com).

Growth in sportswear has been higher in recent years than in other apparel segments, especially since 2013. In fact, many market experts suggest that sportswear has become the most important and influential segment in apparel.
Sports-inspired apparel is the fastest-growing segment
Apart from footwear, the sports-inspired apparel or athleisure segment is the fastest-growing segment in sportswear worldwide, achieving a growth of almost 6% in 2016 (sports-inspired footwear grew more than 9% and performance footwear just under 9%). Performance and outdoor apparel are also growing. These trends all tie into the consumer interest in better health, more exercise and outdoor activity.
Imports and exports both growing
On the European market for sportswear, both imports and exports dropped until the economic crisis in 2008 and have been rising since. In 2015, exports rose by 8%, accounting for almost 6% of the total European exports. In the same year, imports rose by over 11%, taking a 7.4% share in the total European imports.
Growing exports create opportunities for sportswear exporters from developing countries to get involved in re-exports from Europe to other markets.
United Kingdom in the lead
The United Kingdom is the fastest-growing national market in Europe. Economically struggling markets such as Italy and Greece are not growing. However, the overall growth of athleisure is likely to influence and create new opportunities in these markets as well.
Asia-Pacific is the largest growth region worldwide, followed by the United States. Europe is the third-largest market for this segment and is expected to hold that position for the coming five years at least. One reason for this situation is that per capita spending in Europe is much lower than it is in the US, where the sports-inspired apparel boom originated. This fact means that there is room for more spending in Europe.
Within Europe, growth is the highest in eastern European countries such as Poland, Hungary and the Czech Republic. The reason is that these economies are growing and consumers here are eager to adopt western trends.
Italy and France are important
Italy and France are important trading hubs. They are also creative centres for sportswear. Their brands remain very attractive to traditional and new consumer countries such as Brazil, Russia, India and China (the BRIC countries) as well as countries in Central and Eastern Europe.
Declining production in Europe offers good opportunities to suppliers from developing countries
The overall production of sportswear has declined in Europe since 2008. Leading production countries Italy, Spain and France have seen their output go down in recent years. On the other hand, Romania and Bulgaria stepped up sportswear production after the recession began in 2008.
Countries such as Romania and Bulgaria are important centres for sports apparel manufacturing. They offer short delivery times, a qualified labour force, a developed infrastructure and relatively high corporate social responsibility standards. In addition, the growth of these countries means that they need more production capacity.
Declining sportswear production in Europe represents an opportunity for exporters from developing countries to supply the growing demand. The main reason for decline in Europe is that production costs – especially labour costs – are too high.
Nike and Adidas are dominant in Europe
Nike and Adidas dominate the sportswear market in western Europe. Both brands saw exponential growth in the past five years. They leave little room for development by smaller European actors on the market.
Tips:
Consider connecting with eastern European producers to access Europe's strong sportswear market.
Focus on new customers with sales in different European countries rather than depending on economic developments in a single country.
Research market opportunities in Central and Eastern Europe, as economic growth is highest there.
If you are based in Asia, combine exports to Europe with exports in your own region, as growth in the Asia-Pacific region is the highest in the world for sportswear.
When selecting target countries in Europe, take into account the excellent opportunities that some countries offer for re-exports to other parts of the world.
To keep in step with design and material trends, watch Italy and France especially.
3 .

What trends offer opportunities on the European market for sportswear?
The lines between sportswear and fashion are blurring
The growth of the athleisure segment has given – and is expected to keep giving – the sportswear market a strong boost. As the performance-oriented functionalities of sportswear merge with the stylishness of fashion design, sportswear is inspiring all apparel and footwear categories.
Even officewear is being influenced by sportswear, as more and more office workers opt for sneakers rather than dress shoes and for sports-inspired garments rather than traditional office clothing. Their key driver is a consumer preference for comfortable clothing over traditional looks.
For an example, read this Wall Street Journal article on officewear trends.
Athleisure, with its comfy fit and sporty appeal, is even putting pressure on the jeans market. One example of this development is that Levi's decided in 2016 to make its classic denim trousers more comfortable by adding stretch material to Levi's 501s for the first time in history.
The lines between the wider fashion and sports markets are blurring
Sports-influenced fashion has infiltrated European runways, as sports brands are becoming a powerful fashion factor. A leading brand in this fusion trend is Adidas, which has collaborated with fashion designer Stella McCartney as well as pop singers Pharrell Williams and Kanye West. Major investments and campaigns have solidified Nike's status as a fashion brand.
Sportswear is now attracting traditional apparel retailers such as H&M, Esprit, Uniqlo and Victoria's Secret. Celebrities are also capitalising on the trend. Actress Kate Hudson's Fabletics brand offers clothes intended for both the gym and casual wear.
Global companies that have had significant success in niche sportswear and "athleisure" have become household names in Europe. Canada's Lululemon and Australia's Lorna Jane are growing steadily here.
Figure 4: Examples of blurring lines between sports and fashion

Tips:
Study the crossover between fashion and sportswear in Europe by looking at sportswear lines launched by traditional apparel retailers such as H&M, Only, Esprit, and Primark.
For more inspiration, look at niche sportswear companies and lifestyle brands such as Lululemon, Lorna Jane, Brunotti, O'Neill, Tom Tailor, Sportalm, Bogner, J. Lindberg, Burton, Gaastra and Protest, as well as the fashion-oriented product lines of traditional sportswear and lifestyle brands such as Nike, Adidas (with its Stella McCartney collections, for example) and Puma.
Consider producing apparel for new sports such as parkour, free running or stunt biking. Also consider supplying to fashion-influenced sportswear firms catering to these niche sport consumer segments, such as Munkimotion.
The forces driving sportswear remain strong
The forces driving sportswear and athleisure are not showing any signs of slowing down. Health and wellness remain a priority among European consumers. Consumers are engaging more than ever in athletics and fitness, while new sports are popping up and niche sports are spreading to new regions or segments. Globally, the sports apparel market is forecast to grow at 4% until 2019, reaching a total value of € 99.2 billion.
Consumers in northern Europe are the most physically active of Europeans, according to surveys. In Sweden, 70% of the population exercises or plays sport at least once a week. The percentage is 68% in Denmark, 66% in Finland and 58% in the Netherlands. Eastern and southern Europeans are the least active.
Social media continue to promote health as a hot trend. All of this activity fuels spending on sportswear and activewear.
These trends are also influencing other markets such as sports nutrition, wearable technology and beauty. All of these industries are benefiting from a growing consumer interest in a more active lifestyle and a healthier appearance.
Online sportswear sales are growing rapidly
European consumers increasingly buy their clothes online rather than just in physical shops. This certainly applies to sportswear; as consumers associate sportswear more with functional than with fun shopping, they like the convenience of buying it online.
Consumers also use the internet and social media to follow trends as well as to develop their own styles and preferences. For example, sports brands such as Adidas are highly active on social media, while Nike Football and Converse are among the world's top eight brands on Facebook.
Being active on the internet and social media is a must on today's market. But the growth of e-commerce does not mean that Europe will no longer have offline fashion sportswear shops. The opposite is true: online commerce works best when combined with offline commerce.
Wearable technology and smart textiles are hot in sportswear
Wearable technology and smart textiles are exciting growth markets, especially in sportswear. Smart fabrics are even set to take the place of devices for some tasks, as developers make technology invisible by shrinking it and embedding in garments. For example, think of tech-enabled shirts monitoring heart rate, breathing and stress, thereby replacing watches, chest straps and such.
Intelligent or smart textiles are materials that interact with human or environmental conditions. Their material properties respond differently to different conditions; for example, they may offer thermoregulatory control by affecting the microclimate between the clothing and skin.
Sportswear is expected to be the leading sector for wearable tech and smart textiles. Analysts at Transparency Market Research believe that smart textiles in sports and fitness will expand at a 33.1% rate between 2015 and 2023. The wearable tech and smart textiles industry is estimated to reach a total value of over US$ 130 billion by 2025 (source: Cientifica.com).
The tech industry is developing many new applications suitable for apparel and sportswear. For example, StretchSense produces soft sensors for measuring people's movements. Another specialist, Heddoko, offers wearable motion capture for ergonomics and sports. A final example of this technology is Notch, a system that fits into garments and equipment without obstructing movement, using sensors as well as Bluetooth technology to collect data and send them to the user's mobile phone.
Tips:
Find out about high-tech developments, especially in the area of health, sports and fitness, and how they are spilling over into sportswear.
Tap into the trend of combining clothing with technological gadgets (to get some ideas, read this article on trending footwear gadgets).
Monitor sports publications, products on the market and textiles publications such as Textiles Intelligence.
For more information and ideas, see the section on technology in our study of mass market sports footwear.
4 .

Which requirements should sportswear comply with to be allowed on the European market?

The requirements for apparel can be divided into (1) musts, or legal requirements; (2) common requirements, the ones that you need to comply with in order to keep up with your competitors; and (3) niche market requirements for this segment (Figure 5).

Figure 5: Types of requirements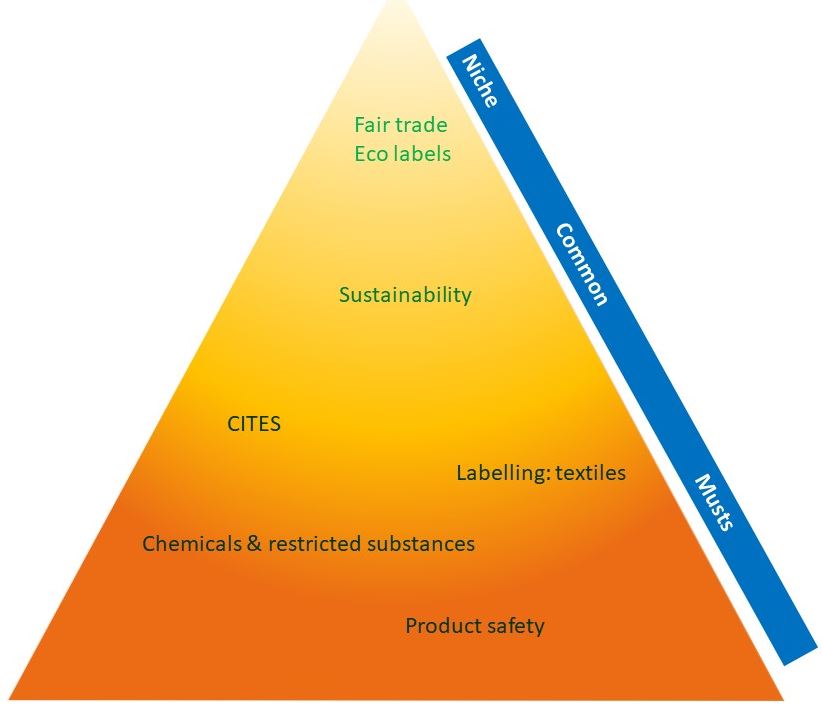 Legal requirements
There are many requirements that your products have to comply with by law in order to be sold in Europe. The main areas which they cover are:
 product safety (all products);
 use of chemicals (in textiles, leather and accessories);
 labelling (there are specific rules for textiles);
 use of materials derived from wild plants and animals.
Tips:
For more general information on this topic, see our study of buyer requirements on the European apparel market and the section about the General Product Safety Directive on the EU Export Helpdesk, http://trade.ec.europa.eu/tradehelp/.
Familiarise yourself with the full list of restricted substances in products marketed within Europe by checking out restricted chemicals in textile and leather products on the EU Export Helpdesk, http://trade.ec.europa.eu/tradehelp/.
Make sure that you know Europe's labelling requirements as well. For more information, see the textile labelling rules on the EU Export Helpdesk.
For an overview of all legal requirements that apply to your product, see the EU Trade Helpdesk, where you can use your product code to obtain a list of relevant requirements.
Look for ways in which you can present your company as environmentally and socially aware, and communicate these aspects with buyers. Show them that you are different from your rivals.
Common/non-legislative requirements
In addition to the legal requirements that you will face as a supplier from a developing country exporting sportswear to Europe, you will also face requirements that are not mandatory yet unavoidable; for example, care labelling and sustainability.
Sustainability performance
Sustainability requirements, though still widely differing, are becoming very common on the European apparel market. Many buyers have non-negotiable standards in this area. A strong sustainability performance is perhaps not yet vital to selling sportswear in Europe, but it certainly offers you a competitive advantage.
5 .

What competition do you face on the European sportswear market?
Competition is growing in sportswear
The field of competition on the sportswear market is comparable to that of the overall apparel market. The fragmentation of the apparel market, combined with a weak retail landscape in recent years, has increased rivalry. The sportswear segment has become increasingly competitive, as more fashion retailers are offering sportswear collections.
Tips:
Increase your competitive strength by adding value to your offer. You can do this in many ways: developing a stronger sustainability performance, creating a more differentiated collection in terms of colours and designs, or using innovative materials.
For more information on the kind of competition that you face on the apparel market, see our study of competition on the European apparel market.
6 .

Through which channels can you get sportswear on the European market?

The sportswear market in Europe can roughly be divided into the same segments and channels as the general apparel market.
The middle and higher segments offer the best opportunities
As it crosses over into casual and leisure wear, sportswear is growing in all consumer segments.
The mid- to high-range segments offer the best opportunities for niche sportswear, as consumers in these segments have the disposable income to participate in niche sports. For example, sports such as yoga and skiing are less costly than more luxury niche sports such as golf, climbing and sailing, but they still cost a lot of money.
Tips:
Develop a clear market position before setting up distribution channels for your market. For example, some retailers attract younger consumers and some target older demographics. For high-end segments, your product quality must be in line with customer expectations. Minimum delivery volumes and terms of payment vary greatly; you have to request these on an individual basis.
For more information on this topic, see our study of channels and segments on the European apparel market.
7 .

What are the end-market prices for sportswear in Europe?

Sportswear is available at all price levels in Europe. At the low end of the market, products are often made of polyester fabrics and have no special performance technologies or systems. At the high end, the focus is on performance wear with special functionalities such as extra comfort, breathability, durability or performance enhancement. These products are complicated to manufacture and volumes are low.

Figure 6: Breakdown of sportswear prices by value addition, in %

The typical retail price in European apparel is 4.5 to 6 times the Free On Board (FOB) price. In high-end sportswear, a larger proportion of the total cost goes into production and shipment than in low-end sportswear (Figure 6).
Please review our market information disclaimer.