Virtual B2B meetings: Fish and seafood from Central America 2021

Are you interested in discovering new fish and seafood suppliers? The Centre for the Promotion of Imports from developing countries (CBI) connects you with reliable, high-quality suppliers prepared to do business with a European partner. With the Connecting Central America project, CBI helps SMEs and cooperatives become more competitive in the European market. The European Union co-finances this project. SIECA coordinates it.
Many trade fairs have been cancelled due to COVID-19, including SEG and CONXEMAR 2020. For this reason, CBI now helps you virtually meet carefully selected fish and seafood producers and exporters from Central America.
We can arrange a meeting for you from now until 21 May 2021.
Meet quality fish and seafood suppliers from Central America
Connecting Central America presents fish and seafood companies from Costa Rica, Guatemala, Honduras, Nicaragua and Panama. These companies are ready to enter the European Market. They offer an interesting range of products, from frozen seafood like quality Vannamei shrimp and Caribbean spiny lobster to fresh fish like grouper, wild and farmed snapper, mahi-mahi, swordfish and tuna.
Many of the exports currently go to the USA or Asia. Still, the Central American companies offer many products that appeal to the European market. In 2012,  the EU and the Central American region signed the Association Agreement. This has improved the conditions for trade.
Opportunities for EU buyers
Arrange online meetings with carefully selected fish and seafood producers and exporters. Producers and exporters are selected based on your requirements. Online meetings can take place from the comfort of your (home) office at a time that suits you;
Get detailed information about the companies and the products they offer; and
Get support from an experienced CBI expert during the online meetings.
 
All companies have prepared for the online meetings with CBI.
Meet our companies virtually
To find out more about the companies that are available for online B2B meetings, have a look at our virtual brochure (PDF).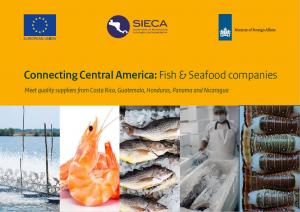 More information
For more information, visit our project page on the CBI website. You can also follow us on Facebook or contact us at devco-ca@cbi.eu.