Online panel discussion: Opportunities in speciality rice

European interest in speciality rice is growing. Popular varieties on the European market include aromatic rice, such as basmati and jasmine rice, and coloured rice, such as black and red rice. Special types of rice with a connection to a specific group are also popular. The increasing demand for healthy and sustainable food creates opportunities for rice with organic and fair trade labels.
Join this webinar to find out which trends and countries in Europe are interesting for speciality rice exporters. We will also look at what you have to do to become a supplier to European buyers.
Our expert panel will discuss:
Which countries offer opportunities for speciality rice?
Which trends affect speciality rice consumption in Europe?
How can you prepare your company for the European market?
What are your possible market entry options?
 
The panel
Michel Peperkamp, researcher and export consultant at ICI Business.
Michel has worked as a researcher and export consultant in the fresh food and food ingredient industry for more than 10 years. He has guided trade missions and helped companies looking for new markets in Europe. He has worked as a market researcher for CBI in the fresh fruit and vegetables sector for almost 10 years. International business development is his passion.
To be announced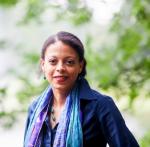 Tonia Dabwe, business advisor and growth strategist at Guide My Growth will moderate the session.
Tonia is a Dutch-Liberian business advisor and growth strategist. She mainly works with small and medium-sized enterprises (SMEs) in Europe, the US and Africa. She is the Founder and CEO of Guide My Growth. This company provides online business advisory services mainly to SMEs across the African continent. Tonia's areas of speciality include funding, marketing and sales, and business management.
Register
Join us for this online panel discussion on 9 November 2021 at 10:00 - 11:30 CET.
More information
For more information, please contact Programme Manager Mr Arthur Scheinhardt via the contact form.