Meet CBI-supported Ethiopian spices and herbs companies at Fi Europe 2023

Are you interested to learn more about Ethiopian herbs and spices? Would you like to meet CBI-supported companies in the Ethiopian herbs and spices sector? Please visit us at FI Europe at the Ethiopia Spices and Herbs Pavilion, stand 4.1A70. 
We are excited to introduce a range of organic and sustainable spices and herbs from Ethiopia to the European market. 
CBI at Fi Europe 2023
A group of 5 outstanding companies will be showcasing their range of products at the leading food ingredient trade fair in Europe, Fi Europe 2023. These companies have received coaching and training from a team of experts from CBI's Spices Ethiopia export coaching project. The companies meet European market standards and are ready to enter the European market with their unique, high-quality spices and herbs. They are well-equipped to establish long-term partnerships with European buyers. Also, these exporters work with a sustainable business model from seed to farming and sourcing.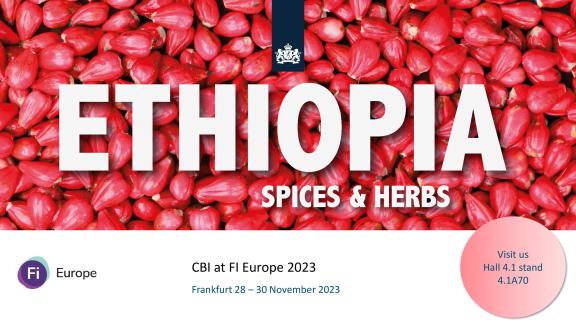 Join us at Fi Europe 2023 to meet our Ethiopian companies, exhibiting the finest selection of Ethiopian spices and herbs. For more information on the companies, click on our brochure (PDF):
Sector organisations
The Ethiopian spices and herbs sector will be represented at the fair by: 
The Ethiopian Spices, Aromatics, Herbs Growers and Processors Association (ESAGHPA); and
The Ethiopian Coffee and Tea Authority (ECTA). ECTA operates under the aegis of the Ethiopian Ministry of Agriculture. ECTA collaborates with farmers, agricultural research centres, and exporters to help economic growth in the modern spice sector.
Participating companies
Get tickets for Fi Europe 2023
Are you interested in attending Fi Europe 2023? Buy your tickets from the Fi Europe website. 
More information
For more information or questions about this event, please contact Hugo Verhoeven, senior programme manager, at ingredients@cbi.eu.
Learn more
Visit the CBI project page for more information on the Spices Ethiopia project.