Exporting wine to the Danish market
The Danish wine market is dependent on wine imports as domestic production is insignificant. An increase in private labels creates opportunities for developing country exporters to supply bulk wine for these labels. Small wine exporters who are not able to export large quantities can focus on the large number of small importers in Denmark. They will have to emphasise their Unique Selling Points to distinguish themselves among the wide variety of wines available, such as by supplying sustainably produced wine, which is increasingly popular among Danish consumers.
1.

Product description

Wine is defined as: 'The product obtained exclusively from the total or partial alcoholic fermentation of fresh grapes, whether or not crushed'. Please refer to Table 1 for the Harmonised System (HS) codes for wine.

Table 1: HS codes of wine
| | |
| --- | --- |
| Type of wine | HS Code |
| Sparkling wine | 220410 |
| Wine in containers < 2 litres | 220421 |
| Wine in containers > 2 litres | 220429 |
Labelling
The European Union has set compulsory labelling particulars for wine; labels must provide the following information.
The name of the Protected Denomination of Origin (PDO)/ Protected geographical Indication (PGI) or Wine of 'producing country'/Produced in 'producing country'/Product of 'producing country'
Actual Alcoholic strength (AAS)
Nominal volume
Lot number
Importer details
Allergenic ingredients
The information on allergenic ingredients should include the following.
All wines containing over 10 milligrams of sulphite per litre must be labelled with the indication 'Contains sulphites'. This information is crucial for individuals who are sensitive to sulphites and experience problems such as shortness of breath, coughing, and wheezing. If your wine contains only a few mg or no sulphites, you can mention this on the label to accommodate these consumers.
Egg and milk derivatives must also be mentioned on the label.
Allergens must be mentioned in the language of the target market.
Sugar content (for sparkling wines) must be given.
Tips:
Legislation does not require the exact composition of a blend on the label. However, rising interest of consumers in the composition of wines increases the need to include such information on the label.
If you target educated consumers, it is worth mentioning the grape variety and vintage. This can have a positive effect on consumer perception of your product's quality.
The use of the term 'Reserve' or even 'Grand Reserve' can help to convince consumers of the high quality of your wine. Ensure compliance with the wine law in your country concerning the use of such terms. Educated wine consumers, however, will be less receptive towards this kind of marketing.
The Food Standards Agency of the United Kingdom provides useful guidance on more detailed labelling requirements for the United Kingdom, which are also applicable to the Danish wine market.
Packaging
Bottled and boxed wine
Glass bottles and Bag-In-Box (BiB) are the most common types of packaging on the Danish consumer market. Currently, around 33% of wine on the Danish market is packed as Bag-In-Box. BiB typically contain three litres. Lower handling fees per litre for boxed wines than for traditional glass-bottled wines and increased recyclability has added to the success of Bag-in-Box. The government's efforts to promote sustainability have also contributed.
Glass bottles are usually coloured to reduce the effect of UV light and typically contain 0.75 litre. Besides glass bottles and BIBs, there are niche markets for wine in Tetra Pak packages, aluminium cans or plastic containers (PET).
Corks (natural or synthetic, e.g. Nomacorc) and screw caps (e.g. Stelvin) are both common stoppers in the sustainable wine market. Plastic stoppers are very common as well, unlike glass stoppers (e.g. Vinolok) which are less common for wines. The selection of the type of stopper should depend on the requirements of the buyer.
Bottles for sparkling wines need to be strong enough to withstand the pressure resulting from the high CO2 levels. Although there are no legally binding requirements, the International Technical Centre for Bottling and Related Packaging (CETIE) has published standards that are internationally recognised.
Bulk wine
Packaging-related quality problems with bulk wine hampered development of bulk wine trade for a long time. Recent improvements in storage technology, handling facilities, and quality protocols have contributed to better quality preservation and, consequently, to the wider use of bulk wine.
Different types of packaging are available for the transport of bulk wine. The two most common are:
Flexi-tanks – disposable plastic bags intended for installation in a standard 20ft shipping container.
ISO tanks – reusable steel tanks, which need to be cleaned between shipments. ISO tanks offer all the advantages of flexi-tanks, but are more polluting and expensive in transport due to higher weight. One advantage of an ISO tank is its reliability; they have a lower risk of defects compared to flexi-tanks.
2.

What makes Denmark an interesting market for wine?
Domestic wine production is negligible
Denmark is a medium-sized wine market and commercial production of wine in Denmark has only been allowed since 2000 by European law. Due to its unfavourable climate, wine production has traditionally been negligible. Only a few small vineyards exist and production volumes remain insignificant. However, niche wine production targeted at the premium segment has emerged recently.
High per capita wine consumption
Danish wine consumption amounted to 779 million hectolitre (hl) in 2015, showing an average annual increase of 1.7% between 2011 and 2015. Denmark has a high per capita wine consumption, especially for a non-traditional wine country. In 2015, per capita wine consumption amounted to about 30 litres, which is well above the European average of 23.9 litres.
Due to an unplanned high taxation on wine in 2012, consumption levels strongly decreased. However, consumers got used to the new price levels quickly and wine consumption increased again in 2013 and 2014. This trend is expected to continue if excise duties remain stable.
Tips:
Because domestic wine production is insignificant, the Danish wine market is open to 'foreign' wines. Keep up to date on the latest trends and developments in this market to benefit from this.
The Danish wine market offers interesting opportunities to developing country suppliers, especially as wine sales are expected to increase in the coming years.
Please refer to our study on European trade statistics for more information.
Most wine imports are from Italy and France
Denmark is a medium-sized wine importer in Europe with imports amounting to €534 million and showing an average annual increase of 2.2% between 2011 and 2015. The largest wine suppliers to the Danish wine market are Italy and France. Together they accounted for €270 million (50.5% of total imports) in 2015.
In 2015, wine imports from developing countries amounted to €86 million of total Danish wine imports (16.1% of total imports), showing a slight average annual decrease of 0.1% since 2011. Chile is the largest developing country supplying the Danish market, followed by South Africa and Argentina. They accounted for respectively 9.1%, 4.6% and 2% of total imports in 2015.
Source: Eurostat, 2016
Tips:
Do not attempt to compete with southern European countries as this will be too difficult.
Develop a Unique Selling Point (USP) around such matters as your (authentic or native) grape variety, sustainability or production process to market your wine in the relatively open Danish wine market.
Small but growing re-exporter of wine
Denmark is a small wine exporter in Europe with exports amounting to €120 million, showing a strong average annual increase of 12.5% between 2011 and 2015. As domestic wine production is very low, exports consist mainly of re-exports. The largest export markets for Denmark are European countries, primarily its neighbouring countries.
Source: Eurostat, 2016
Tips:
Consider Denmark as a hub to market your wines in Germany and Sweden through re-exports.
Please refer to our study on European trade statistics for wine for more information about overall trade statistics for wine in Europe.
3.

Which trends offer opportunities on the Danish wine market?
Sustainable supplies
Danish consumers are increasingly interested in sustainable and ethical products. They care about the impact of food production on the environment and working conditions. In addition, Danish buyers also show interest in other sustainable practices, such as reducing energy and water use. Recycling is another popular practice to increase sustainability of the wine market. The strong growth of organic and Fairtrade wine sales in Denmark over the past few years is a good indication of consumer interest in sustainable products.
Tips:
Communicate in your promotion how you produce wine in a responsible and sustainable manner. Fairtrade and organic certification can help to convince consumers in the Danish market of your ethical approach.
The drive for authenticity creates the need for transparency and traceability in your production process.
Consider entering the Danish market if you are an organic producer. This market is very open to organic products.
If you do not produce organically yet, consider obtaining organic certification. Calculate the risks of adjustments to your production system (i.e. vintage) and how certification costs will affect your prices. Ensure that you can still sell your wine at these new prices. In general, certification is only economically feasible for high-volume production.
Offer wine in an easily recyclable container in order to serve environmentally conscious consumers.
For more information about sustainability, please read our study on sustainable wines in Europe and on organic wines in Europe.
Ageing consumers drink more premium wine
The Danish population is ageing. Older Danes drink less often than younger Danes, but when they drink, they choose a more expensive premium wine. As a result, the premium wine segment is gaining market share in Denmark. Danish consumers have also developed a preference for quality food and combine this with quality wines. This development offers opportunities for premium wine suppliers in both traditional and New World wine countries.
Tips:
Develop a Unique Selling Point (USP) for your wine that gives the wine a luxury feel. This way the wine will be regarded as suitable for fine dining.
Include tips on the back label of your wine about dishes which best match the wine. This can even be done by using simple logos to depict different food types such as meat, fish, cheese or deserts.
Lighter wines in the high-value segments, sweeter wines in the lower-value segments
In the super and ultra-premium segment, Danish consumers want lighter wines with a lower alcohol content. These wines are a better match with light food which is promoted to reduce obesity. At the same time, Danish consumers are also more often asking for wines which are slightly sweeter for everyday consumption. Sugar is used widely in many foods and drinks and has become such a major part of Danish diets that consumers tend to prefer sweet wines over dry wines.
Tips:
If you target the lower and middle price segments of the market for everyday consumption, respond to changing consumer needs by supplying wines which are slightly sweeter.
If you produce a super or ultra-premium wine, lower its alcohol content to make it a lighter wine. This way, your wine might appeal even more to Danish consumers.
Technological improvements
New shipping technology used for shipping bulk wine has given a boost to demand for bulk wine. New types of containers, like the flexi-tank, ensure the quality of wine during shipping. Since wine is bottled closer to consumers, the shelf life of wine is also lengthened significantly for the cheaper wines. Since Denmark does not have a significant domestic wine production, this change has led to the development of bottling facilities in Denmark
Tip:
Shipment of bulk wine is most attractive for suppliers who can supply large volumes at regular intervals and deliver them just in time for bottling facilities to process the wine shortly after receipt. They must also be able to offer very competitive prices for the quality required by the buyer.
From bottling to boxing
Sales of Bag-in-Box (BiB) have increased significantly in recent years, now accounting for about 33% of the total Danish wine market (Vinavisen, 2014). The Danes have great facilities in place for putting bulk wine in BiBs. However, not all of this BiB wine in Denmark is consumed domestically; about a third is re-exported, mainly to Sweden and Germany.
Tips:
If you aim to supply Sweden and Germany too, consider shipment of bulk wine to Denmark for bottling and re-exporting to Sweden and Germany, instead of supplying those countries directly.
For more information about packaging options, read our study on trends in the European wine market.
Excise duty and tax increases
In 2012, Danish wine sales declined for the first time since 2005 as a result of an increase in the excise duty on wine. As of January 2016, the excise duties for still wine are €155.62 per hl (for 6–15% alcohol content) and €208.43 per hl (for 15–22% alcohol content). For sparkling wines with an alcohol content of 6–15% excise duties are €200.52 and with an alcohol content of 15–22% excise duties are €253.33.
An additional duty is imposed on products containing a mixture of wine and non-alcoholic drinks. For mixtures with an alcohol content below 10%, this is €0.96 per litre. For mixtures with an alcohol content higher than 10% this is €1.54 per litre. For mixtures with sparkling wine, an additional duty of €0.45 per litre is added.
As a result, many young consumers have switched to spirits and pre-mixed drinks. Young consumers lack sufficient disposable income to keep buying wine at higher price levels. Also, consumers living near the border increasingly shop for wine in Germany, since prices are significantly lower in Germany, due to a low wine excise duty and lower Value Added Tax (VAT).
In Denmark, packaging tax rates differ among packaging types. The package tax for wine is based on the size of the container and the packaging material. Cardboard packaging (BiB) is taxed less than plastic, glass or metal. This taxation scheme has been in place for quite a while and is not expected to change anytime soon. If any adjustments are made in the future, these are expected to further support environmentally friendly types of packaging.
Tip:
If you want to enjoy lower taxes on your imports of bottled wine, consider changing the packaging style to one using cardboard, like Tetra Pak or Bag-in-Box. The website of the Danish Ministry of Taxation provides the most up-to-date tax rates (Use Google Translate to translate to your preferred language).
4.

With which requirements should wine comply to be allowed on the European market?

You can only export your wine to Europe if you comply with the buyer requirements for wine.
With which legal and non-legal requirements must my product comply?
Buyer requirements for wine can be divided into legal and non-legal requirements, both of which your product must comply with if you want to sell to Europe. These include the following points.
Tips:
Check whether your current practices comply with the European requirements for winemaking.
Ensure compliance with European legislation on hygiene of foodstuffs (HACCP: hazard analysis and critical control points).
Which additional requirements do buyers often have?
Besides the legally binding requirements, you also have to comply with the following non-legal requirements in order to be able to find a buyer.
Food safety certification: many importers of wine require the implementation of a food-safety management system. Examples of internationally acknowledged systems are HACCP, BRC, IFS, FSSC 22000 and SQF.
Corporate social responsibility: Several larger retailers participate in initiatives such as the Ethical Trading Initiative (ETI), or the Business Social Compliance Initiative (BSCI). These initiatives focus on improving social conditions in their members' supply chains. This implies that you, as a supplier, are also required to act in compliance with their principles.
Buyers generally prefer low sulphite levels (e.g. < 100 mg/l for white wine). However, sulphite is a preservative and lower sulphite levels may lead to off-tastes and reduced shelf life.
Tip:
Suppliers can apply a basic HACCP system. However, many buyers appreciate certified food-safety management systems recognised by the Global Food Safety Initiative, such as ISO22000, BRC or IFS: Food Safety Management Systems.
What are the requirements for niche markets?
Besides the requirements you have to comply with to be allowed on the European market or to find a buyer, complying with the following additional requirements could offer you a competitive advantage and makes finding a buyer easier.
Fair-trade certification: A niche market is the market for wine produced with extra focus on the social conditions in the producing areas. Having your wine Fairtrade certified is the most convincing way to prove your business performance for social conditions in your supply chain.
Organic niche market: To market organic wine in the European Union, grapes must be grown using organic production methods which are laid down in European legislation and the grapes and the wine production facilities must be audited by an accredited certifier. Only then can you put the European organic logo on your products, as well as the logo of the standard holder (e.g. Soil Association in the United Kingdom).
5.

What competition will you be facing on the Danish wine market?
What are the opportunities and barriers when trying to enter the Danish market?
Highest number of wine importers per head
Denmark holds the record of the highest number of wine importers per inhabitant, due to the large number of small, part-time importers who import wines from all over the world. By October 2013, the Danish tax authorities had registered over 1700 wine importers. The fact that there are so many importers offers opportunities for developing country exporters wishing to gain access to the Danish market.
Tip:
Start small when you want to export to Denmark. Try selling your wine to small importers first. They might be open to import small quantities of your wine. If your importer is selling your wine rapidly, other importers might notice and could gain interest in your wine.
High listing fees
Danish supermarkets often have so many wine suppliers to choose from that they can charge high fees for the use of shelf space. These fees are relatively high for wines which do not sell rapidly in high volumes. Additionally, supermarkets often demand the exclusive right to sell a wine brand in their country. Suppliers cannot sell that wine brand to another retailer.
Tip:
If you are a new entrant, do not supply supermarkets or retailers directly, but supply wine to importers. Importers can generally limit the risks of trading directly with supermarkets.
Limited shelf space in supermarkets
Supermarkets often reserve only very little shelf space for New World wines. In Danish supermarkets, still red and white wines are sorted by country and consumers usually choose wines from traditional wine countries, which are known for their wines, instead of from New World wine countries. However, there is a movement towards New World wines, making the impact of this trend less strong in the future.
When wines are not placed on shelves by country, consumers pay less attention to origin and tend to choose New World wines more often. Contrary to still wine, rosé and sparkling wine are not sorted by country.
Tips:
If you can supply rosé or sparkling wine, you can benefit from the fact that these wines are not sorted by country on the Danish retail shelves.
Small companies with a supply capacity of 10–30 thousand bottles annually of each wine can find smaller importers in Denmark who prefer to buy exclusive wines for which they are the only importer and distributor. Exclusivity motivates importers to work with you.
Hire a winemaker for advice on making the best possible wine with the available raw materials and technology which matches with requirements in the Danish market.
What are substitute products?
Increased excise duty causes pressure on suppliers
The increase in excise duties in 2012 has made the wine market in Denmark tighter than ever (see discussed trend) and has resulted in pressure on suppliers to reduce prices. Retailers aim to maintain stable consumer prices in order to secure sales. They partly transfer the reduction in profit margins as a result of excise duties to their suppliers. Supermarkets, in particular, have strong bargaining power to enable this transfer of costs. It is expected that supermarkets will continue to put pressure on their suppliers to drive down prices.
Despite tax increases, about 28% of all alcoholic purchases in Denmark in 2014 comprised wine (Statistics Denmark 2015). This is a 1.9% decrease since the increased excise duty and shows that the interest of Danish consumers on wine remains fairly strong. It is uncertain how Danish excise duties will develop; the government's health concerns might push up excise duties even more in the future. Lighter wines in particular will suffer from this excise duty increase, since young consumers mostly consume fresh and lighter wines.
Young consumer marketing
In order to remain attractive to younger consumers, consider marketing your wine as a trendy and desirable product. Young consumers look for fun, trendy and desirable drinks, such as popular pre-mixed drinks and alcopops (i.e. easy-to-drink alcoholic beverages). Use fashionable packaging and offer single-serve packaging which can be positioned next to premixed drinks in supermarkets.
Tip:
Develop Unique Selling Points (USPs) to promote your wine as a wine suitable for the young Danish consumer. You can use characteristics of the wine, its origin and production process as USPs.
How much power do I have as a supplier when negotiating with buyers?
Danish rivals remain absent
There is little or no competition from domestic producers in Denmark. Local production only plays a marginal role as the number of commercial wine growers in Denmark is insignificant. Due to Denmark's geographical location, local production is not expected to change in the future; the climate is simply not suitable for proper viniculture.
Competition is diverse
Although wine production in Denmark is small, the market is rather mature and rivalry is strong. While most Danish consumers have a rather traditional taste in wines, the Danish market is quite open to New World wines. Traditional suppliers, such as France, Spain and Italy, remain very competitive in this fast changing market. The wide variety of wines available on the Danish market makes product distinction and establishing brand awareness difficult. The increase in global sourcing only adds to the diversity of wines in the Danish market.
Tips:
Competing with southern European countries will be very difficult. Rather, focus your competitive strategy on other developing country suppliers. One way of doing this is by finding a unique characteristic of your wine or location that is different from all other wine suppliers active on the Danish market.
Promote your wine as being exclusive. One option for making your wine appear more exclusive is the creation of a limited or special edition of your wine.
For more information about the global sourcing trend, please read our study on trends in the European wine market.
Supermarkets use power to consolidate
The buying strategy of the leading supermarkets is to limit the number of suppliers to only a few. They usually choose the biggest buyers from some of the world's largest suppliers. This enables them to purchase the most price-competitive wines, build close long-term trade relationships and optimise logistics. Supermarkets can also demand exclusivity to distinguish themselves from the competition. If suppliers agree to this, they cannot supply the same product to other retailers.
Tips:
If you are a relatively small supplier, target small buyers. Otherwise, you will experience too much pressure from buyers to agree with contract conditions which you may not be able to meet.
Only target supermarkets if you are ready to become a long-term supplier of large quantities. You are ready when you can: supply full containers on a weekly basis; plan your production and meet logistical requirements for programmed short-term delivery; hire a product developer who knows the quality characteristics desired by the targeted supermarket; and negotiate long-term contracts in which risks and profit are split equally.
Describe the taste profile of your wine, preferably based on expert opinions and match this with suitable types of food. Label your bottles accordingly to promote your wine.
Who are my rivals?
Competition from other countries
Italy and France are the largest wine suppliers to the Danish wine market. Italy is a strong competitor on price while French wine is known for its high quality. Developing countries supplying the Danish wine market (South Africa, Chile and Argentina) do so mainly in the high-volume segment. They are either able to export low-cost bulk wine to Denmark or emphasise their Unique Selling Points. Currently, Chinese and Indian wine is still too expensive (given its quality) for consumers in Denmark. This might change in the medium to long term.
Tips:
Wines from southern European countries have acquired a strong market position in the Danish wine market. Do not attempt to compete with southern European countries as this will be too difficult.
To compete with other developing countries, either emphasise your Unique Selling Points or aim to supply bulk at low costs for the private label market.
Keep a close eye on your Chinese and Indian competition through newsletters, trade fairs and attaché reports at http://gain.fas.usda.gov.
6.

Which channels can you use to put wine on the Danish market?

Supermarkets dominate the Danish retail market. They are particularly interesting buyers for established suppliers. However, other market channels offer more opportunities for new entrants from developing countries. The market segments for organic and sparkling wines are particularly interesting.
Trade channels
The trade channels for wine in Denmark are presented in Figure 3.
Figure 3: Trade channels for wine in Denmark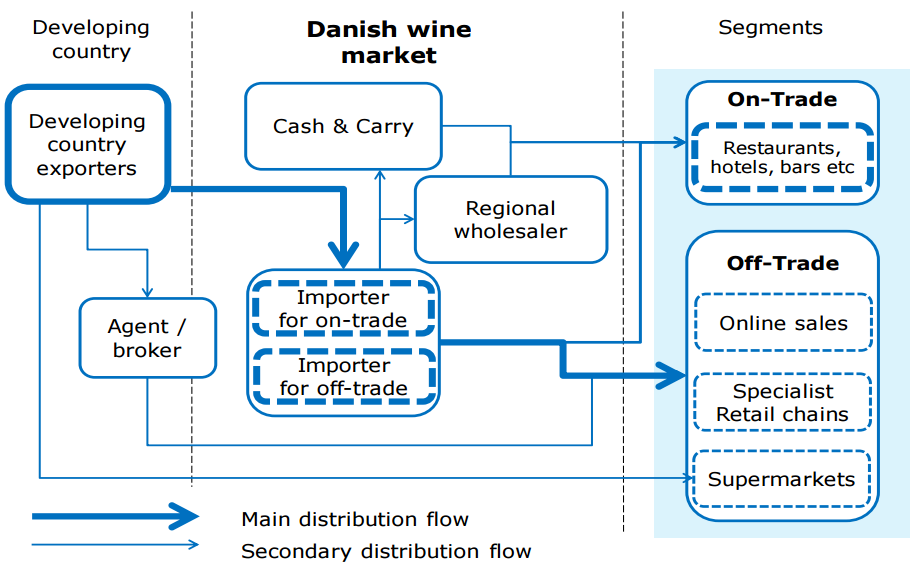 Supermarkets dominate the retail landscape
Three big retailers, Co-op, Dansk Supermarked and Dagrofa, dominate the Danish wine market with about 85% market share between them. This indicates that the sector is highly concentrated. These supermarkets use their purchasing power to demand very low prices. This enables them to sell the wines at very low consumer prices, which is their main sales instrument.
Supermarkets are increasingly sourcing wine directly from producers, instead of buying from importers. This is most relevant for established wine producers who have a strong reputation as big-volume suppliers of wine of consistent quality. However, supermarkets tend to introduce new wines in small batches of around 6,000 bottles to test if they will sell before buying new wines in large volumes.
Tips:
Supplying a supermarket chain directly is only possible if your export volume is high (minimum of one sea container every few months for smaller supermarket chains or approximately 60,000–100,000 bottles annually) and your quality and price meet the requirements of supermarkets.
If you supply supermarkets, you can reduce risks by supplying through importers. This reduces risks related to the strict contract conditions of supermarkets, such as supply guarantees which require warehousing of wine in Europe.
Provide a quality consistency guarantee in the form of ISO quality management certificates or similar guarantees.
Specialist retailers remain significant
Many Danish consumers look for premium wines if they want to celebrate a special occasion with a nice dinner at home. Specialist retailers are in a good position to sell premium wines, as consumers will need detailed information about the wine. Specialist retailers can provide this information through trained personnel. By October 2013, the Danish tax authorities had registered 1,720 wine importers, making this category highly fragmented with no dominant companies in control. However, most consumers only buy wine at supermarkets.
Tips:
Be prepared to pass on interesting background information if you deliver to specialist retailers. This information may include such things as details about the wine's origin, production process or the winemakers.
If you aim to establish long-term relationships with channels leading to the off-trade, besides offering a fair price, also provide after-sales support once your products are listed. Consider, for example, supplying promotion materials and organising wine tastings.
Online sales
Online wine retail in Denmark is still relatively underdeveloped: less than 10% of wine buyers order or have ordered online. In general, retailers with physical stores lead the development of online sales as consumers want to know the retailer before they rely on information provided in the online shop. However, many small Danish premium wine importers without physical stores offer their wines online. Premium wines sell well online as consumers are willing to pay more for more exclusive wine which they cannot buy at the supermarket.
Read more in our study on online wine sales in Europe and in our study on trends in the European wine market.
Tips:
Online shops are particularly interesting retail channels for premium wines from developing countries, as they have room to provide product information, such as a story about the history of the winery. 
If you supply small volumes of premium wine, find an importer with an online shop which offers wines from less usual origins.
Segmentation of wine
The segmentation of the Danish wine market is presented in Figure 4.
Figure 4: Market segments for wine in Denmark, including an indication of share in sales per segment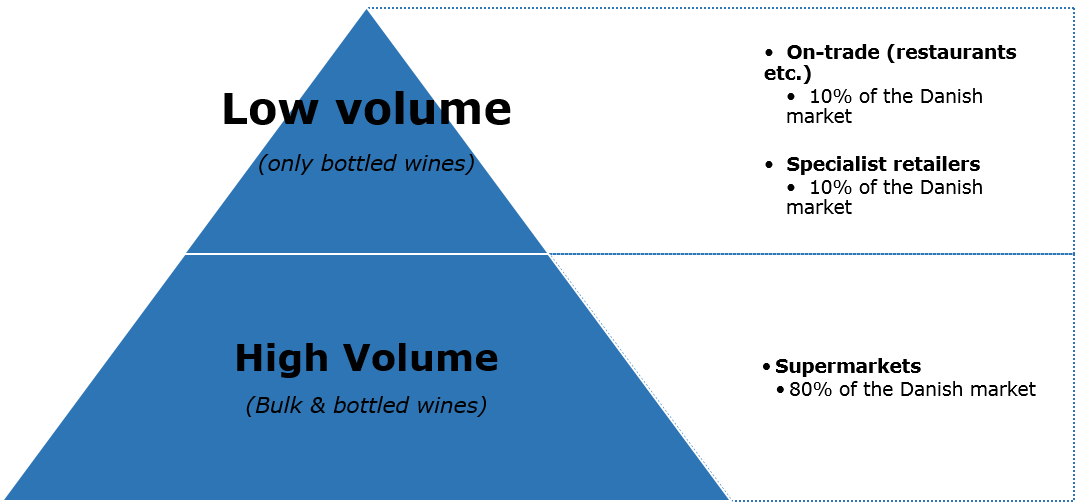 Source: ProFound, 2016
Increase in bulk wine trade
In the last decade, bulk wine imports have grown significantly in Denmark. Large importers and retail chains with their own brands lead developments in this trade. The import of bulk wine gives them control over the blending and bottling process. It enables them to change wine blends if their product needs a quality or price improvement. The import of bulk wine, as opposed to bottled wine, also enables them to build their own brand. This branding can strengthen their position in the market.
Tips:
Prove that you are a reliable exporter. Make sure you can supply the required volumes at the agreed price and at the right time. Plan your production to meet the buyer's requirements for regular programmed bottling.
Visit the World Bulk Wine Exhibition to learn more about the possibilities.
Differentiation in private labels
Danish retailers are increasingly expected to carry different private labels. Private labels usually refer to the name of the retailer or do not mention a brand name at all. Private labels in the low-end market segment are often made of relatively cheap bulk wines. In addition to these cheap private label wines, retailers also develop premium private labels which cannot be recognised by consumers as a private label of the retailer. Only the label on the back of the bottle includes a reference to the retailer as the owner of the brand.
Private labels offer retailers several advantages. First and foremost, it gives them greater control over their supply chains. As long as the flavour profile of the total wine blend remains similar, they can change individual wines in their blend, and thus switch suppliers. Secondly, retailers can add value by branding and they have all the resources they need to build strong brands.
Tips:
Supplying wine for private labels is particularly interesting for exporters whose activities focus on viticulture and winemaking. The supply of wine for private labels offers an opportunity to direct all resources towards the improvement of production, whether in terms of quality or quantity.
Supplying wine for private labels is only interesting for relatively large exporters, as retailers with private labels require large volumes, especially in the low-end market segment.
Mix private label wine supplies with branded wine supplies to remain an interesting partner for retailers, while also adding value through your own brand.
Sparkling wine
Sparkling wine is a small, but growing segment in the Danish market. In 2014, sparkling wine consumption accounted for 3.6% of total wine consumption (6.9% in value) and is expected to grow in the near future. Although the growing sparkling sales may be a relatively short-term fashion trend, the Europe-wide growth of this category indicates that it will remain a strong category at least for another year.
The sparkling wine market is particularly interesting for exporters in developing countries as Danish consumers of sparkling wine tend to be less interested in the wine's origin than consumers of still wine. This is positive for developing country exporters, as Danish consumers generally prefer wine from traditional supplying countries over New World countries.
Tip:
If you are producing sparkling wine, the Danish market might be a good opportunity for your company, as consumers in this segment are also open to new origins.
Product appreciation in the Danish wine market
Table 2 provides some insight into which product options are appreciated in the Danish wine market. High volume and low volume refer to matching target segments to your export capacity. For more detailed information on specific segments, please read our studies on sustainable wine and bulk wine in Europe.
Table 2: Appreciation for product options on the Danish wine market
| | | | | | | | | |
| --- | --- | --- | --- | --- | --- | --- | --- | --- |
|   | Organic | Fairtrade | QMS | CSR | Screw cap | Bag-in-Box | Bulk wine | Online sales |
| High-volume segment | +++ | + | + | + | +++ | ++ | +++ | + |
| Low-volume segment | ++ | ++ | +++ | ++ | ++ | -- | -- | +++ |
7.

What are the end-market prices for wine in Denmark?

Average Danish consumer price indications for wine are presented for on-trade and off-trade in Table 3. The large price difference between the segments is mostly due to the price calculation in the on-trade channel which also has to cover exploitation costs of the hospitality facility.

Table 3: Average consumer prices per trade channel
| | |
| --- | --- |
| Trade channel | Price indications per bottle |
| Off-trade |   |
| Supermarkets | €4.50 |
| Specialist retailers | €8.00 |
| On-trade | €30.00 |
Please review our market information disclaimer
Search
Enter search terms to find market research