Exporting wine to the Czech market
The Czech wine market is currently still small, but is expected to grow in the coming years and is driven by young urban professionals. Due to insufficient domestic production, the Czech Republic is quite open to foreign wines. Most wine imports are currently from southern and eastern European countries, but there are opportunities for developing country exporters exporting red wines for the high-volume segment. Although the Czech market is transforming slowly, trends in western Europe are only adopted after some time.
1.

Product description

Wine is defined as: 'The product obtained exclusively from the total or partial alcoholic fermentation of fresh grapes, whether or not crushed'. Please refer to Table 1 for the Harmonised System (HS) codes for wine.

Table 1: HS codes of wine
| | |
| --- | --- |
| Type of wine | HS Code |
| Sparkling wine | 220410 |
| Wine in containers < 2 litres | 220421 |
| Wine in containers > 2 litres | 220429 |
Labelling
The European Union has set compulsory labelling particulars for wine; labels must provide the following information.
The name of the Protected Denomination of Origin (PDO)/ Protected geographical Indication (PGI) or Wine of 'producing country'/Produced in 'producing country'/Product of 'producing country'
Actual Alcoholic strength (AAS)
Nominal volume
Lot number
Importer details
Allergenic ingredients
The information on allergic ingredients should include the following.
All wines containing over 10 milligrams of sulphite per litre must be labelled with the indication 'Contains sulphites'. This information is crucial for individuals who are sensitive to sulphites and experience problems such as shortness of breath, coughing, and wheezing. If your wine contains only a few mg or no sulphites, you can mention this on the label to accommodate these consumers.
Egg and milk derivatives must also be mentioned on the label.
Allergens must be mentioned in the language of the target market.
Sugar content (for sparkling wines) must be given.
Tips:
Legislation does not require the exact composition of a blend on the label. However, rising interest of consumers in the composition of wines increases the need to include such information on the label.
If you target educated consumers, it is worth mentioning the grape variety and vintage. This can have a positive effect on consumer perception of your product's quality.
The use of the term 'Reserve' or even 'Grand Reserve' can help to convince consumers of the high quality of your wine. Ensure compliance with the wine law in your country concerning the use of such terms. Educated wine consumers, however, will be less receptive towards this kind of marketing.
The Food Standards Agency of the United Kingdom provides useful guidance on more detailed labelling requirements for the United Kingdom, which are also applicable to the Czech wine market.
Packaging
Bottled and boxed wine
Glass bottles are the most popular packaging format used in the retail wines industry in the Czech Republic. Glass bottles are usually coloured to reduce the effect of UV light and typically contain 0.75 litres.
Cans, PET bottles and Tetra Pak have so far remained absent from the Czech wine market. The Bag-in-Box concept has only had some success in the on-trade.
Screw caps are not yet widely accepted in the Czech Republic. Traditional corked bottles will remain most common in the next few years.
Bottles for sparkling wines need to be strong enough to withstand the pressure resulting from the high CO2 levels. Although there are no legally binding requirements, the International Technical Centre for Bottling and Related Packaging (CETIE) has published standards that are internationally recognised.
Bulk wine
Packaging-related quality problems with bulk wine hampered development of bulk wine trade for a long time. Recent improvements in storage technology, handling facilities, and quality protocols have contributed to better-quality preservation. These developments have caused an explosive growth in the trade in bulk wines, especially among the international brands. Please refer to our study on bulk wine in Europe for more information.
Different types of packaging are available for the transport of bulk wine. The two most common are:
Flexi-tanks – disposable plastic bags intended for installation in a standard 20ft shipping container.
ISO tanks – reusable steel tanks, which need to be cleaned between shipments. ISO tanks offer all the advantages of flexi-tanks, but are more polluting and expensive in transport due to higher weight. One advantage of an ISO tank is its reliability; they have a lower risk of defects compared to flexi-tanks.
Defective seals or the use of permeable material can lead to oxidation, which will degrade the wine. This can result in negative taste alterations and a shorter shelf life.
2.

What makes the Czech Republic an interesting market for wine?
Small wine production is dominated by white wines
The Czech Republic is a small wine producer in Europe. Wine production in the Czech Republic amounted to about 495,000 hectolitres (hl) in 2015, showing an average annual increase of 6.1% since 2011. The production area is about 18,000 hectares of which 96% is located in southern Moravia and the rest in Bohemia.
Two-thirds of Czech wine production consists of white wines, with Müller-Thurgau, Grüner Veltliner and Welschriesling as most important white grape varieties. About one-third of Czech wine production consists of red wines, with St. Laurent, Blaufränkisch and Zweigelt as most important grape varieties.
Wine consumption exceeds domestic wine production
Czech wine production is not able to meet Czech wine consumption, which amounted to 1.9 million hl in 2015, remaining more or less stable over the last five years. Per capita wine consumption was 18.2 litres in 2015, which was well below the European average per capita wine consumption of 23.9 litres.
Source: Eurostat, 2016
Source: Eurostat, 2016
Tips:
To meet the domestic demand for wines, there is a significant wine import market in the Czech Republic. Keep up to date on the latest trends and developments in this market to benefit from this.
Please refer to our study on European trade statistics on wine for more information.
Second largest wine importer in eastern Europe
Compared to large European countries such as the United Kingdom and Germany, the Czech Republic is only a small importer of wine in Europe. However, in eastern Europe, the Czech Republic is the second largest importer, after Poland. Czech imports amounted to about €167 million in 2015, showing an average annual increase of 1.4% since 2011.
Domestic wine production is insufficient to meet domestic demand for wine. Therefore, wine consumption consists largely of imported wines. The primary suppliers to the Czech wine market are Italy, France and Spain. They account for respectively 19.1%, 17.2% and 16.6% of total wine imports in the Czech Republic. Although these southern European countries are the leading importers, the Czech Republic is also open to wines from central and eastern European countries (Hungary, Slovakia, Moldova and Bulgaria account for 21% of wine imports).
Wine imports from developing countries amounted to about €17 million in 2015 (10.5% of total wine imports), showing a slight annual decrease of 0.5% since 2011. The largest developing country suppliers to the Czech wine market are Chile, South Africa and Argentina, accounting respectively for 3.4%, 1.5% and 0.7% of total imports in 2015.
Source: Eurostat, 2016
Tips:
Do not attempt to compete with southern European countries as this will be too difficult.
Develop a Unique Selling Point (USP) around such matters as your (authentic or native) grape variety, sustainability or production process to market your wine in the relatively open Czech wine market.
Small wine trade hub in eastern Europe
The Czech Republic is a minor exporter of wine in Europe, especially compared to the traditional wine countries in Europe (France, Italy and Spain). Domestic production primarily serves the domestic wine market. The total wine export from the Czech Republic amounted to only €27 million in 2015, having remained more or less stable since 2011. Exports from the Czech Republic consist both of domestically produced wines and re-exports. However, due to illegal wine trade, actual wine exports might be higher than the officially recorded wine exports.
The largest export markets for wine from the Czech Republic are its neighbouring eastern European countries, with Slovakia as the most dominant export market accounting for almost 64% of total wine exports. Although exports to Germany and Switzerland are small, exports to these countries has increased strongly over the past five years.
Source: Eurostat, 2016
Tips:
Although wine exports from the Czech Republic are very small, the Czech Republic can serve as a hub to market your wines in other eastern European countries.
Please refer to our study on European trade statistics for wine for more information about overall trade statistics for wine in Europe.
3.

Which trends offer opportunities on the Czech wine market?
Young urban professionals are driving the market growth
Increase in tourism to wine drinking countries and westernisation in the way of living are the main reasons behind this increase in demand. Young urban professionals have adopted the Western lifestyle and associates wine with social events and wellness. The young urban professional class in the Czech Republic is growing and will lead market developments in the future. Drinking wine is a fashionable trend and it is expected that wine consumption will become popular amongst other consumer groups as well in the long term.
Tips:
Aim for young urban professionals by aligning your marketing strategy to the needs of this consumer group.
Cooperate with an importer to develop a strong brand, as young urban professionals are relatively sensitive to branding. Importers can provide information on appropriate responses to the needs of these young urban professionals through branding.
Diversified origins
Although the Czech Republic imports most of its wine from southern Europe, there are also substantial imports from Central and eastern European countries due to close historic ties. In 2015, 21% of wine imports came from Central and eastern European countries. Major suppliers in eastern Europe are Hungary, Slovakia, Moldova and Bulgaria. The most popular countries of the New World are Argentina, Chile and Australia, but their shares are relatively small.
Tips:
If you are an eastern European supplier, benefit from historic ties by referring to these ties in your product's story.
If you are a Business Support Organisation outside (eastern) Europe, use the unique qualities of your country to brand the country and establish it as an interesting origin.
White and rosé are preferred over red
White wine consumption is higher than red wine consumption in the Czech Republic, while rosé wine consumption continues to increase as well. Although domestic production in the Czech Republic is mostly focused on white wine, it satisfies less than 50% of the domestic demand. Red wine is mostly imported. Demand for sparkling wine is also increasing, although still wine is consumed in greater quantities.
Tip:
Focus on red wine as a starting exporter to the Czech wine market as you will face most competition from domestic producers when supplying white wines.
Draught wine remains popular
Draught or kegged wine is wine from the tap. This type of packaging wine can be used in restaurants, bars and wine shops. Wine shops in the Czech Republic offer a wide range of draught grape wine and are very popular as they offer a good price/quality ratio. These specialty shops offer specialty wine produced either domestically or imported.
Draught wine is considered to be eco-friendly as it reduces packaging and the kegs can be reusable or recyclable. Moreover, wine on tap is economical as it can reduce transport costs for imported wine.
Tip:
If you have difficulties establishing a name for your own, you could supply bulk wine to importers that can then sell it as wine from the tap.
Following innovation trends
There is a time lag between developments in western European markets and developments in the Czech Republic. However, fashion trends in western European markets are starting to have a significant effect on the Czech market. As in other European countries, popular drinks during the summer in 2015 were the aperitif Aperol and other sparkling wine (prosecco). However, not all fashion trends are adopted in the Czech Republic. Cans, PET bottles and the Bag-in-Box (BiB) concept have not had a lot of success yet on the Czech market.
Tips:
Use traditional packaging (i.e. classic bottle, labelling and cork) for promotion as they are preferred by the Czech consumer.
Look for trends in the western Europe market; it will provide you a preview of new trends that might be adopted by the Czech wine market.
Low public awareness of organic wines
Organic wine is a relatively new concept in the Czech market. Weak marketing, a lack of uniformity and good business policies, as well as low public awareness of organic food prohibit the organic wine market from growing rapidly.
Tips:
Do not invest yet in the production of organic wine if you wish to export to the Czech Republic. Developments in the market for organic wine and wine with Fairtrade certification are in an early phase.
If you wish to export organic wine, ensure that the product is not of lower quality. Consumers do not accept organic wines of a lower quality than conventional wines at the same price point.
Counterfeiting problems
Czech consumers show a great interest in high-quality wines, especially after the tragic incidents of methyl-tainted alcohol which killed almost 50 people in 2012 and 2013. When trading with the Czech Republic, it is important to offer familiar and licensed products.
The Czech Grape and Wine Producers Association warn that there is a lot of illegal alcohol in the Czech wine market. In 2014 the association reported that a fifth of the wine sold in the Czech Republic is unlicensed and may have been adulterated. This is why the Ministry of Agriculture wants to tighten supervision of all wine produced domestically or imported. At the same time the Ministry is preparing stricter penalties and better cooperation between customs and the State Agricultural and Food Inspection Authority.
Tips:
Imported brands can benefit from the demand for safe and high-quality alcohol by offering licensed products.
Ask for a copy of the import licence of your potential client to avoid problems with counterfeiting.
Promotion of alcoholic beverages is not restricted
Whereas alcohol promotion is heavily regulated in some European countries, it is relatively lightly regulated in the Czech Republic. Promoting and advertising alcoholic beverages is allowed in all media types. However, wine promotion is mostly centred on special tastings and press. Most wine is consumed in the capital, and consequently most promotional activities take place in Prague. The five million international tourists who visit Prague annually also stimulate wine consumption, as many of them bring their wine drinking culture to the Czech capital.
Tips:
Local media channels in Prague could potentially be a good starting point to introduce your wine.
Find an importer who is interested in organising wine tastings and other types of promotion. Small importers are usually more interested in this than big wine importers who tend to put more effort in promoting big brands instead of new brands.
4.

With which requirements should wine comply to be allowed on the European market?

You can only export your wine to Europe if you comply with buyer requirements for wine.
With which legal and non-legal requirements must my product comply?
Buyer requirements for wine can be divided into legal and non-legal requirements, both of which your product must comply with if you want to sell to Europe. These include the following points.
Tips:
Check whether your current practices comply with the European requirements for winemaking.
Ensure compliance with European legislation on hygiene of foodstuffs (HACCP: hazard analysis and critical control points).
Which additional requirements do buyers often have?
Besides the legally binding requirements, you also have to comply with the following non-legal requirements in order to be able to find a buyer:
Food safety certification: Many importers of wine require the implementation of a food-safety management system. Examples of internationally acknowledged systems are HACCP, BRC, IFS, FSSC 22000 and SQF.
Corporate social responsibility: Several larger retailers participate in initiatives such as the Ethical Trading Initiative (ETI), or the Business Social Compliance Initiative (BSCI). These initiatives focus on improving social conditions in their members' supply chains. This implies that you, as a supplier, are also required to act in compliance with their principles.
Buyers generally prefer low sulphite levels (e.g. < 100 mg/l for white wine). However, sulphite is a preservative and lower sulphite levels may lead to off-tastes and reduced shelf life.
Tip:
Suppliers can apply a basic HACCP system. However, many buyers appreciate certified food-safety management systems recognised by the Global Food Safety Initiative, such as ISO22000, BRC or IFS: Food Safety Management Systems.
What are the requirements for niche markets?
Besides the requirements you have to comply with to be allowed on the European market or to find a buyer, complying with the following additional requirements could be a competitive advantage and make finding a buyer easier.
Fair-trade certification: A niche market is the market for wine produced with extra focus on the social conditions in the producing areas. Having your wine Fairtrade certified is the most convincing way to prove your business performance for social conditions in your supply chain.
Organic niche market: To market organic wine in the European Union, grapes must be grown using organic production methods which are laid down in European legislation and the grapes and the wine production facilities must be audited by an accredited certifier. Only then can you put the European organic logo on your products, as well as the logo of the standard holder (e.g. Soil Association in the United Kingdom).
5.

What competition will you be facing on the Czech wine market?
What are the opportunities and barriers when trying to enter the Czech market?
Strong price competition makes it difficult to get your wine listed at retailers
Accessing the Czech market can be hard for new entrants from developing countries. In 2014, supplies from New World countries only accounted for approximately 5.7% of the total value of wine imports. This is a result of the limited shelf space available for new origins in supermarkets, hypermarkets and other retailers. Moreover, due to strong price competition and low margins, it can be costly for retailers to provide wines with low turnover rates. They are, however, receptive towards mixed-origin table wines.
Listing fees remain high
It can be very costly to buy into the market due to listing fees charged by supermarkets and hypermarkets. But even with the budget to enter the Czech market and access the supermarket and hypermarket shelves, bear in mind that forecasts and calculations are very important to predict whether you will recoup your investment. Supermarkets and hypermarkets in the Czech Republic are quick to quit wines that have a low turnover rate.
Czech consumers are not familiar with wine from new origins
On the one hand, the lack of a strong wine culture as compared to other western European countries lowers entry barriers for new entrants from less traditional wine sources. However, Czech wine consumption is mostly focused on wine that is produced domestically and wine from other European countries. Moreover, it is easier for Czechs to travel within Europe and see the vineyards and wine cellars of France, Italy and Germany, which stimulates consumption of wines from these regions.
Tips:
Although it is difficult and costly to enter the Czech wine market, there are opportunities for developing country producers in the bulk wine segment, where locally produced wine is mixed with wine of different origins to produce table wines.
You need to have a large budget and be patient and willing to perhaps first lose part of your initial investment if you wish to export to the Czech Republic.
If you wish to penetrate the Czech market, consider supplying your wine to central warehouses in Germany or in the Netherlands as an entry point instead of directly targeting the domestic market. Importers in the Czech Republic use these warehouses to import wine to the Czech Republic. Having wine stock available in central warehouses in other countries in Europe could potentially be profitable and allows you to send samples throughout Europe without problems and at low costs.
What are substitute products?
Substitute products
Half of the Czechs prefer drinking beer, a third wine and about 4% distilled drinks. However, the popularity of wine, imported spirits and beverages such as cider, a fermented alcoholic beverage made from apple juice, have strongly increased. The main competitor for wine in the Czech Republic is beer. Czechs are not only known to have the highest per capita beer consumption, but also to produce some of the most famous beers in the world. Although wine is increasing in popularity, it is unlikely that wine will ever share the same popularity as beer.
Still wine remains exempt from excise duties
In comparison to other European countries, the government of the Czech Republic does little to discourage alcohol consumption through taxation. In fact, still wine remains exempt from excise duties in the Czech Republic. Low excise taxes on wine can allow for a lower price in the market which can increase demand for wines. Excise duty on sparkling wine is € 86.11 per hectolitre. This is relatively low compared to other European countries. There is 21% VAT on both still and sparkling wines.
Tip:
Benefit from the absence of excise duties when supplying still wine to the Czech Republic.
6.

How much power do I have as a supplier when negotiating with buyers?
Blending for private labels
Supplies of bulk wine for private labels are particularly vulnerable to substitution. Retailers often blend different wines for their private label. Blending of different wines allows them to switch between suppliers and decreases their dependability on particular sources. The substitution offers opportunities for exporters in developing countries who still need to enter the market. At the same time, it forms a threat to existing suppliers of these bulk wines for private labels.
Tips:
If you supply bulk wine for blends, live up to the expectations of quality and consistency in quality and quantity.
If you supply bulk wine for blends, spread your risks by supplying buyers in different countries.
Less price sensitivity in the high-end market
In the high-end market, buyers are less price-sensitive and are mostly looking for a unique wine. Competition in the high-end market is mostly concentrated on certain qualities of wine such as the use of ripe grapes, its taste and a good balance between tannins and acidity. In order to be competitive, suppliers need to show their unique selling points (USPs), such as variety, sustainability, origin or even geographical indication, stories about production (e.g. altitude) or wine show medals.
Tip:
Make sure that your product matches your target segment, and that you present your Unique Selling Points compared to competitors.
Who are my rivals?
Competition from other countries
Main competitors in volume are the domestic wine producers and suppliers from traditional winemaking countries Italy, France, Spain and Germany. Southern Moravia is the main wine production region in the Czech Republic and accounts for 96% of the country's vineyards. Bohemia accounts for the remaining 4%. Leading domestic players are Bohemian Sekt with a 10% of total volume share, Vinium, Znovín Znojmo, and Moravské vinarské Bzenec. Since the Czech wine market is a growing market, there is still room for new suppliers.
In terms of competition on price, domestic producers and eastern European suppliers like Hungary, Slovakia, Moldova and Bulgaria are the main competitors. However, the Czech wine market is slowly becoming more open towards New World wines (from Chile, Argentina and South Africa). Chinese and Indian wine is still too expensive (given its quality) for the Czech market and not popular at all. This could change in the medium to long term.
Tips:
Wines from southern European countries have acquired a strong market position in the Czech wine market. However, due to a growing wine market, there are opportunities on the Czech market. You either need to be able to supply bulk wine at low costs or emphasise your Unique Selling Point to enter the Czech wine market.
Keep an eye on your Chinese and Indian competition through newsletters, trade fairs and attaché reports.
7.

Which channels can you use to put wine on the Czech market?
Trade channels
This section provides information about the marketing channels through which wine is marketed in the Czech Republic. The trade channels for wine are presented in Figure 5.
Figure 5: Trade channels for wine in the Czech Republic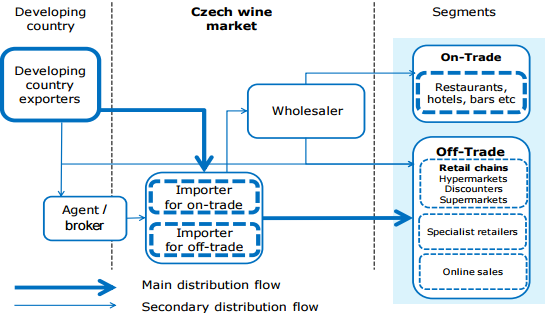 Hypermarkets and supermarkets are the most important market channels
The majority of wine sales in the Czech Republic are made through the off-trade, which accounts for over 90% of the wine sold. Hypermarkets and discounters are the major market channels, accounting for an estimated 70% of sales.
Most grocery retailers in the Czech Republic are owned by foreign parent companies, with REWE Group (Germany), Schwarz (Germany), Globus Hypermarket Holding (Germany), Ahold (Netherlands), and Tesco (United Kingdom) owning the top seven supermarket and discounter chains. Supermarkets and discounters often have their own import companies that they will also use to supply their subsidiaries. This makes it possible to enter the Czech market through the parent companies in Germany, the Netherlands and the United Kingdom.
Supermarkets and hypermarkets charge high listing fees. They will only allow wines on their shelves from suppliers who are willing to invest a lot in access to shelf space. Furthermore, almost 70% of wine sales in supermarkets and hypermarkets take place during promotions.
Tips:
Only target hypermarkets directly if you have significant experience in exports and are able to guarantee high volumes at a low price.
Importers are often a more suitable channel for exporters in developing countries compared to supermarkets. Importers are in a better position to comply with the requirements of retailers. Note that Czech discounters often do not use listing fees.
You can supply your wine to central warehouses in Europe, and particularly in Germany, and enter the Czech market indirectly via smaller importers.
Fragmented on-trade sector
The on-trade sector consists of many small players, who in most cases do not import wine directly. They mainly purchase their wines from importers with a reputation in the on-trade sector. These importers can provide support to wine suppliers who target the on-trade sector. However, importers in Czech Republic are reluctant to select suppliers in developing countries. They need certainty that developing country producers have the budget and quantity required to enter the Czech market before they start any collaboration with them.
Tips:
The channel most suitable for you depends on your export volume and the quality of your wine. If you are able to produce high volumes, you could consider targeting the off-trade market, while small-sized producers able to produce high-quality wine might want to focus on the on-trade sector.
Be consistent and trustworthy in your supply quality and quantity when supplying (small) importers. Make sure your wine is always available; once buyers need to go elsewhere they will not return.
Specialist outlets are popular
Specialist shops usually buy their wines from an importer. There are approximately 1000 specialized wine shops in Czech Republic and their number is growing. These specialty shops offer wines in the higher price segments and wines with a good quality/price ratio. In many cases they also offer gourmet food. Wine shops that offer a wide range of draught wine alongside bottled wine are very popular. As knowledge of wine and demand in these segments are growing, their sales are expected to increase in the short term.
Tips:
Develop a Unique Selling Point, like unusual origins, varieties, wine show medals, production or region stories, to gain access to the specialist retail channel.
If your wine goes well with food, promote this on your labels and aim for specialty shops.
Online sales
Total e-commerce in the Czech Republic amounted to about €3.1 billion in 2014. Although Czech online shopping has not reached the levels of western European countries, it has been continuously growing over the past few years. Market researchers see great potential for online wine sales in the Czech Republic.
In general, retailers with physical stores lead the development of online wine sales. Nonetheless, many small Czech premium wine importers without physical stores offer their wines online. Premium wines sell well online as consumers are willing to pay more for a more exclusive wine which they cannot buy at the supermarket. Please refer to our study on online wine sales in Europe for more information.
Tips:
If you supply small volumes of premium wine, find an importer with an online shop who offers wines from less usual origins.
Online shops are particularly interesting retail channels for premium wines from developing countries, as they offer space to provide product information, such as a story about the history of the winery.
Segmentation of wine
The segmentation of the Czech wine market is presented in Figure 6.
Figure 6: Market segments for wine in the Czech Republic, including indication of share in sales per segment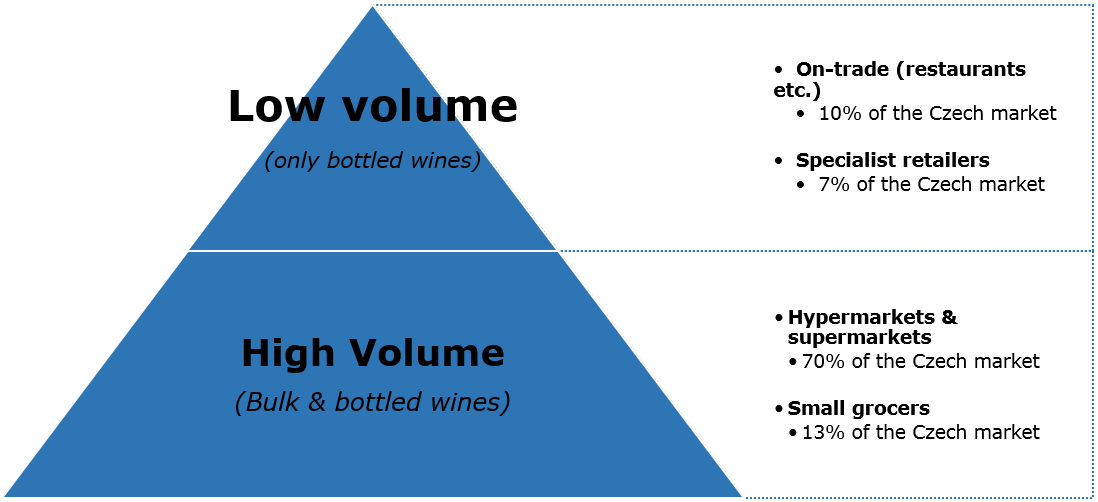 Demand for high volume bulk is increasing in Czech Republic
Bulk wine imports in the Czech Republic are expected to increase in the next years, as growing demand for wine drives bottling capacity development in the country. The high-volume segment is the most suitable segment for suppliers of bulk wine to the Czech Republic. The market in the Czech Republic is quite price-sensitive, which is why the low-volume segment has only a small percentage of market share.
Tip:
If you are aiming to export in bulk, this is only possible if you are able to produce a large volume of wine, at least 100 thousand litres (25 thousand litres per shipment).
Product appreciation in the Czech wine market
Table 2 provides some insight into which product options are appreciated in the Czech wine market. High volume and low volume refers to matching target segments to your export capacity. For more detailed information on specific segments, please read our studies on sustainable wine and bulk wine in Europe.
Table 2: Appreciation for product options in the Czech wine market
| | | | | | | | | |
| --- | --- | --- | --- | --- | --- | --- | --- | --- |
|   | Organic | Fairtrade | QMS | CSR | Screw cap | Bag-in-Box | Bulk wine | Online sales |
| High-volume segment | - | - | +++ | + | + | + | ++ | ++ |
| Low-volume segment | + | + | ++ | - | - | - | - | + |
8.

What are the end-market prices for wine in the Czech Republic?

Average Czech consumer price indications for wine are presented for on-trade and off-trade in Table 3. The large price difference between the segments is mainly due to the price calculation in the on-trade channel which also has to cover exploitation costs of the hospitality facility.

Table 3: Average consumer prices per trade channel
| | |
| --- | --- |
| Trade channel | Price indications per bottle |
| Off-trade |   |
| Small grocers | €3.00 |
| Supermarkets and hypermarkets | €3.00 |
| Specialist retailers | €8.00 |
| On-trade | €18.00 |
Please review our market information disclaimer
Search
Enter search terms to find market research