Physical wellness tourism
Wellness tourism is possibly the fastest growing segment within the global tourism market, with Europe as its main source market. European travellers are looking to keep up with their healthy lifestyles on holiday. They add wellness experiences to any type of trip, making wellness usually a secondary motive for travel. The target group for wellness tourism is getting younger. This comes with an increasing interest in authenticity, sustainability and combinations with outdoor adventure.
1.

Product description

Wellness tourism is travel associated with the pursuit of maintaining or enhancing one's physical and emotional wellbeing. It is based on relaxation and the proactive prevention of illnesses (Figure 1). Physical wellness tourism includes visits to a spa and a variety of treatments, such as beauty treatments, massages, detoxification, Ayurveda treatments and thalassotherapy. Emotional wellness includes yoga, meditation and mindfulness.

Medical treatments like facelifts and other plastic surgery are not included in wellness tourism. Although there might be areas of overlap and complementary features, medical tourism and wellness tourism are best marketed separately.

Figure 1: Demarcation of wellness tourism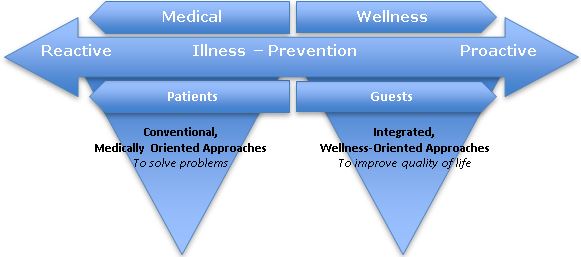 Source: Global Wellness Institute
Key wellness travel elements
According to wellness travel agents, the top 10 most important holiday elements for wellness travellers are:
beach access
pools or swimming
healthy cuisine
access to nature and the scenic outdoors
fitness facilities and classes
outdoor adventure programming
environmentally friendly
traditional sports like golf or tennis
doing good for the local community
hot springs or mineral springs.
Other key elements include weight-loss programmes, spiritual healing, alternative medicine, detox options and healthy sleep programmes. This illustrates that while classic aspects like beach and poolside relaxation continue to be popular, the concept of wellness travel is expanding.
Healthy lifestyle on holiday
Most European wellness travellers are health conscious and lead a healthy lifestyle. When booking a wellness trip, they often look for elements that allow them to extend this to their holiday, for example through accommodation that pays attention to healthy food and optimal sleeping arrangements.
Tips:
Include healthy lifestyle components in your offer. Spas, wellness centres or hotels could, for example, offer healthy food, weight management counselling and physical activities like a gym, fitness classes or Pilates.
Educate kitchen staff on nutrition, vitality, organic and dietetic food.
Alternative non-wellness activities
European wellness travellers like to include alternative activities in their wellness holidays. Adventurous and/or active programmes like walking and cycling are popular, especially if they can take place in nature. Younger wellness travellers are particularly interested in adventurous activities. Cultural and historical excursions can also be an interesting addition to a wellness holiday. Combining these elements can also be an added value.
Tips:
Offer various types of activities that your guests can add to their wellness programme.
Combine wellness treatments, physical activity, natural surroundings and culture. For example, offer additional meditation and yoga classes in a historical ashram or on the beach. Or include recreational activities like morning walks, cycling or jogging in the forest.
High levels of quality
European wellness travellers are generally experienced travellers. Traditionally, many wellness travellers are seniors who expect quality and demand a relatively high level of comfort and service. Examples of important quality requirements are clean, secure and well-maintained facilities, personal attention from friendly staff, and knowledgeable and experienced advice on health or wellness and luggage service.
Tips:
Pay attention to facility design/decoration, ambience, comfort and hospitality, as well as to quality wellness treatments. Provide, for example, relaxing background music or aromatic scents. Train your staff to be polite and attentive.
To provide personal attention to your guests' specific needs, your staff must be knowledgeable. Train, for example, beauty treatment practitioners, body massagers or yoga instructors to become qualified. Emphasise their qualifications or certifications in your marketing to display the quality you offer.
Health and safety measures
Health and safety are important to European travellers, who often inquire about the safety of their destination. Vehicles and accommodation also have to be safe. Guides should have good local knowledge. They must know which places are safe to visit and which are not.
Tips:
Pay attention to general safety measures.
Tour operators should, for example, regularly check vehicles and equipment. Hire experienced guides that know the area.
Accommodation establishments should have safety measures in place. This could concern smoke detectors, fire extinguishers, emergency exits, first aid kits and 24-hour medical assistance.
Political stability
Safety is important to European travellers, especially because some developing countries are politically unstable. Most commercial tour operators do not offer holidays to countries that their Ministry of Foreign Affairs has declared unsafe. This has led to a drop in tourism arrivals to countries such as Mali, Egypt and Venezuela.
Tips:
Keep customers and any potential customers updated on changes in the safety situation in your area, for example through your website and staff.
Share safety experiences from customers on your website. Let them write about how safe they felt, because people value the experience of other travellers.
If your region is "unsafe", commercial tour operators will most probably not go there. In this case, focus on volunteer organisations and individual travellers. Check your country's current safety status at the website of your target country's Ministry of Foreign Affairs, such as of the Netherlands, Sweden and the United Kingdom.
2.

Traveller profile

European wellness travellers can be found in all age and income groups. They have a good understanding of wellness and prevention, based on Europe's long tradition of bathing, sauna, thalassotherapy and other wellness treatments. Wellness travellers spend 61% more on their international holidays than the average, making them an especially interesting target group.

There are two types of wellness tourists, primary and secondary. Although these profiles often reflect a lifestyle, they can apply to the same person on different trips and over time.
Primary wellness tourist
For primary wellness tourists, their trip and/or choice of destination is primarily motivated by wellness. This requires a high level of interest in and commitment to personal wellness. As these trips tend to be expensive, primary wellness tourists spend around €1600 per international holiday. This is about double what the average international tourist spends. Although this is a relatively small target group, their spending habits make them interesting nonetheless.
Primary wellness tourists often maintain a wellness-oriented lifestyle. They actively seek mental balance in their daily lives. These travellers are also interested in both environmental and social sustainability. This affects their consumption, leading them to prefer products like local or organic food. Examples of popular wellness holidays among primary wellness tourists include a nature-based yoga retreat or a stay at an eco-spa resort.
Tips:
Offer completely wellness-focused holiday packages.
Pay attention to the sustainability of your company and tourism products. Emphasise both the environmental and social benefits you have to offer.
Secondary wellness tourist
For secondary wellness tourists, wellness is not the primary motive for their holiday. They do want to maintain their wellness while travelling and/or participate in wellness experiences. This means they may add one or more wellness activities to any type of holiday. On their international holidays, they spend around €1300 per trip. Although less than primary wellness tourists, this is still around 58% more than the average international tourist spends.
Almost 90% of wellness tourism trips and expenditure comes from secondary wellness tourists. These travellers represent a broad category, across various tourism segments. They are moderately involved in a wellness-oriented lifestyle, or would like to be. Examples for secondary wellness tourist activities include a visit to a spa or a morning meditation session during an active holiday.
With time and experience, secondary wellness tourists can become primary wellness tourists. In turn, primary wellness tourists can take secondary wellness tourism trips as well. For example when they add wellness activities to a business trip or family holiday.
Tips:
Offer various wellness activities and programmes at different lengths and levels, which secondary wellness tourists can add to their holidays.
Include introductory courses in your programme, to let secondary wellness tourists try out wellness experiences they are unfamiliar with.
3.

Which European markets offer opportunities for wellness tourism?
Wellness tourism is a fast growing market
Wellness tourism is a growing segment within global tourism, accounting for 7% of the market. Between 2013 and 2015 total number of wellness trips increased from 587 million to 691 million. Wellness tourism revenues also grew more than twice as fast as overall tourism, reaching €474 billion in 2015. This represents an impressive 14% increase since 2013. Wellness tourism revenues are projected to grow by another 38% by 2020, amounting to €680 billion.
International wellness tourism is on the rise
Although 83% of global wellness trips are domestic, interest in long-haul wellness tourism is growing. Between 2013 and 2015 the number of international wellness trips increased by 22%, compared to 17% for domestic trips. This amounted to 116 million international wellness trips in 2015, at a value of around €68 billion. Expenditures for international wellness tourism also grew much faster than domestic expenditures, by 20% compared to 11%.
Europe is the main market for wellness tourism
Europe is the world's largest wellness tourism market. With 250 million trips, Europe makes up around 36% of the global market of 691 million wellness trips. Although these figures combine the number of domestic and international inbound trips, they illustrate the European tradition of visiting spas and wellness centres. Experienced domestic wellness travellers are relatively likely to try international wellness travel, making Europe a promising market.
Germany, France and the United Kingdom are the largest European markets
Within Europe, the largest wellness tourism markets are Germany, France and the United Kingdom. Again, these figures combine domestic and international inbound trips. However, they do reflect the interest in wellness trips from these markets. Furthermore, these countries are also the largest source markets for trips to developing countries in general. Other European countries with high potential for wellness tourism are Austria, Spain, Switzerland and Italy.
Tips:
Focus on Germany, France, the United Kingdom, Austria, Switzerland, Spain and/or Italy.
As the majority of wellness trips are domestic, include your domestic target group in your strategy.
Asia-Pacific is especially popular among wellness tourists
Popular developing country wellness destinations for European wellness travellers are located especially in Asia-Pacific. In 2015, Asia-Pacific became the fastest growing wellness travel region, ahead of Europe and the United States.
Thailand and Costa Rica are the fastest growing wellness destinations. Other Asian destinations with rapidly increasing popularity are Indonesia, India, Bhutan, Vietnam and Myanmar. In Latin America, Caribbean islands (especially smaller islands like St Lucia), Nicaragua and Brazil are also gaining ground. In the Middle Eastern and African region, Morocco's popularity is growing particularly fast.
Tips:
Use your region's unique features to develop a competitive wellness tourism image and product, such as your local traditional style of yoga or meditation. Or this could concern a unique cultural or natural location for the wellness experiences you offer.
For inspiration and best practices, see the winners of the Wellness Travel Awards per region, country and category.
For more information on European traveller numbers in general, see our study about European demand for tourism in developing countries.
4.

Which trends offer opportunities on the European market for wellness tourism?
Health awareness is growing
European consumers are becoming more aware of the importance of a healthy lifestyle. They are taking preventive measures to maintain and improve their health. In this context, they no longer see wellness activities as a luxury but as part of their regular health maintenance. Examples include massages and hydrotherapy to relieve stress and chronic pain, or facials to improve skin health and reduce the effects of ageing.
Tips
Offer wellness experiences and programmes that specifically aim to improve your guests' wellbeing.
Emphasise the health benefits of your wellness tourism products in your marketing.
Health elements are increasingly added to travel
European travellers increasingly seek to integrate health and wellness elements into their trips. They choose hotels that offer healthy rooms, healthy menus, spas, fitness facilities and other wellness activities. This type of secondary wellness tourism is growing fast, with a growth of 20% in trips and 16% in expenditures between 2013 and 2015. This is much faster than primary wellness tourism, which increased by 2% and 5% respectively.
In addition, due to pressure to lower health care costs in Europe, many alternative therapies are no longer covered by health insurance, such as acupuncture and holistic treatments. As these treatments are generally much cheaper in developing countries, this offers you good opportunities.
Tips:
Develop small wellness packages (building bricks) that travellers can add to their holidays.
Emphasise the affordability of your wellness services in your marketing.
Wellness tourists are becoming younger
Where wellness tourism used to be mainly associated with senior travellers, wellness tourists are now becoming younger. By far the most are between 36 and 55. The age groups of 56–65 and 26–35 (millennials) follow, with millennials catching up, while seniors aged 65+ are trailing behind. Agents also note an increase in both multigenerational group and solo travel.
Although popular across the board, elements like adventure, environmental friendliness and doing good for the local community are significantly more important to younger wellness tourists. This is reflected in their choice of accommodation. Where older wellness tourists prefer luxury resorts, among the younger generation eco-resorts in nature and authentic yoga retreats are considerably more popular. Clearly these values are becoming mainstream for wellness tourism in the coming years.
Tips:
Focus on younger wellness tourists as well as on senior travellers.
Offer accommodation and wellness experiences that appeal to younger wellness tourists. Pay attention to authenticity and sustainability and include adventurous activities.
For more information on specific target groups, see our studies about millennial and group travel, senior travel and solo tourism.
European travellers increasingly look for authentic experiences
At home, European wellness tourists are familiar with water-based treatments like thermal spas. For their international wellness holidays they increasingly seek new, authentic experiences or treatments. This can range from traditional or culturally based therapies like acupuncture or body massage to body-mind-spirit retreats. For example, Asian wellness experiences like yoga/meditation retreats or Thai traditional massages have become popular.
Wellness tourism providers are responding to this demand for authentic experiences in different ways, for example by developing locally inspired environments and spa treatments, adopting traditional healing practices, using local ingredients and investing in thermal and mineral springs.
Tips:
Offer a unique product by combining location-specific and authentic elements like local natural assets, traditions or ingredients.
Combining outdoor adventure with wellness
Adventure is becoming an increasingly important aspect of wellness tourism. Especially among younger wellness tourists, for whom outdoor adventures are the most important holiday element after beach and pool access. Travellers often combine their adventurous activities with wellness experiences like massages, meditation and hot spring bathing.
Traditionally popular adventures like hiking, cycling and surfing are easy to mix with wellness activities. Combinations with more intense adventure programmes like zip-lining and rafting are also on the rise. After the adrenaline rush and/or intense workout of their adventures, travellers turn to wellness for some thorough relaxation.
Tips:
Offer outdoor adventure programmes to combine with your wellness experiences. You can also work together with a local adventure tourism provider to develop packages together.
For more information about this combination, see, for example, Spafinder's report on The Adrenaline & Zen Cocktail.
For more information about adventure travel in general, see our study on adventure tourism.
Sustainability is becoming mainstream
European wellness tourists have relatively high standards for the sustainability of their holidays. Especially among primary wellness tourists, both environmental and social sustainability are important. These values are among the top 10 most important holiday elements for wellness travellers. With the rise of younger wellness tourists, they are becoming mainstream demands. The interest in, for example, eco-resorts and organic and/or local food is increasing.
Focus is shifting from wellness properties to wellness destinations
Related to an increased interest in sustainability is the shifting focus from wellness properties to wellness destinations. This means wellness tourism is no longer limited to the traditional gated resorts. Instead there is a trend towards developing and promoting wellness destinations as a whole, from towns to regions or even nations. This approach should benefit both tourists and locals, through, for example, environmental policies, safer communities and sustainable, healthy food.
Tips:
Contact your local stakeholders and work together to develop your area into a complete wellness destination. Think of tourism providers, wellness or travel trade associations and governmental organisations. This development can be based on traditional or natural-based wellness and healing techniques. Location-specific offers can become the "signature treatment" of your destination, which makes it stand out from the competition.
Create and promote the wellness image of your destination as a whole, rather than just your wellness tourism product.
For more general industry trends, see our study about European tourism market trends.
5.

What requirements should wellness tourism comply with to be allowed on the European market?

For general tourism requirements, see our study on what requirements your services should comply with to attract European tourists.

There are some additional requirements that apply to wellness tourism.
Voluntary wellness industry standards
Europe has a number of voluntary standards and certifications for the wellness industry. Some of these standards are international. You can apply for them to gain a competitive advantage.
For example:
Tips:
Consider applying for voluntary quality standards and certifications. However, keep in mind that cost of implementation can be high and regulations strict.
Check if there are local wellness standards for your destination. In Thailand, for example, the Thai Ministry of Public Health initiated voluntary Thai spa standards. They include standards for service enterprises, methods for inspection and certification for health and beauty service enterprises.
Voluntary safety standards
When it comes to adventurous programmes, three international ISO standards support safe practices: 21101, 21102 and 21103. Additionally, some countries have their own voluntary standards, such as BS 8848 in the United Kingdom.
Tips:
Study the ISO standards on adventure tourism and use them to enhance your safety performance.
Check for possible voluntary standards in your target markets.
6.

What competition do you face on the European market for wellness tourism?

Competition on the market for wellness tourism doesn't differ from the European tourism market in general. For more information, see our study on what competition you face on the European outbound tourism market.
7.

Which channels can you use to put your wellness tourism products on the European market?
Focus on smaller specialised tour operators
Tour operators specialised in wellness tourism or your destination offer the best opportunities. They are generally more dependent on and willing to cooperate with local partners. You can identify them via trade associations, events and databases.
These include:
Business through associations
Many European wellness travellers visit or are members of wellness clubs, such as spas, sports clubs or inner wellness clubs. Such membership organisations can be useful sources to find potential customers. They often publish magazines and organise fairs or even trips for their members.
Tip:
Look for wellness clubs in your target county and visit their website. You can advertise in their magazines. Or promote your wellness offering through an advertorial or article about your destination.
Generating direct sales
European travellers increasingly book their holidays directly with service providers at the destination. To increase your chances of direct sales, you can promote your product on relevant tourism websites and portals.
These include:
8.

What are the end-market prices for wellness tourism products?

Travellers have many destinations and types of holiday to choose from. This makes tourism a relatively price-sensitive and competitive industry. The price of a long-haul trip consists of three dimensions:
The exchange rate between the currencies of the country of origin and the destination country.
The costs of transport to and from the destination country.
The price of goods and services the traveller consumes in the destination country.
European tour operators are not open about the purchasing prices of their tourism products. According to industry experts, their margins vary between 10% and 25%. Prices of holiday packages vary widely as they depend on a lot of factors, such as:
availability
destination
modes of transport
period of travel
number of travellers
length of stay
type of accommodation
included activities.
Tips:
Check which countries have cheap flights, preferably direct ones, to your destination, for instance at Skyscanner. This gives you a competitive advantage in those countries.
You can compare prices for wellness travel products online, for example at Responsible Travel.
Tourism Boost has some useful online tools for pricing tours and accommodation. These help you determine the break-even point and ideal retail price of your tourism product.
Please review our market information disclaimer.
Follow us for the latest updates