The European market potential for FIT tourism
Primary tabs
Takes about 16 minutes to read
Free independent travellers (FIT) are travellers who plan their own trips and prefer to travel alone or in small groups. They are the opposite of mass tourists, who travel in large groups and buy predefined travel packages. Eastern European markets are more engaged in mass tourism, while FIT tourism is becoming the norm in Western European and Scandinavian countries. For FITs, unique experiences are most important. If you can offer these, the FIT market is your primary target group.
1 .

Product description

The acronym FIT may refer to free independent traveller, fully independent traveller, foreign independent traveller or frequent independent traveller. In all of these definitions, independence is the keyword. In our study, when we use 'FIT' we mean the fully independent traveller or the free independent traveller.

FIT tourism is better defined as a way of travelling. Instead of comprehensive travel packages for groups, FIT tourism travelling is more personal and individual. Travellers design their own trips themselves, choose their own destinations and visits based on the information already they have. FIT tourism is the opposite of mass tourism; FITs prefer to create their own trips instead of following crowds.

FITs travel alone, as a couple or accompanied by a small number of people. The goal of FITs is to follow their own path, explore the things they want to see and with that create their own unique travelling experience. By planning their own trip, they can travel at their own pace, not bound to a group.

When talking with a European tour operator, it is very important to understand what they mean when talking about FIT tourism. The concept of FIT tourism is loose; it can range from travellers booking without a tour operator, to personalised trips conducted by a tour operator based on the wishes of the traveller, to trips based on components which are predefined by a tour operator or dynamic packaging, and even fully predefined trips for individuals or small groups.

Free independent travellers are mostly well experienced and very individualistic travellers, which is why they try to keep some degree of freedom by not booking everything on a trip in advance. They already have enough experience to allow them to decide on sight what to visit and how to travel. They seek less group experience then other tourists, but they still want to see the big highlights. The difference is that they do not want to visit them in an ordinary way with a big group but rather in special and unique ways.

The internet gives travellers better access to research on travelling information. They also get travel inspiration from photos, videos, stories and online reviews. Because there is so much to find online, it is much easier for tourists to make decisions about what to visit then it was before the internet. The internet has become the most important place for fully independent travellers to get their travel information, which means you must be well represented online for FITs to find you.

Figure 1: FIT traveller characteristics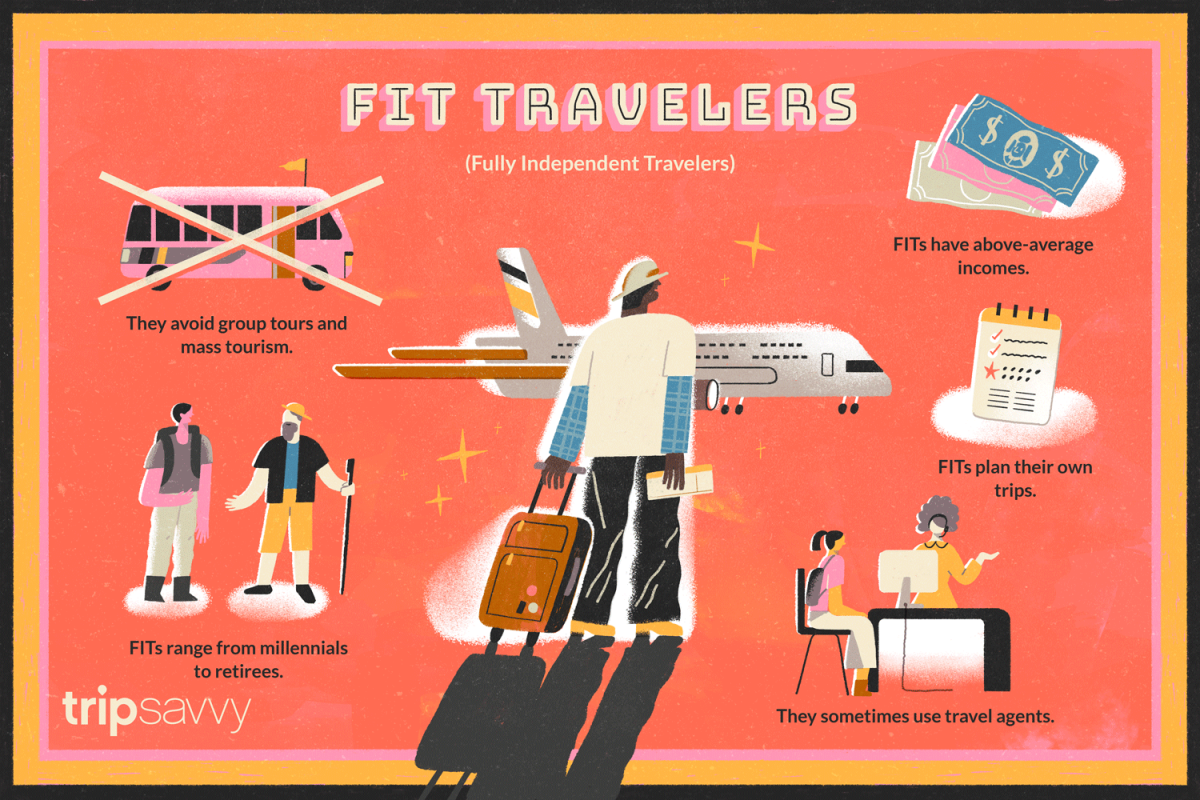 Source: tripsavvy
Some free independent travellers choose to travel with the help of a travelling agency. These agencies offer building blocks for tourists to complement once they are already on travel, but they also offer completely customised trips.
Backpacking is a classic form of FIT tourism. Backpackers normally book some sort of transport to arrive at an initial point of departure and from there they travel farther without a specific plan or time schedule, but only carrying a backpack as luggage. They decide where to go next, how to go and how long to stay on the fly during their trip. Flexibility is very important to backpackers and that is why they will not book much of their trips far in the future.
Tips:
Focus on backpackers if there is still little tourism in your area. Backpackers are the explorers and pioneers among tourists.
When you guide fully independent travellers, avoid the other tourists and take more unknown routes.
Show the big highlights quickly to FITs, then focus on smaller and unique aspects of the destination.
Contact a local destination management company (DMC) to discuss all the possible attractions your area has to offer, so they can offer options for every tourist.
Start a DMC with a few people and listen to the customers. Start small by offering experiences that don't require much effort from the visitors, like picking coffee or brewing beer. The most important thing is that you listen well to the tour operator and meet your customers' needs. An example of a company offering a wide variety of options based on the customers' needs is I Like Local.
2 .

What makes Europe an interesting market for FIT tourism?

Europeans tend to travel extensively as FITs, although to what extent varies by destination. Destinations which are safe and where infrastructure is better, tend to be popular among FITs. Nonetheless, in absolute numbers, Asia is the most popular among FITs from Europe, followed by South America and Africa. According to a recent study profiling 263 backpackers in Bangkok's Khao San Road area, most of them (63%) were from Europe.

Many FITs looking for online deals travel on low-cost airlines, whose budget prices make it more accessible for travellers to fly. The declining costs of long-haul flights facilitated by budget airlines has helped to boost a 29% increase in long-haul trips booked by Europeans in 2017 compared to 2016. In the same period, the biggest increases in the number of tickets booked were to the Dominican Republic (147%), New Delhi (106%) and Praia, Cabo Verde (76%). In 2018 compared to 2017, the number of cheap flights booked to some destinations were even higher: Marsa Alam, Egypt (156%), Sal, Cabo Verde (148%) and Rosario, Argentina (130%).

As tickets get cheaper, more Europeans have the possibility of going on long-haul trips. Based on interviews with experts, we expect the European FIT travel market to increase by 5%–10% annually.
Tips:
Identify and invite a European tour operator to visit your area or attraction free of charge. Make sure you are dealing with a serious operator who will not just take advantage of simply taking a free holiday at your expense.
Provide tour operators with sufficient information, like clear brochures including detailed photos, to facilitate them sell your activities. European travellers demand lots of information. For example, if you organise a bike ride, just saying that it happens in the morning is not enough; you should also provide the distance travelled, the change in altitude, the duration, the number of breaks, etc.
Make sure the information on your website and in other materials is appealing to the European target group, like the information on Go Adventure and Adventure & Fun Albania.
3 .

Which European countries offer most opportunities for FIT tourism?

The FIT market is growing in most European countries. In Western Europe, it has been growing between 5% and 10% per year, but demand for FIT travel is also growing in Eastern and Southern Europe.

The share of travellers who prefer the FIT way of travelling varies by country. Among Western European and Scandinavian travellers, FIT travel is more common than among Eastern and Southern European travellers, especially long-haul trips. The fully independent traveller market is doing very well in Denmark, Austria and Ireland, where a high percentage of travellers book their own personalised trips. On account of their large populations, Germany and the United Kingdom are the main FIT markets in Europe.

Hover your mouse cursor or pointer over the blue countries in the map below to see the share of travellers who purchased travel services separately rather than a traditional package in each EU country.
Germany is the largest European FIT market
Germany is the fourth European country in free independent travellers compared to its overall tourism market. However, having that largest population (82 million) and economy in Europe, Germany is also the largest FIT market in Europe. Germany is by far the largest economy in the EU and the fourth largest in the world with a GDP of €3.5 trillion or €43 thousand per capita. According to Reiseanalyse, the percentage of German travellers booking package tours in 2017 was 44%, declining 2% since 2007.
Table 1: German travellers long-haul destinations 2017
| | |
| --- | --- |
| Destination | Percentage of bookings |
| South East Asia | 23% |
| North America | 20% |
| Caribbean | 15% |
| Africa | 14% |
| Latin America | 8% |
| India | 6% |
| Middle East | 6% |
| China | 4% |
| Australia and New Zealand | 4% |
Source: Reiseanalyse 2018
You need to offer sufficient information to attract German and FITs. They tend to seek a lot of information before deciding to go visit a place. Like most Europeans, Germans are quite straightforward in their communication style, but they are also well known for their organisation and punctuality.
The United Kingdom offers the second-largest European market for free independent travellers
Although it has a slightly lower preference for personalised bookings than Germany, the United Kingdom offers many opportunities in FIT tourism. Looking at holidays spent abroad, 50% of British travellers booked their travel and accommodation themselves, using different travel companies, according to ABTA, the largest association of travel agent and tour operators in the UK. Also according to ABTA, as many as 15% of British travellers choose to travel solo as FITs. Turkey with 1.6 million trips, Thailand and India, each with 1 million trips are the most visited developing country destinations by British tourists, according to UNWTO data.
With a population of 66 million and a gross domestic product of €2.3 trillion, the United Kingdom is the fifth-largest economy in the world and the second in Europe. The UK's GDP per capita is €38 thousand per year, meaning the British have least disposable income among the top FIT markets in Europe.
Denmark has a high percentage of free independent travellers
Denmark offers a small market: less than 6 million people. However, Denmark's GDP per capita is approximately €54 thousand, which means the Danish have room for travel expenditures. The Danes spend on average €2,000 on a summer holiday, which they normally book in January or February. Many Danes prefer adventurous travel; according to UNWTO's 2017 statistics, more Danes visit developing country destinations proportionally than the European average: 15.8% versus 12.4%. For the Danes, the most important reasons to return to the same destination for a holiday are the natural features and the cultural and historical attractions. Many Danes, especially the fully independent travellers, speak more than one foreign language, such as English and German.
Austria has the second-highest percentage of personalised bookings in Europe
With a population of almost 9 million, Austria is a bigger market than Denmark, but still small. Austria's GDP per capita is approximately €45 thousand, indicating that the Austrians also have disposable income to spend on holidays. German is the dominant language in Austria, but especially younger Austrians master English as well. Among Austrian tourists under 55, only 22% booked a package tour in 2018, according to Statistik Austria. Above 55, this share rises to 34%. Many Austrians, however, booked their trips via a tour operator: 46% under 55 and 35% among those older than 55.
Ireland comes third in FIT preference in Europe
With a population of 4.9 million, Ireland is comparable to Denmark (5.6 million), meaning it is a small market. With a GDP per capita of almost €70 thousand, Ireland is, in principle, a high-income country. The process of the UK leaving the EU (Brexit) may however highly impact the Irish economy. Among Irish tourists, 57% book personalised trips, according to 2016 EU data. The main language in Ireland is English. According to UNWTO 2017 data, Thailand (69 thousand trips), Turkey (50 thousand trips), China (42 thousand trips), India (38 thousand trips) and South Africa (34 thousand trips) were the most visited developing country destinations by Irish travellers.
Tips:
Focus on Denmark, Austria or Ireland if you aim to maximise a limited marketing budget. These countries have relatively small populations, but incomes are high and their travellers are highly focused on FIT tourism.
Focus on Germany if you want to enter the largest European FIT market.
Stay up to date on Brexit news when you target the United Kingdom and Ireland, as their economies will be highly influenced by Brexit, especially in the short term.
Study your target markets. Update your knowledge by analysing statistics, for example, about the German holiday market and the British holiday market.
4 .

What trends offer opportunities in the European FIT tourism market?
Local experiences growing in demand
The free independent traveller is looking for a unique experience, more so than a regular tourist. This includes, for example, contact with local communities and experiencing daily life. The highlight of a place for FITs is not a major tourist attraction, such as a landmark or another touristic highlight. FITs want to experience ordinary life in the places they visit, including doing and seeing things that locals do and see. Fully independent travellers want to meet and talk with locals to get a real feeling of how life is in their country.
Note that most FITs also want to see the main touristic highlights and visit the same destinations as package tourists. FITs aim to experience ordinary life and unique experiences on top of the main attractions. This is especially the case where life in the place they are visiting differs from their regular lives.
Tips:
Develop activities with local agents, since it does not take much to create interesting activities. Thy can be as simple as a bike tour through surrounding villages, visiting local businesses or agriculture, and getting travellers into contact with locals. An example is Chambok Community, a village in Cambodia where visitors join in activities with locals, such as helping to collect food or going on a tractor ride.
Workshops are easy to set up and accessible for tourists, for example, a cooking workshop making local food specialities.
Use local forms of transport, like riding an oxcart or a tuk-tuk.
Start something close to a tourist attraction or on a route between attractions. European FITs want to travel efficiently.
Read our study on community-based tourism to learn more on how to offer local experiences.
Keep in mind that most European tourists prefer comfort, demand clean beds and chose to stay in places that are in line with an idealised image of a country, not necessarily what the experience of locals actually is. Check the Asian Homestay Standard, which offer standards on hosting, accommodation, activities, management, location, hygiene and cleanliness, safety and security, marketing, and sustainability principles. However, keep in mind that this standard is not a regulation. Read it as a source of inspiration and talk to your clients to learn what they really want.
Tips:
Adjust your homestay to European standards but keep the rest intact. Existing facilities can be uncomfortable for Europeans. For any visits longer than an hour, you need at least sitting and a toilet. For overnight stays, you will need a clean bed and a shower. If you can't assure a clean bed, avoid overnight stays.
Ask your European clients for precise instructions about the comfort needs of your guests.
Offer enough diversity and options in the food you serve. Although most FITs want to experience the local cuisine, Europeans likely won't understand three rice meals a day, for example. Ideally, if you can, offer local cuisine with a lot of variety. For inspiration, read about the food offered by a Dutch tour operator on the Inca trail in Peru.
Understand your clients and listen to them. Many visitors will appreciate locals wearing traditional clothing or performing a ritual dance, for example. Others may be disappointed, finding it contrived and no reflective of actual daily life.
Increase in environmental and price consciousness
The average age of FITs used to be between 18 and 35, but older FITs have become more common since. The FIT is on average well educated and has a relatively high income, but they are also very environmental and price aware. They differ from other tourists in that they search for and compare all offers very well, not only on price, but also on other factors, such as how environmentally friendly a product is.
Tips:
Start small and find something eco-friendly that your area is good at to show to tourists, like reducing plastic waste. According to Booking.com, the top-5 most important eco-friendly practices when considering an accommodation to stay in are solar energy (67%), sustainable water system (43%), low-flow showers and toilets (36%), organic restaurants and food options (31%) and recycling baskets in the room (29%).
Eco lodges are very popular among travellers because it is an expression of having an eco-friendly and sustainable business. An example in Myanmar is A Little Eco Lodge.
Keep comparing your prices to other similar businesses. Many free independent travellers will choose sustainable trips, but they will refrain from booking when the differences in price are too big.
Target older FITs if your accommodation offers high comfort. Older FITs are more experienced travellers who demand more comfort, have more budget and are less tied to seasons.
More direct bookings
Direct bookings with local entrepreneurs have been growing in the last few years, but slowly. European tourists may book directly via your website, instead of via a European tour operator. In 2018, 36% of German tourists booked their accommodations directly, compared to 34% in 2010. Among fully independent travellers, however, booking directly is growing faster. One of the tour operators we spoke to, expected that within 10 years the market for FIT tour operators in Western Europe will have completely vanished, because all customers will book directly via local entrepreneurs.
Tips:
Make sure your website accepts a valid European online pay method; it helps build trust and rapport with customers, when all they know about your business is your website. Read also the CBI study on how to implement online payments.
Improve the impression that tourists get from your website: display online reviews, memberships in organisations like a regional tourism board, and certifications like Fair Trade Tourism.
Respond quickly to emails. Flexibility is important for tourists and they want quick responses on questions and bookings, preferably by the next day at most.
Offer alternatives if you can't meet the requests of FITs, who are often very flexible.
Experiences shared online
FITs often get inspiration online from blogs, vlogs and other sources. Complete travel reports and reviews in those sources give the tourist a good view of how other people have experienced their journeys and destinations. They make it easier for the tourist to decide what to visit based on other people's reviews.
Many tourists share their own experiences online, for example, on Airbnb, Backstreet Academy, Local Alike and Resirest.
Tips:
Invite bloggers to write about your area. If possible, let them come and stay free of charge.
Read the CBI study on how to start a travel blog to learn about using it to attract tourists.
This study has been carried out on behalf of CBI by Molgo and ETFI.
Please review our market information disclaimer.