Through what channels can you get your tea onto the European market?
European consumers are increasingly demanding high quality and specialty tea, both in-home and out-of-home. Specialist retailers in particular have become more popular in recent years. The demand for specialty tea, along with a demand for increased transparency from tea consumers and the industry, offers opportunities for direct trade. However, most of the global tea production is still traded in bulk through the major tea auctions in the world, which are dominated by a few large tea traders and packers.
1.

Which market segments to target?
Tea market segmentation
Most tea is imported into Europe in bulk, while a much smaller part is imported as consumer-packaged tea. However, most tea is packed before entering the European consumer market. The European consumer market for tea can be divided into two main segments (figure 1):
in-home consumption (or off-trade);
out-of-home consumption (or on-trade).
Figure 1: Market segments for tea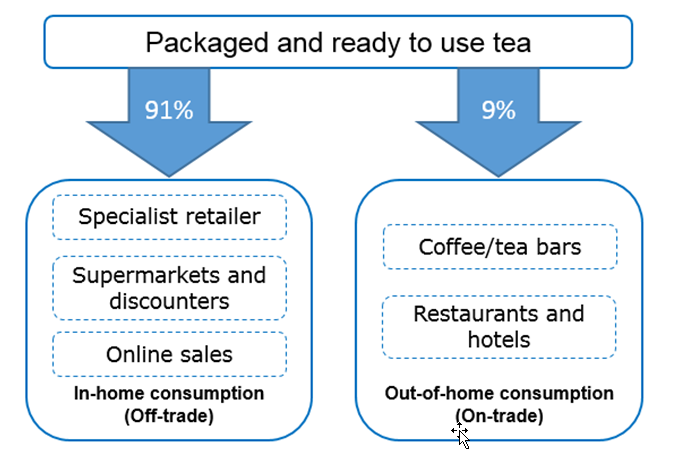 In-home consumption
Tea is largely consumed in-home in Europe (about 91%). It is a highly popular beverage and there is a demand for cheap mainstream tea. This segment is dominated by supermarkets and discounters, which account for the majority of tea sales. These supermarkets generally do not sell premium teas. Their innovations are limited to new types of packaging and the introduction of, for example, herbal and fruit infusions.
There is an increasing demand for premium, or specialty, teas for in-home consumption, especially in countries in Western Europe. These are mostly sold at specialist retailers and specialty shops. However, compared to the mainstream tea segment, it is still a small market niche.
Tips:
As the mainstream tea market is changing, find out if your target market is interested in tea fusions, for example herbal and fruit infusions. Talk to your buyers with regard to this issue.
Check existing products in your target market. Both Pickwick and Lipton have introduced a range of infusion teas.
Focus on high quality tea and whole-leaf tea to cater to the specialty tea market in Western Europe.
Please read our studies on promising European tea markets for more detailed information on specific countries, such as Germany, Finland and the Netherlands.
Out-of-home consumption
Out-of-home tea consumption (on-trade) is also shifting towards high quality and specialty teas. There is an increasing interest in high quality teas and unique herbal infusions. Consumers want teas of a higher quality than the tea they can brew at home. The hospitality sector caters to this demand by serving unique, whole-leaf, single (or new) origin or loose teas with innovative brewing devices.
Tips:
As the on-trade becomes increasingly interested in premium and specialty teas, look for opportunities to trade directly.
Segmentation based on quality, sustainability and end product
Quality segmentation in the European tea market
The European tea market can also be segmented based on the quality of the tea. The main quality determinant is tea grade (figure 2). Often, higher quality teas are whole-leaf teas, which are usually more expensive as well. However, whole-leaf teas are not always of a high quality. Some whole-leaf teas are of mediocre quality and are not sold as specialty tea. At the same time, broken-leaf teas can be sold as specialty tea when they are of a high quality, based on other quality determinants.
Other factors that determine tea quality include:
environmental (production) context, such as tea variety, elevation, climate and soil;
harvesting practices;
processing;
tea packaging; premium tea bags such as the pyramid or mousseline sachet are generally seen as high(er) quality tea bags (see figure 4).
Figure 2: Segmentation of the European tea market according to quality
High-end

• grade: whole-leaf

• price range: €20 < p/kg

• recognised high-quality brands

• specialty shops, high-end restaurants and hotels

Middle range

• grades: whole-leaf, broken-leaf, fannings or dust

• price range: €10 – €20 p/kg

• known brands

• specialty shops, retail chains, high-end restaurants and hotels

Low-end

• grades: whole-leaf, broken-leaf, fannings or dust

• price range: €2 – €10 p/kg

• known brands, some private labels

• retail chains
Tips:
If you can produce high quality broken-leaf tea and pack tea yourself, opt for more premium tea bags such as the pyramid or mousseline sachet.
Sustainability in different segments
We see that sustainable certifications are becoming more and more important on the European market. For speciality tea, only certifications that support the quality of the product are relevant. In the case of speciality tea, you could invest in an organic certification.

Jesse Bloemendaal, ProFound – Advisers In Development
The definition and importance of sustainability in the tea market depends strongly on the market segment. In mainstream market segments, voluntary sustainability standards are a must, such as UTZ Certified, and Rainforest Alliance and Fairtrade to a lesser extent. In the high-end (specialty) segment, origin, the story of the tea and organic certification are more important.
Tips:
Please read our study on certified tea for more information about sustainability in the European tea market.
Segmentation of end products
The tea market can also be segmented based on the different end products. A growing consumer interest in convenience in the tea market has led to an increase in ready-to-drink (RTD) teas and bagged teas. Consumers generally believe that bagged tea is of lower quality than whole-leaf tea. However, there are large differences between various tea bags. Mid-high to high-end segments require high quality dust, fannings or broken leaves. In the high-end segment, broken leaves are sometimes mixed with fruits, herbs and spices.
In most European countries, with the exception of Northern Germany, tea bags take up (more or less) more than 90% of the tea market. The segmentation for bagged tea is shown in Figure 3.
Figure 4 gives an overview of tea bag varieties. In continental Europe, the double-chamber tea bag and pyramid sachet are the most common tea bags. In the United Kingdom, single-chamber tea bags are the most common.
Figure 3: Segmentation of bagged tea in the European tea market
High-end

• packaging: mousseline tea sachets

• grade: broken, mixed with fruits, etc.

• recognised high-quality brands

• speciality shops, high-end restaurants & hotels

Mid-high

• packaging: pyramid sachets or tagged double-chamber tea bags, including metalized envelope

• grades: broken leaf, fannings or dust

• known brands

• independent retailers, organic retail chains, restaurants and hotels

Mid-low

• packaging: tagged double-chamber tea bags including envelope

• grades: fannings or dust

• known brands, some private labels

• supermarkets

Low-end

• packaging: tagless single-chamber tea bags

• grades: fannings or dust

• private labels

• supermarkets
Figure 4: Tea bag varieties

Sources: IMA group, TwoleavesNatural, Selo & Les thés de constance.
2.

Through what channels can you get tea on the European market?

The trade channels for exporting tea to Europe are presented in Figure 5.

Figure 5: Trade channels for speciality tea to Europe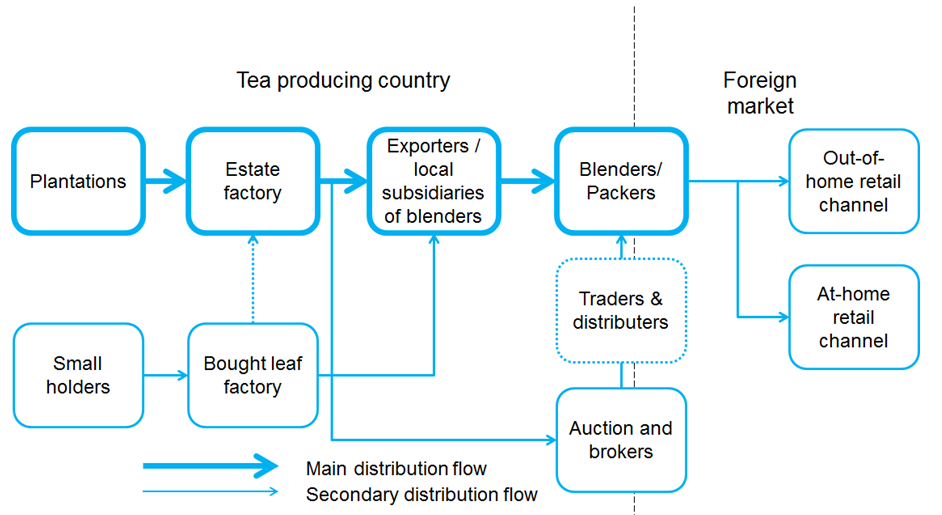 Tea auctions dominate tea trade
About 70% of the global production is sold through auctions. Most of this tea is mainstream tea sold in bulk. The auction is an effective way to find buyers. Here, tea supply and demand is physically (or digitally) brought together. The average prices at the three largest tea auctions in the world (Mombasa, Kenia; Kolkata, India; Colombo, Sri Lanka) are a reference point for the world market price for tea.
Speciality tea auctions are smaller and less common than regular tea auctions. European buyers indicate that specialty tea is mainly traded directly to blenders/packers and specialist retailers. These blenders and specialist retailers meet their suppliers of specialty teas at trade fairs throughout the world or travel to the tea gardens.
Large retailers have a strong bargaining position
The tea sector is characterised by a large number of small producers, many middlemen (or brokers) and a few big tea companies with a very strong bargaining position. Five companies dominate the tea trade:
These companies have a strong bargaining position for determining prices at the tea auctions.
Although the tea auctions are an effective way of finding buyers for your tea, they do not provide much incentive for value addition in countries that produce tea. Producers are slowly beginning to capture more economic value in the chain, often through tea blending and packaging at source (for example, in Sri Lanka and India).
Another option is diversification (for example, specialty teas) and quality improvement. This might result in a shift in power structure in the tea sector, giving producers more bargaining power in determining prices.
Tips:
You can raise your margins with value addition, for example by blending, flavouring and packaging your tea before exporting. However, you will have to comply with the strict buyer requirements on packaging, flavouring and blending.
Concentrating on higher tea quality and manufacture of specialty teas could also increase your profit, but the specialty tea segment is only a small part of the market.
Specialist retailers are gaining more popularity
Large retailers are still the main channels for bulk tea in Europe. However, specialist retailers are becoming increasingly popular channels for selling specialty tea. Specialty tea and specialist retailers are becoming more attractive, especially to millennials. These young, educated and health-conscious consumers look for teas with an authentic story, but also like to experiment with unique and organic flavours.
Specialist retailers might be interesting for you if use value addition, such as packaging at the country of origin. While larger retailers and brands produce their own packaging, since they need a uniform product, specialist retailers often focus on teas with a unique packaging. These packages can differ per supplier.
Tips:
If you produce specialty teas, target specialist retailers instead of the large retail chains.
Want to know more about the market requirements for sustainable tea? Please read our study on buyer requirements in the European tea market.
Increased transparency through direct trade
The European tea market increasingly offers opportunities for direct trade, especially regarding speciality tea. This is the result of a growing demand for transparency, both from the consumer and the industry. Tea packers and specialist retailers in particular increasingly source directly from tea gardens. This allows buyers to better understand and control tea quality and makes it easier to show transparency to consumers. At the same time, it offers opportunities for producers/exporters to have a greater influence on the price and margins.
Specialist retailers are often looking for high quality teas with a unique story. By buying directly from tea producers, specialist retailers ensure that they can deliver a specialty tea with a story. They visit remote tea gardens and taste teas before buying them. Moreover, they know a lot about specific production processes and are able to educate consumers.
Direct trade with your buyers offers you advantages such as faster payments, fewer uncertainties about prices and no fees for tea brokers or auctions.
Tips:
Target tea packers or specialist retailers directly instead of going through an auction.
Deliver to smaller importers and specialist retailers directly. This may offer you long(er) term contracts, as you can bypass the auction.
Online channels remain small
Online channels for selling tea remain relatively small. Most tea that is sold online is sold by retailers with an online presence/service. However, there are initiatives that use the online channel to reach the consumer, such as Glenburn tea-direct and Teabox. These companies developed a business model around shipping unbranded tea directly from the manufacturing source to the international consumer. By doing so, they reduce the amount of time the tea spends in transit and reduce the shelf-time, preserving the freshness of the tea.
Tips:
Keep an eye out for online innovations in tea sales. Although online sales from tea gardens to final consumers in Europe are currently limited, they might become more popular in the future.
Please review our market information disclaimer.
Follow us for the latest updates