Exporting tropical fruit purées to Europe
Europe is a large and growing market for tropical fruit purées. The increasing consumption of tropical fruit purées is driven by various factors including the growing baby food segment, fruit beverage applications and the consumer desire for convenient and faster-to-prepare foods, such as breakfast smoothies. The Netherlands, Germany, France and United Kingdom offer good opportunities for developing country suppliers. New product development, organic certification, food safety and social responsibility standards can provide a strong advantage to European markets suppliers.
1.

Product description
Product definition
Tropical fruit purée is a product obtained by sieving, grinding and milling of fruit native to or grown in tropical regions, without removing the juice. The terms pulp and purée are sometimes used interchangeably.
If fruit purées are made without extraction of water, they are frequently called single-strength purées by the industry players. However, tropical and other fruit purées can be also be made by the physical removal of part of its water content. Those purées are called concentrated fruit purées and they are also included in this analysis.
Depending on sieves and the pressure used in the production process, tropical purées can be homogenised, without visible fruit particles present, or coarser, with small pieces of fruit visible.
Tropical fruit purées are mostly used as an ingredient in the food-processing industry. As ingredient they are mostly used in fruit juices and nectar production, but also in other industries, such as the baby food industry, and jams, bakery and confectionery industries. Some tropical fruit purées are also traded as final products, either aimed for immediate consumption or intended as an ingredient for home cooking.
This study covers general information regarding the market of tropical fruit purées in Europe, which is of interest to producers in developing countries. Please see Table 1 for the products which are used for statistical analysis. Tropical fruits included in these categories are guava, mango, mangosteen, papaya, tamarinde, cashew apple, lychees, jackfruit, sapodilla, passion fruit, carambola, pitahaya and banana. Tropical nut pastes included in these codes include coconut, macadamias, and cashew, Brazil, areca and cola nuts. However, the range of tropical purées is wider than can be portrayed in statistical analyses. For more specific statistical information, see our study about Mango Purée in Europe.
Table 1: Products in the product group of tropical fruit purée
| | |
| --- | --- |
| Combined Nomenclature Number | Product |
| 20071091 | Jams, marmalades, purées and pastes of tropical fruit |
| 20079993 | Homogenised preparations of tropical fruit |
| 20089948 | Tropical fruit preparation with the addition of sugar in packaging bigger than 1 kg |
| 20089963 | Tropical fruit preparation with the addition of sugar in packaging smaller than 1 kg |
| 20089949 | Banana purée and other fruit purées and pastes |
Please note that in the statistical trade analysis frozen tropical purées are excluded. This is due to the fact that the tariff code used for frozen tropical fruit does not make a distinction between types of products, so purées are combined with other types of frozen fruit. Also keep in mind that in some cases (e.g. banana purée), given tariff codes include some other products beside tropical purées, although tropical purées represent the largest share of the analysed trade statistics.
Product specification
Quality
According to industry practice, the most important quality requirements for tropical fruit purées are defined by the following parameters.
Organoleptic (sensory requirements): colour (characteristic of the type and variety of fruit), flavour/taste (distinct fruit flavour and odour, free from fermentation and other unusual smell), appearance (free from stones or peel remaining).
Brix level: quality of tropical purées is mainly defined by the Brix level (sugar content of a water solution). The Brix level influences the price of the product. If tropical fruit purée is used for reconstitution with water in the production of fruit juices or nectars, the minimum Brix level for reconstituted purées is given in the European Fruit Juice Directive.
Authorised ingredients: some ingredients are allowed in the production of fruit purées. Those ingredients include sugar, vitamins and restored flavours. However, keep in mind that if tropical fruit purée is used as an ingredient for fruit juices, adding sugar is not allowed. According to the European Fruit Juice Directive, sugar may be added if the final product is fruit nectar and not fruit juice.
Labelling
The product must be labelled as "tropical fruit (name of the fruit) purée" or "concentrated tropical fruit purée". When sweeteners are added, they have to be declared as "sugar(s) added". It is very common for the Latin name of the fruit species, variety and crop year to be mentioned in the product specification.
In case of tropical fruit purées in bulk packaging, the information required above must either be placed on the container or be given in accompanying documents, except for the fact that the "[name of the fruit] purée" and the name and address of the manufacturer or packer must appear on the container.
In case of retail packaging, product labelling must follow the European Union Regulation on the provision of food information to consumers. This regulation defines nutrition labelling, origin labelling, allergen labelling and legibility (minimum font size for mandatory information) more clearly. However tropical fruit purées are not included in the allergen list of the regulation.
Picture 1: Shipping label example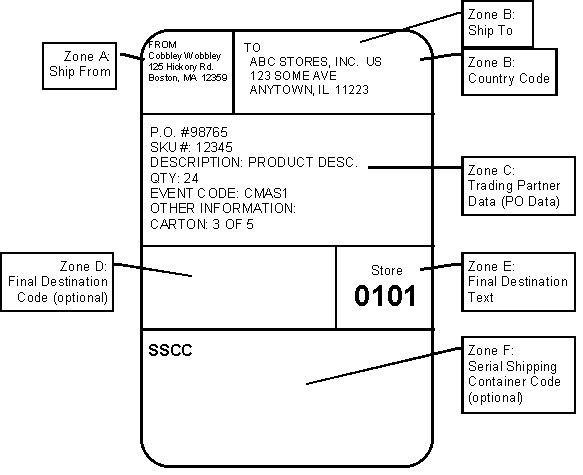 Source: Integrated Business Communications Alliance
Picture 2: Example of allergen advice on retail packaging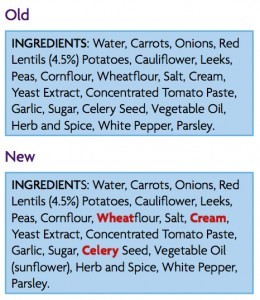 Source: QuickLabel Systems
Packaging
Packaging used for tropical purées must protect the organoleptic and quality characteristics of the product, protect the product from bacteriological and other contamination (including contamination from the packaging material itself), protect the product from moisture loss, dehydration and – where appropriate – leakage, as far as technologically practicable, and not pass on to the product any odour, taste, colour or other foreign characteristics.
The most common bulk packaging options are: bag-in-box, bag-in-drum, drums or tins. The first two aseptic packaging types are acceptable by industry standards, although certain buyers may prefer one over the other. The drum sizes vary between 180 and 275 kg. Sizes of bags which are packed in boxes are usually 5 kg, 10 kg or 20 kg for single strength purées, and 25 kg for concentrated tropical purées. Bag-in-box packaging also provides the option of storing frozen tropical purée for extended shelf lives.
New packaging solutions include bulk intermediate containers constructed from steel. This packaging removes the need for fumigation and heat treatment and also increases the quantity of packed purées per container and save transport costs.
For smaller packaging aimed at the food service sector and for retail, different packaging solutions are used. This includes laminated polyester bags, glass and plastic bottles, glass jars and special carton packaging for liquids, which is sometimes named by the production brand, such as Tetra Pak or Elopak.
Tip
For more information about the evaluation of quality, identity and authenticity of fruit juice ingredients including purées, see the Code of Practice developed by the European Fruit Juice Association. If you subscribe to this Code of Practice you will have access to reference guidelines for many different guidelines.
2.

Which European markets offer opportunities for exporters of tropical purées?

The Netherlands, Germany, France and United Kingdom offer opportunities for exports of tropical fruit purées. In addition to these largest markets, opportunities can be found in the emerging markets of Central Europe, south-eastern Europe and the Baltic countries.
Imports
European import of tropical purées continually increases
The import of tropical purées in Europe in the last five years has grown by 6% annually, reaching €528 million in 2016. Developing countries are gaining market share, as import from these regions is increasing by the average annual rate of 10%. This also means that developing country suppliers are increasingly supplying European buyers directly rather than through intermediaries.
The largest imported quantities are for banana purée and mango purée. The largest share of all tropical purées is for concentrated purées and purées with the addition of sugar.
Since 2012, external import of tropical purées (not counting intra-European trade) has increaed at an annual growth rate of 9% in value and 6% in quantity, reaching €270 million and 295 thousand tonnes in 2016.
Over the last five years, the largest increase in import quantities was noted in the import of single-strength homogenised tropical purées, which grew at an average annual rate of 35%. But the share of homogenised tropical purées is still rather small compared to other types of imported purées. It can be roughly estimated to be around 1% of total quantity of all imported tropical purées.
The Netherlands the largest European importer of tropical purées
There is no single country in Europe which absolutely dominates the import market, and therefore export opportunities can be found in several countries. However, the largest quantities of imported tropical fruit purées are shared between the four large importers, the Netherlands, Germany, France and the United Kingdom. They together share around 70% of total European imports.
Among other major importers, the highest increase in import of tropical purées over the last five years was in Belgium (40% average annual growth), Poland (22%) and Spain (13%). Significant growth was also noted in the south-eastern European countries (Bulgaria and Romania) and in the Baltic countries.
India the leading supplier of tropical purées to Europe
The supply of tropical fruit purées to Europe is headed by India, followed by the Netherlands and Germany.
Although tropical purées are primarily produced in developing countries, large quantities are re-exported by trading companies via the ports of Rotterdam and Hamburg. This explains the large share of supply from Germany and the Netherlands. Another big intra-European supplier is Austria due to its highly developed fruit juice trading and processing industry, led by companies such as Agrana and Grünewald International.
Leading external European tropical purée suppliers are India (dominated by mango purée followed by papaya and others), Costa Rica (dominated by banana purée but also pineapple purée), Thailand (pineapple purée and several others such as dragon fruit), Philippines (several different tropical purées), Ecuador (led by banana purée but also mango and passion fruit), Guatemala (banana purée), China (lychee purée and other types), Mexico (tamarind purée) and Brazil (guava, papaya and acerola purée).
Tropical purée suppliers gaining European market share are Mali (258% annual growth rate), Vietnam (146%), Costa Rica (60%), Guatemala (32%) and India (25%).
Tips
Search for opportunities to supply single-strength tropical purées to European market as demand for those is growing fastest.
Besides targeting the largest European import markets, consider countries that are showing faster growth in imports, such as Belgium, Poland or Spain.
Learn from developing country exporters who are gaining share on the European market, such as Vietnam, Peru, Costa Rica, Philippines and Thailand.
Exports
European exports of fruit juices mainly intra-European
European exports of this category are by definition re-exports, although in some cases value is added by packing, blending or otherwise. Exports from the leading exporter of tropical fruit purées, the Netherlands, are mainly destined to other European countries. The leading European exporter to external markets is France.
Since 2012, European exports of tropical fruit purées have increased by average annual rate of 6%, reaching in €282 million in 2016.
The European countries with the highest export growth in value over the past five years were Belgium (24% annual growth), France (22%) and Denmark (19%).
The main external destinations for European Union exports of tropical purées are Saudi Arabia, Switzerland, Taipei, Norway and the United States of America.
Tips
Learn from European exporters about destinations which are increasing imports. One of the top European destinations is Saudi Arabia, while other Middle Eastern countries are interesting as well. Consumers in those destinations prefer a sweet taste and they are not so concerned about sugar level in fruit juices and ingredients, thus providing opportunities for tropical purées with the addition of sugars. Mango and guava are the two top flavours for the Arab markets.
The Netherlands, Germany, France and Austria are the largest European trade hubs for ingredients for fruit juices. Consider exporting tropical purées to these countries.
Production
Due to their geographical location, European countries are unable to produce tropical purées. Upon arrival in Europe, these products are subjected to multiple production processes in various industries, which are outlined above. This includes also re-packing of tropical purées and selling them as retail product. However, European statistics do not cover this too specific production.
The European fruit juice industry sources tropical purées from different origins. Ecuador is known to be the major world producer of passion-fruit purées. Almost all single-strength mango purées are sourced from India (especially the Alphonso variety), but Pakistan is also increasing its market share. Guava is sourced from several different markets, such as China, India, Malaysia and Brazil.
Consumption
Increasing demand for exotic fruit purées
According to Future Market Insights, the exotic fruit purées are expected to show global market growth at almost 4% annually in volume in the next nine years. This increase will also occur in Europe, driven by the healthy food trend and increasing use of tropical purées as an ingredient in the fruit juice industry, in the production of smoothies, in the baby food industry and in other market segments.
Although there is a decrease in consumption of fruit juices at the retail level in Europe, tropical fruit purées are increasingly consumed, as they are finding many applications besides in fruit juices.
The largest fruit juice and nectar-consuming country in Europe in 2016 was Germany (2,361 million litres), followed by France, the United Kingdom, Spain and Poland. However, the country with the largest consumption of fruit juices in Europe per capita is Malta, with an annual consumption of 31 litres per person, followed by Germany, the Netherlands, Cyprus, Austria and Sweden.
The most popular tropical flavour in fruit juices in Europe is pineapple. It is particularly popular in southern European countries, such as Spain and Italy.
The figure above displays the apparent consumption of tropical fruit purées, calculated as the difference between external European imports and exports to external destinations. Although there is no production of tropical purées in Europe, some imported tropical fruit purées are further processed before re-exporting, which means adding value.
Tips
You can find opportunities in the exotic juices market segment, as these are not produced in Europe.
Consider exporting specific types of tropical purées for which there is increased demand, such as single-strength purées, superfruit purées and organic purées.
New flavour mixes are another opportunity, and these can be developed in close cooperation with European processors and bottlers. Come up with various application ideas and suggest these to your buyers. Such ideas could concern different blends for smoothies, juices and baby food, smoothies and drinks containing visible pulp or fruit cubes, and fruit purées with "superfood" seeds and powders (e.g. chia, quinoa, baobab).
3.

What trends offer opportunities on the European market for tropical purées?

With respect to tropical fruit purées, an extensive study on European market trends is already available. See our study about Trends for processed fruit and vegetables. Regarding more specific trends in the fruit juice market, see our study about Fruit juices in Europe.

Trends which are more specifically related to tropical purées are the following:
Expected increase of the baby food sales – this trend can provide opportunities for organic tropical purée suppliers. Sales of instant baby foods are on the rise due to the fast-paced life of many European parents. The taste of tropical purées is preferred by children and many tropical fruit purées (such as banana) are cheaper than other purées, such as berries. Many taste combinations with tropical purées are being developed.
Smoothies market growth – Smoothies are becoming one of the most popular healthy breakfast options for many Europeans. In order to improve the taste and range of the products, European producers frequently launch smoothies prepared from tropical fruit purées, sometimes with added minerals and nutrients.
New product applications for tropical purées – there are an increasing number of product launches where tropical purées are the main ingredient. Some of the most notable products include fruit bars (where dried fruit and tropical purées are main ingredients), smoothies as snacks between meals (with banana and other tropical purées), fruit purées intended for fermentation (for the production of beers and ciders) and even HORECA solutions (such as fruit pulp capsules of Brazilian company Juice in Time).
Vertical integration – Companies in the tropical purées sector are trying to make the supply chain more secure, simpler and cheaper. Some recent examples include the acquisition of the Indian company Saikrupa Fruit Processing by Austrian Agrana and opening of the second Best Fruit Processors in Zimbabwe by Schweppes.
Rising demand for organic tropical purées – The European organic food market is constantly growing at an annual rate of over 5% in western Europe and over 8% in Eastern Europe. This trend has already been recognised by many tropical purée suppliers who are investing in organic production and certification. Some recent examples of organic mango purée include Indian Allana and Colombian CEA.
Tips
With respect to fruit juices, an extensive study about European market trends is available. See our study about Trends for processed fruit and vegetables.
Look for opportunities in new product solutions. Tropical purées can be used in sweet applications (sorbets, jellies, pie fillings, cake frostings, ice creams, etc.) but also in savoury applications, such as sauces and salad dressings.
To find out more about product and country-specific trends within the juice sector, read our studies about Superfruit juices in Europe and Pineapple juice in Europe.
4.

What requirements must tropical purées comply with to be allowed on the European market?

General information on buyer requirements for processed fruit and vegetables is given in our study about Buyer requirements on the European processed fruit and vegetable market. The section below deals with specific requirements applying to tropical purées in Europe.
Legal requirements
Food safety
The most recent changes relevant for tropical purées were the changes concerning the maximum residue level of several pesticides, especially the pesticide thiabendazole, which is relevant for mango.
The composition and quality of fruit juices are covered by a specific European Fruit Juice Directive. This Directive stipulates the specific characteristics of fruit juices and also ingredients, including tropical and other purées. It defines the composition of various products that can be produced, including not only fruit juices, but also dehydrated fruit juice and fruit nectars.
Regarding the laboratory testing of the tropical purées, the most common problem European importers face is the undeclared addition of beet, corn or cane sugar, and undeclared citric acid. A frequent problem is falsely declaring the mango purée variety, where this usually involves using other varieties in addition to the Alphonso variety stated.
In the event of repeated non-compliance regarding specific products originating from particular countries, stricter conditions may apply. These stricter conditions in practice mean obligatory laboratory checks for a defined number of imported containers or lorries. Products from countries that have shown repeated non-compliance are put on a list included in the Annex of the Regulation for increased level on official controls on imports.
Currently (since July 2016), there is no increased control for imported tropical fruit purées.
Labelling Requirements
Allergen labelling is important. This means that allergens have to be highlighted in the list of ingredients, and that requirements are applicable to non-pre-packed foods, including those sold in restaurants and cafés. A relevant allergen in the beverages industry is sulphur dioxide, which is sometimes used in the production of tropical purées. The maximum allowed level of sulphur dioxide and sulphites is 10 mg/kg in terms of the total SO2.
Common and niche requirements
Food safety certification is a common request from European Union importers. The most common certification schemes accepted on the European market are IFS, FSSC22000 and BRC.
In the fruit juice industry, the most recent development relevant for tropical purées is SGF certification. SGF (International Raw Material Assurance) certifies fruit-processing companies, packers and bottlers, traders and brokers for fruit juices and ingredients, as well as transport companies and cold stores, in almost 60 countries worldwide. SGF certification has a particular focus on authenticity and safety checking for conformity and food fraud by analyses and traceability checks. Already more than 80% of imported fruit juice products in Europe are coming from production sites with SGF certification.
Environmental protection, organic and fair-trade certification schemes are becoming more and more popular in the European Union. For organic production, you can consider IFOAM standards. The European Union regulates both organic food and drinks produced and/or processed within Europe and organic goods from elsewhere (Commission Regulation (EC) No. 1235/2008 with detailed rules concerning import of organic products from third countries).
Organic products can readily be imported from non-European countries whose rules on organic production and control are equivalent to Europe's. However, this is not the case for most developing countries, with the exception of Argentina, Costa Rica and Tunisia.
For all other non-European countries, importers can have their organic products certified for import into the European Union by independent private control bodies approved by the European Commission.
Tips
Specifically for tropical purées, consult the EU Trade Helpdesk, where you can find European Union legislation for your selected products under the corresponding 2007 and 2008 chapters.
For information on commonly requested standards, check the International Trade Centre's Sustainability Map, an online tool which provides comprehensive information on over 210 voluntary sustainability standards and other similar initiatives covering issues such as food.
Refer to Codex Alimentarius for the General Standard for Fruit Juices and Nectars, including ingredients such as fruit purées. Codex Alimentarius standards are in line with current practices in Europe.
Refer to The Code of Practice of the European Fruit Juice Association for guidelines specifying good manufacturing practices (GMP) in the production of fruit purées.
Stick to the rules! New laboratory testing methods can easily discover the addition of non-permitted sugars, water or other fruit into tropical fruit purées. It takes a long time and a lot of money to build a good reputation in European markets, but this can be lost very quickly if you are caught with adulterated or sub-standard products.
To find out the maximum residue levels (MRLs) that are relevant for fruit purées, you can use the EU MRL database, in which all harmonised MRLs can be found.
Get food safety certification. However, check with the importers and experts if the food safety certification company you consult is appreciated by European Union buyers. Examples of independent internationally accredited certification companies include SGS, CIS, TÜV and Bureau Veritas.
5.

What competition do I face on the European tropical purées juice market?

At product level, fresh tropical fruit still remains the major competitor to tropical purées. Home-made drinks and other products can be made with preparations from fresh fruit. However, tropical purées offer money and time savings for home applications.

At country level, major competition comes from different developing country suppliers, who export tropical purées to the European markets. The largest suppliers include India, Thailand, Costa Rica, Ecuador, China, Peru, Philippines, Malaysia, Brazil, Pakistan and Vietnam.
Tip
Compare your offer with the offer of leading companies supplying tropical fruit purées worldwide. Examples include mango processors Shimla Hills and Allana from India and guava processor Predilecta from Brazil.
6.

Which channels can you use to put fruit purées on the European market?

The specialised processor is the preferred channel for market entry in this sector. Many importers also conduct trading and wholesale activities.

Chart 1: Common trade channels for tropical purées on the European market



Specifically for fruit purées, new channels such as juice and smoothies bars, fresh juice stores, raw food restaurants and juice corners are increasing market share. Those channels are in line with the general healthy living trend.
An increasing share of imported tropical purées (led by organic banana purée) is used in the baby food industry. Fruit purées are also used as ingredients in the production of marmalades, jellies, candies, cereal-based products, ice creams and fruit yogurts.
Tropical purées are used in food service sector (hotels, bars and restaurants) for the production of many products, such as ice creams, pastries, sorbets, cakes and other bakery products.
Interesting European tropical purées importers and processors include Agrana, Doehler, Grunewald International, SVZ, Loragro, Binder and Cobell.
Tips
Use the opportunity to sell organic, fair-trade and single-strength purées, especially to the suppliers of the growing market channels, such as producers of juice bars, smoothies and baby foods.
To get practical advice related to business issues, read our tips about doing business and finding buyers on the European market of processed fruit and vegetables.
7.

What are the end-market prices for tropical purées on the European market?

Indications of margins according to final retail prices for tropical fruit purées are not very precise, as the whole sector contains many different products where tropical purées are used as ingredients and not so frequently as final product.

The prices are also different between producing countries regarding type of juice, fruit variety and quality of products. Therefore, it is only possible to give a very rough general overview of the price development. For example Alphonso mango purée always achieves premium prices compared to other varieties. As a rule of thumb, concentrated Totapuri sells at about the same price as single-strength Alphonso.

Very roughly speaking, it can be estimated that the Cost, Insurance and Freight (CIF) price of fruit purée juice represents around 0.25% to 0.50% of the retail price of the retail pack of fruit juices made from concentrates. The best option to monitor prices is to compare your offer with the offer from the largest competitors.

Some examples of export prices in the last two years period were the following:
Banana purée (22 Brix), 6.5-7.5 USD/kg CFR Rotterdam
Guava purée (19–20 Brix), 1.15-1.20 USD/kg CFR Rotterdam
Alphonso mango aseptic purée, 17 Brix 1.5–1.8 USD, CFR Rotterdam or 1.3 FOB
Totapuri, aseptic concentrate, 28 Brix, 1.3 CFR Rotterdam or 1.1 FOB
A very rough breakdown of the prices is shown in the illustration below:
Table 2: Tropical fruit purées price breakdown
Steps in export process
Type of price

Average share

of the retail price
Production of fruit
Raw material price (farmers' price)
10% (price of the fresh fruit required for the production of 1 kg of tropical purée)
Handling, processing and selling bulk product
FOB or FCA price of concentrated juice
20–30%
Shipment
CIF price
35–50%
Import, handling and processing
Wholesale price (value added tax included)
60%
Retail packing, handling and selling
Retail price (for average packaging of 250 g)
100%
Please note that the share of the retail price paid to farmers varies a lot between producing countries and the type of the product. Generally speaking, the price paid to farmers represents a small share of the price of the final product. For example, in 2017 the price paid for Brazilian guava growers for 1 kg of fresh was below €0.10, while for Indian fresh mango growers this was between €0.20 and €0.40 (Alphonso variety).
Please review our market information disclaimer
Follow us for the latest updates