Exporting superfruit juices to Europe
Takes about 25 minutes to read
The European Union is the largest world market for superfruit juices with an estimated share of more than 40% of total world imports. The Netherlands is the largest re-exporter of superfruit juices and superfruit juice ingredients, while France, the UK and Germany are the most innovative countries with the largest number of superfruit applications in fruit juices and fruit based drinks.
1 .

Product Description

Superfruit is a marketing term which refers to fruits that have exceptional nutritional quality. The European Union legislation does not have official definition of superfruits so this term is used by many manufacturers as a marketing tool used to create consumer demand. However the term superfruit is associated with majority of European consumers to types of fruits with high antioxidant content and respectively high content of anthocyanins. Superfruit have found their main applications in the production of fruit juices and beverages, but they are increasingly used in dried forms and as ingredients for dietary supplements and cosmetics industry.

Closely linked to the demand for superfruits, it the demand for vegetable juices, which also boast very healthy credentials. Please refer to our CBI market survey on vegetable juices for more info.

For production of superfruit juices different raw material are used such as: concentrated fruit juices, fruit puree or fruit powder. The following list represents the most common types of superfruit juices and juice ingredients on the European Union markets:
Type of Superfruit used for juices production

The most common forms used in trade for production of juices and beverages

Main exporting countries

CN codes

Açaí berry

Pulp/puree (frozen)

Powder (extract from freeze-dried pulp)

Concentrated juice

Brazil

 

20098979

20098999

 

Acerola

Pulp/puree (frozen)

Powder (extract from freeze-dried pulp)

Concentrated juice

Brazil

Central America

Mexico

Caribbean

Peru

Recently Asian countries (Vietnam, China, India)

20098979

20098999

08119095

20089949

Aronia (chokeberry)

Dried

Juice

Concentrated juice

Poland

20098999

Black currant/Red currant

Frozen

Puree

Concentrated Juice

Poland

New Zealand

20098979

20098999

Blackberry/Boysenberry

Frozen

Concentrate

Puree

Mexico

USA

Serbia

Poland

Chile

20098979

20098999

Blueberry/Bilberry

Dried

Frozen (IQF)

Puree

North Europe

North America

Central Europe

Russia

Chile

20098999

Camu Camu

Powder (extract from freeze-dried pulp)

Peru

Brazil

210690 (dietary food supplement/not very much relevant as the main ingredient for juices production)

Cranberry

Concentrated juice

Frozen concentrated juice

Fruit juice

USA

Canada

North Europe

Chile

20098111

20098119

20098131

20098151

20098159

20098195

20098199

Goji Berry

Dried

Juice (small quantities)

China

20098979

20098999

Lucuma

Powder (sweetener)

Pulp

Chile

Ecuador

Peru

20089999 (sweetener/not very much relevant as the main ingredient for juices production)

Noni

Juice

Concentrated juice

Puree

Pacific countries

India

21069099 (as a food supplement)

Pomegranate

Juice

Concentrated juice

Puree

Turkey

China

India

Middle East

USA

20098979

20098999

Raspberry

Frozen

Concentrate

Puree

Serbia

Poland

Chile

20098979

20098999

Sea buckthorn 

Concentrated juice

Pulp

China

20098979

20098999
Product Specification
Quality
The basic quality requirements for juices are defined by different parameters of which the most important in imports are:
Brix level (sugar content of an aqueous solution) vary depending on type of juice. European Union Fruit Juice directive does not define minimum brix levels for superfruit juices except for blackcurrant (11) and raspberry (7).
Percentage of solids is important for some superfruit juice raw materials such as pulps and purees.
Additional quality requirements
Level of specific functional ingredients is important for certain type of superfruit juices and juice ingredients especially if they are targeted for dietary supplements market segment. Examples are: vitamin C content in Acerola concentrated juice (usually 17-25% of dried matter), content of anthocyanin in bilberries concentrate (usually 10-25%), proanthocyanidin content in Cranberries concentrate (up to 50%), content of flavone in raspberries concentrate (usually 5%) and content of ellagic acid, polyphenols and punicalagins in pomegranate concentrate.
Labelling
The product must be labelled as fruit juice or concentrated fruit juice. If water or/and sweeteners are added to fruit juice product must be labelled as nectar and not fruit juice according to the EU Fruit Juice Directive 2012/12. Nectars must have declared a percentage volume of fruit juice on the packaging which is 25% for black, white and red currants, sea buckthorn berries, acerola and pomegranates, 30% for gooseberries and cranberries and 40% for bilberries and raspberries. For all other types of superfruit with acidic juice unpalatable in the natural state the minimum content of fruit juice is 25%.
In the case of retail packaging product labelling must be in compliance with the EU Regulation 1169/2011. This regulation entered into application on 13 December 2014 but the obligation to provide nutrition information will apply from 13 December 2016.
In the common case of the export in bulk packaging, the information required above must either be placed on the container or be given in accompanying documents, except that "type of juice or concentrated type of juice" and the name and address of the manufacturer or packer must appear on the container. It is common that product specification declares brix and acid level.
Packaging
Packaging used for superfruit juices must protect the organoleptic and quality characteristics of the product, protect the product from bacteriological and other contamination (including contamination from the packaging material itself), protect the product from moisture loss, dehydration and, where appropriate, leakage as far as technologically practicable and not pass on to the product any odour, taste, colour or other foreign characteristics.
The most common export types of concentrated fruit juices packaging are aseptic or sterile filled bag-in-Box, plastic container, steel drum, plastic drum and stainless steel container.
Regarding retail packaging most fruit juices in the European markets are sold in cartons (61.2%), followed by plastic (29.2%), glass (8.6%) and other (1%) in 2015.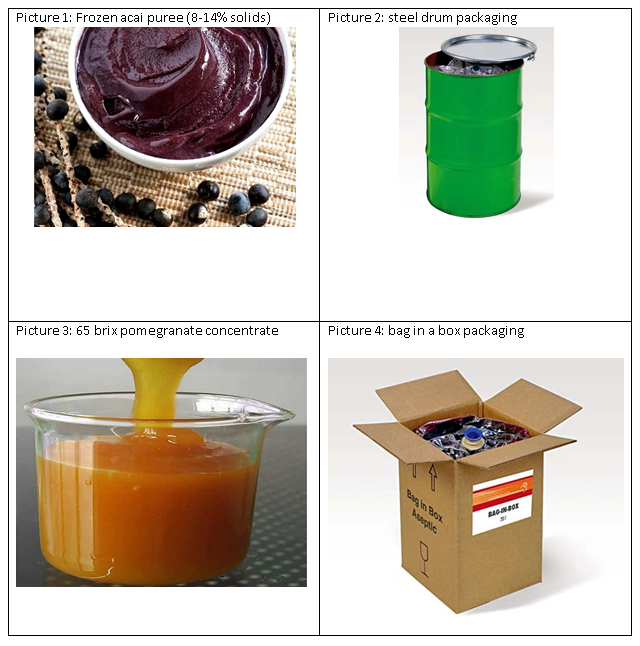 2 .

Which European markets offer opportunities for exporters of superfruit juices?

For a general overview of the statistical analysis of the processed fruit and vegetables sector in the EU please refer to CBI Trade Statistics for Processed Fruit and Vegetables

As European Union Combined Nomenclature does not include specific tariff numbers for all superfruit juices the following trade statistics includes the closest possible calculations for superfruit juices. However beside superfruit juices some of the tropical (exotic) juices belong to the same group of fruit juices but whenever it is possible there will be distinction in the analysis. This should not influence the main trends in trade and production as many types of tropical juices are also marketed under the term "superfruit" by manufacturers.
Analysis and interpretation
Over the last five years, imports of tropical and superfruit juices in the European Union was stable regarding value but it increased by 7% in quantity. This is the indication that prices slightly decreased since 2012.  
Imports from developing countries are growing more rapidly compared to imports from other destinations. The growth is especially significant considering imports of superfruit juices (including some purees) with brix values below 67.
The largest proportion of trade imports consist of internal European Union imports via re-exports, where the Netherlands is the leading re-exporter. The Netherlands has shown positive annual average import growth of 2% since 2012. Due to its established trading position of superfruit juices within Europe, the Netherlands provides opportunities for developing country exporters, who can find a number of trading contacts.
Almost all other European countries showed positive growth of imported superfruit juices in quantity.
The largest internal European producer and supplier of superfruit juices is Poland, which exports concentrated currant juices, aronia juice, raspberry juices and blackberry juices.
European imports of superfruit and tropical juices is concentrated, with the top three importers (the Netherlands, Germany and Belgium) accounting for 54% of total European imports.
The largest imports from countries outside the European Union are from Ecuador followed by the Turkey, Peru, United States and Brazil. Ecuador exports mainly tropical juices such as passion fruit, mango, starfruit, guava and soursop.
The largest share of imports of superfruit juices from the United States corresponds to cranberry juice, from Turkey to pomegranate juice and from Brazil to Acerola and Açaí juices, pulps and powders.
A significant import growth of 23% in the last five years is noted from Peru, and this is characterised by the increasing imports of passion fruit juice. Also, Peru recently started to export camu-camu juice to the European Union market as well as ingredients such as lucuma and maca.
Thailand showed 54% export growth characterised by exports of mangosteen juice followed by smaller quantities of blackcurrant juice.
(Re-)exports of superfruit juices are dominated by the Netherlands. Over the last five years exports of superfruit and tropical juices have grown in quantity but value decreased in 2016 indicated decrease of prices. Leading external importers from Europe are dominantly supplied by Poland: Russia increasingly imports Polish sour cherry juice, the USA imports Polish berry juices and Japan imports Polish carrot juices.
It is expected that the import and consumption of superfruit juices in Europe is likely to increase in the long term.
Tips:
Investigate possibilities to introduce new superfruit ingredients on the European market.  European buyers are open to new product developments, but in order to place new products on the market a significant investment in research is necessary. You should therefore cooperate closely with European juice producers.
Consider exporting superfruit juices to the Netherlands as the main import hub and as it is one of rare countries showing positive import growth.
Compare your company with other competitors from Brazil, Ecuador, Turkey and Peru.
Beside the European Union you can diversify your exports to other countries that are buying superfruit juices from European suppliers such as Russia, USA, Japan and Switzerland
Production and consumption
At the moment there is no any official production data on superfruit juices in European Union. As the general indicator production data for unconcentrated juices of any single fruit or vegetable, not fermented and not containing added spirit (excluding orange, grapefruit, pineapple, tomato, grape and apple juices) is used in the following graph.
Key promotional assets and skills
Poland is the European Union leader of production of superfruit juices from domestically sourced materials such as blackcurrant, sour cherry, raspberry, blackberry and aronia. Largest pomegranate juice producer is Spain. Juices are usually produced as concentrated and exported for further reconstitution with water or as the ingredient in production of nectars, fruit drinks, carbonated drinks, yogurts and in confectionary industry or even for dietary supplements industry (such as cordials). However the largest fruit juice bottlers in European Union which produce superfruit juices from imported materials are Italy and Germany.
General consumption of fruit juices and nectars in European Union is showing decrease in the last five years in almost all categories except in category of Not from Concentrate (NFC) and chilled juices which are showing constant increase over the last 5 years. This means positive outlook for consumption of many categories of superfruit juices which are produced with cold pressing. Beside NFC juices, consumption of flavoured waters, energy and sport drinks is increasing, both in value and quantity, and gives the opportunities to suppliers of superfruit ingredients as they are frequently used in those categories of beverages.
Due to physical characteristics or due to high level of acidity many kinds of superfruit are not suitable for production of 100% superfruit juices suitable for human consumption so they are usually blended with other juices such as apple, grapes or orange or produced as nectars with the addition of water and sugars (preferably natural sweeteners such as stevia) in order to improve their taste. Flavour mixes are the second by share in consumption of juices in Europe after the orange flavour. Developing countries juice processors can increase their competitiveness by investing in processing technologies which can enable them to supply flavour mixes according to customer specification.
Although the superfruit juices do not belong into the first 5 flavour categories of juices on the European Union level they are particularly popular in some markets. For example berries flavours are well ranked in Austrian market (4.3% market share), Sweden (1.4%), UK (4.3%), Czech Republic (8.1%), Finland (0.1%), Ireland (7.9%), Norway (1.3%), Slovakia (5.7%) and Slovenia (5.4%).
Tips:
Beside the largest consuming countries you can focus your export to countries with the high consumption of berry fruit juices per capita such as Nordic countries which traditionally consume wild berry fruits such as Sweden, Finland and Norway.
You can find information on European fruit juice production and consumption on the website of the European Fruit Juice Association
3 .

Which trends offer opportunities on the European market for superfruit juices?

General overview of the most relevant market trends for developing countries exporters can be found on CBI Trends for Processed Fruit and Vegetables
As there is no exclusive list of superfruits there are marketing campaigns aimed to introduce new products under the "superfruit" definition on the markets. Such recent attempts are for example baobab pulp from Zimbabwe, Mozambique and Malawi, Schisandra berries extract (China, Korea and Japan), Tahitian Noni juice, Peruvian physalis extract or Gac fruit puree (Vietnam, China). Increasing consumer awareness and demand for "healthy" products is bringing new products on the market.
There is also increasing interest in healthy vegetable juices due to their nutritional values.
Superfruits are finding applications in new fruit juices and fruit drinks products developments. Europe leads in juice new product development accounting for 43% of total new products in 2013, and almost 1,000 more introductions than the next highest region – Asia Pacific. France, the UK and Germany all show up among the top five most innovative countries.
Younger consumers in Europe are among the most likely to seek functional benefits in juice. Weight loss, energy and healthy skin are more pressing concerns to younger consumers, while functional claims relating to bone and heart health are more relevant to older consumers. With one of the fastest-growing adult populations, Germany has been a particularly strong market for adult-focused flavours.
The flavour with particular increase in fruit based drinks and nectars in 2014 year in Germany was blackcurrant. Also pomegranate juice is establishing a market share in Germany. The term "superfruit juice" is not used in the German language (nor is the product promoted as such), but the demand for superfruit juices grew, nevertheless, in 2013, where they are appreciated for their nutritional merits and exotic taste. Some consumers use them as alternatives to vitamin tablets. While most superfruit juices are only bought occasionally, like coconut water or aloe leaf juice, blueberry and cranberry juices are consumed on a more regular basis by some consumers.
In France, two flavours whose popularity increased in 2013 were mixed fruits and cranberry, notably in 100% juice and juice drinks mainly because of their purported health benefits. In British market superfruit juices will continue to grow, probably led by coconut water, with cranberry juice remaining a favourite, on its own or as part of a mixed drink. Developing countries exporters can focus their offer toward specific above mentioned trends in the largest consuming markets: Germany, France and the United Kingdom.
The package itself is going to be hugely important, in all markets but particularly developed markets, not only because it showcases the freshness of the product but because consumers read labels more than ever before.
The retail environment for juice is going to fragment and change pretty dramatically in mature markets. Even today, in a traditional supermarket, there are successful points of sale (in coolers next to fresh produce) and lagging points of sale at the back of the store where juice presently gets a lot of shelf space that is going to be increasingly hard to justify. On the other hand premium juice is going to enter non-traditional environments such as gyms, yoga clubs: places where it is easier to reach health conscious shoppers.
Corporate and environmentally responsibility initiatives are increasing the impact on the EU markets. Particularly the fair-trade market, organic market and functional foods market are growing.
Demand for organic juices is continue to increase. According to IFOAM the European countries with the highest spending on consumption of organic food are Switzerland (€189 per capita yearly), Denmark (€159) and Luxembourg (€143).
Tips:
Anuga trade fair is the best place to monitor market trends and to meet potential prospects in Europe. It is held every 2 years in Cologne in Germany. Another trade fair that is important to visit is SIAL which is held every 2 years in Paris in France. If you want specific information about production, consumption and juice trends you can participate in the Juice Summit which is the leading annual conference for fruit juice executives. It is held in October in Belgium (changing places).
As there is a lot of competition between superfruit juice and ingredients suppliers on the European market the first step in entering the market is the careful use of the scientifically proven health – benefit medical researches that can be used in advertising as consumers are increasingly sceptical of superfruit health benefits. As this approach is expensive for many Developing Countries suppliers finding strategic partner who is able to promote your product on the European market is strongly recommended. The example of successful marketing campaign is cranberry juice global campaign launched by the USA agricultural cranberries growing cooperative 'Ocean Spray'.
Some of the places where contract manufacturing and private label contacts can be found is Vitafoods Europe, global nutraceutical event which will be held in Geneva in 2016 or at SIAL innovation observatory event.
Use of the internet and social media are great opportunities to introduce your company and market superfruit juices on the European markets.
4 .

With which requirements should superfruit juices comply to be allowed on the European market?

For the general overview of the buyer requirements in the EU please refer to CBI Buyer requirement for processed fruit and vegetables.

Specifically for superfruit juices you can consult the EU Export Helpdesk where you can find products under specific HS codes 20098979 and 20098999.

For the information on commonly requested standards check the International Trade Centre's Standards Map, an online tool which provides comprehensive information on over 170 voluntary sustainability standards and other similar initiatives covering issues such as food quality and safety.
Legal Requirements
The composition and quality of fruit juices, including superfruit juices, are covered by a specific European Fruit Juice Directive. This Directive stipulates the specific characteristics of fruit juices and fruit-based drinks to guarantee the best possible products are put on the European market. It defines the composition of the various products that can be produced, including not only fruit juices, but also dehydrated fruit juice and fruit nectars. It specifies the criteria with which the various products must comply, including which fruits can be used, their minimum content, what ingredients can or cannot be added and how these products must be designated on the label. As an example, it must be clearly indicated on the label when a product has been sweetened or when it has been obtained from concentrated juice.
Vitamins and minerals can be added into fruit juice according to the Regulation (EC) No 1925/2006 as well additives in accordance with Regulation (EC) No 1333/2008. Other allowed ingredients are restored flavour, pulp and cells.
With the latest European Fruit Juice Directive EU Commission wanted to align directive closer to the Codex Alimentarius standard for Fruit Juices. In this view new amendments can be expected as in July 2015 the new proposal to reduce maximum level of lead in fruit juices and nectars from 0.05 to 0.03 mg/kg was formally adopted by the Codex Committee on Contaminants in Food.
Especially important for superfruit juices, the description of nutritional and health benefits is now regulated by the Nutrition and Health Claims Regulation, This law requires that no nutrition claim or health claim may be used if it has not first been approved. It will in future also specify nutritional criteria (nutrient profiles) that products need to respect before a health claim can be made.
New juices that have not been on the market before 1997 require a pre-marketing authorisation after the assessment of their safety. This is regulated by the EU Novel Foods legislation. Alternatively, a novel food or ingredient may be marketed through a simplified procedure called "notification". The European Commission prepared an Information Guidance to assist businesses when a product does not require authorisation. A Novel Food Catalogue has also been developed, listing products of plant and animal origin and other substances subject to the Novel Food Regulation. The list is non-exhaustive, and serves as orientation on whether a product will need authorisation under the Novel Food Regulation.
In the event of repeated non-compliance of specific products originating from particular countries, they can only be imported under stricter conditions such as having to be accompanied with a health certificate and analytical test report. Products from countries that have shown repeated non-compliance are put on a list included in the Annex of Regulation (EC) 669/2009. At the moment (from March 2016) frozen raspberries imported from Serbia are under an increased level of control.
The most common problems that European Union importers are facing when importing superfruit juices and their ingredients from Developing Countries are presence of norovirus and hepatitis A virus in frozen raspberries, blackberries and blueberries, unauthorised novel food ingredients (such as camu camu, noni or schisandra berries), pesticides residues in goji berries and sea buckthorn and unauthorised or too high content of azorubine colour in pomegranate juices.
Labelling Requirements
In December 2014 EU Regulation 1169/2011 went into effect. New labelling legislation forbids to mislead the consumer and to attribute to any food the property of preventing, treating or curing a human disease. Another change is allergens labelling where allergens have to be highlighted in the list of ingredients and requirements on information on allergens will also cover non pre-packed foods including those sold in restaurants and cafés. Also nutrition information is mandatory for most products. However, superfruit juices are not on the obligatory list of the allergens.
Common and niche requirements
Food safety certification is a common request by the European Union importers. The most usual certification schemes accepted on the European markets are IFS, FSSC22000 and BRC.
Environmental protection, organic and fair trade certification schemes are becoming more and more popular in the European Union. For organic production you can consider IFOAM standard. The EU regulates both organic food and drink produced and/or processed within the EU and organic goods from elsewhere Commission Regulation (EC) No. 1235/2008 with detailed rules concerning import of organic products from third countries. These can readily be imported from non-EU countries whose rules on organic production and control are equivalent to the EU's - currently Argentina, Australia, Canada, Costa Rica, India, Israel, Japan, New Zealand, Tunisia, Switzerland and the USA.
For all other non-EU countries, importers can have their organic products certified for import into the EU by independent private control bodies approved by the European Commission.
Tips:
Refer to The Code of Practice of the European Fruit Juice Association for guidelines specifying Good Manufacturing Practices in production of fruit juices and nectars. Ensure that any practices that you are using are legal in the European Union. For example the use of celluloses in the European Union are not permitted so you cannot use total liquefaction of the fruit to extract juice and sell it to European Union member countries.
New laboratory testing methods can easily discover addition of non-permitted substances into fruit juices. It takes a long time and a lot on money to build a good reputation in European markets but this can be lost very quickly if you are caught with adulterated or "sub-standard" products.
To find out the Maximum Residue Levels (MRL) that are relevant for superfruits, you can use the EU MRL database in which all harmonised MRLs can be found.
Check with the importers and experts if the food safety certification company used is approved by the European Union buyers.
5 .

What competition will I be facing on the European superftuit juices market?

General overview of the competition relevant for developing countries exporters can be found on CBI Field of Competition: Processed Fruit and Vegetables. Also read Top 10 Tips for doing business with European Buyers.

The implementation of food safety systems and regulatory laboratory testing of superfruit juices is just the first step of entering the European market. On the market there is already a lot of competition in the form of substitute products and other companies which you should be aware of.
Product competition
Major substitute products for superfruit juices are other beverages with the increased consumption on the European markets such as bottled waters, carbonated drinks, no added sugar dilatable, sport and energy drinks, ready to drink teas and fruit yogurts.
Bottled waters were the fastest-growing soft drinks category on the European market in the last year, as consumers are looking for hydration without calories.
Carbonated drinks are increasingly consumed in Europe, especially during summer months and fruit juice is not the drink of choice for majority of consumers in hot weather and as such the fruit juices sector failed to benefit from the hot summers. Carbonated drinks with low calories and no added sugar drinks are becoming increasing popular.
Sport drinks (isotonics, hypetonics and hypotonics including coconut water) and energy drinks (with the addition of caffeine, vitamins and different herbal extracts) also have positive outlook in consumption. Marketing of energy drinks focuses on their stimulant effects and perceived benefits such as increased performance, attention, stamina, and weight loss although many of the effects are still unproven.
No added sugar dilutables have greatly improved the sector's image, as have premium high juice variants, although rising commodity prices have made these more expensive. Newer, premium 'adult' dilutables, e.g. raspberry & lemon cordials have tapped into the growing consumer taste for quality and for natural, 'healthy' ingredients and have helped broaden the sector's customer base. Dilutables offer affordability, which has become ever more important as household budgets have tightened.
Ready to drink teas are another competitor to superfruit juices. However some of them uses the extracts of superfruits.  Currently being introduced into the marketplace are ready to drink teas that incorporate super fruit extracts such as pomegranate and mangosteen.
According to Mintel data, 56% of Western European consumers view Yogurt as a guilt-free snack. This can be easily explained by the perceived healthy product benefits and wide variety of flavors. The shift of Yogurt from being solely a breakfast or dessert option to a snack product happened thanks to its versatility and successful combination with healthy ingredients such as cereals, grains, nuts, etc. In spoonable yogurt, a shift from flavoured to fruited and plain spoonable yogurt can be observed, which can be explained by the fact that the latter two types are considered healthier. Plain spoonable yogurt is even expected to see the best performance within yogurt and sour milk products.
Company competition
Developing countries exporters of superfruit juices should be aware of the main competitors from main suppling countries such as Brazil, USA, Ecuador, Poland or Peru.
Tips:
Almost all competing beverages can be at the same time the opportunity for selling superfruit ingredients as there is no beverage segment currently on the market which is not using superfruit juices and purees as the ingredients.
Try to find data about competitors from other countries who are present on the European market. You can quickly make a selection by searching on export promotion organisations from competitors' countries. The list of trade promotion organizations is available on the ITC website.
6 .

Which channels can you use to put superfruit juices on the European market?

Figure 9: Common trade channels for Superfruit juices on the European Union market

The majority of superfruits used in fruit juice and fruit based drinks industry is processed into concentrated fruit juices or purees (pulps) which are sold in the original puree forms or dehydrated and sold as powders. Concentrated juices are used directly in the fruit juice and soft drinks industry but also as the ingredients in other industries as confectionary, milk drinks or breakfast cereals industry. Fruit purres or fruit powders are also used as the ingredients in fruit based drinks but also as nutraceuticals in fod supplements industry.
Some examples of different trade channels for superfruit juices in the European Union are the following:
Importer (wholesaler/ingredient supplier): SVZ, Prodalim, David Berryman, Ariza, Global Fruit, Cobell
Bottlers: Juiceburst, Innocent, Fruit Lab, Vegesentials, Anti + Supefruit, Pomegreat
Tips:
Working directly with the bottlers cuts the supply chain, but you may have to invest a lot in quality in order to become preferred supplier.
If you are able to produce NFC juice by cold pressing of certain types of superfruits this can help to reach more different market segments such as juice bars suppliers or food supplements suppliers.
7 .

What are the end-market prices for superfruit juices on the European market?

Indication of margins according to final retail prices for superfruit juices is not precise and Developing Countries exporters can have only very rough general overview price developments. The best option to monitor prices is to compare your offer with the offer from the largest competitors. The prices are also different between producing countries.

Price developments during 2014/2015 season for different superfruit juices were the following:

ACEROLA (from Brazil):
Brazil, frozen ss, 6-8 Brix, USD 1150-1200 per megatonne CFR Rotterdam
Brazil, frozen concentrate, 20–22 Brix clear, USD 3000–3100 per megatonne FOB Santos
Currently, the market is well supplied and in balance.

POMEGRANATE:
Turkey/Iran, aseptic clarified concentrate, 65 Brix, €2500–2900 per megatonne FCA Rotterdam.

Camu-camu extract in Peru is USD 65–70 per kilogram, whereas Brazil produces the same extract for USD 28–30 per kilogram.

Please review our market information disclaimer.