Exporting frozen strawberries to Europe
Primary tabs
Takes about 22 minutes to read
Europe is the largest market for frozen strawberries in the world. The import of frozen strawberries in Europe is fluctuating due to strong dependency on Polish supply, but slowly increasing over the years. Germany is the largest European importer of frozen strawberries, followed by France and the Netherlands. Strong hygiene control of frozen strawberries production complemented with frequent laboratory tests and social compliance standards are of crucial importance for Developing Country exporters.
1 .

Product description

Frozen strawberries are prepared by freezing fresh, clean, sound, ripe and stemmed strawberries of firm texture, of the species Fragaria grandiflora or Fragaria vesca. The freezing operation must be carried out in such a way that the range of temperature of maximum crystallisation is passed quickly. The quick-freezing process is not regarded as complete unless and until the product temperature has reached −18°C at the thermal centre after thermal stabilisation. Repacking quick-frozen strawberries under controlled conditions is permitted.

Quick-frozen strawberries can be presented as whole (IQF: individually quick frozen), halved, sliced or cut. Quick-frozen strawberries may be presented as free-flowing (i.e. as individual berries not adhering to one another) or non-free-flowing (i.e. as a solid block).

According to Codex Alimenatarius Standard for Quick Frozen Strawberries, the only additional ingredient allowed for frozen strawberries is sugar, either in the form of sucrose, invert sugar, invert sugar syrup, dextrose, fructose, glucose syrup or dried glucose syrup.

Table 1: Combined Nomenclature codes for frozen berries
| | |
| --- | --- |
| Code Number | Product |
| 08111011 | Strawberries, uncooked or cooked by steaming or boiling in water, sweetened, with sugar content of > 13%, frozen |
| 08111019 | Strawberries, uncooked or cooked by steaming or boiling in water, sweetened, with sugar content of =< 13%, frozen |
| 08111090 | Strawberries, uncooked or cooked by steaming or boiling in water, unsweetened, frozen |
Picture 1 – IQF strawberry in export packaging

Picture 2 – Frozen strawberry halves
Picture 3 – IQF strawberry diced
Picture 4 – Frozen strawberry slice
Quality
The basic quality requirements for frozen strawberries are:
good red colour typical for the strawberry variety used
free from foreign flavour and odour
intact and not materially disintegrated even when cut
clean, practically free from any foreign material including mould, insect bites and other blemishes
sound, practically free from mould, insect bites and other blemishes
normally developed with the shape typical for the variety used and of similar varietal characteristics in each package
IQF strawberries must be practically free from berries adhering to one another and not icy
Additional quality requirements:
An important quality indicator for frozen strawberries intended for further processing is the Brix level (sugar content of a water solution). Most importers and processors expect that the minimum Brix (sugar) level in frozen strawberries is 7–8°.
For frozen strawberries prepared with dry sugars. the total sucrose content after thawing should be not more than 35% m/m nor less than 18% m/m. For strawberries prepared with syrup, the amount of syrup used should not be more than that required to cover the berries and fill the spaces between them. The total sucrose content after thawing should not be more than 30% m/m, nor less than 15% m/m, expressed as sucrose.
Labelling
The name of the food as declared on the label should include "strawberries" or in the case of Fragaria vesca L., "wild strawberries" or "alpine strawberries", and the words "quick frozen" or "frozen". The label should also include the style, as appropriate: "IQF whole", "halves", "slices" or "cut". If a packing medium is used, it should be included on the label too: "with (name of the sweetener and whether as such or as the syrup)".
In case of quick frozen strawberries in bulk packaging, the information required above must either be placed on the container or be given in accompanying documents. "Frozen strawberries" or "quick frozen strawberries" and the name and address of the manufacturer or packer must appear on the container.
It is common that product specification declares the variety of strawberries intended for export and the brix level. The most common variety used for further processing (in bakery, jams and confectionary industry) by the largest export countries is Senga Sengana, but Italian variety Camarossa is also gaining share in the world production. The largest production countries use different varieties. The major variety in Poland is Senga Sengana, in Mexico it is Chandler and Camarossa, in China is is American 13, while in Morocco new varieties that are increasing in popularity and achieving higher prices on the market are Amiga, Sabrina and Mara de Bois.
Frozen strawberries without stalks can be calibrated into different sizes. Product specification should declare the size, which is usually in divided into three categories: 15–25 mm, 25–35 mm and over 35 mm.
In the case of retail packaging, product labelling must comply with the European Union Regulation on the provision of food information to consumers. This regulation defines nutrition labelling, origin labelling, allergen labelling and legibility (minimum font size for mandatory information) more clearly. However, frozen strawberries are not included in the allergen list of the regulation.
Picture 5: Shipping label example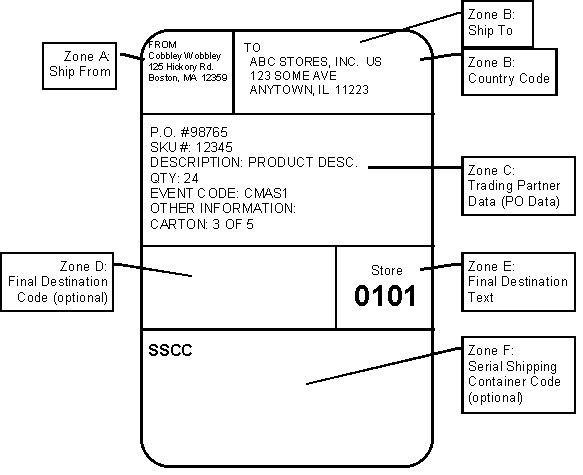 Source: Integrated Business Communications Alliance
Picture 6: Example of allergen advice on retail packaging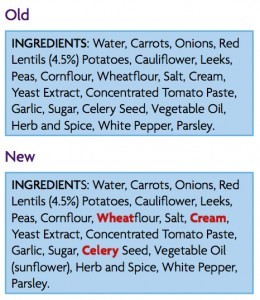 Source: QuickLabel Systems
Packaging
Packaging used for quick frozen strawberries must:
protect the organoleptic and quality characteristics of the product
protect the product from bacteriological and other contamination (including contamination from the packaging material itself)
protect the product from moisture loss, dehydration and, where appropriate, leakage
not pass on to the product any odour, taste, colour or other foreign characteristics.
The most common types of bulk packaging for frozen strawberries are polyethylene bags (1 kg, 2.5 kg, 18 kg, 20 kg, 25 kg) and cartons (10 kg, 15 kg). Usually first-class IQF frozen strawberries intended for repacking for the retail segment are packed in 10 kg cartons (Picture 1), while second-class frozen strawberries (intended for further processing) can only be packed in bags. Sizes may vary according to the buyers' requests.
The cardboard boxes are packed on EURO pallets (80 x 120 cm), protected by polyethylene foil. Cardboard must be durable enough to not be deformed by the weight on the pallet during prolonged storage. Cardboard boxes are sealed with tape.
Retail packaging of frozen strawberries may be very different according to buyers' requests but usually it consists of plastic bags or cartons.
2 .

Which European markets offer opportunities for exporters of frozen strawberries?

The largest European markets, Germany, France and the Netherlands, offer good opportunities for exporters of frozen strawberries. Besides those markets, opportunities can be found in the growing markets of Eastern Europe.
Imports
Imports of frozen strawberries is increasing
Since 2012, European import of frozen strawberries was stable in value, fluctuating around €400 million. In quantity there was an average annual decrease of 2%, reaching 317 thousand tonnes in 2016. However, there has been an increase in imports over the last three years after a significant decrease in 2013. Import in value in 2016 reached €423 million.
The different growth rates between volume and value indicate a slight increase in import prices.
In value terms, imports from developing countries were decreasing compared to stable intra-European supply. Developing countries are losing European market share of frozen strawberries mainly due to the strong dominance of and investments in Poland.
The largest share of imported strawberries (more than 95%) consists of unsweetened frozen strawberries, followed by frozen strawberries with added sugars. Less than 1% of imports accounts for frozen strawberries with a sugar content higher than 13%.
It is expected that imports of frozen strawberries will increase in the next several years, at a smaller annual growth rate (probably less than 3% annually). This expected increase will be driven by the increasing demand for more healthy and convenient foods such as smoothies and by developments in the food processing industry.
Germany and France leading importers of frozen strawberries
The European market for frozen strawberries is concentrated: the top three importers, Germany, France and the Netherlands, account for 60% of total European imports.
Among the leading importers, only Germany has a positive trend in imports of frozen strawberries (2% average annual growth rate since 2012). However, some countries with a smaller import share have shown a more significant annual growth rate, such as Slovenia (18%), Greece (10%) and Portugal (8%).
Morocco the leading developing country supplier of frozen strawberries to Europe
The largest share of imports of frozen strawberries to Europe (30%) comes from Poland. The leading developing country supplier is Morocco with 20% market share. Other important developing country suppliers of frozen strawberries to Europe include China, Egypt, Turkey and Serbia.
During 2017, due to the smaller Polish harvest, Egypt and Morocco gained world market share of frozen strawberries.
Developing countries which are gaining market share of frozen strawberries in the Europe are Serbia (30% average annual growth since 2012, 2% European share), Colombia (472% growth, 1% European share) and Ukraine (51%, 0.3% European share). Colombia experienced an unusually high increase of the supply to Europe, starting at only €4000 in 2012 and reaching €4.2 million in 2016.
Tips
Identify who the biggest importers of frozen strawberries are in selected large or fast-growing markets. You can start with an internet search or read more about supply chains in Europe in our study of Market channels and segments for processed fruit and vegetables. Also read more about specific frozen fruit and vegetable products in our Studies on frozen products.
Besides aiming to export to the major European importers, consider countries that are experiencing growth in imports, such as East European countries.
Learn from developing country exporters who are gaining a share on the European market, such as Serbia or Ukraine.
Exports
Poland the leading European exporter of frozen strawberries
European exports of frozen strawberries are highly concentrated, as half of all exported quantities are exported by Poland.
Over the last five years, exports of frozen strawberries from Europe have increased annually by 2% in quantity, reaching 218 thousand tonnes in 2016. On the other hand, export in value was stable, without any significant fluctuations, indicating that the average export price of frozen strawberries from Europe was decreasing.
The Polish average annual export growth was above European average: 13% over the last five years. Other European countries which were increasing exports of frozen strawberries were France (23% annual growth in quantity), Bulgaria (11%) and Slovenia (57%). However, all of these countries have a rather small market share in exports compared to Poland.
Norway, China and Switzerland the most important external export destinations of European frozen strawberries
Norway, China and Switzerland together account for about half of total external European exports of frozen strawberries. It is interesting that China recently became one of the leading export destinations and it can be expected that exports to China will continue to increase. In 2012, European export of frozen strawberries to China was only 11 tonnes, as compared to 2.5 thousand tonnes in 2016 (an almost 300% average annual growth rate).
Leading Polish destinations for exported frozen strawberries within Europe are Germany (almost 35.5% European share) and France (10% share).
Besides China, other countries with a high increase of imports of frozen strawberries from Europe are the United States (96% annual growth rate), Brazil (149%) and Canada (82%).
Tips
Explore possibilities to supply different types of frozen berries on the European market. European buyers are seeking opportunities to diversify their sourcing from more countries beside leading suppliers.
Learn from Polish suppliers and target final consumption destinations, such as Germany and France, directly.
Besides targeting your export of frozen strawberries to Europe, learn from European suppliers and explore possibilities for exporting to United States, Brazil or Canada.
Production
Total production of frozen fruit and vegetables (including frozen berries) in Europe has been gradually increasing since 2012. In 2016 production of frozen fruit and vegetables in Europe has reached a value of €5.7 billion.
The leading frozen strawberries producer in Europe is Poland, before Spain. However, Spain is more specialised in the production of fresh strawberries and much smaller quantities are produced for processing only.
In 2017, production of frozen strawberries in Poland was lower due to spring frosts. Processors had less raw material and prices consequently increased. The reduction of Polish production resulted in European processors and packers buying more frozen strawberries from Spain (20 thousand tonnes more than in the previous season). The consumption of Egyptian frozen strawberries also increased (12,000 tonnes more than in the previous season).
European strawberry producers are struggling with a lack of harvest workers. In some cases, a good part of the crop is not harvested at all due to an insufficient number of pickers. Workforce is very often hired from non-European countries or from Eastern European countries.
The data is only available at this aggregate level (PRODCOM) Rev. 2 NACE code 10392100). No data available for frozen berries only.
Consumption
Consumption of frozen fruit in Europe has increased at an annual rate of 5% over the last five years.
Consumption of frozen strawberries in Europe is fluctuating, mainly depending on the harvest in Poland and other suppling countries. However, the overall trend of consumption is positive, led by many different applications of frozen strawberries in fruit processing industry.
According to experts, consumption of frozen strawberries will continue to increase in the coming years. The reason for this is that frozen strawberries and mixtures of frozen berries containing strawberries are considered healthy, convenient and tasty. They are increasingly used in fashionable products such as smoothies, yogurt drinks and ice cream.
The main user of frozen strawberries in Europe is the food processing industry, while a smaller share goes to repacking. Important users are the juice and jams industry, and fruit preparation producers that produce solutions for the yogurt and ice-cream industry. According to Mintel data, strawberry is the number one flavour in spoonable and drinkable yogurts.
Strawberries are the major type of all berries used in home applications, according to the IPSOS research conducted in three European countries, which was presented at the International Berries Congress in 2017. Frozen strawberries are increasingly used in breakfast preparations (smoothies, muesli, etc.).
Tips
Compare your company with your peers from Poland. Carefully monitor the crop in Poland, as in the years with a smaller harvest there is an increasing demand for frozen berries from other developing countries, and thus a chance to open the market and establish a future position on the European Union market.
Find information about crop, processing and the market situation on the leading European information service for processed fruit and vegetables IEGVu.
It is important to closely monitor the introduction and spreading of new berry varieties that are grown by the leading producing countries.
3 .

Which trends offer opportunities on the European market for frozen strawberries?

General overview of the most relevant market trends for developing countries exporters can be found on CBI Trends for Processed Fruit and Vegetables
Popularity of frozen strawberries in Europe remain high as they belong to the group of products which are sold by the marketing term "superfruits". Although frozen strawberries are not in the top list of superfruits, their consumption is increasing due to popularity of home-made drinks and smoothies where strawberries are often an important ingredient.
Frozen strawberries are used in increasingly more new product launches as ingredients. At leading European trade fair for food industry ANUGA there were 55 new product launches containing strawberries. New product applications include frozen desserts (sorbets and ice creams), fruit mix for sangria, frozen pastries containing strawberries, sugar-free strawberry jams and ready to eat frozen breakfast bowls.
In emerging markets in Eastern Europe, the income growth is creating a new middle class, eager to experience new goods and services. This will mean increased demand for richer and more varied diets including frozen strawberries and, importantly, increased demand for large domestic appliances such as freezers.
Corporate and environmentally responsible initiatives are having an increasing impact on the EU markets, with especially the fair trade market, organic market and functional foods market all growing.
Tips
The Anuga trade fair is the best place to monitor market trends and to meet potential prospects in Europe. It is held every two years in Cologne in Germany. Another trade fair that is important to visit is SIAL, which is held every two years in Paris in France.
Developing countries exporters can benefit from the current "superfruit" trend. Scientifically proven health benefits are commonly used in the marketing of berries. Strong selling points of frozen strawberries include the high level of antioxidants which are not lost during freezing process.
Consider diversification of your offer to emerging markets in Eastern Europe.
4 .

Which requirements should frozen strawberries comply with to be allowed on the European market?

For a general overview of the buyer requirements in the EU please see CBI Buyer requirements for processed fruit and vegetables. Specifically for frozen strawberries, consult the EU Export Helpdesk where you can select frozen strawberries under specific HS code 08.

For information on commonly requested standards, check the International Trade Centre's Standards Map, an online tool which provides comprehensive information on over 210 voluntary sustainability standards and other similar initiatives, covering issues such as food quality and safety.
Legal Requirements
All foods sold in the European Union must be safe, including frozen strawberries. This applies to imported products as well. Additives must be approved. Harmful residues in pesticides are banned. It should also be readily obvious from the labelling whether a food contains allergens.
In the event of repeated non-compliance regarding specific products originating from particular countries, these can only be imported under stricter conditions, such as having to be accompanied with a health certificate and analytical test report. Products from countries that have shown repeated non-compliance are put on a list included in the Annex of Regulation of an increased level of official controls on imports. In June 2017, strawberries imported from Egypt were placed under increased control for pesticides residues.
The most common problems that European importers face when importing frozen strawberries from developing countries are risk of contamination with norovirus and contamination with pesticide residues.
Labelling Requirements
The obligation to provide nutrition information to consumers has applied since 13 December 2016, when a new European Union Regulation on food labelling came into effect. European Union labelling legislation forbids misleading consumers. Moreover, claims that a food can prevent, treat or cure a human disease may not be made without approval from the competent authorities, and must be based on scientific evidence.
Another change is allergens labelling, where allergens must be highlighted in the list of ingredients. Requirements regarding information on allergens now also cover non-pre-packed foods, including those sold in restaurants and cafés. Although the list of allergens does not include strawberries. it is good to be aware of EU legislation. 
Nutrition information is now also mandatory for frozen strawberries.
Common and niche requirements
Food safety certification is often requested by European importers. The most common certification schemes accepted on the European markets are IFS, FSSC22000 and BRC.
Environmental protection, organic and fair-trade certification schemes are becoming more and more popular in Europe. In order to be labelled within the European Union with the EU organic logo, producers from developing countries must meet European organic farming requirements.
The European Union regulates both organic food and drink produced and/or processed within Europe and organic goods from elsewhere (Commission Regulation (EC) No. 1235/2008 with detailed rules concerning import of organic products from third countries).
Organic products can readily be imported from non-European countries whose rules on organic production and control are equivalent to the European Union's – currently Argentina, Australia, Canada, Costa Rica, India, Israel, Japan, New Zealand, Tunisia, Switzerland and the United States.
For all other non-European countries, importers can have their organic products certified for export to the European Union by independent private control bodies approved by the European Commission.
Tips
Refer to Codex Alimentarius Code of Practice for the Processing and Handling of Quick Frozen Foods. Norovirus contamination could be occurring at the freezing processor or in primary production of strawberries and therefore compliance with good hygiene practices (GHP), good manufacturing practices (GMP) and good agricultural practices (GAP) is recommended and commonly requested by buyers.
To find out the maximum residue levels (MRLs) that are relevant for frozen strawberries, you can use the EU MRL database in which all harmonised MRLs can be found. For berries there is definition of maximum residue levels for 457 different pesticides.
Check with the importers and experts if the food safety certification company used is approved by the European Union buyers.
5 .

What competition will I be facing on the European frozen strawberries market?

General overview of the competition relevant for developing countries exporters can be found on CBI Field of Competition: Processed Fruit and Vegetables. Also read Top 10 Tips for doing business with European buyers.
Product competition
Fresh strawberries are a strong competitor to frozen strawberries. Fresh fruit consumption is officially supported and promoted through "5 a day" campaign which supports daily intake of five portions of fresh fruit and vegetables. This campaign is supported by the European Fresh Produce Association (Freshfel). The largest European suppliers of fresh strawberries are Spain, the Netherlands and Belgium.
Strawberries also face competition from other frozen berries, such as raspberries, blackberries and blueberries.
Company competition
Developing country exporters of frozen strawberries should be aware of the main competitors from countries, not only in exports of frozen strawberries but also in exports of other frozen fruit. Apart from Poland there are a lot of other frozen strawberries competitors from China, Morocco, Mexico, Egypt, Spain and Chile.
Tips
You can try to diversify your offer with fresh strawberries especially if you can supply out of season in Europe. However, this is quite a different ball game, requiring sophisticated logistics. For more info see the CBI market surveys on Fresh Fruit and Vegetables.
If your company can produce more types of frozen fruit, try to broaden your offer, as the European buyers of frozen fruit are not specialised in buying only one type of frozen fruit. Some types of frozen berries are offered by a limited number of countries and those products fill the increasing demand by the European buyers. One example is the export of frozen black currants which is dominated by Poland.
Find out more about your competitors from Poland on the members list of the Polish Fruit Association.
6 .

Which channels can you use to put frozen strawberries on the European market?

Chart 1: Common trade channels for frozen strawberries on the European market (share between the fresh and frozen segment may vary depending on exporting country)

Chart 2: Use of the frozen strawberries by the fruit processing industry in Europe
The largest share of imported frozen strawberries is used by the fruit processing industry in Germany. Retail segments use only about 20% of imported frozen strawberries for small retail packaging. In the fruit processing industry the largest users of frozen strawberries are producers of strawberry purées and concentrated strawberry juice. The majority of produced purées and concentrates are aimed for the fruit juice industry.
Important players in the European frozen strawberries market include Crops, Descours, Dirafrost, Binder International, Agrana, ARDO, Döhler, Zentis and Zuegg.
Some of the largest European companies in the retail segment of frozen strawberries are Polish Hortex Holding, UK based equity firm Permira (owner of Iglo Group – branded frozen food), Italian Eurofood (Green Ice frozen berry fruit production), the Swedish based Findus Group and German Frosta.
Tips
The industrial segment in Europe processes the majority of imported frozen strawberries from developing countries. Some industrial processors are good contact points as they source raw materials directly.
The retail segment, although it is smaller, usually pays more for imported frozen strawberries but requests only first-class products with 15–20 mm calibration.
For exported frozen strawberries, a high Brix level of is of crucial importance for all fruit processing segments, as well as for developing country exporters to do well in the market.
7 .

What are the end-market prices for frozen strawberries on the European market?

The indication of margins according to final retail prices for frozen strawberries is not precise and developing country exporters can only gain a very general overview of the price development. However, roughly speaking, the CIF price is estimated to represent around 30–40% of the retail price of a retail pack of frozen strawberries (which is usually packed in 300 g retail packaging).

The best option to monitor prices is to compare your offer with the offer from the major competitors. The prices are also different between producing countries. For example, Polish frozen strawberries are usually sold at higher prices than frozen strawberries from Morocco or China.

A very rough breakdown of the prices is shown in the table below:

Table 2: Frozen tropical fruit price breakdown
Steps in export process
Type of price

 

Average share of the retail price

Production of fruit or vegetables
Raw material price (farmers' price)
10–15%
Handling, freezing and selling bulk product
FOB or FCA price
35–40%
Shipment
CIF price
37–42%
Import, handling and processing
Wholesale price (value added tax included)
60%
Retail packing, handling and selling
Retail price (for average packaging of 300 g)
100%
Please note that share of the retail price paid to farmers varies a lot between producing countries, harvesting seasons and the type of the product.
According to IEG Vu, in early October 2017, the export price of frozen strawberries from Poland amounted to more than €2 per kg (Class II, IQF, uncalibrated) and were one third higher than the previous year.
Please review our market information disclaimer