Exporting dried mushrooms to Europe
Primary tabs
Takes about 21 minutes to read
Europe is the largest market for dried mushrooms and fungi in the world, representing around 30% of the total world imports in value. Large importing markets such as Germany, France, Italy and Poland offer opportunities for exporters from developing countries.
For suppliers from developing countries, opportunities can be found in exports of premium-priced wild mushrooms such as wild porcini, chanterelles and truffles, or in exotic mushrooms with health benefits such as shiitake, maitake, cordyceps or reishi mushrooms.
1 .

Product description
Product definition
Dried mushroom is the product obtained from the fresh, edible and cleaned mushroom which is dried whole or has been trimmed to the desired styles and dried. Fresh mushrooms used for drying found on the European market can be cultivated, but a large share of the market accounts for wild dried mushrooms which are collected from their natural environment before drying.
Dried mushrooms are not intended for immediate consumption but as an ingredient after rehydration. They are mainly used in home cooking (for soups, risottos, and so on), as an ingredient in dehydrated meals and spices, and as an ingredient in healthy food and pharmacy products.
This study covers general information regarding the market for dried mushrooms in Europe which is of interest to producers in developing countries. Please see Table 1 with the products and their product codes.
Table 1: Products in the product group of dried mushrooms
| | |
| --- | --- |
| Combined Nomenclature Number | Product |
| 071231 | Dried mushrooms of the genus 'Agaricus', whole, cut, sliced, broken or in powder, but not further prepared (known also as dried button mushrooms, champignon mushroom or chestnut mushrooms) |
| 071232 | Dried wood ears 'Auricularia spp.', whole, cut, sliced, broken or in powder, but not further prepared |
| 071233 | Dried jelly fungi 'Tremella spp.', whole, cut, sliced, broken or in powder, but not further prepared |
| 071239 | Other dried mushrooms and truffles, whole, cut, sliced, broken or in powder, but not further prepared |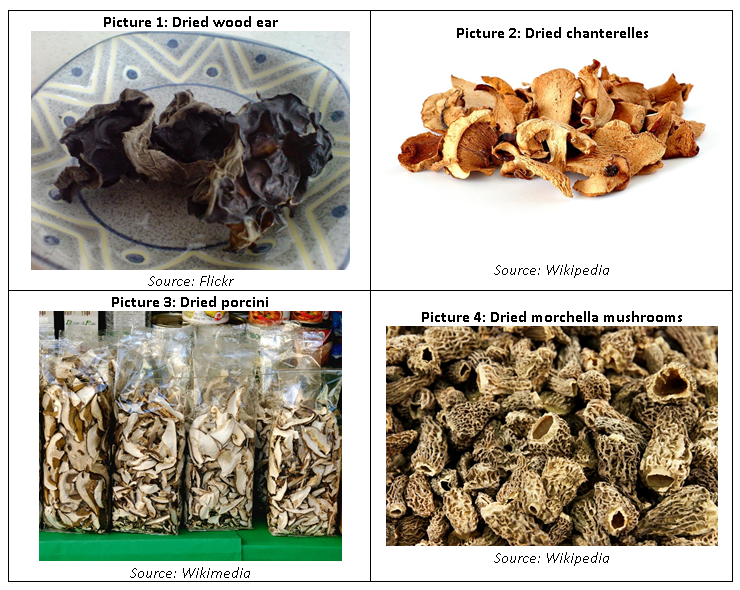 Product specification
Quality
There is no specific European Union standard defining specific dried mushroom criteria, so the applicable standard used in practice is the Codex Alimentarius Standard for Dried Edible Fungi.
The basic quality requirements for dried mushrooms are the following:
absence of insect damage;
absence of foreign bodies;
moisture content (max. 12% for dried mushrooms, 13% for dried shiitake mushrooms and 6% for freeze-dried mushrooms);
sizing (different for every type of dried mushrooms);
styles (whole, whole caps without stems or cut into different shapes);
quality class (defined by uniformity and tolerances).
Labelling
The following labelling is used in the trade of dried mushrooms:
The name of the product should be declared in the way that the common and scientific name of the fungus is used. However, the terms "fungus" and "fungi" may be replaced by terms used in the destination country.
The type of product is "dried fungi/mushroom" or "freeze-dried fungi/mushroom".
Information about nuts should specify whether they are shelled or in shell.
The style is "whole", "caps" or "sliced". In the case of dried jelly mushrooms, another style description can be used such as "cluster", "single", "strip" or "square".
It is common that in addition to grading, the specifications include the production/collection year and variety.
Information for bulk packaging has to be given either on the packaging or in accompanying documents. Bulk packaging labelling must contain the following information:
name of the product;
lot identification;
name and address of the manufacturer, packer, distributor or importer;
storage instructions.
However, lot identification as well as the name and address of the manufacturer, packer, distributor or importer may be replaced by an identification mark.
In the case of retail packaging, the product labelling must be in compliance with the European Union Regulation on food information to consumers. This regulation defines more clearly the nutrition labelling, origin labelling, allergen labelling and legibility (minimum font size for mandatory information). This regulation came into effect on 13 December 2014, but the obligation to provide nutrition information will apply from 13 December 2016.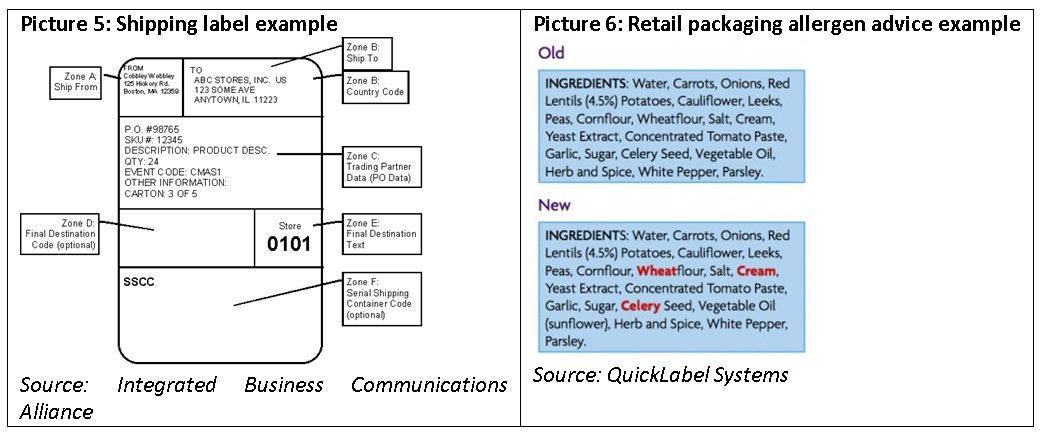 Packaging
There is no general rule for export packaging, but dried mushrooms are usually plastic bags inside cartons.
Within Europe, the standard bulk package differs depending on the type of mushrooms. For common types such as Agaricus, bulk packaging can be up to 20 kg, but more expensive types such as truffles can be packed in much smaller packaging such as 500-g vacuum plastic bags or even smaller such as 100-g glass jars.
The selected packaging size should be such that the dimensions conform to the conventional pallet sizes (800 x 1,200 mm and 1,000 x 1,200 mm).
Retail packaging includes plastic bags, plastic containers, paper bags, foil bags and glass jars.
2 .

Which European markets offer opportunities for exporters of dried mushrooms?

Germany, France, the Netherlands and Italy offer the best opportunities for exports of dried mushrooms. In addition, market opportunities can be found on the growing markets of Latvia, Lithuania, and Central and Eastern Europe. The products with rising demand are far eastern types of mushrooms, truffles and wild-collected dried mushrooms.
Imports
Slight decrease in import volume for dried mushrooms in Europe
Although the import volume of dried mushrooms decreased in 2017 compared to 2016, the outlook for imports of dried mushrooms in Europe is positive.
It is likely that imports will stabilise in 2018, but it is expected that imports will increase in the long term. This import trend will be driven by the health benefits of dried mushrooms, especially for some exotic types such as shiitake or reishi.
Since 2013, the total European imports of dried mushrooms have grown by an average annual rate of 1% in value, reaching € 155 million in 2017. During the same period, imports in quantity have increased by an average of 6%, reaching 13,300 tonnes in 2017. Faster growth in volume than in value indicates a decrease of import prices.
The Netherlands, Germany and the United Kingdom the largest importers
The European market for dried mushrooms is dispersed and there is no single country which dominates the import market. The Netherlands is the largest importer of dried mushrooms, importing 3,500 tonnes in 2017, followed by Germany, the United Kingdom, France and Italy.
Central European countries, Eastern European countries and Baltic countries (Estonia, Latvia and Lithuania) are expected to increase the imports of dried mushrooms more intensively compared to western Europe. Within Europe, the countries with the highest annual growth rate in imports of dried mushrooms in quantity over the last five years were the United Kingdom (28%), Bulgaria (14%), Ireland (38%) and Croatia (21%).
China and India leading suppliers of dried mushrooms from developing countries to Europe
More than 40% of the European import value is from China, which dominates the supply of dried shiitake mushrooms. Chile is the second external supplier of dried mushrooms to Europe, mainly exporting dried boletus mushrooms (typically Suillus luteus) to European markets.
Among the top 20 European suppliers of dried mushrooms, the highest annual import growth in value over the last five years was recorded by Chile (8%), followed by China (3%) and the Russian Federation (3%).
Major intra-European imports involve both re-exports (for example, from the Netherlands) and countries' own production (for example, dried porcini collected in Italy or dried wild Polish Borowiki mushrooms).
Main opportunities in shiitake mushrooms, truffles and wild-collected dried mushrooms
The most imported types of mushroom in Europe are Chinese shiitake mushrooms, different types of far eastern dried mushrooms, truffles, oyster mushrooms and wild mushrooms such as porcini, chanterelles or morchella mushrooms. They all together account for 77% of European imports. The share of dried Agaricus mushrooms was 18%, Wood Ears 4% and Jelly Fungi 0.44%.
For suppliers from developing countries, opportunities can be found in exports of premium-priced wild mushrooms such as truffles, or in exotic mushrooms with health benefits such as shiitake, maitake, cordyceps or reishi mushrooms.
Tips:
Identify who the largest importers of your product on selected large or fast-growing markets are. You can start with an internet search or read more about supply chains within Europe in our study of Market channels and segments for edible nuts and dried fruit.
Next to aiming at exports to the largest European importers, consider countries that are seeing growth in imports, such as the Baltic countries or Central and Eastern European countries.
Learn from exporters in other countries who are gaining share on the European market, such as Canada, India, the Russian Federation, Bosnia or Macedonia.
Exports
Exports and re-exports dominated by the Netherlands
In terms of value, the European exports (including intra-European trade) of dried mushrooms have grown annually since 2013 by 6% on average and reached € 126 million in 2017. In quantity, the exports grew by 15% and reached 18,000 tonnes in the same period. Faster growth in quantity than in value indicates a decrease of export prices.
Around 86% of all European exports are intra-European exports.
The export is very concentrated and the Netherlands alone accounts for 75% of the total European exports. However, Dutch exports mainly consist of re-exports of imported products.
Among all European exporters over the last five years, the highest export growth was in the Netherlands (24%), Spain (21%) and the United Kingdom (25%).
USA the most important export destination
The main external export destination in 2017 was the United States, followed by Switzerland, Japan and Turkey.
Among the largest European export destinations, the highest increase in exports from the European Union over the last five years was to Serbia, Malaysia, the United Arab Emirates and China.
It is interesting that dried chaga mushroom powder is increasingly exported from Europe to China, Vietnam and Hong Kong. In those countries, European chaga powder is used in traditional medicine. Chaga powder is especially valued if it is imported from northern European countries, due to the belief in special health benefits of chaga which is grown under the influence of the polar light.
Tips:
Apart from targeting your export to the European Union, you can learn from European exporters and find opportunities on other growing markets for dried mushrooms such as the United States, Switzerland or Turkey.
Learn more about your competitors in our study of Competition in edible nuts and dried fruit.
Production
Production of dried mushrooms in Europe stabilising
Italy is the largest producer of dried mushrooms in Europe (1,760 tonnes), followed by France (1,550 tonnes) and Germany (601 tonnes). However, these official European statistics included not only the processing and drying of fresh mushrooms but also the packing of imported bulk mushrooms into retail packaging.
Considering the production of fresh mushrooms, the largest European producer is Poland, which is producing mainly fresh white button mushrooms that are exported fresh or used for canning. Only a small proportion of Polish white button mushrooms are dried, as they are not so popular among consumers compared to wild mushrooms, which are more aromatic. However, Polish producers dry forest mushrooms of the species Boletus under the local brand name "Borowiki".
Some examples of production companies (drying, collecting and packing) are Arcadie (France), Sabarot (France), Inaudi (Italy), Filotei Group (Italy), Nasza Chata (Poland), Jampol (Poland) and Biofungi (Germany).
Note that the figures above display the production of manufactured goods, which include intermediate goods as well as final goods. This implies that it is possible that there is overlap in production data and import data, since raw materials may be imported and further processed.
Tip:
The largest producing companies often complement their offer with imported dried mushrooms. Consider contacting producing companies, as they are therefore potential customers.
Consumption
Consumption of dried mushrooms is increasing
In terms of value, the European apparent consumption increased from € 167 million in 2013 to € 180 million in 2017. The largest consuming countries are France, Italy and Germany.
The apparent consumption of dried mushrooms is showing an increase, especially in the last four years. Stimulated by a continuous trend towards healthier lifestyles, it is expected that European consumers will increasingly appreciate dried mushrooms as a source of vegetable proteins.
The most consumed types of dried European mushrooms in Europe are truffles, porcini, morels, chanterelles and trumpets. The most consumed type of non-European dried type of mushroom is shiitake (originally of Japanese origin but now more often imported from China).
Tips:
In targeting your markets, distinguish countries that import dried mushrooms for their own consumption from countries that import products and re-export them to other countries. In the first category, more attention should be paid to developments in the retailing sector and local consumption trends.
You can look for national trends regarding mushrooms and fungi collection on the national web pages which can be accessed through the European Mycological Association.
3 .

Which trends offer opportunities on the European market for dried mushrooms

The main general trends which offer opportunities for developing country exporters are:
consumer demand for vegan, gluten-free and natural food
food safety certification supported by frequent laboratory tests
corporate social responsibility (CSR) standards that can also be a great advantage to European markets suppliers.
Specific trends for dried mushrooms:
Several types of mushrooms are considered 'superfood' specifically due to benefits involving anti-cancer effects. The top two types of dried mushrooms marketed in the 'superfood' category are organic shiitake and reishi mushrooms. Chaga mushroom powder is also popular and is now exported from Estonia (Berry Group).
Dried mushrooms are increasingly used in 'ready to make' products, for example packed risotto with dried mushrooms (such as Italian Riso Galo) or in dehydrated mushroom soup (e.g. Knorr or the brand Maggi, owned by Nestlé).
Producers are introducing on the market common mushrooms enriched with microelements such as selenium, magnesium and vitamin D, via compost. However this is in trial phase as consumers are still sceptic.
The ready meals and dehydrated soup industries are major industrial consumers of dried mushrooms. The European ready meals market is expected to surpass €40 billion by the end of 2016. The consumption of dried soups is expected to grow significantly in the coming years in Europe as people are more interested in having quick meals due to busy lifestyles.
The United Kingdom's possible withdrawal from the European Union (the so-called Brexit) can have different consequences regarding predictions for the dried mushrooms trade. The British Prime Minister has announced that the Brexit will take place no sooner than 2019. Negotiations between the United Kingdom and the European Union have yet to begin. In the short term, no significant changes are expected apart from the weaker currency.
Tips:
In order to monitor European trends, consider visiting the international trade show for the mushroom industry Mushroom Days, held every year in the Netherlands. Other important trade fairs recommended for a visit are SIAL (held in Paris, France every two years in October) and ANUGA (held in Cologne, Germany every two years in October). Considering the export of organic dried mushrooms, it is worth to visit the European leading trade fair for organic food BIOFACH.
With respect to dried mushrooms, see our study of Trends for processed fruit and vegetables and edible nuts.
4 .

Which requirements must dried mushrooms comply with to be allowed on the European market?

General information on buyer requirements for dried mushrooms is given in our study of Buyer requirements on the European market for processed fruit and vegetables. The section below deals with specific requirements applying to dried mushrooms in Europe.
Legal requirements
All foods including dried mushrooms sold in the European Union must be safe. This applies to imported products as well. Additives must be approved. Harmful contaminants such as pesticide residues or exceeded level of mycotoxins or preservatives are banned. It should also be readily obvious from the labelling whether food contains allergens.
Border control
In case of repeated non-compliance of specific products originating from particular countries, stricter conditions may apply. Stricter conditions in practice mean obligatory laboratory checks for a defined number of imported containers or trucks. Products from countries that have shown repeated non-compliance are put on a list included in the Annex to Regulation (EC) 669/2009.
Regarding border control, dried mushrooms are not on the list of increased control. However, border control is requested for all dried mushrooms originated from Japan due to the accident at the Fukushima nuclear power station in 2011. Dried mushrooms are requested to be accompanied by laboratory test samples before exporting to the European Union according to the Special conditions governing the import of feed and food originating in or consigned from Japan.
Food safety
Clear specification of specific types of wild dehydrated mushrooms is very important, as they may be mixed with toxic types of mushrooms. As a result, every shipment should be followed by laboratory tests.
One of the main concerns regarding dried mushrooms are remains of insects and larvae inside imported packaging in Europe.
Another potential problem is the increased level of radioactivity. All dried mushrooms exported to the European Union market must be in accordance with European legislation, laying down the maximum permitted levels of radioactive contamination of foodstuffs following a nuclear accident or any other case of radiological emergency.
Labelling requirements
In December 2014, new European labelling legislation went into effect. The new labelling legislation forbids the misleading of consumers. Moreover, claims that any food is preventing, treating or curing a human disease cannot be made.
Another change is allergen labelling, where allergens have to be highlighted in the list of ingredients and requirements for information on allergens will also cover non-prepacked foods, including those sold in restaurants and cafés. Allergens do not include mushrooms but do include sulphur dioxide and sulphites at concentrations of more than 10 mg/kg in terms of the total SO2 which can be used in the preservation of dried mushrooms.
Nutrition information is also mandatory for dried mushrooms.
Packaging requirements
Packaging used for dried mushrooms and edible nuts must:
protect the taste, flavour, colour and other quality characteristics of the product;
protect the product from bacteriological and other contamination (including contamination from the packaging material itself);
not pass on any odour, taste, colour or other foreign characteristics to the product.
The safety of food contact materials must be evaluated to ensure that there is no migration of unsafe levels of chemical substances from the material to the food.
Common and niche requirements
Food safety certification is a common request by European importers. The most common certification schemes accepted on the European markets are IFS (International Featured Standards), FSSC 22000 (Food Safety System Certification) and BRC (British Retail Consortium).
Environmental protection, Organic and Fairtrade certification schemes are becoming more and more popular in Europe. In order to be labelled within the European Union with the EU organic logo, producers from developing countries should fulfil European organic farming requirements.
In the collection of wild mushrooms, it is very common that they are imported in Europe as organic. However, in this case, it is not possible to certify production as they are not produced but collected from nature. In this case, to get the Organic certification, it is possible to certify an area where wild mushrooms are collected.
The European Union regulates organic food and drink produced and/or processed within Europe as well as organic goods from elsewhere (Commission Regulation (EC) No 1235/2008, with detailed rules concerning imports of organic products from third countries).
Organic products can readily be exported to European countries from countries whose rules on organic production and control are equivalent to the EU's - currently Argentina, Australia, Canada, Costa Rica, India, Israel, Japan, New Zealand, Tunisia, Switzerland and the United States. For all other non-European countries, importers can have their organic products certified for import into the European Union by independent private control bodies approved by the European Commission.
Tips:
Specifically for dried mushrooms, consult the EU Trade Helpdesk, where you can find European Union legislation for your selected products under the corresponding codes.
For information on commonly requested standards, check the International Trade Centre's Sustainability Map, an online tool which provides comprehensive information on over 210 voluntary sustainability standards and other similar initiatives covering issues such as food.
Refer to the Codex Alimentarius for the Code of Hygienic Practice for Dehydrated Fruits and Vegetables including Edible Fungi. By following recommended good manufacturing practice schemes, you will fulfil the European regulatory requirements for food safety.
Check your national legislation regarding the collection of wild mushrooms intended for drying. Usually, national authorities issue a permit to collect wild mushrooms. "Overharvesting" is the commonly expressed international concern among wildlife experts that future production of wild edible fungi could decrease.
5 .

What competition do I face on the European market for dried mushrooms?

On the level of export competition, the top competitors come from China and India, while internal European competition brings competitors from Poland, Italy and France.

On the level of product competition, the major competitor to dried mushrooms are fresh mushrooms.
6 .

Through which channels can you get dried mushrooms on the European market?

The specialised importer is the preferred channel for market entry in this sector. Many importers are also packers, and in addition conduct trading and wholesale activities. After the import, products reach different segments of the market, as described in Figure 7.

In some cases, exporters from developing countries can also supply to the different segments directly without the importer as intermediary. However, this does not happen frequently.

Figure 7: European market channels for dried mushrooms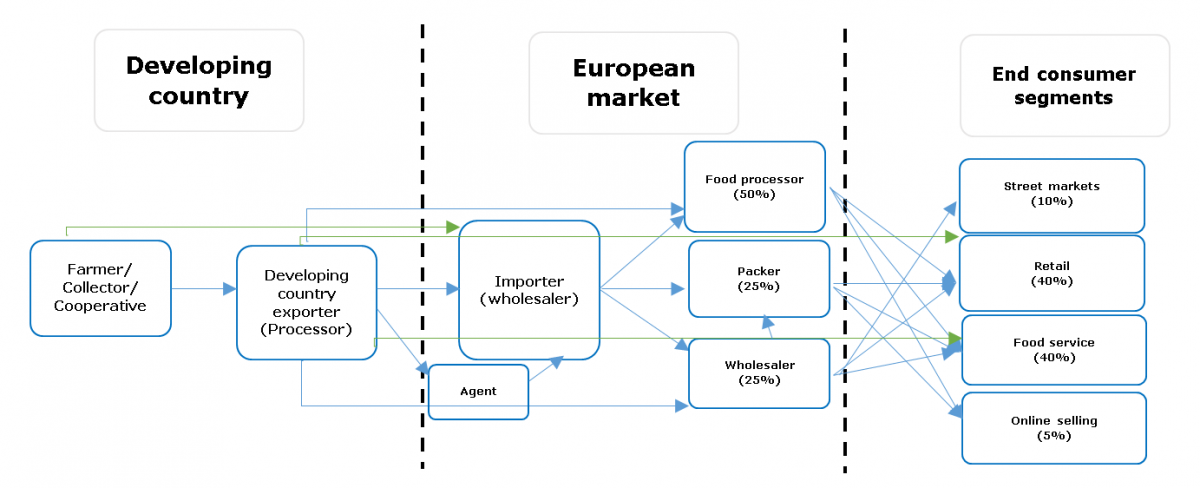 7 .

What are the end-market prices for dried mushrooms on the European market?

The price developments are different depending on the types of dried mushrooms, producing countries and quality of the product. As a result, it is only possible to give a very rough general overview of the price developments for the whole of the dried mushrooms sector.

Very roughly, it can be estimated that the Cost, Insurance and Freight (CIF) price represents around 25% to 50% of the retail price for a retail pack of dried mushrooms.

The best option to monitor prices is to compare your offer with the offer from the largest competitors.

A very rough breakdown of the prices is shown in the table below.

Table 2: Price breakdown for dried mushrooms
Steps in export process

Type of price

Average margin

Production dried mushrooms

Raw material price (farmers' price/collectors price)

40% (in case when dried mushrooms are used as the initial material)

4–5% when fresh mushrooms are used as the initial material (as for majority of dried mushrooms relation between fresh and dried products is 1:10)

Handling, processing and selling bulk product

FOB or FCA price

60%

Shipment

CIF price

63%

Import, handling and processing

Wholesale price (value added tax included)

75%

Retail packing, handling and selling

Retail price

25%
Source: Market researcher compilation based on industry sources
During 2016, the Chinese offering of dried mushrooms ranged from the cheapest Lactarius at CNY 65 (around € 8/kg), CNY 135 for dried Boletus, CNY 320 for dried chanterelle and CNY 850 for Matsutake to CNY 2,500 for morel (€ 330/kg).
If you add value to your products through differentiated quality, food safety, certification and processing steps, your price will be higher.
For example, Organic and Fairtrade certification, controlled drying, sun-drying and sorting may add value to the products.
Please review our market information disclaimer.