Exporting dates to Europe
European imports of dates are growing. Driven by a consumer trend towards healthy foods, dates are marketed as a natural source of energy and rich in nutrients. France, the United Kingdom and Germany offer the most opportunities for you as a developing country supplier. Food safety certification supported with laboratory tests and compliance with corporate social responsibility standards can provide great advantages if you are looking to increase your exports to Europe.
1.

Product description

Dates are the fruits of the date palm tree (Phoenix dactylifera). Depending on the stage of fruit maturity, dates are referred to as fresh or dried. Fresh dates, usually with a moisture content higher than 50%, are rarely sold on the European market. The season for fresh dates is very short in production countries and only a few varieties are appropriate for eating fresh. Therefore, this study will only discuss the European market for dried dates.

When left on the tree, dates will ripen further, change colour, soften, reduce in size, weight and moisture content, but increase in sugar content. When picked early to avoid damage by rain, insects or other factors, dates may need to be additionally ripened after harvest. After cleaning, they are sorted into grades by quality and size and stored in a cool atmosphere. Even when dry, dates are often stored in frozen form to prolong shelf life. Generally, a frozen cold chain is then maintained during transport and further storage. On retail shelves, dates are offered at ambient temperature.

Dates are normally used as a final product for consumers as a fruit snack, but they are also used as an ingredient in home cooking and in bakery, confectionery and other food manufacturing industries. If dates are consumed as a snack, they are generally used whole, either with pits (or stones) inside or pitted (or destoned). They can be also chopped and used as an ingredient in, for example, mueslis or dried fruit mixtures. In addition, dates can be processed further into products such as date paste, date juice or syrup and liquid date sugar. Even the pits can be used to produce oil and coffee substitutes.

Most of the world's date production is concentrated in North African and Middle-Eastern countries where the harvesting season extends from July to late November depending on the variety. However, the main harvest starts in September.

More than 3,000 date cultivars are grown worldwide. They are generally classified into two categories: cane sugar varieties and invert sugar varieties. In most varieties, the sugar content is almost entirely of the inverted form (glucose or fructose), but a few varieties mainly contain cane sugar (sucrose). Two cultivars are distinguished by their presence in the world market: Medjool (invert sugar variety) and Deglet Noor (cane sugar variety). Medjool dates are particularly popular, representing around 25% of the total world exports.

Picture 1: Medjool dates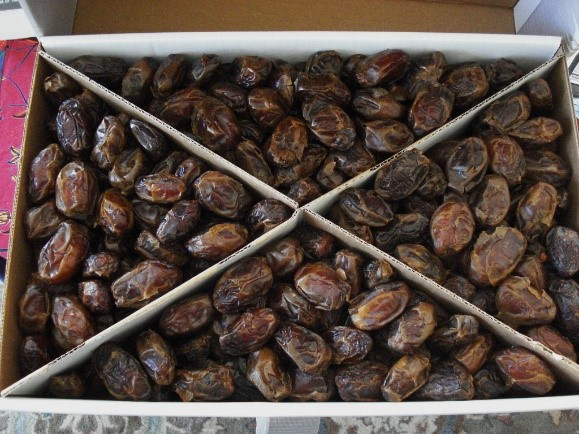 Source: Flickr
Picture 2: Deglet Noor dates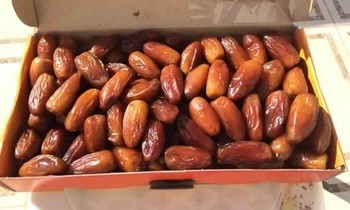 Source: Wikimedia Commons
Picture 3: Branched dates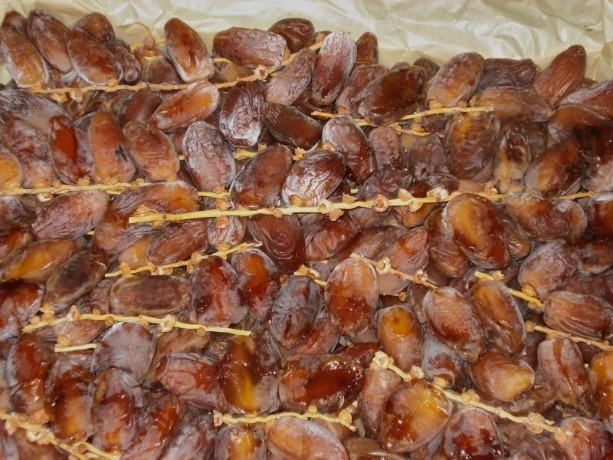 Source: Flickr
Picture 4: Retail packaging of dates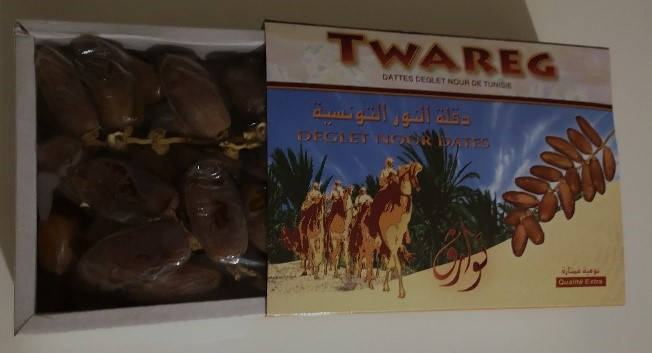 Source: author
This study covers general information about the market for dates in Europe, which is of interest to producers in developing countries. For statistical analysis, the combined nomenclature code 08041000 (fresh or dried dates) is used.
Product specification
Quality
The basic quality requirements for dates are:
Absence of insects, damages, moulds, fermentation and foreign smell or taste.
Moisture content: maximum 26% for cane sugar varieties and 30% for invert sugar varieties. However, for Deglet Nour dates in their natural state, the maximum moisture content is 30%.
Presentation: separated into individual fruits (unpitted or pitted), in clusters (dates with the main bunch stem attached) or in stems (stems that are separated from the rachis, with the fruit attached naturally). Dates can be chopped.
Additional ingredients should be clearly indicated. Dates are often produced without any additions, but some producers use preservatives — usually potassium sorbate or coatings such as glycose syrup or vegetable oil.
Specific marketing requirements include:
Classification — dates are classified into three classes: Extra Class, Class I and Class II.
Sizing — size classification is optional. Dates can be classified into three categories, according to the number of dates per 500 grams.
Labelling
The label should indicate the name of the product ('dates'), name and physical address of the packer, dates style (cluster, stems, pitted where appropriate), country of origin and class. It is common practice to put the name of the variety, crop year and best before date on the label.
In the case of retail packaging, product labelling must comply with the European Union Regulation on the provision of food information to consumers. This regulation defines nutrition labelling, origin labelling, allergen labelling and legibility (minimum font size for mandatory information).
Packaging
Dates are packed into different types of bulk or retail packaging. In bulk packaging, dates are typically packed into carton boxes with polythene liner inside. Bulk packages are usually between two and five kilos, but can go up to 10 kg. For retail packaging, smaller carton boxes or plastic trays are most common.
At home, dried dates can be stored at ambient temperature for some time, but they are best stored refrigerated at 4–10° C. At temperatures higher than 25° C, the syrup or date honey may seep out of the packaging. The shelf life of dates also varies per cultivar. For example, the Medjool variety has a shorter shelf life than the Deglet Noor variety. As mentioned, wholesalers often store dates in frozen form.
2.

Which European markets offer opportunities for exporters of dates?

France, the United Kingdom and Germany are currently the largest European import markets for dates, offering good opportunities for exporters. The fast-growing markets of Poland and Spain also offer opportunities for exporters of dates.
Imports
Increasing imports from developing countries
The European market for dates is expected to grow both in the short and long terms. This growth is driven by a growing consumer demand for natural sources of energy and the sweetness of dates, which can replace sugar in many applications, such as in mueslis, fruit bars and smoothies. Dates are a popular ingredient in cooking, which European consumers also use as a source of magnesium, iron and manganese. Dates also benefit from the growing interest in Middle-Eastern food, which is a natural choice for the large immigrant communities in European countries, but also appeals to a wider audience.
Regular fluctuations in imports will continue to be influenced by the harvested crop in the leading supplying countries, rather than by changes in demand.
In the last five years, European imports of dates increased annually at an average rate of 15% in value and 9% in volume, reaching €347 million and 145 thousand tonnes respectively. The higher growth rate in value than in volume indicates an increase in import prices.
Import from developing countries represents around 80% of the total European date imports. Import from developing countries has almost doubled in the last five years.
France, the United Kingdom and Germany are the leading European importers of dates
The European import market for dates is relatively concentrated. The three largest importers, France, the United Kingdom and Germany, accounted for more than 55% of total imports in 2017. France is an especially large importer, representing one quarter of Europe's total date imports.
The highest annual import growth in volume over the last five years was noted in Poland (22%), Spain (16%), Germany (15%) and the Netherlands (15%).
Examples of date importers and traders include Western Commodities, Brousse Vergez, Maître Prunille, Color Foods, Sun, First Grade International, Freeworld Trading, Chelmer Foods, Curtis, Tilouche Fruchtimport, Seeberger, Farmer's Snack.
Tunisia the leading supplier of dates to Europe
Tunisia is Europe's leading supplier of dates, providing around one third of the total European market. Tunisia mainly supplies the Deglet Nour variety, which is also the variety most widely consumed in France. Although Iran is the world's leading exporter of dates, in the European market this country has a share smaller than 10%.
European import destinations differ among the leading date suppliers. Germany and France are the main markets for Tunisia, while the United Kingdom mainly imports dates from Pakistan, Israel and Iran. Algeria is focused on the French market, which represents more than 75% of the Algerian supply of dates to Europe.
Medjool is the most expensive variety, produced in only a few countries: Israel, Jordan, the Palestinian territories, the United States of America, Morocco and Saudi Arabia. Currently, Israel supplies around 75% of all Medjool dates to Europe, but it is expected that production in Jordan and the Palestinian territories will grow quickly as new plantations reach maturity.
Among the leading date suppliers to Europe, the most significant annual export growth value in the last five years was from Palestine (38% average annual growth), Saudi Arabia (32%), Pakistan (31%) and the United States of America (31%).
Tips:
Identify the biggest importers of your product in the large or fast-growing markets. To find buyers, follow our 10 tips for finding buyers in the European processed fruit and vegetables market.
In addition to targeting France, the United Kingdom and Germany, which are the largest European importers, consider also countries showing growth in imports, such as Spain and Poland.
Learn from the leading suppliers of dates to Europe. Find information about the date industry and export strategies of fast-growing countries on the websites of their sector associations, for example, the Iran Dried Fruit Exporters Association, as well as via market information portals such as IEG Vu.
Exports
France and the Netherlands are the largest European re-exporters of dates
European export of dates is very concentrated, as the two leading exporters, France and the Netherlands, represent more than half of total exports. However, Europe is not a producer of dates, so all these exports are actual re-exports of dates which had been imported from outside Europe. Germany is the most important market for French and Dutch re-exports of dates.
Including intra-European trade, European date exports have grown at an annual rate of 16% in volume since 2013, reaching €122 million in 2017. In volume, exports grew annually by 11% over the same period to reach 38 thousand tonnes in 2017. This faster growth rate of export value than of export quantities indicates a rise in export prices.
Switzerland the main non-EU export destination
In 2017, the main date export destination outside the European Union was Switzerland, followed by Norway.
Out of the largest export destinations, the highest annual increases of date export value in the last five years were to the United States of America (79%), Serbia (39%) and Japan (32%).
Tips:
In addition to targeting your date exports to the largest European destinations France, the United Kingdom and Germany, you can also learn from French and Dutch re-exporters and their growing markets within Europe. For instance, France is increasing its date exports to Spain, while the Dutch are increasing their date exports to Belgium.
You can also find opportunities in growing markets for dates supplied by European traders and processors, such as the United States of America or Japan.
Learn more about your competitors in our study on competition in edible nuts and dried fruit.
Production
Saudi Arabia and Iran the largest producers
Europe does not produce dates because its climate conditions are not favourable for date tree cultivation. Only Spain has a very small production of dates, but it is not commercially relevant.
Dates are mainly produced in the Middle East and Northern Africa. Saudi Arabia is the leading producer of dates, with a 21% share of the world's production. It is followed by Iran (17%), the United Arab Emirates (12%), Tunisia (10%), Egypt (9%) and Algeria (9%).
The outlook for the consumption of dates in Europe is positive. A driving factor in this expected growth is an increased consumer interest in healthy eating and natural sources of energy.
In terms of volume, the consumption of dates in Europe is growing by an average annual rate of 10%. In the last five years, consumption increased significantly by 38 thousand tonnes, from 78 thousand tonnes in 2013 to 116 thousand tonnes in 2018.
The largest increase in consumption in the last five years was noted in the Netherlands, from 2,900 tonnes in 2012 to 8,200 tonnes in 2016, almost three times as much.
The largest estimated consumers of dates per capita in Europe are France (2.2 kg per capita per year), United Kingdom (1.2 kg) and Germany (0.9 kg).
3.

Which trends offer opportunities in the European market for dates?

Consumer demand for vegan, gluten-free and natural food offers opportunities for date exporters. Health conscious consumers are reducing their sugar intake and replacing sugar with other naturally sweet products, such as dates.

Food safety certification supported by frequent laboratory tests and compliance with CSR standards can also be great advantages to European market suppliers.

Specific trends for dates:
The growing popularity of healthier snacking and eating habits among European consumers is expected to continue driving the positive trend in consumption of dates. The growing consumer interest in Middle-Eastern food, witnessed for example by the popular cookbooks of Ottolenghi, also supports dates.
Dates are increasingly used as an ingredient in the food industry and in home cooking. Instead of using refined sugar, dates are added as a natural sweetener to products like smoothies, fruit bars, mueslis and bakery products.
The European fruit processing industry also increasingly uses dates. Manufacturers are diversifying their assortment of date products on the European markets. Dates are offered in the form of syrup or date juice concentrate, paste and even date kernels are processed into powder.
4.

What are the requirements for dates to be allowed on the European market?

In addition to the quality requirements mentioned in the product description, please refer to our study on buyer requirement for processed fruit and vegetables for a general overview of buyer requirements in Europe.
Legal requirements
All foods sold in the European Union must be safe, including dates. This applies to imported products as well. Additives must be approved. Harmful contaminants, such as pesticide residues, and excessive levels of preservatives are banned. The label should also clearly stated whether a food item contains allergens.
Food safety
Contamination with insects seems to be one of the biggest issues for dates on the European market. The main pest affecting dates is the carob moth (Ectomyelois ceratoniae), which develops inside the fruit and continues its growth upon arrival at the packaging plant and during storage. Preventive measures after harvesting are recommended. Currently, fumigation with phosphine or CO2 is the most frequently used way to control insect development of stored dates in leading producing countries.
Temperature treatments are also used to prevent insect development. Insect adults and eggs die if exposed to temperatures above 50° C for long enough. Cold storage can also be used to prevent infestation in places where insects are likely to be present in ordinary storage.
Dates are also susceptible to infection by aflatoxins after the fruits ripen and soften, providing a suitable environment for aflatoxin production.
Packaging requirements
The safety of food contact materials must be evaluated to ensure no migration of unsafe levels of chemical substances to the food.
The use of materials, particularly of paper or stamps bearing trade specifications, is allowed, provided the printing or labelling has been done with non-toxic ink or glue.
Labelling requirements
The European Union Regulation on food labelling forbids misleading consumers. Claims that a food can prevent, treat or cure human diseases cannot be made. Allergens must be highlighted in the list of ingredients. Requirements regarding information on allergens now also cover non-packed foods, such as those sold in restaurants and cafés.
In addition, nutritional information is now also mandatory for dates.
Common requirements and niche requirements
Tips:
Review your treatment practices to ensure that your dates will not contain pesticide residues above the newly set limits.
Store your dates in proper conditions (low humidity, cool temperatures) during and after production to avoid appearance of moulds and mycotoxins.
Get food safety certification. However, check with importers and experts if your company's food safety certification is recognised by European buyers. Examples of independent international accredited certification companies are SGS, CIS, TÜV SÜD and Bureau Veritas.
Consult the EU Trade Helpdesk where you can find European Union legislation for your selected products under the corresponding codes.
Check the International Trade Centre's Sustainability Map for information on commonly requested standards. It is an online tool that provides comprehensive information on more than 250 voluntary sustainability standards and other similar initiatives.
Refer to the Codex Alimentarius for practical guidelines to help you meet the requirements of European food safety legislation. For dates, consult the Code of Hygienic Practice for Dried Fruits.
5.

What is the competition like in the European dates market?

There are two main sources of competition: other edible nuts and the primary producing countries within the date sector.

Dates compete in the European market with all the other types of dried fruits, as well as fresh fruit. Marketing competition from the fresh sector includes claims about sugar levels in dried fruit and the risk of dried fruit to dental health, since they stick to consumers' teeth. However, the International Council for Nut and Dried Fruit counters the competition with information claiming there is unconvincing evidence of too high levels of sugar in dried fruit.

Major company competition comes from the primary producing countries. Some examples include Sharmeen Foods (Pakistan), Midtrans (Pakistan), Parsun Day (Iran), AHT (Iran), Anahita (Iran), SunExport (Iran), Horchani Dates (Tunisia), Cap Bon Frigorifique Plus (Tunisia), Biosca Tamara (Tunisia), Agrimax (United Arab Emirates), KMG Robust (United Arab Emirates), Al Jameel International (United Arab Emirates), Bateel (Saudi Arabia) and Sed Oasis (Algeria).
Tips:
Introduce modern cultivation techniques in your production of dates. Better technology will increase your productivity and quality and reduce costs. For example, the implementation of selective manual pollination will increase yields.
Diversify your assortment of date products. Apart from selling dates, consider also investing into processing of date syrup.
Invest in your knowledge of the French language, if you are not fluent in French already, as it will give you a great advantage in this market.
For more information, see our study on competition in the European dried fruit market.
6.

Which channels can I use to place dates on the European market?

Many importers of dates are also packers, which engage in processing, trading and wholesale distribution. However a lot of dates, especially those aimed for ethnic segments, are packed in the production countries and exported to Europe without further re-packing. After importation, dates reach different segments of the market as described in Chart 1.

Currently, more dates are sold for retail than to the industry segment. The industry segment buys more sliced and cut dates. Dates are also used as an ingredient in fruit and nut snack mixes.

In some cases, you can also supply different segments directly, without the importer as intermediary. However, in most cases, specialised importers or wholesalers make the first entry point into the European supply chain for exporters of cashew nuts from developing countries.

Examples of companies active in different channels for dates in the leading European markets of France, the United Kingdom and Germany, include the following:

Chart 1: European market channels for dates, 2018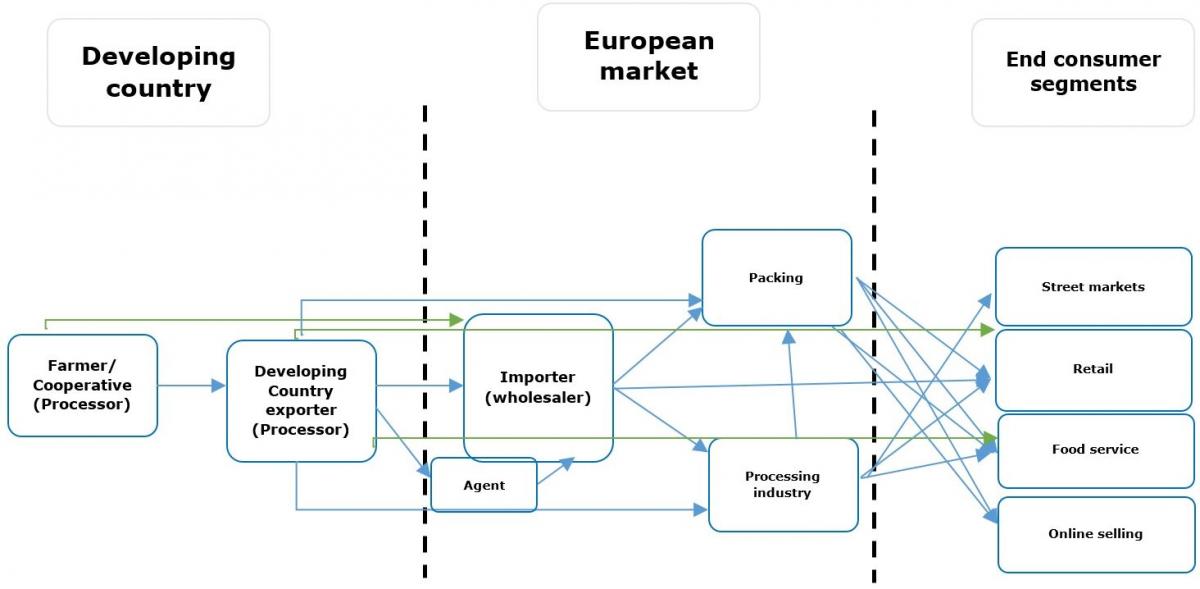 7.

What are the end-market prices for dates in the European market?

Calculating margins according to final retail prices for dates is not indicative, as the entire sector has varying prices for different varieties, origins and packaging. For example, dates from Tunisia and Israel usually reach higher prices than most other supplying countries. Medjool dates are also commonly more expensive in the international market than other date varieties. Based on final prices alone, developing country exporters can only gain a very rough general overview of the price development.

Current retail prices in most European supermarkets usually vary between €6 and €10/kg for small packs of 100 g of dates with pits.

The cost, insurance and freight (CIF) price of dates represents approximately 20% of the retail price of a small retail package of dates. In cases when a final retail product is sold directly to retail chains, that share is much higher.

If you add value to your produce through differentiated quality, food safety, certification and processing steps, your prices will be higher. For example, organic and fair-trade certification may add value to your products.
Tip:
Monitor price developments via market information sources such as the International Trade Centre's Market Price Information Portal. In the drop down menu under 'Your Sector' select 'Fresh Fruit and Vegetables' and under 'Your Product' select 'Dates'.
Please review our market information disclaimer.
Follow us for the latest updates