Exporting citrus juices to Europe
Europe is the largest market for citrus juices in the world, representing more than 60% of the total world imports. The European market offers opportunities for exporters from developing countries in the segments of not-from-concentrate orange juices (NFC) and superfruit juices, as well as in the use of fruit juices as ingredients in soft-drink "detox" beverages. The European juice market is expected to decline because of the high sugar content in juice drinks, but this trend is less severe on the emerging markets of eastern Europe, such as Poland.
1.

Product Description
Product Definition
Generally, citrus juice is defined as the unfermented liquid of cells of the citrus fruit. Although the list of citrus fruit is quite long in commercial production and international trade, the types of citrus fruit listed below are used for the production of citrus juices on the larger scale.
The largest share of citrus juice production belongs to orange juice, which is followed by grapefruit, lemon and lime. Other citrus fruit such as mandarins, tangerines, pomelos and so on are produced and traded in much smaller quantities.
Each citrus cultivar has a different harvesting period.
Orange: Several orange varieties are used to ensure almost year-round availability for processing. In the northern hemisphere, oranges are harvested between October and June, in the southern hemisphere between June and February. The most commonly utilised varieties of oranges for processing are Valencia, Hamlin, Pineapple and Ambersweet:
Hamlin oranges are harvested from mid-autumn to mid-winter (October to January in the northern hemisphere);
Pineapple and Ambersweet are harvested from mid-winter to early spring (January to March in the northern hemisphere):
Valencia, the most abundant variety, is harvested during spring and early summer (March to June in the northern hemisphere).
Grapefruit: There are two types of grapefruits, white and coloured (pink or red). The best-known white varieties are Duncan and Marsh, while the coloured varieties are Redblush and Star Ruby. Mature grapefruit can be harvested from mid-autumn to mid-spring. Mature fruit can remain on the tree for that period of time. Because of its bitterness, the market for white grapefruit juice has been largely replaced by red grapefruit juice.
Tangerines or mandarins are mostly used for the fresh market, but in recent years there has also been an increase in production of those types of juices. They are more commonly used as ingredients in flavour mixes than as single-strength citrus juices. This practice is also done to improve the colour of juice from early-season varieties.
Lemon and lime juice: In contrast to orange and grapefruit, where juice is the main product, lemon and lime juices are by-products, while peel oil is the most valuable and main product.
Although citrus juices can be made by squeezing of the fresh fruit, the majority of citrus juices intended for export are made from concentrated juices. After transport, concentrated citrus juices are reconstituted with water. In this way, transport costs for water and packaging can be saved.
Vitamins and minerals can be added to fruit juices. You can find approved list of additives in the European Regulation on the addition of vitamins and minerals and in the Regulation on food additives. Other allowed ingredients are restored flavour, pulp and cells.
The name "citrus fruit juice" is reserved for 100% fruit juices. However, if sugar, sweeteners or acid are added to fruit juice which is diluted with water, the product must be called nectar or fruit drink.
This study covers general information regarding the market for citrus juices in Europe, which is of interest to producers in developing countries. Please see Table 1 with the products and their product codes.
Table 1: Products in the product group of citrus juices
| | |
| --- | --- |
| Combined Nomenclature Number | Product |
| 200911/200912/200919 (and corresponding 8 digit codes) | Orange juices |
| 200921/200929 (and corresponding 8 digit codes) | Grapefruit juices |
| 200939/200931 (and corresponding 8 digit codes) | Other single citrus fruit juices |

Product specification
Quality
According to industry practice, the most important quality requirements for citrus fruit juices are defined by the following parameters.
Colour: characteristic of the type and variety of fruit.
Flavour and odour: distinct fruit flavour and odour, free from foreign flavours and odours.
Brix level: quality of concentrated fruit juices is mainly defined by the Brix level (sugar content of an aqueous solution). The Brix level directly influences the price of the product.
Composition: the share of different types of juices in the case of mixed juice.
Additional quality requirements are as follows.
Pulp content: pulp content is a quality indicator for certain types of juices, such as orange or pineapple. Importers may require more pulp content, as visible pulp in juices is becoming more popular among European consumers.
Acid level: in addition to the Brix level, the citric acid level is the most common parameter that influences the quality and price of some juice products.
Other requirements such as content of sugars, flavonoids, minerals and isotopic parameters.
The European Fruit Juice Directive defines the composition of:
fruit juices;
concentrated fruit juices;
dehydrated fruit juices;
fruit nectars.
The reserved names, manufacture and labelling characteristics of the above products are also defined. The Fruit Juice Directive also defines specific minimum Brix levels for reconstituted citrus fruit juice including grapefruit, orange, lemon and mandarin.
Labelling
The product must be labelled as fruit juice, concentrated fruit juice or nectar.
Fruit nectars must declare a percentage volume of the fruit juice on the packaging. However, imports of nectars are not very common in the majority of the European countries.
In the case of retail packaging, product labelling must be in compliance with the European Union Regulation on food information to consumers. This regulation defines nutrition labelling, origin labelling, allergen labelling and legibility (minimum font size for mandatory information). This regulation came into effect on 13 December 2014, but the obligation to provide nutrition information will apply from 13 December 2016.
In the common case of export bulk packaging, the information required above must either be placed on the container or be given in accompanying documents. "Fruit juice or concentrated fruit juice" as well as the name and address of the manufacturer or packer must appear on the bulk packaging. It is common that the product specification declares the Brix and acid level.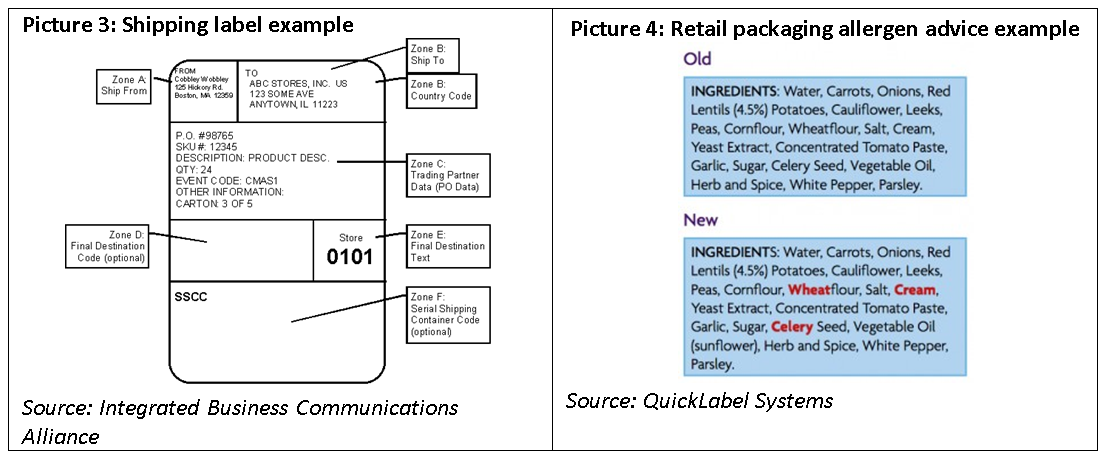 Packaging
The most common export types of concentrated citrus juices packaging are aseptic or sterile-filled:
bag-in-box, 20 l;
plastic container, 20 l;
steel drum, 200–250 l;
plastic drum, 200–250 l;
stainless steel container, 200–800 l;
foldable container, usually 1,000 l;
truck tankers, usually 25,000 l.
Regarding retail packaging, most fruit juices on the European markets are sold in cartons, followed by plastic and glass.
Tips:
For more information about labelling and food contact materials, see our study of Buyer requirements for processed fruit and vegetables.
For more information about the evaluation of the quality, identity and authenticity of fruit juices, see the Code of Practice developed by the European Fruit Juice Association. If you subscribe to this Code of Practice, you will have access to reference guidelines for citrus juices including orange, grapefruit, lemon, mandarin and lime. This Code of Practice is accepted and used by the National Fruit Juice Associations within the European Union, by national food inspections as well as by fruit processors and traders all around the world. It is also acknowledged by the European Commission.
2.

Which European markets offer opportunities for exporters of citrus juices?

Belgium, the Netherlands, France, Germany and the United Kingdom offer opportunities for exporters of citrus juices from developing countries. In addition to targeting the largest import markets, opportunities can be found on the emerging markets of Central and Eastern Europe as well as on growing markets such as Poland, Hungary and Croatia.
Imports
Stable import of citrus juices
The overall imports of citrus juices in Europe over the last five years grew by 2% in value, with a slight decrease in quantity, indicating a moderate increase in import prices. The European import of citrus juices has reached € 4.1 billion or 4 million tonnes in 2017.
The import of citrus juices from developing countries is generally stable, with an average annual increase of 0.8% in value since 2013. In terms of quantity, most leading importing countries show growth; except for Belgium, which has decreased its imports by more than 200,000 tonnes since 2013.
Although there is an overall trend of decreasing fruit juice consumption, the supply of raw materials such as concentrated juices still provide opportunities for exporters from developing countries; among other reasons, because juices are finding their place as ingredients in other beverages, such as soft drinks.
The Netherlands and Belgium the world's largest importers of citrus juices
Belgium and the Netherlands are dominating the European import of citrus juices, accounting for 40% of the total European imports. Both countries are also world-leading importers of citrus juices.
The largest growing European import market for citrus juices over the last five years was Germany, which has increased its imports by more than 80,000 tonnes since 2013. However, Poland is showing the highest annual growth rate of 9%, as it increased its imports of citrus juices from 48,000 tonnes in 2013 to 67,000 tonnes in 2017.
The largest share of the European imports of fruit juices accounts for concentrated orange juice, followed by not-from-concentrate orange juice (NFC) and frozen concentrated orange juice.
Brazil the leading supplier
The supply of all types of orange juices is dominated by Brazil, which is very strong competitor to other developing countries. However, Brazil is losing its market share of citrus juices in Europe, while other developing countries (especially Mexico) are gaining in market share over Brazil.
The largest suppliers of grapefruit juice to Europe are Israel, the USA and South Africa. The leading suppliers of lemon juice are Italy, Spain and Peru, while the largest European supplier of lime juice is Mexico.
Among the largest citrus juice suppliers from developing countries, countries gaining in European market share over the last years were Mexico, Egypt, Turkey and Uruguay. Especially rapid import growth was noted for Egypt, which increased its exports of citrus juices to Europe from only € 900,000 in 2013 to almost € 13 million in 2017. This increase of exports from Egypt is dominated mainly by frozen orange juice.
The citrus juice types which showed an increasing import in Europe over the last five years were NFC orange juice, concentrated lemon juice and concentrated lime juice.
Tips:
Apart from targeting the largest European import markets, Belgium and the Netherlands, consider countries that are showing growth in imports such as Poland.
Learn from exporters in developing countries who are gaining in share on the European market, such as Mexico (especially lime juice), Egypt (frozen orange juice), Turkey (lemon juice) or Uruguay (orange juice). You can learn about developments in the citrus juice industry worldwide from specialised trade portals such as IEGVu.
Exports
European export of citrus juices mostly intra-European
Since 2013, the European export of citrus juices has increased by 4% in value and by 1% in volume, reaching € 2.7 billion or 2.6 million tonnes in 2017.
Around 90% of all European Union exports are intra-European. The main external export destinations are the USA, Japan, Switzerland and Norway.
The largest share of exported citrus juices is accounted for by orange juice with a Brix value less than 20 (40%). A large part of this export is represented by re-exports of imported orange juice from Brazil and reconstituted orange juice. However, some quantities of exported citrus juices are produced in Greece, Cyprus, Italy and Spain.
The European country with the highest export growth of citrus juices in quantity over the past five years was Cyprus, with a 45% average annual growth since 2013. The large share of exported citrus juices from Cyprus is represented by lemon juice.
The largest external destination market that showed considerable growth over the past five years was the USA. The USA considerably increased the imports of lemon and orange juices produced in Spain.
Tips:
Learn from European exporters about destinations which are increasing imports. Be informed about the European industry from The European Fruit Juice Association and its member associations.
Belgium and the Netherlands are the largest European trade hubs for citrus juices. Consider exporting to these countries, as you can also reach other destination from one point.
Production
First signs of recovery for European citrus juice production
The production of citrus juices and nectars in Europe was declining until 2016; it started to grow again in 2017, but it still did not reach the production volume from 2013.
In addition to the citrus fruit juice industry, a large proportion of imported concentrated fruit juices are used as ingredients in soft drinks, sport drinks and other types of fruit drinks.
The largest volume of citrus juices in Europe are produced in Spain, followed by Italy and Germany.
Some of the leading European citrus juice processors include Louis Dreyfus, AMC Group, Agrana, Eckes Granini, Sunprod, CHB and Cobell.
Note that the figures above display the production of manufactured goods, which include intermediate goods as well as final goods. This fact implies that there is possible overlap in production data and import data, since raw materials may be imported and further processed. In particular cases of citrus juices, the largest share of production represents the diluting and bottling of imported concentrated orange juice.
Increased production of NFC and chilled citrus juices in Europe
The production of citrus juices reconstituted from concentrates is decreasing, but there is an increase in the production of NFC citrus juices and chilled citrus juices.
The production of private-label juices decreased more than the production of branded juices.
The most-produced type of citrus juices in Europe are orange juices, followed by grapefruit juices. There is an increased production of red ("blood") orange juices as well as mixtures of grapefruit and orange juices.
Production technologies are developing. One of the major processing issues is the replacement of regular thermal pasteurisation methods with high-pressure processing (HPP) or with pulsed electric field processing (PEF).
The ongoing trend towards healthy and sustainable living has been recognised by fruit juice and nectar producers in recent years. By emphasising natural sourcing as well as functional and health benefits, producers have attached positive connotations to their products, helping consumers to perceive fruit juices and nectars more positively again.
The European production of frozen concentrated orange juice in the 2017 season was around 105,000 tonnes, which is virtually unchanged from the previous season.
Tips:
Regular information about the crop, processing and market situation can be found on the leading European information service for processed fruit and vegetables IEGVu.
Consider upgrading production facilities in order to produce side products of the citrus juices, which can be sold on the European market. Those include cold-extracted essential oils and dried peel which can be used to produce pectin, dried candied peel for the confectionary industry and cattle feed.
Consumption
There is a general decrease in the consumption of citrus juices in Europe due to consumer awareness of the high sugar level in juices. According to the European Fruit Juice Association, the consumption of fruit juices and nectars decreased by 1.1% in 2017 compared to 2016. This fact is a continuation of a trend from previous years. However, it seems that the consumption stabilised in 2017 and the decrease rate is smaller compared to previous years. The total consumption of fruit juices (including industrial consumption), however, increased in 2017 compared to 2016.
The industry is trying to revert this negative trend by promoting once more the health benefits of fruit juice while also addressing social responsibility concerns. In early 2018, AIJN released three research documents intended to inform consumers about concerns over fruit juice consumption. For example, it was claimed that processed orange juice is a valuable source of nutrients, with levels of bioactives comparable to or higher than those found in whole fruit in some cases.
Fruit juice and nectar consumption in the European Union was 9.2 billion litres in 2017, of which orange represents 36.5%. The largest consumption country is Germany, while the largest consumption of fruit juices and nectars per capita is Malta, with an average consumption of 31 litres per capita during 2016.
Although the German consumption is decreasing, Germany is still the largest European consumer of fruit juices and nectars, followed by France, the UK, Poland and Spain. Poland overtook Spain in the ranking over 2017, driven by a growing consumption of NFC juice.
The most popular citrus juice flavour is orange (36.7%), followed by flavour mixes. The share of grapefruit flavour is much smaller and particularly important in Poland (8%), Slovakia (7.3%) and the Czech Republic (4.6%). Lemon juice is not suitable for human consumption due to the high acidity and is therefore consumed as an ingredient or in the form of lemonade.
Tips:
Although the consumption of fruit juices in Europe is decreasing, there are still several categories of juices which have potential. You can find opportunities in NFC citrus juices and by offering flavour mixes or red orange types. Opportunities can also be found in specific products such as juices with an increased amount of pulp, NFC juices and organic juices.
New flavour mixes are another opportunity and those can be developed in close cooperation with European processors and bottlers. So invest in product development facilities in order to meet the demands of curious European buyers.
3.

Which trends offer opportunities on the European market for fruit juices?

Opportunities exist in the following trends:
Low sugar drinks are appreciated by consumers. Due to this trend, nectars, soft drinks and flavoured waters which are naturally sweetened are more promising. More sweeteners such as stevia, lucuma or coconut water will be used in beverages.
Food safety certification supported with frequent laboratory tests can additionally provide a great advantage for suppliers to European markets.
Corporate social responsibility standards are also becoming more important.
The consumption of organic products is increasing in Europe and it is positively influencing the consumption of juices. As a result, the consumption of organic juices is likely to increase as well.
European citrus juices market forecasts are as follows:
It is likely that the decrease in the consumption of fruit juices in Europe will continue in 2016, though at a much slower rate, and in the next few years remain stagnant or even increase. According to the European Fruit Juice Association, in the next few years until 2021, the rate of decrease is forecast to slow down and nearly come to a halt in 2020 or 2021.
The market is expected to stabilise at around 9.36 billion litres around 2020 and 2021, driven by the growth in Eastern Europe, namely Poland, Romania, Slovenia, Croatia and the Baltic countries. Rising household incomes and a growing perception of the health as well as functional benefits of fruit juices and nectars are the key assumptions for this expected outcome.
The overriding concern for the orange juice industry is the decline in production within the key producing regions of Brazil and Florida. Disease continues to ravage crops in both and there is still no real cure for the orange HLB virus (greening).
The package itself is going to be hugely important, especially in presenting the content of the product, because consumers read labels more than ever before. Another trend is the development of ecological packaging. The European Union is funding a project named PHBOTTLE, aimed at developing a bottle made with polyhydroxybutyrate (PHB) produced by the microbial fermentation of the organic matter present in the wastewater of the juice industry.
Tips:
With respect to fruit juices, an extensive study of European market trends is available. See our study of Trends for processed fruit and vegetables.
One of the opportunities can be found in new product solutions, where fruit juices will be used as ingredients. It is quite possible to envisage a number of new drinks with a much reduced juice content and carbonated water, added flavourings or essences, as well as functional ingredients for added health benefits. At the same time, such drinks would address the issue of sugar content in fruit juices.
Use the opportunity to sell organic, Fairtrade and NFC juices.
To find out more about product- and country-specific trends in the sector, read our study of Superfruit juices in Europe.
4.

With which requirements should citrus juices comply to be allowed on the European market?
Legal requirements
All foods including fruit juices sold in the European Union must be safe. This applies to imported products as well. Additives must be approved. Harmful pesticide residues are banned. It should also be readily obvious from the labelling whether food contains allergens.
Fruit juice quality requirements
The composition and quality of fruit juices are covered by a specific European Fruit Juice Directive. This directive stipulates the specific characteristics of fruit juices and fruit-based drinks in order to guarantee that the best possible products are put on the European market. It defines the composition of various products that can be produced, including not only fruit juices but also dehydrated fruit juice and fruit nectars.
The directive also specifies the criteria with which various products must comply:
which fruits can be used;
what the minimum content of the fruits is;
what ingredients can or cannot be added;
how these products must be designated on the label.
As an example, if a product has been sweetened or has been obtained from concentrated juice, it must be clearly indicated on the label.
The most common issues regarding illegal additions of banned substances into fruit juices which European importers face are the addition of C4 sugar, the addition of undeclared fruit and water addition to NFC juices.
Food safety
In June 2015, the Codex Alimentarius Committee on Contaminants in Food adopted a standard to reduce the maximum level of lead in fruit juices and nectars. The maximum level of lead was changed from 0.05 to 0.03 mg/kg.
The European Union has set maximum residue levels (MRLs) for pesticides in and on food products. MRLs apply to 315 fresh products and to the same products after processing, including fruit juices, adjusted to take account of dilution or concentration during the process.
In January 2016, the European Union announced four changes in regulations concerning maximum residues levels in fruit and vegetables. The specific increase of the maximum residue levels is set for pesticides: chlorpyrifos, fosetyl and several other pesticides. As a result, citrus juice producers from developing countries should integrate those changes in their supply chain and cooperate with fruit producers through integrated pest management practices.
In addition to general food safety certification schemes, retail companies require sector-specific certifications and voluntary food certification schemes. In the fruit juice industry, the most recent development is SGF certification. SGF certifies fruit-processing companies, packers and bottlers, traders and brokers for fruit juices as well as transport companies and cold stores in almost 60 countries worldwide. SGF certification has a particular focus on authenticity and safety checking for conformity and food fraud by analyses and traceability checks. Already more than 80% of imported fruit juice products in Europe are coming from production sites with SGF certification.
Packaging
Packaging used for fruit juices must:
protect the colour, taste, flavour and other quality characteristics of the product;
protect the product from bacteriological and other contamination (including contamination from the packaging material itself);
protect the product from moisture loss, dehydration and (where appropriate) leakage as far as technologically practicable;
not pass on any odour, taste, colour or other foreign characteristics to the product.
Labelling requirements
In December 2014, the new labelling legislation went into effect. The new labelling legislation forbids the misleading of consumers. Moreover, claims that any food is preventing, treating or curing a human disease cannot be made.
Another change is allergen labelling, where allergens have to be highlighted in the list of ingredients and requirements on non-prepacked foods, including those sold in restaurants and cafés. Relevant allergens in the beverages industry include sulphur dioxide, which is used in the production of soft drinks. The maximum allowed level of sulphur dioxide and sulphites is 10 mg/kg in terms of the total SO2.
Common and niche requirements
Food safety certification is a common request by European Union importers. The most common certification schemes accepted on the European markets are IFS, FSSC 22000 and BRC.
Environmental protection, Organic and Fairtrade certification schemes are becoming more and more popular in Europe. In order to be labelled within the European Union with the EU organic logo, producers from developing countries should fulfil European organic farming requirements.
The European Union regulates organic food and drinks produced and/or processed within Europe as well as organic goods from elsewhere (Commission Regulation (EC) No 1235/2008, with detailed rules concerning imports of organic products from third countries).
Organic products can readily be imported from non-European countries whose rules on organic production and control are equivalent to Europe's. However, this is not the case for most developing countries, except Argentina, Costa Rica and Tunisia.
For all other non-European countries, importers can
have their organic products certified for import into the European
Union by independent private control bodies approved by the European Commission
.
Tips:
In addition to the quality requirements mentioned in the product description, for a general overview of buyer requirements in the European Union, please refer to our study of Buyer requirements for processed fruit and vegetables.
Specifically for fruit juices, consult the EU Trade Helpdesk, where you can find European Union legislation for your selected products under the corresponding 2009 codes.
For information on commonly requested standards, check the International Trade Centre's Sustainability Map, an online tool which provides comprehensive information on over 210 voluntary sustainability standards and other similar initiatives covering issues such as food.
Refer to the Codex Alimentarius General Standard for Fruit Juices and Nectars. The Codex Alimentarius Standard is in line with current practices in Europe.
Refer to The Code of Practice of the European Fruit Juice Association for guidelines specifying Good Manufacturing Practices in the production of fruit juices and nectars.
Stick to the rules! New laboratory testing methods can easily discover the addition of non-permitted sugars, water or other fruit to fruit juices. It takes a long time and a lot of money to build a good reputation on European markets, but this can be lost very quickly if you are caught with adulterated or "sub-standard" products.
To find out the maximum residue levels (MRL) that are relevant for fruit juices, you can use the EU MRL database, in which all harmonised MRLs can be found.
Get food safety certified. However, check with the importers and experts whether the food safety certification company that you engaged is appreciated by European buyers. Some examples of independent, internationally accredited certification companies are SGS, CIS, TÜV or Bureau Veritas.
Check the Codex Alimentarius' Code of Practice for the Prevention and Reduction of Lead Contamination in Foods to learn more about the stricter requirements for the maximum level of lead in fruit juices and nectars.
5.

What competition do I face on the European market for citrus juices?

For more information about the competition on the European market for fruit juice, see our study of Competition.
6.

Through which channels can you get citrus juices on the European market?

Specialised processors (bottling companies) are the preferred channel for market entry in this sector. Many importers also conduct trading and wholesale activities.

Chart 1: European channels for fruit juices

Source: Market researcher insights from industry sources
The majority of imported fruit juices in Europe are used by the beverage industry in three main different ways:
with reconstitution of water for the bottling and production of 100% fruit juice;
as ingredients for the production of nectars and fruit drinks;
for the bottling of not-from-concentrate fruit juices.
In the beverage market channel, the share of private-label brands is expected to increase, especially in the sub-segment of high-quality 100% fruit juices and not-from-concentrate private-label juices. This means potentially lowering the prices of branded products in order to be more competitive with lower-priced private-label juices and beverages.
Specifically for juices, new channels such as juice bars, fresh juice stores, raw-food restaurants and juice corners are gaining in market share. Those channels are in line with the general healthy living trend.
A smaller portion of imported concentrated fruit juices are used by the fruit preparation industry. Here, the juices are used as ingredients in the production of marmalades, jellies, candies, cereal-based products, ice creams and fruit yogurts.
Tips:
Use the opportunity to sell organic, Fairtrade and NFC juices, especially to the suppliers of new market channels such as juice bars.
Read our tips for Doing business and Finding buyers on the European market for processed fruit and vegetables.
7.

What are the end-market prices for fruit juices on the European market?

Indications of margins according to final retail prices for fruit juices are not very precise, as the whole sector contains many different products. The prices are also different between producing countries regarding the type of juice, fruit variety and quality of products. As a result, exporters from developing countries can only have a very rough general overview of the price development.

Very roughly, it can be estimated that the Cost, Insurance and Freight (CIF) price of concentrated fruit juice represents around 0.25% to 0.50% of the retail price for the retail pack of fruit juices made from concentrates. The best option to monitor prices is to compare your offer with the offer from the largest competitors.

A very rough breakdown of the prices is shown in the table below.

Table 2: Price breakdown for fruit juices
Steps in export process

Type of price

Average share

 of the retail price

Production of fruit

Raw material price (farmers' price)

50% (price of the fresh fruit required for the production of one kg of concentrated juice, usually per box of citrus fruit)

Handling, processing and selling bulk product

FOB or FCA price of concentrated juice

70%

Shipment

CIF price

75%

Import, handling and processing

Wholesale price (value added tax included)

85%

Retail packing, handling and selling

Retail price (for average packaging of 1 litre of citrus juice)

100%
Please note that the share of the retail price paid to farmers varies a lot, depending on the season and the type of product. In the production of citrus juices, the most usual correlation is between the numbers of boxes (40.8 kg) used for the production of one tonne of frozen concentrated orange juice (FCOJ). For example, in years with normal juice content of the orange fruit, around 260 boxes are needed for the production of one tonne of FCOJ; however, in years with unfavourable weather conditions such as the current season, the number of boxes increases to 320. Different amounts of fruit are also needed for the production of the same quantity of citrus juice, depending of the type and variety of fruit.
Tip:
In the production of citrus juice, the raw material accounts for more than half of the cost price of the final product. Increased prices have an immediate effect on prices paid by consumers, who are in turn price-conscious. So monitor your production costs in order to avoid losing customers.
Please review our market information disclaimer
Follow us for the latest updates