Exporting table olives to Europe
Primary tabs
Takes about 27 minutes to read
Europe is the largest market for table olives in the world, accounting for more than 45% of total world imports. European imports of table olives are growing. Large importing and consuming markets such as Germany, France and the United Kingdom, or growing markets such as Belgium or the Netherlands offer the best opportunities for developing country exporters. The main growth drivers are the growing consumer interest in the Mediterranean diet and in naturally processed table olives.
1 .

Product description

Table olives are prepared from the fruits of the olive tree (Olea europaea L.). The fruits are treated to remove their bitterness, then preserved in various ways. Less than 10% of harvested olives are used as table olives. The more than 90% remaining are processed into olive oil.

Fresh olives are naturally very bitter due to the presence of oleuropein, a bitter phenolic glucoside found in all olives in varying concentrations. To make olives edible, it is important to remove some or all of the oleuropein. The fruit is then preserved by one of several possible processes.

To remove bitterness, the fruit is generally treated with sodium, potassium hydroxide, or brine. After that, the fruit is rinsed in water. Some olives are an exception to this rule, because as they ripen, they sweeten right on the tree, mostly due to fermentation.

Picture 1: Greek Kalamata olives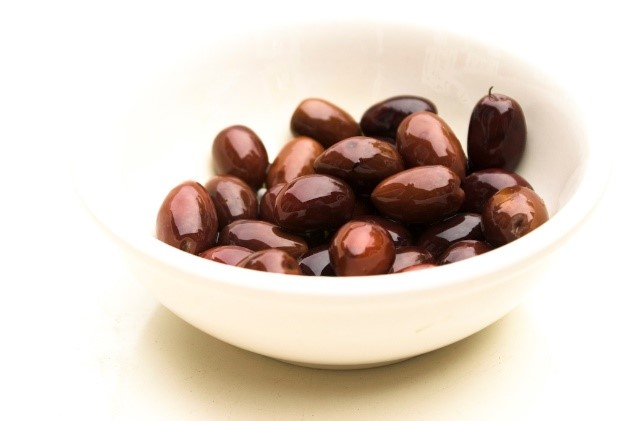 Source: Wikipedia
Picture 2: Green table olives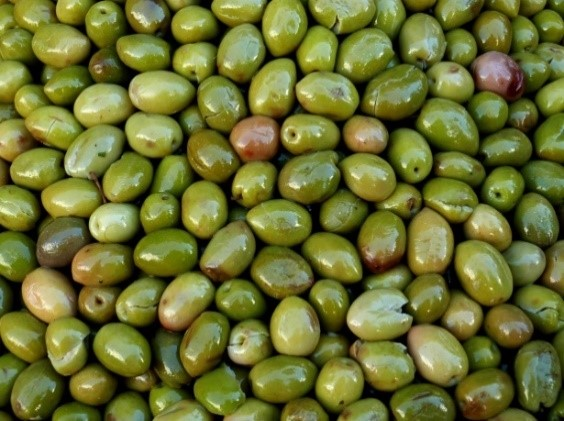 Source: Public domain pictures
Picture 3: Bulk packaging for table olives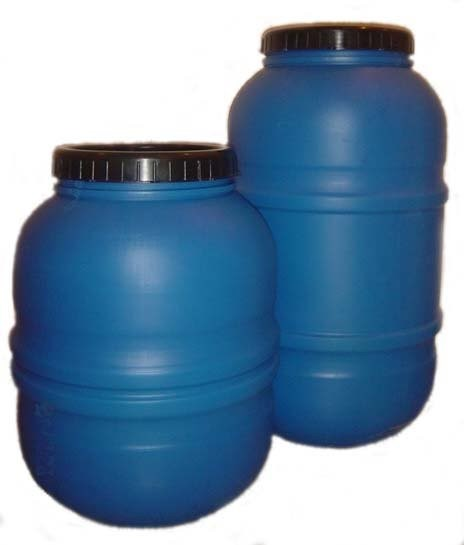 Source: 21food.com
Picture 4: Olives packed in vacuum bags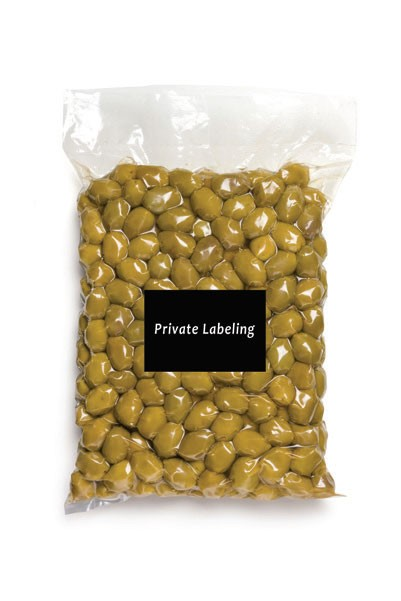 Source: Deas Olives
This study covers general information about the European market for table olives. Please see table 1 for the specific products and their product codes.
Table 1: Products in the product group of table olives
| | |
| --- | --- |
| Combined Nomenclature Number | Product |
| 20057000 | Olives prepared or preserved otherwise than by vinegar or acetic acid, not frozen |
| 20019065 | Olives, prepared or preserved by vinegar or acetic acid |
Product specification
Table olives can be classified in many ways. The most common classifications are done according to:
Procedure used to remove the oleuropein: Table olives are described as treated or untreated. Treated refers to the use of an alkaline lye solution to remove bitterness. Untreated olives are not subjected to lye but put directly into water or brine solution.
Fruit colour: Olives are described as green olives, semi-ripe olives or olives turning colour, and ripe or black olives. Depending on the cultivar, production region, and time of harvesting, the real colour can be very different from green or black.
Preservation method: In brine or in dry salt.
Processing method: Table olives can be classified into four main categories: Spanish or Sevillian style green olives, Siciliano style green olives, Greek style naturally ripe black olives, and Californian style black olives. However, this is a broad classification and there are a number of subcategories within processing methods. Some of the methods are related to particular regions and particular cultivars, for example, Castelvetrano style or Ferrandina style.
Many other ways are used to describe table olives in both scientific and popular literature, some conflicting and confusing. Table 2 shows a combined classification, based on the method of preserving, colour and method of bitterness removal.
Table 2: Products in the product group of table olives
Processing method

Colour and method of bitterness removal

Spanish style green olives

Treated green olives in brine

Treated, semi-ripe olives in brine

Siciliano style green olives

Untreated green olives in brine

Untreated, semi-ripe olives in brine

Greek style naturally ripe black olives

Untreated black olives

Untreated, naturally shrivelled black olives

Untreated, naturally shrivelled black olives in dry salt

Untreated black olives in dry salt

Californian style black olives

Olives darkened by oxidation

Treated, semi-ripe olives in brine

Treated black olives

Others

Shrivelled black olives, treated and brined

Treated black olives in dry salt
Source: Processing Technology of the Table Olive
Table olives are also classified by style: whole, pitted, stuffed (with almonds, garlic, paprika, etc.), salad olives, with capers, olive paste. Each of these categories can have additional sub-categories, for example, sliced.
Quality
The quality of table olives is defined by several criteria, including:
Composition of packing brines — water, salt, vinegar, other ingredients, pH, lactic acidity, etc.;
Sizing — olives are size-graded according to the number of fruits per kilo. In addition to numerical ranges, some traders use an additional description of size such as mammoth, colossal, jumbo, or superior;
Classes — according to the allowed number of defects, table olives are classified into three quality grades: extra or fancy; first, choice or select, and second or standard;
Taste — one of the most important quality criteria for table olives in international trade. Although sensory characteristics such as taste and flavour are qualitative and subjective, organoleptic quality can be measured through officially recognised tests and certified tasters.
Other important quality criteria include: olive flesh weight and seed weight ratio (more flesh means better quality), easy separation of pits from the flesh, percentage of natural sugar, thickness of the skin and overall impression of taste, flavour and texture.
Labelling
When it comes to retail packaging, all information must be placed directly on the packaging in the official language of the European importing country. If the product is exported in bulk packaging, lot identification and the name and address of the manufacturer, packer, distributor or importer may be replaced by an identification mark.
Labelling typically contains the following information:
The name of the product, 'olives' or 'table olives', and the type of olive according to the previously described classifications. Using the exact terminology described above is not necessary, but you should describe the product in terms closely related to the above-mentioned standards. For example, 'pasteurised natural shrivelled olives with extra virgin olive oil'.
List of ingredients.
Net contents and net drained weight declared in metric system.
Country of origin and address of the manufacturer, packer, distributor, importer, exporter or vendor of the product.
Lot identification.
Best before date and storage instructions.
Retail labelling must comply with the European Union Regulation on the provision of food information to consumers. This regulation defines nutrition labelling, origin labelling, allergen labelling and legibility (minimum font size for mandatory information).
Packaging
There is no general rule for the export size and type of packaging for table olives. The packaging varies from small retail bags of 70–250 g for retail sale, to big barrels of 150 kg for the food service sector and sales per kilo.
The most common types of packaging are vacuum bags, sachets, glass jars, cans, tins and barrels.
2 .

Which European markets offer opportunities for exporters of table olives?

Germany and France are the largest table olive consuming countries in Europe, which offers opportunities for you. The growing markets in the Netherlands and Belgium may also offer opportunities. Some companies in European table olive producing countries, such as Spain and Italy, also import table olives from developing countries.
Imports
European table olive market growing gradually
The European market for table olives is expected to grow at an average annual rate of 5% to 7%, driven by a consumer trend towards healthier living and the increasing popularity of Mediterranean cuisines.
Regular fluctuations in import volumes are caused by the size of the harvested olives in the leading supplying countries, rather than by structural changes in the market.
Since 2013, total European table olive imports have grown at an average annual rate of 8% in value and 6% in volume, reaching 543 thousand tonnes at €795 million in 2017.
Imports from developing countries account for approximately one third of all European table olive imports. The share of imports from developing countries is growing annually, meaning that developing countries are slowly gaining market share in the European table olive market. However, European olive producing countries are also increasing their production, which means tough competition for developing country suppliers.
Germany, France and Italy the largest importers
The European market for table olives is dispersed and there is no single country that dominates the import market. Germany, France and Italy are the largest importers with approximately the same shares.
A significant part of the European table olive imports originates from other European countries, mainly Spain, followed by Greece and Italy. In relation to imports from developing countries, the largest European importer is France, followed by Belgium. The leading supplier to both countries is Morocco.
The European countries with the highest average annual growth rate of table olive imports from developing countries in the last five years were the Netherlands (20%), Belgium (22%) and Portugal (25%). Belgian import of table olives has doubled in the 2013–2017 period, from 15 thousand tonnes to almost 33 thousand tonnes. The Netherlands also had a high increase in imports in the same period, from 11 thousand tonnes in 2013 to almost 24 thousand tonnes in 2017.
The European leading table olive producing countries, Spain, Greece and Italy, are also increasing their imports from developing countries, as their own production alone is not enough to meet European demand.
Spain the leading supplier of table olives to other European countries
Spain is the leading supplier of table olives to other European countries, accounting for more than one third of Europe's total imports. Spain mainly supplies European markets from its own production, but also re-exports table olives from Portugal and to a lesser extent from Egypt, Morocco and Greece.
Belgium is the largest re-exporter of table olives within Europe. Depending on the year, Belgium exports around half of its imported quantities of table olives. Most of the Belgian re-exports consists of table olives originally imported from Morocco, Greece and Turkey.
The leading developing country supplier of table olives to Europe is Morocco, followed by Turkey and Egypt. The largest European market for table olives from Morocco is France; for Turkey, it is Germany, and for Egypt, it is Spain. Other developing countries with substantial table olive exports to Europe in 2017 include: Albania (4.5 thousand tonnes), Chile (1.4 thousand tonnes), Macedonia (1.3 thousand tonnes), Syria (841 tonnes), Tunisia (375 tonnes), Peru (362 tonnes), Lebanon (358 tonnes) and Jordan (247 tonnes).
Developing country suppliers with the most notable annual growth in table olive supplies to Europe, in value, in the last five years, were Chile (87%), Syria (54%), Egypt (41%), Tunisia (23%) and Albania (20%). However, in terms of volume, Egypt gained market share at the fastest rate, increasing its table olive exports to Europe from 6 thousand tonnes in 2013 to 23 thousand tonnes in 2017, or almost four times as much.
Exports
Spain is the leading European exporter of table olives
The European exports of table olives are very concentrated. Together, Spain and Greece account for almost 90% of total exports.
Table olive exports from Spain reached 490 thousand tonnes in 2017. The main markets for Spanish table olives are the United States, Italy and Russia.
The largest European exporters can potentially be your competitors. However, all leading table olive exporting countries within Europe also import table olives from developing countries.
In terms of value, European table olive exports, including intra-European trade, grew at an average annual rate of 7% since 2013, reaching €1.4 billion in 2017. In volume, exports grew by 6%, reaching 767 thousand tonnes in the same period.
Approximately 45% of all European table olive exports are intra-European exports, the remaining 55% consisting of exports non-EU countries.
In 2018, the United States International Trade Commission approved new tariffs on Spanish table olives. According to data from the Spanish Association of Table Olive Exporters and Industrialists (Asemesa), black olive exports to the US fell by more than 42% in the first quarter of 2018 compared with the same period in 2017. The European Union is plans to begin legal action at the World Trade Organization against US duties imposed on Spanish olives.
The United States is the main export destination for European suppliers of table olives
The main export destination of European olive supplies in 2017 was the United States, followed by Russia and Saudi Arabia.
The leading European market for Spanish table olive exports in volume is Italy, followed by France and Germany. The leading European market for Greek table olive exports is Italy, followed by Germany and Romania. The European countries with the highest increase of table olive imports from Europe are Romania and Belgium.
Among the largest European exporters, Italy had the highest annual export growth in volume in the last five years.
Although third by size in European table olive production, Italy accounts for only 7% of the EU total production. On the other hand, Italy is the second largest European consumer of table olives, thus satisfying its market needs through imports. The production of table olives in Italy is decreasing as the country focuses on producing olive oil. The main production region in Italy is Sicily. Most varieties grown in Italy are used for producing olive oil and table olives.
Tips:
In addition to targeting your table olive exports to the leading European destinations, you can learn from European exporters and their target markets within Europe: Italy, Germany and France. You can also find opportunities in growing European markets, such as Belgium or Romania.

Explore opportunities to export table olives to Italy. Italy has insufficient production to meet its demand.
Production
Spain is the largest European producer
Europe accounts for more than one third of the total global production of table olives. Production of table olives in Europe has grown gradually since 2013, reaching 907 thousand tonnes in 2017. Other non-European countries with significant table olive production include Egypt (500 thousand tonnes), Turkey (450 thousand tonnes), Morocco (130 thousand tonnes), Syria (100 thousand tonnes), Peru (70 thousand tonnes) and the United States (65 thousand tonnes).
Only four European countries have a significant production of table olives: Spain, Greece, Italy and Portugal. Cyprus, France, Croatia, Malta and Slovenia also produce table olives, but their combined output adds up to less than 1% of the total European production.
Spain is the largest European table olive producer, accounting for more than 60% of the total world production. Greece is the second largest producer and also the country with the highest production growth rate. Greece has doubled its table olive production from 130 thousand tonnes in 2013 to 261 thousand tonnes in 2017, according to International Olive Council data.
European production in relation to specific olive varieties
In Spain, the leading table olive producing country, there are around 155 thousand hectares of olive orchards dedicated to table olives, most of them in Andalucía (85%).
The most popular Spanish table olive variety is Manzanilla, which is primarily used for processing into green olives in brine. Other popular varieties include Hojiblanca, Gordal, Cacereña, Carrasqueña, Verdial and Picual.
Of all the different kinds of olives and olive products Spain produces, international market demand is highest for sliced and stuffed olives.
The Spanish table olive industry is characterised by well-established companies. There are very few new companies or start-ups established in this segment.
It is not easy to estimate the planted area for table olives in Greece, because some popular varieties are also used to produce olive oil from the same orchards. In the international market, Greek black varieties are promoted as natural because no colouring is added during the process of lactic fermentation. The most popular black table olive varieties in Greece are Conservoelia and Kalamon. Halkidiki type is the most processed as green.
The type of Kalamon olive variety with a protected designation of origin (PDO) is called Kalamata. Officially, table olives can only be called Kalamata if they are produced in the restricted area of Messinia, in Greece's southern Peloponnese.
Tips:
You can find opportunities for export by cooperating with European producers. The largest production companies often complement their offer with imported table olives, so they are your potential customers.
Invest in quality improvement. In many cases, table olives from developing countries are identified as low-quality products compared to table olives produced in Europe. One of the ways to improve your image in the European market is to use sensory testing to promote the quality of your table olives. For a list of laboratories that can help you with this kind of testing, have a look at the International Olive Council's directory. For a basic quality process, refer to their quality management guides.
Promote your table olives in specialised competitions, such as the London International Table Olives Competitions.
Consumption
Consumption of table olives has increased at an average annual rate of 3% in volume in the last five years. Consumption of table olives increased by 56 thousand tonnes in the same period, from 530 thousand tonnes in 2013 to 586 thousand tonnes in 2017.
Spain is the largest European table olive consuming market with a total consumption of 193 thousand tonnes in 2017, followed by Italy with 102 thousand tonnes. Among the European countries that do not produce table olives in significant quantities, France and Germany are estimated to be the largest markets, topping 60 thousand tonnes each.
Non-producing countries have been growing much faster (7.7%) in consumption than producing countries (3%) in the period 2013–2017. Germany had the largest consumption growth in the same period from 36.7 thousand tonnes in 2013 to 61 tonnes in 2017.
The main drivers for the growth in consumption of table olives are the consumer trend towards healthy living and the growing interest in Mediterranean cuisines. In Europe, table olives are mainly consumed as an ingredient in salads or as a snack.
One of the important trends in consumption is the increasing demand for olives as snacks. To make olives more attractive as a snack, producers are improving the taste of their olives through different processing methods, such as flavoured brines and different stuffing options. The range of stuffing is very broad, including popular options, such as chilly, different types of cheese, garlic, almonds, capers and paprika.
Tip:
When finding target markets, make a distinction between production countries that import table olives as raw materials for processing, and consuming countries that import for domestic consumption. Markets in non-producing countries, such as Germany, are growing much faster than in producing countries, such as Spain and Greece.
3 .

What trends offer opportunities in the European market for table olives?

The main trends for the sector also apply to table olives. For a complete overview, read our study on trends for processed fruit and vegetables.

Growing consumer demand for vegan, gluten-free and natural foods creates opportunities for table olive exporters. Food safety certification supported with frequent laboratory tests and strong corporate social responsibility (CSR) standards are very important success factors for exporters.

More specific trends for table olives include:
Many supermarkets across Europe are increasingly offering a broad range of chilled table olives sold to consumers in bulk, weighed on demand. Some supermarkets are even introducing self-service olive bars. The taste of olives is adjusted to consumer preferences by using different types of brines and stuffing. This trend provides opportunities for developing country suppliers of destoned olives and olives stuffed with different ingredients.
The demand for natural, minimally processed food is growing in Europe, a trend that applies to the European table olive market as well. In the past, processors used chemicals to brighten the colour of table olives, but now consumers prefer natural colours and additive-free table olives.
Although table olives are traditionally perceived as healthy, consumers increasingly demand products that are completely free from additives. Following this trend, organic and low-salt (or low-sodium) table olives are increasingly offered in European markets.
Processors increasingly use selected bacteria and yeast cultures to fasten and safely drive the fermentation process. Through the introduction of probiotic bacteria, table olives are also promoted as a new functional food. The European Union has funded the PROBIOLIVES project, which aims to increase the competitiveness of table olive producers by introducing table olives containing probiotic bacteria without altering the quality characteristics of fermented olives.
There is a growing consumer interest in the Mediterranean diet in Europe, which stimulates the consumption of table olives and olive oil. Many cookbooks promoting the use of table olives are published every year. One of the Mediterranean diet influencers is British celebrity chef Jamie Oliver, who uses table olives in many of his published books, recipes and television appearances. Table olives are even sold under the Jamie Oliver brand in the United Kingdom, Germany, the Netherlands and Scandinavian countries.
European Industry associations support the consumption of table olives through targeted promotional campaigns, such as the Olive you campaign, co-funded by the European Union and PEMETE, the Panhellenic Association of Processors of Table Olives. The aim of the campaign is to increase awareness and demand for European table olive varieties among consumers and professionals, as well as to develop exports in target markets.
Tips:
Consider different stuffing of table olives together with European importers to broaden your product range.
Support your farmers in introducing organic olive farming to meet the increasing demand for organic table olives in Europe.
4 .

What are the requirements for table olives to be allowed on the European market?

In addition to the quality requirements mentioned in the product description, for a general overview of the buyer requirements in the European Union please refer to our study on buyer requirements for processed fruits and vegetables.
Legal requirements
All foods, including cashew nuts, sold in the European Union must be safe. This applies to imported products as well. Additives must be approved. Harmful contaminants, such as pesticide residues, and excessive levels of mycotoxins or preservatives are banned. It should also be readily obvious from the labelling whether a food contains allergens. Cans and other materials used for packaging must be corrosion resistant and free from contaminants such as cadmium and bisphenol-A (BPA).
Food safety
Potential risks connected with the production of table olives are related to physical, chemical and microbiological contaminants. The most frequent physical contamination is the presence of glass fragments from packaging inside glass jars, due to breakage in the production process.
As table olives are commonly washed during processing, the risk of extensive levels of pesticide is usually lower than for fresh fruit and vegetables. However, some cases of too high levels of the pesticide chlorpyrifos have been reported in the European market in the past.
Packaging requirements
Packaging used for table olives must:
Protect the taste, colour and other quality characteristics of the product;
Protect the product from bacteriological and other contamination, including contamination from the packaging material itself;
Not pass on any odour, taste, colour nor other foreign characteristics to the product;
Be corrosion resistant, in the case of tin cans.
You must ensure that there is no migration of unsafe levels of chemical substances from the packaging material to the food.
For table olives packed in cans, a potential risk relates to the use of bisphenol-A (BPA). The potential harm of BPA has been debated in several European Union member countries, such as Sweden, Denmark and France. On 1 January 2010, France banned the use of BPA in products that come into direct contact with food for babies and young children, such as feeding bottles. The European Union ban followed in January 2011. From 1 January 2015, France has introduced a new law, banning the use of BPA in all food packaging.
Additives that are authorised for use in the processing of table olives are listed in Annex II of the food additives regulation. Additives and the maximum levels which are relevant for table olives are listed under the numbers 04.2.2 (fruit and vegetables in vinegar, oil, or brine), 04.2.4.1 (fruit and vegetable preparations excluding compote) and 04.2.3 (canned or bottled fruit and vegetables).
It is important to keep in mind that under the above legislation, ferrous gluconate (E 579) and ferrous lactate (E585) can be used only in olives darkened by oxidation.
Labelling requirements
The European Union Regulation on food labelling forbids misleading consumers. Claims that a food can prevent, treat or cure human diseases cannot be made. Allergens must be highlighted in the list of ingredients. Requirements regarding information on allergens now also cover non-packed foods, such as those sold in restaurants and cafés. The list of allergens includes nuts, which are sometimes used for stuffing the olives.
Nutritional information is also mandatory for table olives.
Common requirements and niche requirements
Organic products can readily be imported from non-European countries whose rules on organic production and control are equivalent to the European Union's, namely Argentina, Australia, Canada, Costa Rica, India, Israel, Japan, New Zealand, Tunisia, Switzerland and the United States. For all other non-EU countries, importers can have their organic products certified by independent organisations approved by the European Commission.
Tips:
Check the International Trade Centre's Sustainability Map for information on commonly requested standards. It is an online tool that provides comprehensive information on more than 250 voluntary sustainability standards and other similar initiatives.
Refer to the Codex Alimentarius for practical guidelines that can help you meet the requirements of European food safety legislation. For table olives specifically, those guidelines and codes include:
- Guideline Procedures for the Visual Inspection of Lots of Canned Foods for Unacceptable Defects;
- Code of Hygienic Practice for Canned Fruit and Vegetable Products;
- Code of Hygienic Practice for Low and Acidified Low Acid Canned Foods;
- Code of Practice for the Prevention and Reduction of Inorganic Tin Contamination in Canned Foods.
5 .

What is the competition like in the European market for table olives?

Table olives compete in the European market with other types of pickled and fermented vegetables. Olive oil can also be considered a substitute product for table olives, as consumers are generally more aware of the health benefits of olive oil than those of table olives.

Major company competitors come from European producing countries, especially Spain and Greece, as well as from countries that export table olives to Europe, such as Morocco, Turkey and Egypt. Examples of company competitors from Greece and Spain include: Sadrym, Aceitunera del Guadiana, Olive Line, Grupo Ian, Interoliva, Intercomm, Kalogiros, Pelopac and Lelia.

For more information about competition in the European processed fruit and vegetables market, see our competition study.
6 .

What are the channels to put table olives on the European market?

A specialised importer is the preferred channel for market entry in this sector. Many importers are also packers, as well as traders and wholesale distributors. After importation, products reach different segments of the market as described in Figure 8.

In some cases, you can also supply to different segments directly without the importer as an intermediary. However, this does not happen frequently.

Importers of table olives are usually specialised companies that supply retail, food service and even, to a smaller extent, street markets or food halls. However, significant quantities are imported by producing companies to supplement their own stocks.

The retail segment represents the largest share of final sales. It sells three types of table olives: branded products, private label products which are branded by the retail chain itself, and bulk products, which are non-branded table olives sold by weight. Mainstream retail chains of supermarkets and hypermarkets account for the largest market share, but some quantities are also sold in specialised and ethnic food shops.

Some examples of table olive trading companies and brands in the largest markets include Feinkost Dittmann (Germany), Theodor Kattus (Germany), Rila (Germany), Henry Lamotte (Germany), Tramier (France), Crespo Comolive (France), Menguy's (France), Fragata (United Kingdom), Sema Foods (United Kingdom) and The Belazu Ingredient Company (United Kingdom).

Restaurants represent the largest share of the food service segment. All kinds of restaurants use table olives, but Mediterranean food restaurants, such as Italian or Greek, and Italian-type chains of fast-food, such as pizza and pasta restaurants, will naturally use more olives.

The share of street markets in European food sales is decreasing, but they still exist in all European countries. Street markets are more popular in Southern European countries. They sell non-branded table olives from different origins, including olives from developing countries, especially Morocco.

Chart 1: European and EFTA market channels for table olives, 2018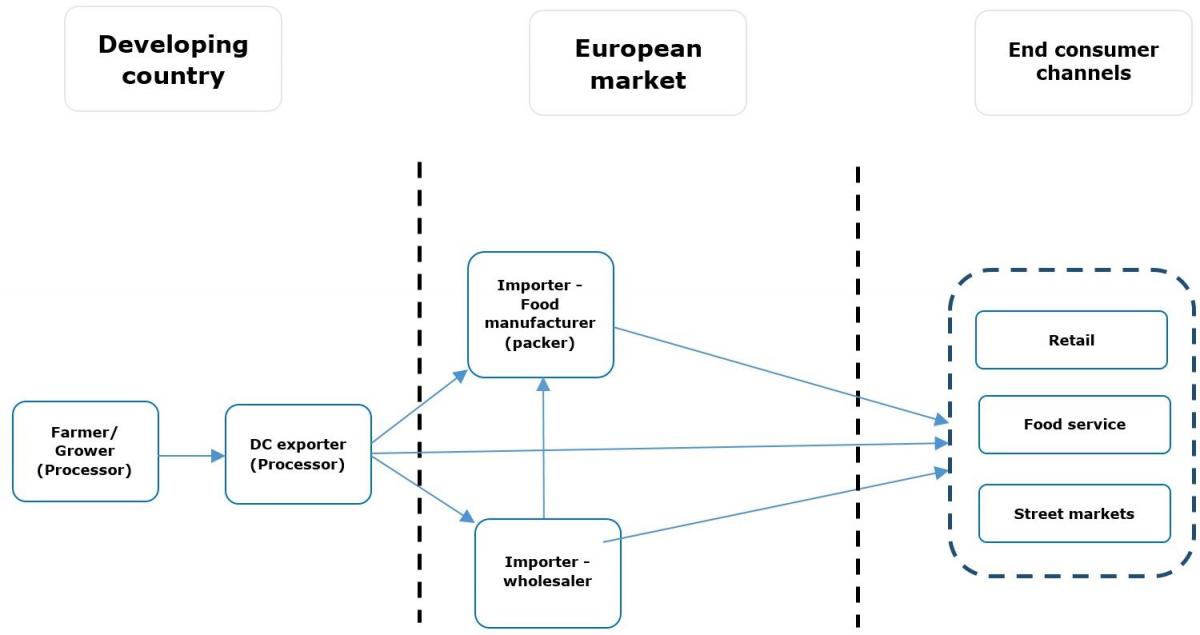 For more information, see our study about market channels and segments for processed fruit and vegetables. Also, read our tips about doing business and finding buyers on the European market of processed fruit and vegetables.
7 .

What are the end-market prices for table olives in the European market?

Calculating margins according to final retail prices for table olives is not indicative, and it is very difficult to elaborate, since it depends on the type of packaging and product.

The prices also vary across producing countries, per type, size of packaging, olive variety, brand and quality. For example, Greek Kalamata olives usually fetch higher prices than other types of olives, as they are marketed as specialty olives of protected geographical origin.

The average retail price of packed table olives in the last four years in Spain, the largest consumption market for table olives, fluctuated slightly between €2.81 and €3.89 per kilo.

Table 3 below provides an approximate breakdown of table olive prices:

Table 3: Table olives price breakdown
Steps in export process

Type of price

Average share

of the retail price

Production of fruit or vegetables

Raw material price (farmers' price)

5% (in case fresh olives are used as raw material for drying)

15–25% if the product is already processed

Handling, processing and selling bulk product

FOB or FCA price

30%

Shipment

CIF price

32-35%

Import, handling, processing and packing

Wholesale price (value added tax included)

60%

Retail handling and selling

Retail price

100%
Source: Market researcher compilation based on industry sources
Please note that the share of the retail price that is paid to farmers varies a lot between producing countries and the type of product. It will also vary from year to year, depending on market conditions, as retailers tend to keep stable prices for final consumers even in common cases of import price fluctuation.
If you add value to your produce through differentiated quality, food safety, certification and processing steps, your prices will be higher too.
Tip:
Please review our market information disclaimer.