Exporting vegetable oils for conditioning to Europe
Primary tabs
Takes about 26 minutes to read
There is a potential for producers of distinctive vegetable oils with a well-planned marketing campaign focusing on what makes the oil special: stories about the product's origin, traditional use, certification or unique qualities. However, marketing can never replace the substantiation of claims of benefits offered by the product. Vegetable oils are natural alternatives to synthetic conditioning agents, especially in hair conditioning products. Furthermore, certain vegetable oil derivatives are excellent alternatives to silicone products, which are currently the subject of increasing consumer concerns.
1 .

Product description

Vegetable oils are extracted from plants, often obtained by cold-pressing seeds, nuts or kernels. The colour of vegetable oils is generally light green or yellow to brown. The oils are used in various industries, most notably the food industry, followed by the cosmetics and other industries. This factsheet focuses on vegetable oils used in cosmetics for their conditioning and moisturising properties, both in hair and skin care products.

A wide range of vegetable oils is used for their moisturising properties, from high volume palm and coconut oil to low volume specialty oils, such as moringa oil or murumurú seed butter. This factsheet will focus on the low volume, specialty oils, which provide the most opportunities for producers in developing countries.
Classification of vegetable oils:
Harmonised System (HS): within the European Union (EU) and the European Free Trade Association (EFTA - Member States are Iceland, Liechtenstein, Norway and Switzerland), there is no separate HS code for vegetable oil for conditioning, but it can be classified under:
- 1515.90: other fixed vegetable oil and fats, refined or unrefined, not chemically modified; as vegetable oil
- 1207.99: oil seeds and oleaginous fruits, whether or not broken; as raw material
Botanical names and Chemical Abstract Service (CAS) Registry numbers of various vegetable oils for conditioning, which can be found at CosIng:
- Borage (Borago officinalis): 84012-16-8
- Rosehip (Rosa canina): 84603-93-0
- Argan (Argania spinosa): 223747-87-3
CosIng, the European Commission database of cosmetic substances and ingredients, lists cosmetic ingredients such as vegetable oils, separately under their INCI names together with their hair and skin conditioning, moisturising, and emollient properties. Examples are: sacha inchi (Plukenetia volubilis seed oil) with emollient, humectant and skin protecting properties, murumurú butter (Astrocaryum murumuru seed butter) with emollient and skin conditioning properties, marula (Sclerocarya birrea seed oil) with hair conditioning and humectant properties, and chia seed oil (Salvia hispanica Seed Oil) with moisturising and skin conditioning functions.
Quality
The quality of the oil depends on its freshness and age, as well as proper storage. It is of higher quality if it is freshly pressed and is stored in closed packaging, as detailed in the tips on storage and packaging given below. This is to prevent oxidation, which turns the oil rancid. Buyers test the peroxide level of the oil; if it is too high, it implies that the oil is old or has been exposed to fresh air.
Rancidity is a major issue in the shelf life and quality of vegetable oils, especially when they are shipped as crude oils. The quantity of vitamin E, an antioxidant, is very important for the stability of vegetable oils. Certain oils, such as borage oil, go rancid much faster than other, more stable oils, such as moringa oil.
Additionally, in order to be used as a conditioning oil the vegetable oil needs to be effective at the temperate climates experienced in the EU. Oils and fats that are solid at room temperature in Europe need to be formulated differently to liquid oils.
The drying process used for the raw material (seeds, kernels or nuts) is vital. Drying speed and appropriate process management are needed to reduce the chance of moulds, fungi and oil rancidity.
Cosmetics manufacturers require oils with a minimum of impurities (e.g. mineral matter, gums and carbohydrate substances, such as vegetable fibres, and protein). A basic step in ensuring quality is to filter the oil (see below). Further processing steps depend on the quality of the oil, the volumes available and requirements of the buyer.
Most cosmetics companies that employ vegetable oils prefer the oils to be odourless, though buyers are less interested in the scent of the specific oil.
Buyers prefer lightly coloured to colourless oils, depending on the final application. Consult with buyers on their specific preferences. If decolourisation is beyond the technical capabilities of your company, you could consider working with toll-refiners in Europe. In many cases, European intermediaries would handle this themselves.
Labelling
Individual batches, whether or not they are produced by blending, must be traceable.
Labelling must be in English, unless your buyer has indicated otherwise.
Labels must include the following:
- Product name/INCI name
- Batch code
- Place of origin
- Name and address of exporter
- Date of manufacture
- Best before date
- Net weight
- Recommended storage conditions
Organic and/or fair trade: Name/code of the inspectorate and the certification number.
Ensure the buyer has access to the following documentation:
- Technical Data Sheet (TDS) or Specification, including CAS number. See this example of a TDS for sacha inchi oil. For new oils, you will need to apply for a CAS number
- Safety Data Sheet, see examples of an SDS, for example for borage oil
- Certificates of analysis to support the claims of the specifications, see examples of a certificate of analysis, for example for almond oil
- GMO certificate (if requested)
- Certificate of origin
- Product information sheet
- Allergen declaration (protein content), see examples of a declaration, for example for argan or brazil nut oil. This is especially important if you are selling directly to a cosmetics manufacturer
Refer to CBI Buyer Requirements for information on classification, labelling and packaging (CLP).
Packaging
Always consult your buyer for specific packaging requirements.
If the vegetable oil is hazardous and has a UN number, use UN approved packaging.
Ensure the quality of your vegetable oil is preserved by:
- Using containers made of a material that does not react with the oil's components (e.g. lacquered or lined steel, aluminium).
- Clean and dry the containers before loading the oil.
- Fill the headspace in the container with a gas that does not react with the oil's components (e.g. nitrogen or carbon dioxide).
Ensure that packaging materials can be reused or recycled by, for example, using containers made of recyclable material (e.g. metal).
Store the containers in a dry, cool place to prevent quality deterioration.
Organic vegetable oils must be physically separated from conventional vegetable oils.
Refer to CBI Buyer Requirements for information on classification, labelling and packaging (CLP).
2 .

What is the demand for conditioning oils in Europe?

(!) No specific trade statistics are available for conditioning oils. The following trade statistics are based on HS code 1515.90, 'other vegetable oils', fixed vegetable fats and oils and their fractions, whether or not refined, but not chemically modified. These data exclude the main commodity products, such as soy, coconut, palm, sunflower and rape.

(!!) Moreover, please note that most vegetable oils are not only imported for cosmetics use, but also, and in many cases predominately, for food (estimated at over 60% in 2012). So care should be taken when drawing conclusions based on the figures below with respect to the import of cosmetics ingredients.
Conditioning Cosmetics Market
Basically, due to their composition, all vegetable oils can be used in cosmetics for their skin and hair conditioning properties. Consequently, they are used in a wide range of cosmetic products. In order to give an indication of the cosmetics end markets for these vegetable oils, an overview has been included for the following conditioning cosmetic products: moisturisers and hair conditioners. There are opportunities for vegetable oils in these growing markets.
Hair conditioners: A market analysis for soaps, shampoos and hair conditioners conducted by the Joint Research Centre of the European Commission in 2012 indicated that European manufacture of hair conditioners is concentrated in Western Europe. Italy was the main producer in 2010, at €950 million, followed by Germany (over €600 million), and France and Spain (around €350 million each). The UK, Poland, the Netherlands and Bulgaria were listed as smaller producers of hair conditioners.
Imports
The total volume of European imports of vegetable oils fell by an average of 1.7% annually from 2011 to 2015, while value grew by 7.2%. Total imports reached 320,000 tonnes (with a value of  €646 million) in 2015. During the last five years, European imports were quite volatile, with largest growth between 2013 and 2014 (+63% in volume).
Figure 1 lists the leading importers of vegetable oils. Countries with the fastest growing imports from 2011 to 2015 include Spain (+25% annually), Finland (+23%), Lithuania (+34%), Portugal (+16%), Sweden (+14%) and Belgium (+14%). Their growing imports make these countries interesting for vegetable oils exporters.
As vegetable oils are used in a wide range of industries, it is not possible to state what share of these vegetable oil imports is used in cosmetics for their conditioning properties. However, according to industry sources, high-value vegetable oils are predominantly used in cosmetics. Countries that import a relatively large portion of high-value vegetable oils include Germany and the UK.
Developing country suppliers contributed a small but growing, part of European imports in this product group – 19% in 2015 (from 15% in 2011). The volume of imports from developing countries grew at a higher rate than total imports: +4%  in value and +12% in value annually. Please note that this data covers a broad category of vegetable oils, so import trends for your specific vegetable oil may be very different.
Important target markets for developing country producers of vegetable oils are the Netherlands, France, Italy and Denmark. Of these countries, 61% of the Netherlands' 2015 imports originated in developing countries. Although Denmark is a small importer of vegetable oils, 80% of its 2015 imports came from developing countries.
Imports by France and Belgium (among others) from developing countries increased substantially from 2011 to 2015 (+27% and +34% annually, respectively). This implies that these countries offer growing opportunities for producers in developing countries.
Leading non-European suppliers in 2015 included Ghana, India and Togo. Some of the main export products for these countries are probably jatropha (used as a biofuel) and cocoa butter equivalents such as shea butter.
The majority of trade in vegetable oils comes from European sources. The leading European suppliers – the Netherlands, Denmark, Germany, Spain and France – account for 53% of supplies.
Exports
The volume of European exports of vegetable oil exports rose by an average 8.2% annually from 2011 to 2015, reaching 272,000 tonnes (with a value of €632 million) in 2015.
The largest exporters in 2015 were Italy, Denmark, France, the Netherlands, Spain and Germany, together accounting for 85% of the total export volume. Please note that this is largely attributable to several very large companies, such as Cargill in the Netherlands and AAK in Denmark.
Major destinations in 2015 were European countries, alongside the USA (5.0% of export volume) and South Korea (3.3% of export volume). Rapidly growing destinations included Austria, Spain, Portugal, Russia and Lithuania.
3 .

What trends offer opportunities on the European market for conditioning oils?
Natural vs. synthetic:
In regard to both food and cosmetic products there is an increasing public perception in Europe that natural ingredients are safer and healthier than synthetic alternatives, even when scientific studies demonstrate that the ingredients in question do not pose safety risks. It is a complex and at times polemic debate. But the fact remains that any ingredient (natural or synthetic) used in a cosmetic product is assessed as a chemical substance or chemical mixture when it comes to safety. The cosmetics industry often prefers to 'move on' and find alternatives (natural or synthetic) rather than defend its position. Both the regulators and the industry itself are keenly aware of the focus on the safety of cosmetics, and take great care to ensure that the finished products are safe for their intended use. In any event, the public perception presents an opportunity for suppliers of natural and safe ingredients to increase their market share.
This public perception of natural ingredients being safer and healthier has translated into a growing market for natural cosmetics. As a producer of natural ingredients, you can also find growing opportunities in the European cosmetics market. There are opportunities for both certified natural and conventional cosmetic products with high proportions of natural ingredients.
To illustrate, the global natural cosmetics market was estimated at US$30 (€26) billion in 2014 and is expected to grow 10% annually until 2019. Certified natural cosmetics make up 45% of this market; the remaining 55% consists of near-natural cosmetics. To compare, the total 2014 cosmetics market in the USA, Europe, China and Japan reached €168 billion.
Conditioning vegetable oils specifically can be used to replace or supplement silicones, in regard to which growing consumer concerns exist. These include the idea that silicones accumulate in the body and block the pores when used in skin care products, as well as environmental concerns regarding production. Vegetable oils that replicate the smooth feel of silicones on the skin can be used to replace this synthetic ingredient.
Vegetable oils with a low rancidity factor and that only require a limited degree of further refinement, such as moringa and marula, are of particular interest in natural cosmetics, as fewer preservatives are needed.
Story telling:
As vegetable oils have a similar chemical composition they also have similar cosmetic properties. It is these properties that make them stand out. The popularity of specific conditioning vegetable oils depends greatly on their marketing story, and may change at different times. Popular niche oils at present include sea buckthorn oil, baobab oil and murumurú butter, while prickly pear seed oil from Morocco is also growing in popularity, according to industry sources. Aspects that can enhance the marketing story of vegetable oils for conditioning are discussed below: Exotic oils, Tradition of use, and Ethical sourcing.
Marketing stories for vegetable oils in cosmetics include stories on how oils have been used for centuries to revive dry skin or hair (e.g. argan oil or marula oil), or how contributions are made to the local communities which harvest the seeds or kernels.
Exotic oils:
Ongoing consumer interest in speciality exotic oils forms an opportunity for vegetable oils from regions that have 'exotic', 'mystical' or 'luxurious' connotations for consumers. Examples include African oils (e.g. marula or baobab oil), oils from the Amazon (e.g. murumurú butter or pracaxi oil) and Polynesian oils (e.g. Tamanu oil). Exotic oils can be used by cosmetic producers to differentiate their products on the market.
Tradition of use:
There is a continuous interest in conditioning oils with a tradition of use. This also helps in building a marketing story. For example, sacha inchi has traditionally been used in Peru to make creams with anti-aging properties.
Ethical sourcing:
A growing interest in ethically sourced products presents an opportunity for fair trade and organically certified vegetable oils. Moreover, consumers are interested in the background story to ethical certification. There is also growing interest in wild-collected vegetable oils, such as marula and baobab, where the benefits to local communities of the collectors are highlighted in the marketing story. Communication is presented graphically, with short stories concerning the product, or in the manufacturer's corporate image.
Functional properties:
In addition to the conditioning or moisturising properties of most vegetable oils, some also have additional functional properties. These properties can be used to give your oil the edge over competing oils, as the market for functional and active cosmetics ingredients continues to boom. Examples include vegetable oils that have anti-aging properties, such as evening primrose oil and rosehip oil, as well as oils high in omega fatty acids. When used as active ingredients for purposes such as anti-aging, it is essential that efficacy data is provided to back up the claim.
4 .

What requirements should conditioning oils comply with to be allowed on the European market?
EU Cosmetics Regulation:
the Cosmetics Regulation includes requirements (physical-chemical, microbiological and toxicological) for the substances/ingredients to be included in each 'Cosmetic Product Safety Report' and 'Product Information File'. Cosmetics manufacturers and ingredient producers are increasingly making compliance with this regulation the responsibility of their suppliers.
REACH:
In principle, ingredients used in cosmetics are bound by legislation for chemical substances. Therefore they need to be registered with the European Chemicals Agency under REACH (Registration Evaluation and Authorisation of Chemicals) legislation. Certain exemptions from REACH registration exist, such as non-chemically modified vegetable oils. Moreover, if volumes remain lower than 1 tonne per importer per year, registration by the importer is not required, except for the most hazardous chemicals. In all cases, the burden of proof lies with the EU manufacturer/importer that wishes to use this exemption (an absence of information on the properties of a substance does not mean an absence of hazardous properties).
Classification, Labelling and Packaging of chemicals (CLP):
The EU sets the requirements for the packaging of chemical substances, as well as the required symbols and phrases warning users and providing safety advice, which must be used on the labels. These requirements have been adopted from the United Nations´ Globally Harmonised Systems (GHS).
Convention on International Trade in Endangered Species of Wild Fauna and Flora (CITES):
CITES regulates the trade in endangered plants collected in the wild (among other things) and provides a detailed list of species for which trade is prohibited, restricted or bound by certain rules. If your vegetable oil is listed on Annex A or B of Regulation (EC) 338/97 you must obtain export and import permits before you can export it.
Access and Benefit Sharing (ABS):
ABS refers to the rules and principles governing the use of genetic resources and associated traditional knowledge, established by the Convention on Biological Diversity, and is especially relevant for wild-collected ingredients. Countries regulate access to genetic resources in different ways and the requirements can be quite stringent, either in terms of reaching 'prior informed consent' with governments or in terms of how benefits (such as financial and knowledge benefits) are shared. These 'mutually agreed terms' detail the terms and conditions of access and use of genetic resources and/or traditional knowledge between the company seeking plant material for research and development, and the collectors, growers or associations that would be able to supply such material. The Union for Ethical Bio Trade (UEBT) provides much information on the practical implications of ABS.
Quality:
European buyers expect a good and reliable level of quality. Most buyers expect suppliers to at least follow the Hazard Analysis & Critical Control Points (HACCP) principles for food processing. The following requirements are also frequently imposed.
Good Manufacturing Practices (GMP) are not obligatory for cosmetics ingredient producers, but compliance can provide a competitive advantage.
Good Agricultural and Collection Practices (GACP), even though legally binding for medicinal plants, are a common practice for the farming and wild-collection of cosmetics ingredients prior to processing.
Product standards for vegetable oils under the ISO are referred to in the product specifications of buyers, so as to assure the quality of cosmetics ingredients. Moreover, even though intended for finished cosmetics, the cosmetics manufacturing standard ISO22716 also includes guidelines for ingredients which manufacturers must refer to.
Buyers will also have their own requirements.
Sustainability:
European buyers prefer suppliers that can demonstrate good standards in respect of sustainability. This involves social and environmental responsibility as well as sustainable sourcing practices. Buyers may not require compliance with certification standards to prove sustainability, but they are looking for suppliers who can demonstrate they have incorporated sustainability into their operations.
Documentation:
Buyers need well-structured product and company documentation. They generally require detailed specifications supported by certificates of analysis and Safety Data Sheets (SDS). Documentation must include all information on allergens. Compared to essential oils, an allergen declaration for vegetable oils is more straightforward. The allergenic properties of vegetable oils are related to their protein content. If there is no detectable protein then the allergen risk is very low. Good filtration is critical and the oil will need to be filtered to at least 2 microns, but buyers will set their own standards for protein content in vegetable oils. A protein analysis will be necessary.
Additional requirements
Natural cosmetics:
In cosmetics, the definition of natural cosmetics has been driven by private sector standards, specifically NaTrue and Cosmos. These specify what cosmetics products must comply with in order to be certified natural and organic. Natural cosmetics are often defined as containing a certain amount of natural ingredients. Although not directly applicable to ingredient producers, it is important to be aware of these standards in terms of permitted processes and additives.
There are initiatives underway to develop an international standard for natural and organic cosmetics. The first part of a draft ISO standard for natural and organic cosmetics has been published. The second part is in development.
Organic:
EU legislation specifies what organic production and labelling entails. Although this legislation is only applicable to food products, it forms the basis of private standards for organic labelling. Examples of such standards are the Soil Association (UK), Ecocert (France) and BDiH (Germany).
Fair production:
Several standards exist for certifying socially sustainable production of natural ingredients for cosmetics. Examples of consumer labels that guarantee fair social practices include Fairtrade and FairWild (wild-collected ingredients).
5 .

What competition do I face on the European market for conditioning oils?
Market entry
Cosmetic companies are interested in oils of consistently high quality, and if possible with added benefits. They are further looking for interesting marketing messages about specialty vegetable oils for conditioning purposes such as baobab oil, desert date oil and ximenia oil. Such messages include stories about social benefits for a local community and interesting stories about the origin of the oil, ethical sourcing, wild collection and certification.
Set up a strong marketing campaign to get the above-mentioned messages across and to inform prospective buyers about the benefits of your vegetable oil. This will include such aspects as the creation of promotional materials, international travel and participation in trade fairs. The financing of such marketing activities can be a barrier to entry to the European market for conditioning vegetable oils.
European buyers are looking for reliable suppliers. It is particularly important to be able to offer sustainable supplies of oil of consistent quality and in sustainable quantities when you are dealing in oils from wild-collected materials. Applying sustainable resource management to the collection process is one way of ensuring sustainable supplies.
Strong product competition from other vegetable oils
Most opportunities for conditioning vegetable oils stem from growing consumer concerns about silicones, as mentioned in Market Trends above. Conditioning oils that produce a feel similar to that of silicones have the potential to replace them.
The threat of substitution by other vegetable oils is high, as most vegetable oils have similar conditioning or moisturising properties and can in principle be used interchangeably. Many oils are launched on the market each year and compete fiercely for the attention of buyers, while demand for specific vegetable oils is very trend-sensitive. This means that developing country manufacturers must clearly differentiate between their vegetable oil and competing oils on the market.
Company competition
Some vegetable oils used for conditioning purposes, such as almond oil, are traded in large volumes and constitute an established market. Others, such as argan oil, while still seen as a speciality oil, have been introduced in mainstream cosmetics products and also have an established market. Access to such established markets as a new supplier can be difficult, because of the fierce competition from existing suppliers.
6 .

What do the trade channels and interesting market segments for conditioning oils in Europe look like?
Market channels
Please refer to our study on market channels and segments for natural ingredients for cosmetics for an overview of market channels, segments, trends and developments.
Vegetable oils exported in crude form
Vegetable oils are mostly exported as oil, instead of in the form of oil-seeds, nuts or kernels. Most vegetable oils are commonly exported to Europe as a crude oil, where they are then further processed into a refined oil. For example, borage oil needs to be processed to remove its repellent odour. The oil can often be filtered at source, and whether or not further processing is feasible depends on the quality, available volumes and the needs of the buyer.
Vegetable oils can be sold directly to cosmetics manufacturers, but they are more commonly sold through specialised intermediaries such as agents and importers. There are several traders in Europe that focus on speciality vegetable oils, either from a worldwide, or a regional perspective. Moreover, vegetable oil traders and natural ingredient distributors also work with speciality products.
Speciality vegetable oils and certified organic or fair trade oils usually have relatively short trade channels. This is because buyers are often interested in the source of the oils to be used in their marketing campaigns.
Organic oils are frequently introduced directly in cosmetics, since chemical processing is restricted for ingredients of certified natural cosmetics. Once processed, these ingredients can often no longer qualify as being organic. But in the case of allergenic oils, the allergens need to be removed.
Market segments
Figure 3: Segmentation for vegetable oils for conditioning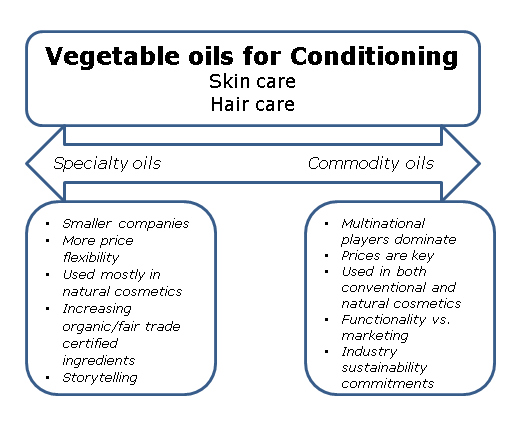 Best opportunities in specialty vegetable oils
Vegetable oils for conditioning can be divided into commodity and specialty oils. Commodity oils, such as coconut oil, are oils that are not organic or Fairtrade certified, traded in high volumes and where prices are the deciding factor. The oils are generally processed into moisturising derivatives such as emollients or humectants (e.g. glycerine) rather than being used as pure oils in cosmetics. The market for commodity oils is dominated by large multinational players and is highly competitive. This market is therefore only of limited interest to developing country exporters.
The market for speciality oils is far more attractive for developing country producers, if you can comply with its requirements. Speciality oils are more exclusive, which is a factor used in the marketing of these oils. This exclusivity might be derived from an interesting origin story or certifications. With regard to their conditioning properties, these oils are most commonly used as direct ingredients by natural cosmetics manufacturers. Speciality oils can also be converted into high-value derivatives.
Additionally, organically certified oils - which require limited additional processing - can be used in organic cosmetics, for which demand is growing. A market report by Transparency Market Research on the 'Organic Personal Care Products Market' indicated that global demand for organic cosmetic products is expected to grow by a constant 10% from 2012 to 2018.
Consumers are more willing to pay a higher price in the natural cosmetic segment, and so the price of specialty oils, which can be high when compared to commodity oils, is less of an issue. France, Italy, Switzerland and Germany are the primary markets for natural cosmetics.
In the cosmetics industry vegetable oils are used primarily in leave-on products (e.g. creams, lotions and hair conditioners) as a directly added ingredient, rather than rinse-off products (e.g. shampoos or body washes). In the latter category, derivatives of oils (surfactants) are more common, whereas pure oils are used in very small amounts, as they are aqueous formulas. Some derivatives of vegetable oils are used as alternatives to silicones, while others are blended with silicones.
Vegetable oils are used in both skin and hair care for their conditioning and moisturising properties. The cosmetic segment in which the oils are used is dependent on various factors, such as marketing aspects, traditional use and its chemical profile. For example, argan oil has traditionally been used for hair care and has a good potential in this segment, while Pracaxi oil is often used in hair care as it has a very high concentration of behenic acid, which is used in hair conditioners for its smoothing properties. Additionally, vegetable oils with high levels of omega fatty acids are found in anti-aging skin care products in particular.
7 .

What are the end market prices for conditioning oils?
Higher margins for unusual or certified vegetable oils
The price level of vegetable oils is generally dependent on availability, variety, novelty, quality (including fatty acid composition), demand and the exchange rates. Oils at the lower end of the price range are:
Sunflower oil:  € 3 per kg
Flaxseed oil: € 5 per kg
Almond oils: € 20-25 per kg in the summer of 2015 due to low supplies, but prices are expected to drop to under € 20 per kg after the harvest in September
Sea buckthorn oil is a vegetable oil at the high end of the price range, costing € 100 per kg. Some unique new vegetable oils such as prickly pear seed oil fetch even higher prices. This oil cost € 500-700 per kg in 2013, but supplies have increased since then and prices fell to € 200-300 per kg.
A price mark-up applies to certified vegetable oils. The precise size of this mark-up depends on the specific certification, the quality of the oil and the available supply in combination with demand.
Margins may change according to shifts in the popularity of speciality oil. Conditioning vegetable oils are quite trend-sensitive. Margins can drop significantly when there is an oversupply of the oil, if a trend is over or when many producers have entered the market.
Logically, expensive ingredients are used at lower concentrations in finished products than cheaper ingredients (but still at sufficient levels to make the desired product claim). Because very expensive vegetable oils will be used in low percentages, demand for such oils will be lower than for cheaper oils.
The following price breakdown shows which costs and margins are applied to low volume vegetable oils before they reach the end-user.
Figure 4: Price breakdown for vegetable oils for conditioning, mark-ups in %

8 .

Useful sources
Trade fairs
Visiting and participating in trade fairs is one of the most efficient methods for testing market receptivity, obtaining market information and finding prospective business partners. The most important trade fairs in Europe for exporters of vegetable oils for skin conditioning are:
More information