Exporting gum arabic to Europe
Primary tabs
Takes about 25 minutes to read
The European market for acacia gum (also known as gum arabic) continues to grow slowly. Food and drink manufacturers appreciate the unique properties of acacia gum. As an exporter, you can attract European buyers by guaranteeing stable supplies of high-quality acacia gum. Reliability of supplies is the main concern for European food and drink manufacturers. To reduce dependency on traditional suppliers, they are looking for more and different sources of acacia gum.
1 .

Product definition

Acacia gum is the dried exudation (sap from tree trunk) obtained primarily from Acacia senegal (L.), Willdenow var. senegal (known as 'gum arabic', 'hashab' or 'kordofan') and Acacia seyal (common name: 'gum talha').

Commercially, Acacia senegal and Acacia seyal are the two most important sources of acacia gum for Europe. The tree sources of acacia gum grow in the gum belt of Africa, which stretches from Senegal in the west to Somalia in the east.

Acacia gum from Acacia senegal is a pale to orange-brown coloured solid, which breaks with a glassy fracture (see photo below). For this reason it is also known as hard gum, whereas Acacia seyal is known as flaky gum.

Example of acacia gum derived from Acacia senegal:
The gum consists of a mixture of arabinogalactan oligosaccharides, polysaccharides and glycoproteins. Acacia gum is very soluble in water (it dissolves easily) and stabilises combinations of water, oil and other ingredients (emulsions). Flavoured beverages and flavour encapsulation are the main applications of acacia gum.
The following classification is used for acacia gum:
Harmonised System (HS): 130120
E number: E414
Chemical Abstract Service (CAS) registry number ('provides an unambiguous way to identify a chemical substance or molecular structure when there are many possible systematic, generic, proprietary or trivial names'): 9000-01-5
EC number: 232-519-5
Codex Alimentarius: INS number 414.
2 .

Which European markets offer opportunities for exporters of acacia gum?

European traders play a major role in the global acacia gum trade. In 2015, an estimated 80% of global production was imported (and re-exported) by Europe. IMR International estimated the global market for acacia gum for food at 54 thousand tonnes / €171 million (source: The world of food ingredients, issue June 2017).

Particularly the French company Nexira is a very strong player in the global acacia gum trade. Other promising markets include Germany, the United Kingdom (UK) and Italy.
In which European countries can you find the highest demand for acacia gum?
European demand for acacia gum is steadily increasing. In the past five years, demand has increased by an estimated 2.5% annually. Major drivers behind the growth include new product development and substitution of synthetic thickeners.
The countries with the largest food and drink industries are also the largest markets for acacia gum. Acacia gum is widely used for similar applications in different European countries.
In the next five years, demand for acacia gum is expected to continue growing at a similar estimated rate of 2.5% annually. A need for natural thickeners to produce clean labels is the major driver for growth.
In Western Europe, most of the demand for acacia gum from food and drink manufacturers is already being met by existing suppliers and the growth in demand is low. Eastern European markets have more room for growth. Nonetheless, these markets will continue to source most of their acacia gum needs from other European countries.
3 .

Which European countries import the most gum arabic from developing countries?

Europe does not produce any raw acacia gum, as Acacia senegal and Acacia seyal trees do not grow in Europe. All of the demand for acacia gum has to be met by imports.

The French company Nexira dominates the global acacia gum trade. A deep understanding of acacia gum sourcing and a large network of suppliers in various countries of origin enables it to sustain its leading role.

Germany, the United Kingdom and Italy also import considerable amounts of acacia gum. However, they import a lot of acacia gum from other European countries (30-50% of their total imports). Particularly France is an important supplier of acacia gum to Germany, the United Kingdom and Italy.

Sudan dominates the global acacia gum supply, as its gum is of the preferred Senegalese variety and gum collection is widespread and cheap. Nonetheless, other countries in the gum belt, which stretches from Senegal to Somalia, are also potential suppliers. Other major sources are:

In the next five years, imports by France, Germany, the United Kingdom and Italy are expected to increase in line with the increase in demand at 0-5% annually. France and Sudan will continue to dominate trade.

The future importance of Sudan and other countries of origin depends largely on how these countries manage their acacia trees. Over-harvesting can have a strong negative impact on availability and exports of acacia gum.

Arising conflicts may also result in sudden changes in the role of countries as acacia gum suppliers to Europe. For example, conflicts in Sudan (particularly South Sudan), Somalia and Eritrea have led to much lower supplies in the past.
Tips:
If you are based outside Sudan, stress in your promotion that you offer an alternative source of acacia gum. European importers welcome new sources. Currently, they are strongly dependent on Sudan. Sudan presents a high risk for them, as it is a politically unstable country.
Promote the protection of gum trees. For example, ask your association to promote longer-lasting concession rights (rights to collect gum from a certain area). Your association can advise your government on the benefits of longer-lasting concession rights. These encourage concession holders to protect trees and plant new ones.
Prevent over-harvesting and improper wounding of gum trees by applying Good Practices for Gums. Proper tapping can have a positive effect on the long-term productivity of trees.
4 .

What role does export play in supplying European demand?
Between 2012 and 2016, France fortified its position in the European acacia gum trade. Many European food and drink manufacturers prefer to source from French importers, notably Nexira and Alland & Robert. The French importers have an excellent supply network, but also offer value-added products, such as technical advice on applications of acacia gum.
5 .

What trends offer opportunities on the European market for acacia gum?
Consumers looking for natural ingredients
The 'natural' trend is very important on the European food market. Consumers want to buy foods that have been produced under good environmental conditions. They want production process to have minimal impact on the environment. As this is a growing trend, producers are increasingly looking for new natural ingredients to include in their products.
A related trend is clean labelling. Clean labelling refers to the use on consumer product labels of ingredient names which consumers believe to be natural and healthy.
Clean labelling is particularly relevant for acacia gum. The clean labelling trend gives suppliers of natural acacia gum a competitive advantage over suppliers of synthetic thickeners with less appealing names.
Tip:
Promote the natural origin of acacia gum. Tell the story of how your acacia gum is collected in your promotion materials. Make use of photos of acacia trees and collectors.
Consumer demand for ethical products
European consumers are increasingly interested in ethically sourced products. This provides opportunities for exporters that supply fair-trade and sustainably collected gums.
First of all, you need to provide a lot of detailed information to buyers on your production process. European buyers need their supply chain to be transparent, to make sure the ingredients they use in their products are ethically sourced.
For this purpose, they have to cooperate with producers in the countries where they source from. They may ask you to fill in a questionnaire or they may audit your company.
In addition, buyers often stimulate suppliers to improve the sustainability of their business by taking appropriate measures. Suppliers do not necessarily need to be certified accordingly. However, buyers appreciate certificates as proof.
Finally, buyers need your help to develop stories. European consumers are becoming more interested in the story behind the products they use. European manufacturers respond to this need by actively communicating about the ingredients in their products.
They write compelling stories about their products, the production process, origin, local benefits and traditions. They can also include information on measures taken by you to improve the sustainability of your business.
Tips:
Make your acacia gum traceable to the collector by registering all your supplies in your documentation.
Implement a natural resource management system, in cooperation with collectors. This will help you protect the gum trees and their environment. The IN2NI network provides Standard Operating Procedures (SOPs) and WINs (Working Instructions) for resource management and resource use.
Ask your association to prepare a Code of Conduct for the association members. A Code of Conduct sets rules for the association members on fair social conditions (e.g. no child labour) and production conditions (e.g. no mixing with other ingredients unless agreed by the buyer). You can then make documentation about the Code of Conduct available for interested buyers.
See ISO 26000 for guidance on social responsibility.
Making health claims related to acacia gum as a dietary fibre is only possible under certain conditions
European consumers are interested in dietary fibres. These are indigestible parts of acacia gum. European consumers believe they are good for their health.
Acacia gum has potential as a dietary fibre. Several companies have researched the benefits of acacia gum as a dietary fibre. They found relationships between the consumption of acacia gum and an improvement of bowel functions, control of blood cholesterol levels and reduction of calorie intake (search for acacia gum).
Acacia gum suppliers have applied for approval of several health claims related to acacia gum consumption. However, the European Food Safety Authority (EFSA) has not yet approved any of these health claims related to acacia gum or dietary fibres. If companies can provide convincing research to EFSA about the health benefits of acacia gum, then health claims may lead to much higher demand for acacia gum.
Although health claims have not been approved, you can use the nutrition claim 'source of dietary fibre' if a product contains more than 3 g of fibre per 100 g and 'high in fibre' if a product contains more than 6 g of fibre per 100 g. As it is possible to use acacia gum in high concentrations, manufacturers of foods can develop products which comply with requirements for such nutrition claims.
Tips:
Be careful with health claims in your promotion. Do keep track of possibilities to make health claims related to dietary fibre and polysaccharides (the chemical name for the substances that acacia gum is made of). European manufacturers of functional foods are particularly interested in such possibilities.
See the European Union rules on nutrition claims in Regulation (EC) 1924/2006.
See our study about trends on the European market for natural food additives for more market trends.
6 .

What legal and non-legal requirements must acacia gum comply with?

Buyers in the European Union have strict requirements for acacia gum. You will only be able to successfully market your product in Europe if you comply with these requirements. See our study on buyer requirements for natural food additives for a detailed analysis of these requirements. They deal with the following topics:
Food safety – traceability, hygiene and control
Contamination
Adulteration
Classification, labelling and packaging
Substances allowed in the European Union
Extraction solvents
Liability
Food safety certification
Kosher and Halal certification
Documentation
Samples
Payment and delivery terms
Sustainability
Certification of organic production
Quality
Packaging
Labelling
Adulteration
It is important that you have a clear understanding of the requirements listed above. Particularly requirements related to adulteration are important.
Adulteration is a major problem in the acacia gum trade. Particularly gum from Acacia senegal is frequently adulterated with gum from other acacia species. For this reason, European buyers have strict controls in place to detect potential adulterants.
European buyers generally send samples to laboratories to analyse them and these laboratories continuously improve their techniques for the detection of adulterants. If buyers find adulterants in your product, they will not accept it and send it back at your own expense.
If the adulterants pose a risk to food safety, the product may even be destroyed.
Tips:
Only purchase raw materials from suppliers that you can trust. Explain to your suppliers that mixing their materials with other materials is not allowed.
Inform your buyers if you add any substances to your product, for example for preservation. Clearly indicate this in your product documentation.
Product specifications
Gums have many different uses (see the chapter below about market segments) and the suitability of gums for each of these uses depends largely on the product specifications. A thorough understanding of the factors determining your product's specifications is crucial.
This requires that you start with botanical identification to determine the exact source of your gum. For example, in the acacia gum trade, the quality of gum from Acacia seyal trees is generally considered as inferior to gum from Acacia senegal trees.
Quality requirements
If you want to export to Europe, your acacia gum must meet the minimum quality as specified in Regulation 231/2012 of the European Commission. These specifications are based on the specifications of Codex Alimentarius.
The Sudanese Standards and Metrology Organization has also developed a standard for Sudanese acacia gum.
European buyers will generally analyse the composition of your gum to determine whether it is acacia gum from Acacia Senegal or Acacia Seyal.
European buyers generally prefer a light-coloured acacia gum and a minimal odour. If the acacia gum is light in colour and has a minimal odour, it doesn't affect the appearance of the food or drinks they produce. European buyers often prefer to use other ingredients to change colour or odour if necessary.
For European buyers, gums must be 100% natural (i.e. not adulterated through the addition of any chemicals) and 100% pure (i.e. not mixed with any other gums that have similar characteristics). Importers regularly analyse products for adulteration.
Tips:
Prevent contamination by things like sand, stones and undesired plant parts. Train collectors to cut properly, use clean containers, keep storage rooms and equipment clean and clean the gums or resins

if necessary. Refer to the Good Practices for Gums of the Association for International Promotion of Gums (AIPG) for more details.

Minimise quality variation within lots. Follow strict grading and sorting standards for the selection of raw materials. Size and colour are major grading criteria for gum arabic, alongside impurity content

(for example sand and bark) and sourcing area (geographic origin).

Standardise and minimise significant variation in your product quality between lots. Closely monitor collection/harvesting practices through regular inspections and by blending gums from different harvests (for example early and late harvests or from different areas). Always make sure that the quality of the standardised gums (and blends) matches your buyer's requirements.

Sort and purify gum arabic to improve the quality of your product. Use dry steps such as selection, kibbling, sieving and grinding of raw gum to produce a fine powder that can easily dissolve in water.

If you need a higher level of purity, you require additional technology. After dissolution in water, remove insoluble matters (mineral and vegetable) by filtrating and sterilising the gum syrup. Evaporate the water by spray drying.

Be clear towards European buyers about what quality level you can continue to offer over a longer term. Once you develop a quality standard, you must be able to maintain that same level of quality,

also if you increase the size of your production.

Prevent adulteration with cheaper gums to preserve your reputation. If you lose your good reputation, European buyers will stop buying from you.
Labelling requirements
You are obliged to label your acacia gum if you want to export it to Europe. The label on your product helps European buyers and customs authorities to trace the origins of your product. Another reason is to ensure safety during transport and storage.
As an exporter, you should make sure individual batches can be traced back to their origins with markings on each container. Also register in an administrative system whether the batches are produced by blending or not. Use the English language and European measurement units (e.g. kilograms) for labelling, unless your buyer has indicated otherwise.
Your labels must include:
Product name (e.g. acacia gum from Acacia senegal)
Batch number
If the product is destined for use in food products (e.g. food grade)
Place of origin
Your name and address
Date of manufacture
Best before date
Net weight
Recommended storage conditions
If you offer organic certified acacia gum, you should also add the name/code of the inspection body (certifier) and certification number.
Packaging requirements
Acacia gum attracts moisture and requires packaging in waterproof material. Use paper or plastic (polypropylene) bags with a plastic (e.g. polyethylene) lining.
Example of packaged gum arabic derived from Acacia senegal: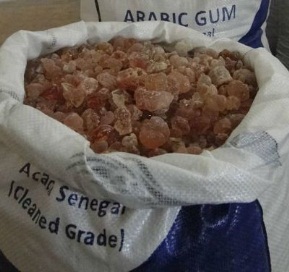 These are some instructions on how to pack your product:
Always consult your buyer for specific packaging requirements.
Enable re-use or recycling of packaging materials by, for example, using bags made of recyclable material (e.g. kraft paper).
Use common bag sizes: 10, 25, 50 kg.
Store bags in a dry, cool place to prevent quality deterioration.
Keep organic certified gums physically separated from conventional gums.
7 .

What competition do you face on the European acacia gum market?
New suppliers are welcome
European importers welcome new sources of acacia gum. They want to reduce the risk of being dependent on a small number of suppliers.
Importers are concerned about the reliability of supply volumes. The supplies from several acacia gum countries of origin are influenced by a volatile political situation (civil wars threaten gum collection) and/or climatological issues. Leading importers are spreading their risks by sourcing from different geographic areas
Tips:
Keep stocks of acacia gum when prices are low. In this way, you can ensure stable supplies when acacia gum is scarce, such as in times of drought.

If you produce gum arabic outside of Sudan, you can promote this as a unique selling point.
Country reputations matter
The collection, cleaning, grading and packaging of acacia gum only requires low-skilled labour. Compared to the production of other hydrocolloids, such as carrageenan, setting up an acacia gum export business requires far fewer human, technological and financial resources. This leads to more rivalry between suppliers of acacia gum.
In some cases, such as Nigeria, the strong rivalry between suppliers causes a race to the bottom. Nigerian supplies of acacia gum often contain different gum varieties and gum qualities. The country's bad reputation with respect to quality consistency is not good for any Nigerian exporter. European importers prefer to source from Sudan, which has a better reputation in terms of quality.
Tips:
Apply strict sorting and grading standards to obtain good prices. The value of acacia gum will decrease sharply if standards are not being met.
Cooperate with other suppliers in your country to establish product standards and a Code of Practice for enforcement of the standards. Improving quality consistency at the sector level benefits all suppliers.
Low risk of substitution by other products
European food and drink manufacturers can't easily replace your acacia gum. It has unique properties and offers functionality that cannot be provided by other ingredients.
Substitutes only become attractive to European manufacturers when your supplies of acacia gum are unreliable.
European manufacturers can't cope very well with shortages or quality inconsistencies, because those have big implications for the quality of the food and drinks they produce. They protect themselves from these risks by keeping stocks of acacia gum and setting very strict quality requirements.
Tips:
Make sure you are a reliable source of gum arabic. Carefully plan collection volumes to meet buyer demand. Apply strict sorting and grading standards.

Organise collectors and provide them with resources (such as knowledge) and incentives to protect the trees or plants from which they collect the gum.

Anticipate changes in availability of gum arabic from your sources and inform buyers to prevent a lack of sufficient volumes.
Big buyers dominate imports
The European trade in acacia gum is very concentrated. A very small number of importers, such as Nexira and CE Roeper, controls most of the market. These importers can also source from other regions if your offer is not attractive.
The average size of suppliers is much smaller than the average size of European buyers and their number is higher.
Fragmentation of supplies puts the small suppliers at a disadvantaged position. If you are one of these small suppliers, you can expect European buyers to leave little room for negotiation about contracts. They can easily choose a different supplier if your offer is not attractive.
Tips:
If you are a small supplier, focus on small buyers. They are mostly companies that focus on import activities and not on processing gum arabic (blending gum arabic with other ingredients).

Form cooperatives and increase your scale to produce large quantities of standardised products and improve your competitive position.

Develop customer services that increase your buyer's dependency on you. For example, buyers appreciate good communication about their orders.
Sudan dominates supplies
Sudan supplies primarily acacia gum from Acacia senegal, while Chad and Nigeria supply a lot of acacia gum from Acacia seyal. For many applications in Europe, manufactures prefer to use Senegal grade from the Kordofan region in Sudan. This grade often performs better in food and drinks made in Europe.
Acacia senegal and Acacia seyal don't only grow in Sudan. However, Sudan has been the most successful in commercialising acacia gum production. The main reasons are the measures implemented by Sudan:
Increase number of gum trees by regeneration
Protect gum trees from destruction and from over-harvesting
Organize efficient collection
Prevent conflicts over collection rights through concession rights.
The emerging suppliers Chad and Mali are having difficulty establishing sustainable supplies. Importers need supply security while many collectors only sell to the highest bidder, whether that is the same company that purchased from them the previous time or another buyer. In Mali, the unstable political situation aggravates sourcing problems.
8 .

Through what channels can you sell acacia gum on the European market?
Which market segments to target?
Figure 5: Major segments and applications for gum arabic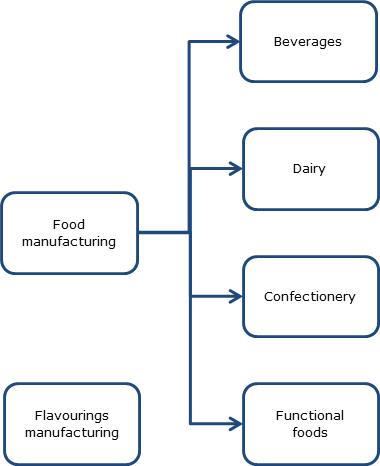 Beverages
Beverages are the main application of acacia gum in the European food industry. Acacia gum stabilises combinations of water, oil and other ingredients (emulsions). Gum from Acacia senegal is the preferred type of acacia gum in beverages, because it is best at stabilising beverages with different ingredients. For example, cola contains acacia gum.
In the beverage industry, acacia gum is also used as a foam stabiliser in beverages such as beer.
Dairy products
The European dairy industry mainly uses acacia gum in frozen desserts. In these applications, acacia gum functions as a stabilising agent. For example, it keeps ice cream soft and creamy before it melts (preventing water crystallisation and the formation of ice crystals). This requires a high water absorption capacity.
Confectionery
Acacia gum has several functions in confectionery. For example, in chewing gum, it binds water. In other confectionery applications (for example liquorice), acacia gum can also serve as a gelling agent or prevent sugar crystallisation. For the coating of confectionery (for example chocolates), manufacturers generally prefer gum from Acacia seyal.
Functional foods
Acacia gum (from Acacia senegal) consists mainly of soluble dietary fibre (85%). It therefore has interesting applications in foods with the nutrition claims 'source of fibre' or 'high in fibre', such as the FibregumTM made by Nexira. As the concentration of acacia gum in applications with these claims will have to be high, users will prefer the cheaper grades such as acacia gum from Acacia seyal.
Functional foods are a relatively new segment for acacia gum. It is still small, but growing. How this segment will develop will depend largely on the future regulatory approval of health claims. If the European Food Safety Authority (EFSA) approves any health claims, the application of acacia gum may increase rapidly (see the chapter about trends in this study).
Flavourings
Manufactures of flavourings for use in food and drinks use acacia gum for encapsulation. Acacia gum forms a hard shell around flavour particles to prevent the penetration of oxidising agents, thereby preventing a loss of flavour.
Tip:
Check books on food additives use, such as the Food Additives Data Book, to find out more about applications of your acacia gum in food and drink products.
Segmentation on price
Price is another criterion for segmenting the European acacia gum market. In the following figure, you can see that prices depend on the type of acacia gum and on value addition by adapting the product to market needs.
Figure 6: Price segments for gum arabic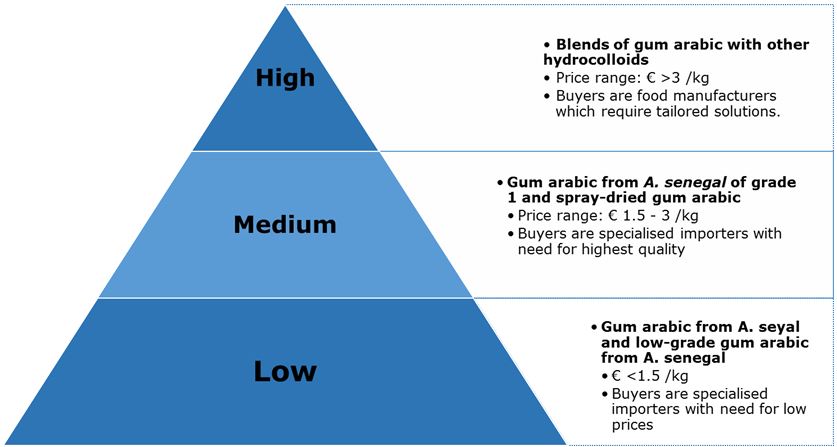 Most European food manufacturers prefer the Acacia senegal variety of acacia gum. The Acacia seyal variety fetches lower prices.
Interest in organic certified acacia gum is small, but growing. European food manufacturers are often requesting organic certified gum without offering a price premium. Nonetheless, some manufacturers offer about 10% more for organic acacia gum.
Tips:
Find out what type of acacia trees grows in your region and price your acacia gum accordingly.
Train collectors to maximise collection of high grades and cut the gum properly.
Apply strict grading standards to benefit from high price premiums for high grades.
Market channels
Figure 7: Channels to export gum arabic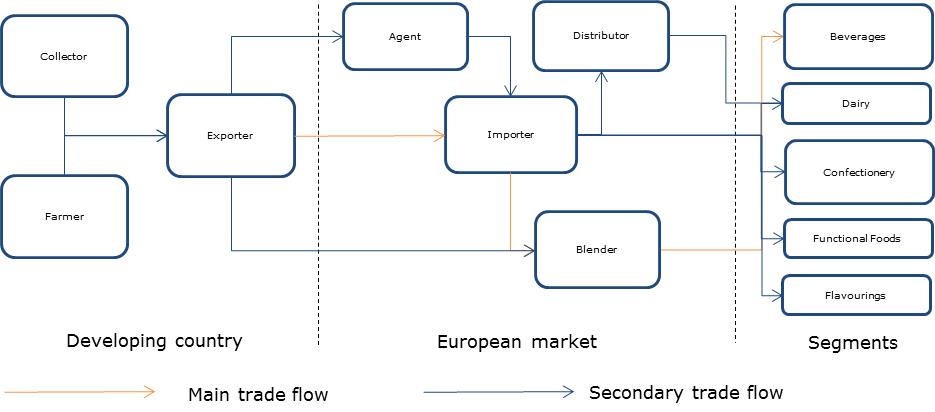 You can supply your acacia gum to a buyer with a focus on importing or to a buyer with a focus on blending. The blenders often buy from large-scale companies in developing countries. They are generally less interested in sourcing from small new suppliers.
Importers show more interest in developing new sources of acacia gum. In case you do not have a strong sales network and few resources for promotion, you can also hire an agent to find buyers for you.
A lot of acacia gum is only cleaned and graded before export to Europe. Most of the value addition through processing takes place in Europe by a small group of importers and blenders. These importers and blenders have complex industrial production systems for dissolving, mixing, multiple filtering, pasteurization and atomization.
In addition, blenders add value by creating tailored solutions for individual food and drink manufacturers. They use their knowledge of the functionalities of acacia gum and other hydrocolloids in various food and drink formulations to advise the manufacturers. For example, they explain how their blend of acacia gum and other ingredients behaves in a certain soft drink to improve its stability. Offering such services from a developing country is not possible.
Established European importers are protective of their market, especially in France. They are generally not interested in value addition in developing countries.
Tips:
Consider establishing a joint venture with a European company if you want to add value to your product by processing it further than only cleaning and grading. Joint ventures can provide access to capital and knowledge needed for processing activities, such as spraydrying.
See our study about the channels and segments on the European market for natural thickeners for more information.
You can use the sales network of agents to find a suitable buyer. You can look for commercial agents on the website of the Federation of German Commercial Agents and Distributors (CDH). However, once you have established a trade relationship through an agent, you can't establish a direct relationship with the buyer anymore. The sales network of the agent is protected by law.
9 .

What are the end market prices for acacia gum?

Sudan dictates global prices for acacia gum. In the past decade, political unrest in Sudan caused strong price fluctuations. The lowest prices for cleaned and spray-dried acacia gum from Acacia senegal amounted to €2,300/tonne. The highest prices amounted to €7,200/tonne.

In early 2016, prices amounted to €2,700/tonne Free On Board (FOB) for Sudanese acacia gum from Acacia senegal. An outbreak of political unrest in Sudan and particularly South Sudan may cause strong price rises in the next five years.

Nigerian acacia gum was quoted at €1,356/tonne Cost Insurance and Freight (CIF) in February 2016. Nigerian supplies of acacia gum have a bad reputation with respect to quality consistency.
Tips:
Ensure that your prices reflect the quality of your product. If you supply the Acacia seyal variety, you cannot compare your price with that of gum from Acacia senegal.
Add value to your acacia gum by cleaning the gum and strict sorting and grading.
The following price breakdown shows what value some of the intermediaries add to acacia gum.
Figure 8: Price breakdown for gum arabic, value addition in %
 

If agents are involved, they typically receive a commission of a few percent (3-4%). However, their actual profit margin strongly depends on volumes sold and gross margin.
Blenders add up to a few hundred percent depending on their activities, such as spray-drying, R&D and blending.
Distributors add up to 60% to the value of the product when the orders are very small (< 50 kg).
Tip:
If you have successfully implemented a strict food safety management system, you can consider spraydrying to add value to your product.
Please review our market information disclaimer.