Exporting organic and Fairtrade cane sugar to Europe
Opportunities for organic and Fairtrade cane sugar are increasing. Consumers are increasingly interested in healthy and natural products. This provides particularly interesting opportunities for organic and ethically sourced products. However, Fairtrade sugar exporters should be aware of increasing competition from European sugar producers due to the decrease in sugar prices following a change in European regulations.
1.

Product description

Cane sugar is made from the extracted juice of sugar cane (Saccharum officinarum L.). Sugar cane grows mostly in warm climates around the world. The main cane sugar producers are Brazil, India and China.

Sugar cane is cut by hand and then delivered to sugar mills. At the mills, the cane is pressed into juice. The sugar cane juice is then evaporated by heating. The remaining product is raw cane sugar. The cane sugar is later refined in sugar refineries through centrifugation.

To market your cane sugar in the European Union as organic, you must implement organic practices according to European Union legislation. An accredited certifier must then audit your facilities. Organic farming practices include use of a crop-rotation system, severely restricted use of chemical pesticides, synthetic fertilisers and antibiotics, and no use of genetically modified organisms (GMOs). Check the website of the European Union for more information on organic farming.

Fairtrade International supports fair pricing and improved social conditions for producers of cane sugar through producer organisations. It pays the farmers an extra premium through these producer organisations. If you want to certify your product as Fairtrade, you will have to comply with the standards of Fairtrade International.

In addition to organic and Fairtrade certification, Bonsucro is a sustainability standard specifically developed for cane sugar. The Bonsucro standard is particularly relevant for sugar supplied to the mainstream market in large quantities. This study focuses on the niche market for Fairtrade and organic cane sugar and provides information on Bonsucro where relevant.

Harmonised System (HS) code: no separate HS code exists for organic and Fairtrade cane sugar. The HS code for refined sugars is HS 1701.91.
2.

What makes Europe an interesting market for organic and Fairtrade cane sugar?
Organic market in Europe is growing
Cane sugar accounts for an estimated 20% of the total European sugar market. Beet sugar accounts for the other 80% of the 17 million tonnes of sugar consumed in Europe annually. Between 2011 and 2015, total consumption of sugar and the share of cane sugar remained relatively stable.
In 2011, global organic cane sugar sales amounted to an estimated 313 thousand tonnes (International Institute for Sustainable Development, 2014).
European consumers are increasingly concerned with the impact of agricultural activities on the environment and are looking for products with a small environmental impact. This trend has benefited the market for products with organic certification.
The organic market in Europe is increasingly becoming mainstream and is highly developed in western European countries such as Germany, France and the UK. The European Union has been actively promoting organic production by developing a single harmonised standard and product logo for application in the entire European Union. Nonetheless, consumer recognition of the EU organic logo remains much lower than recognition of the Fairtrade mark.
Source: European Union, 2013
European retail sales of organic products were valued at €26.2 billion in 2014, which represents the second largest single market for organic products in the world after the United States. The largest European consumer market for organic products is Germany, followed by the United Kingdom and France.
In 2014, European consumers spent about €35.50 on organic food per person per year. Consumers in Switzerland spent the most on organic food (€221 per person per year).
The countries with the largest markets for organic products can be found in Figure 2. According to the International Federation for Organic Agriculture Movements (IFOAM), the organic market in Europe grew by 7.6% between 2013 and 2014. In 2015, the organic food market in Sweden grew by 40%.
Source: International Federation for Organic Agriculture Movements (IFOAM), 2016
The United Kingdom consumes the most Fairtrade cane sugar
In 2014, the European market for Fairtrade cane sugar amounted to around 165 thousand tonnes. This represents roughly 1% of the total European sugar market.
The market for Fairtrade sugar consists of consumers who are concerned about working conditions of producers and local communities. They use their power as consumers to do such things as promote freedom of association and the right to collective bargaining, and to help eliminate forced labour, abolish child labour and eliminate discrimination. 
Currently, Fairtrade International has the most popular certification scheme related to the conditions of producers. In 2013, 60% of the consumers in 17 Fairtrade end-markets recognised the Fairtrade mark and 90% of those consumers trusted it. In the five leading Fairtrade markets, some 90% of consumers recognised the Fairtrade label.
Source: Fairtrade International, 2013
Consumption of Fairtrade sugar and other Fairtrade products is concentrated in north-western Europe. In fact, several eastern European countries still do not have a Fairtrade organisation. These countries include Hungary, Slovenia, Croatia, Romania, Bulgaria and Greece. The Fairtrade organisation in Poland was only formally founded in 2015.
The main consumer market in Europe of Fairtrade cane sugar is the United Kingdom, as is illustrated in Figure 4. In the United Kingdom, one of the largest sugar companies (Tate & Lyle) only sells retail sugar with a Fairtrade certificate. In 2012, over 40% of retail sugar in the United Kingdom carried the Fairtrade label. The Fairtrade sugar competes directly with conventional sugar in this market.
Other important markets for Fairtrade cane sugar are Germany, Switzerland, the Netherlands, Belgium and France. While the United Kingdom, Germany and the Netherlands mainly consume conventional Fairtrade cane sugar, Switzerland and France have a larger market for organic Fairtrade cane sugar.
Source: Fairtrade International, 2016
A drop in global sugar prices can have a negative effect on European sales of Fairtrade cane sugar
Between 2011 and 2014, global sales of Fairtrade cane sugar increased by 13% annually on average to 196 thousand tonnes. However, sales and imports of Fairtrade cane sugar dropped in 2015. In the United Kingdom, Fairtrade cane sugar sales decreased by 36%. The main cause of this drop was the expected end of the quota management of European sugar beet production in 2017.
The end of the quota management has already pushed down prices of white sugar and has made it difficult for imported Fairtrade sugar to compete with cheap European sugar in the mainstream market. The price of white sugar is expected to decrease even more until 2017, after which it is expected to remain relatively stable.
Fairtrade International is concerned about the upcoming sugar reform in the European Union (EU), which is already beginning to affect Fairtrade farmers' sales. Fairtrade International is calling for the EU to support these farmers and for shoppers to continue buying Fairtrade sugar.
Note that European companies remain interested in importing Fairtrade sugar as a niche product. For example, the Italian confectionary manufacturer Ferrero committed to source 20 thousand tonnes of Fairtrade cane sugar between 2016 and 2019.
3.

With which requirements must organic and Fairtrade cane sugar comply to be allowed on the European market?

Buyers in the European Union have strict requirements for honey and sweeteners. You will only be able to successfully market your product in Europe when you comply with these requirements. See our study on buyer requirements for honey and sweeteners for a detailed analysis of these requirements. They deal with the following topics:
food safety – traceability, hygiene and control
pesticide residues
genetically modified organisms (GMOs)
food safety certification
documentation
samples
payment and delivery terms
halal and kosher certification
GMO-free certificates
sustainability and Bonsucro
organic and Fairtrade certification
quality
labelling
packaging.
As this study deals specifically with organic and Fairtrade sugar, you can find a detailed analysis of requirements for organic and Fairtrade certification below.
Organic certification
To market your sugar in the European Union (EU) as 'organic', you need to implement organic farming techniques and have your facilities audited by an accredited certifier. EU Regulation 834/2007 specifies all these requirements.
'Organic by default' does not exist from the perspective of European authorities and buyers. Organic certification entails more than 'naturally grown' and the exclusion of pesticides.
Additionally, new organic legislation will be implemented in Europe in 2017. The objective of this new legislation is to simplify the old organic legislation. However, rules for organic production and testing are expected to become stricter. This could especially be a concern for exporters and producers from developing countries with different meteorological, environmental and structural conditions who try to comply with the rules made for European conditions.
Certification process: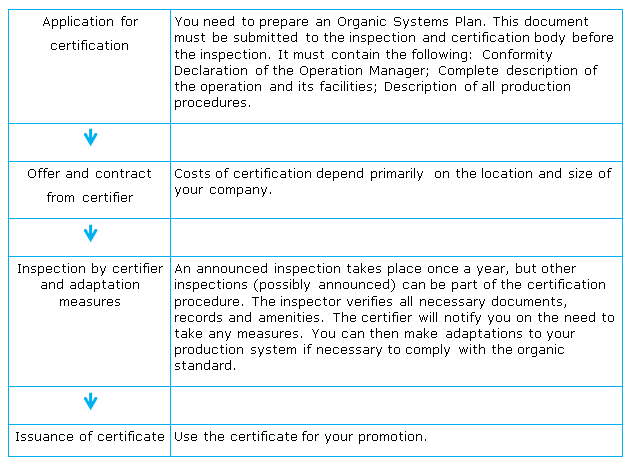 Tips:
Only use a certifier accredited by the European Union. Otherwise, you will risk your certificate not being recognised by European buyers.
For a full overview of certification schemes in the sector you can consult the International Trade Centre's (ITC) Standards Map.
Fairtrade certification
Fairtrade certification requires you to comply with the standards of Fairtrade International. The Fairtrade standard for sugar sets the following requirements:
Sugar cane farmers must be organised in Small Producer Organisations (SPOs).
There must be a traceability system in place.
The agricultural and environmental practices must be sustainable (e.g. integrated pest management (IPM) is used).
Good working conditions for workers must be ensured (e.g. all field workers have clean drinking water).
A Fairtrade Development Plan promoting social and economic development of the SPO members (e.g. defining how the Fairtrade premium will be used) must be in place.
The SPO must provide transparency to members and allow for democratic participation by members (e.g. the SPO signs supply agreements with producers prior to or during the cane harvest and shares information on Fairtrade sales with producers).
Your organisation must be inspected by the certifier FLOCert. FLOcert will issue the Fairtrade certificate.
Quality requirements
Refined cane sugar mainly consists of types of sucrose, fructose and glucose (> 99%). Additionally, the product contains minerals (< 1%), however most of these are taken out during the centrifugation process. Minerals and impurities in sugar account for its 'ash' content.
The international food quality standard for sugar, the Codex Standard for Sugar, gives a list of the main quality factors relevant for refined sugar. The ash content (≤ 0.04%), invert sugar content (≤ 0.04%) and the colour of the sugar (≤ 60 IU) are the most important factors, with IU defined as ICUMSA (International Commission for Uniform Methods of Sugar Analysis) Units.
When raw cane sugar is overheated, it can develop high levels of acrylamide. Acrylamide potentially causes cancer. There are no European legal requirements for the level of acrylamide yet, but the European Union is investigating the need to take legal measures. The German government has stated a maximum healthy value for acrylamide of 1000 μg/kg in all food products. Low levels of acrylamide can be achieved by Best Practice Management such as lower process temperatures and closed production systems.
The quality of raw cane sugar depends largely on the raw material (cane juice). Important parameters for assessing the quality of cane juice are the solids present in the juice ('Brix'), juice sucrose percentage (actual cane sugar present in the juice) and the purity coefficient (percentage of sucrose present in the total solids content of the juice). The cane is ready for harvesting when it has attained a minimum of 16% sucrose and 85% purity. The purity percentage can be calculated with help of the HR Brix level (as specified above) and the percentage (%) of sucrose in the cane: Purity Percentage = (Sucrose % / Brix level) * 100.
Labelling requirements
Ensure that you are able to track the individual batches of your product. For bulk products, you should use English for labelling unless your buyer has indicated otherwise. Focus on:
product name
batch code
whether the product is destined for use in food products
name and address of exporter
best before date
net weight in metric units
recommended storage conditions
organic and/or Fairtrade certification, i.e. provide the name/code of the inspection body and certification number.
Packaging requirements
Cane sugar is packed in Kraft paper bags or polypropylene (PP) bags with a polyethylene (PE) inner bag. These materials provide protection from moisture and contamination. This is necessary as sugar attracts moisture. Buyers might have specific packaging requirements as well.
An example of polypropylene bags for bulk packaging (1000 kg):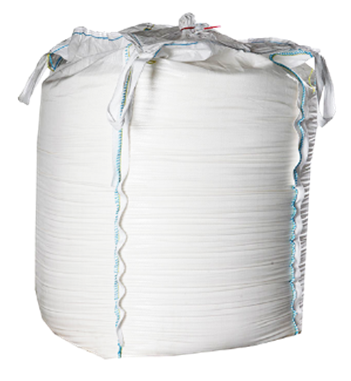 Source: Royal Sugar
Tips:
Harvest cane at peak maturity. The cane should be properly cleaned and any contaminants such as leaves and roots should be removed. The harvested cane must be quickly transported to the processing plant or factory.
Prevent contamination by foreign materials (including other types of sugar which will be perceived as adulterants) to preserve your reputation.
Keep tools and facilities clean to prevent contamination and degradation of quality.
Protect the cargo from moisture during loading and avoid mould by ensuring appropriate temperature, humidity/moisture and ventilation conditions during transport.
Protect the cargo from pests such as beetles and moths.
4.

What competition will I be facing on the European organic and Fairtrade cane sugar market?
Belize, Fiji and Paraguay are the main suppliers in the EU Fairtrade and organic sugar market
Sugar cane is not cultivated on the European continent and only to a small extent in overseas territories. As a result, Europe does not provide any direct competition in the markets for organic or Fairtrade cane sugar.
However, Europe does produce organic beet sugar. In 2014, Europe's total area of organic agriculture was estimated at 11,625,001 hectares. Europe's area of organically grown root crops, such as beet sugar and potatoes, was estimated at 41,676 hectares. European organic beet sugar competes with organic cane sugar.
Paraguay is the leading producer of organic cane sugar and about 60% of Paraguay's cane sugar is organic. In 2014, Paraguay opened the first producer-owned Fairtrade and organic sugar mill.  
Belize and Fiji are the main producers of Fairtrade cane sugar. Other producing countries are Brazil, Costa Rica, India, Mauritius, Paraguay, Peru and Zambia. Some 80% of Fairtrade cane sugar producers are from the African, Caribbean and Pacific (ACP) region and less developed countries (LDCs).
Competition with Bonsucro cane sugar
Organic and Fairtrade cane sugar also compete with Bonsucro sugar. The global production area for Bonsucro sugarcane amounted to more than 1 million hectares in 2016. Bonsucro sugar production amounted to 4.4 million tonnes and accounted for 2.8% of total sugar production worldwide.
Issues covered by the Bonsucro standard include respect of human rights and labour standards, active management of biodiversity and ecosystem services, and commitment to continuous improvement of key areas in the business. Compared to the Fairtrade standard, the Bonsucro standard is somewhat less strict. Compared to the organic standard, Bonsucro has a similar amount of environmental requirements. The ITC Standards Map provides a detailed analysis of the differences between the standards.
Certification of compliance with the Bonsucro standard is particularly relevant when the sugar is supplied to the mainstream market in large quantities. If you are targeting specific segments of the market with an interest in sustainability, organic and Fairtrade certification is more interesting.
Competition with conventional sugar
As mentioned in the section on market opportunities, conventional (white) sugar produced in Europe is a major competitor of Fairtrade cane sugar in the European market. There is a large gap between the prices for Fairtrade and conventional sugar. In the market for mainstream products, consumers are price-sensitive and easily switch to conventional sugar when the price gap becomes very big.
Nonetheless, Fairtrade and/or organic certification adds extra value to your product and distinguishes your product from that of the competition. This will help you to avoid direct competition on price. Of course you will have to assess carefully if the costs of certification weigh up to the benefits of having access to the Fairtrade market segment.
Competition with other specialty sugars and sweeteners
The competition for organic and Fairtrade sugar producers also comes from producers of other organic and Fairtrade specialty sugars such as organic and Fairtrade palm sugar. While cane sugar is priced much lower than palm sugar, palm sugar benefits from a low glycaemic index (GI). The low GI makes palm sugar particularly interesting for diabetics.
Additionally, organic and Fairtrade cane sugar compete with other natural sweeteners such as agave syrup, mesquite, monk fruit sugar, yacón and lucuma. These sweeteners are increasingly being used to replace sugar because they are perceived as being healthier and more natural.
Tips:
Do not attempt to compete on price with conventional sugars as price competition in this market is strong and large companies dominate the market.
If you supply raw cane sugar, position your product in the niche market for ethnic foods and drinks.
Promote the organic and Fairtrade properties of your sugar in order to compete with conventional sweeteners.
Discuss with your buyer whether it will benefit you to certify your cane sugar.  
See the sugar market situation report of the European Commission for more information on where your competitors come from.
See our study on competition in the European honey and sweeteners market for more information.  
5.

Which channels can you use to put organic and Fairtrade cane sugar on the European market?

Market segments

Organic and Fairtrade cane sugar is used in two main food segments:
The largest market segment for organic and Fairtrade cane sugar is the consumer market. This segment requires retail packed raw cane sugar in granules or cubes of high quality. For an example of cubes, see the Fairtrade Demerara Rough Cut Sugar Cubes of Tate & Lyle.
Additionally, there is a small market segment in the food industry that uses organic and Fairtrade cane sugar in products, specifically promoting its niche properties. For example, the Handmade Chocolate Cookies of the Dutch retailer Albert Heijn.
Tips:
Focus your promotion efforts on importers that supply directly to consumers.
Look into the opportunity of supplying various product types such as granular sugar, cubes and flavoured mixes.
Study the best and most attractive packaging and labelling options.  
Market channels
Figure 5: Major market channels for organic and Fairtrade cane sugar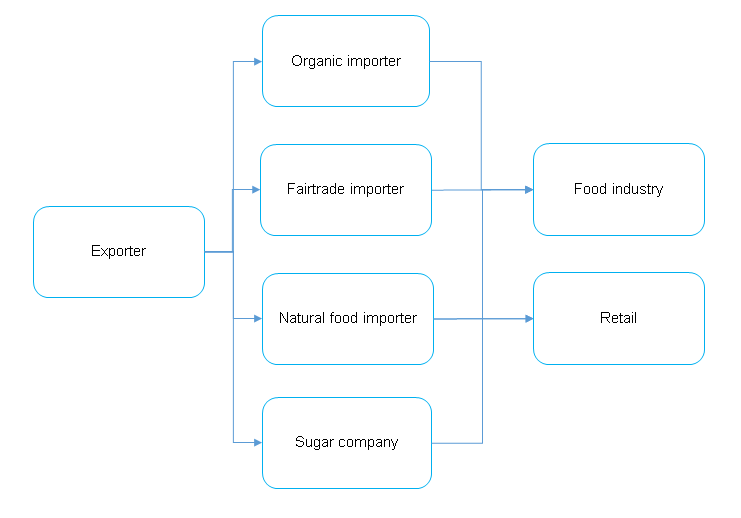 In most European countries, organic and Fairtrade cane sugar is traded by specialized traders who focus on niche products such as Fairtrade, organic and natural. Some examples of specialised importers are:
In the United Kingdom, the sugar company Tate & Lyle accounts for most Fairtrade sugar imports. Unlike the specialised importers, Tate & Lyle competes in the mainstream sugar market.
The importers in Europe add value to the sugar by packing it and supplying retailers and, to a lesser extent, the food industry. The importers have the required certificates, packaging capabilities and logistical capabilities.
Many large retailers require their suppliers to have food safety certification such as from BRC (British Retail Consortium) Global Standards or International Featured Standards (IFS). These are more advanced food safety management systems than ISO22000 with wide international recognition. Implementation of measures to comply with corresponding certification requirements can cost hundreds of thousands of euros.
In addition, retailers require small and frequent deliveries, and suppliers need to be able to accept returned products when a food safety issue is identified.
Tips:
Link up with sector associations and join cooperatives to increase volumes, benefit from economies of scale and access bigger buyers.
Do not focus on supplying directly to food manufacturers. Food manufacturers prefer to purchase from importers and focus their activities on the development, manufacturing and marketing of foods.
See our study on market channels and segments for honey and sweeteners for more information.
6.

What are the end-market prices for organic and Fairtrade cane sugar?

Organic and Fairtrade cane sugar has a retail price of around €3 per kilogram ranging from € 1.22 to € 6.60 per kg as you can see in Table 1. To compare, retail prices for conventional refined sugar are around € 0.70 per kg.

Fairtrade International has not set a minimum price for Fairtrade cane sugar. However, producers can benefit from a price premium. The premium for Fairtrade producers of conventional raw cane sugar is USD 0.06 per kg. The premium for Fairtrade and organic raw cane sugar is USD 0.08 per kg. This premium is paid to the premium fund of the Small Producer Organisation (SPO) and has to be used to the benefit of its members.

Table 1: Examples of end-market prices in European countries
Brand and details

Retailer or web shop

Price and packaging size

Price per kilogram

Sainsbury's Fairtrade Cane Sugar SO (organic and Fairtrade)

Sainsbury's, the United Kingdom

€1.44 / 500 grams

€2.88 / kg

Tate & Lyle Fairtrade Granulated Sugar (Fairtrade)

Amazone.co.uk, the United Kingdom

€1.22 / 500 grams

€2.44 / kg

Ekoplaza rietsuiker (organic)

Ekoplaza, the Netherlands

€3.19 / 1 kg

€3.19 / kg

Jumbo Biologische Fairtrade rietsuiker (organic and Fairtrade)

Jumbo, the Netherlands

€1.19 / 500 grams

€2.38 / kg

REWE BIO Voll-Rohrzucker (organic)

REWE, Germany

€2.49 / 500 grams

€4.98 / kg

Bio Max Havelaar Rohrzucker (organic and Fairtrade)

Migros, Switzerland

€2.20 / 600 grams

€3.67 / kg

Sucre blond de canne en poudre fine (organic)

Café Michel, France

€4.95 / 750 grams

€6.60 / kg

SPAR Natur*pur Bio-Rohrzucker (organic)

Spar, Austria

€1.79 / 500 grams

€3.58 / kg

Rörsocker strö (Fairtrade)

 

Coop, Sweden

€1.77 / 500 grams

€3.53 / kg
Price breakdown for Fairtrade and organic cane sugar (in consumer bags or cubes/blocks)
1. Raw material sugar cane: 5%
2. Processing, packaging and export: 25%
3. Shipment: 5%
4. Import, packaging and distribution to wholesalers: 30%
6. Retail: 30%
7. Value Added Tax: 5%
Keep in mind that the price breakdown for your product depends on your specific situation and may differ significantly.
Tips:
For more information on the world prices for conventional sugar, check the International Sugar Organization.
Reduce fluctuations in prices of your raw materials through agreements with your suppliers. Build in price flexibility, but also set minimum and maximum prices for the raw materials. Long-term, mutually beneficial agreements can help to prevent large price fluctuations.
Focus on cost reduction to become price competitive. Costs of your raw cane sugar production depend to a large extent on the quality of your raw material (cane juice). See the section on product specifications for information on quality of cane juice.
Please review our market information disclaimer.