Exporting blankets to Europe
Primary tabs
Takes about 18 minutes to read
Blankets are a big product group in the European market, offering opportunities to exporters in developing countries. Developing country exporters can benefit from targeting the higher segments of the market where product differentiation is a real possibility. Paying attention to the main trends can lead to success in entering the market for blankets. Focus on sustainable materials, traditional designs and personalised products that can make your blankets stand out from others.
1 .

Product description

A blanket is a piece of cloth designed to provide warmth and moisture absorption to the user, in particular during sleeping. However, this type of bedding is also used for decorative purposes. Blankets are divided into different categories, depending on their construction, thickness and material:
Traditional blanket – predominantly made of wool due to the fabric's warmth.
Quilt - a type of blanket, pieced together with many pieces of cloth.
Duvet - a soft flat bag filled with feathers, wool or a synthetic alternative and protected by a removable cover.
Comforter - a type of blanket filled with natural or synthetic insulating material and encased in a covering.
Classification of blankets:
Harmonised System (HS) Within Europe, the following HS codes are used as indicators for the trade in blankets and travelling rugs:
- 6301.2000: blankets (other than electric blankets) and travelling rugs, made of wool or of fine animal hair
- 6301.3000: blankets (other than electric blankets) and travelling rugs, made of cotton
- 6301.4000: blankets (other than electric blankets) and travelling rugs, made of synthetic fibres
- 6301.9000: other blankets and travelling rugs
Prodcom: the following prodcom codes are used to indicate European production of blankets and travelling rugs:
- 1392.1130: blankets and travelling rugs made of wool or fine animal hair (excluding electric blankets)
- 1392.1150: blankets and travelling rugs made of synthetic fibres (excluding electric blankets)
- 1392.1190: blankets (excluding electric blankets) and travelling rugs made of other textile materials (excluding wool or fine animal hair and synthetic fibres)
Quality:
Functionality: Blankets are commonly used as a covering to provide warmth, but this is only one of many functions. Blankets can be used, for example, to spread on the ground for picnics, as well as a decorative article on a bed or a couch or as comfort objects for children.
Raw material quality: Traditionally, blankets are made of wool due to its warmth and its ability to absorb moisture. Nowadays, different raw materials are used for their construction such as wool, cotton and synthetic fibres, such as polyester. Examples of high-end raw materials for blankets are silk, mohair, alpaca, cashmere and (less well known) yak wool. These are all animal fibres.
Size: Blanket sizes vary depending on bed dimensions. In accordance with European bed measurements, blankets are manufactured in the following sizes:
- 150 x 210cm (single bed)
- 200 x 200cm (double bed)
- 240 x220cm (king bed)
- 260 x 220cm (super king bed)
Other sizes are also available, depending on which European country you are supplying with blankets. For example, blanket sizes differ between Germany, the and the rest of . It is important to know the sizes before attempting . While in the early stages of collaboration, it is a good idea to communicate to your potential European buyer the sizes you are able to produce.
Design: Blankets can be classified into different types according to their thickness, texture and elasticity. They come in a wide variety of colours and patterns, depending on their functionality.
Labelling:
Labels for transport should include information on the producer, consignee, composition of the product and the size of the product, number of pieces, box identification and total number of boxes, net and gross weight.
The most important information on the product or on the packing labels for blankets is: composition, size, origin and care labelling. For more information and illustrations of product labelling, please refer to 'Labelling-specific rules for textiles' under 'Legal requirements'.
Packing and Packaging:
When shipping your product to a client, the blankets should be packed according to your buyers' instructions. Packaging usually consists of plastic wrapping to protect the blankets from water, solar radiation and staining. The packaging should be easily manageable in terms of size and weight. Standards are often related to labour regulations at the point of destination and will have to be specified by the buyer.
Blankets are usually displayed unpacked, making attractive consumer packaging of minor importance. In general, consumer packaging can be simple in design, but needs to be protective. However, when supplying the mid-high or high-end segment, it is common to have consumer packaging. This packaging should match the design, quality, story and price of the product sold. However, the exporter will not always be responsible for attractive consumer packaging.
2 .

Which European markets offer opportunities for exporters of blankets?

European imports of blankets have grown strongly after a dip in 2012. Developing countries are Europe's main blanket suppliers. Europe's main importers of blankets are:
Germany
France
The United Kingdom
Especially Germany and the United Kingdom are interesting focus countries, with a strong market for developing countries.
Imports
After a dip in 2012, European imports of blankets have recovered strongly. They reached € 707 million in 2015. This resulted in an average annual growth rate of 6.4% between 2011 and 2015.
In the coming years, European imports are expected to keep growing moderately.
Developing countries are Europe's main source of blankets. They supply 65% of European imports. This amounted to € 460 million in 2015. This share is predicted to be stable in the coming years.
Germany is Europe's leading importer of blankets, with € 143 million in 2015. France and the United Kingdom follow with € 82 million and € 80 million respectively.
Germany is also leading when it comes to imports from developing countries, with € 106 million. The United Kingdom follows with € 65 million.
Imports from developing countries grew strongly between 2011 and 2015. Especially in the United Kingdom, with € 21 million respectively.
China dominates European blanket imports, with 58% in 2015. Another leading supplier from developing countries is India.
Tips:
Focus on Germany and the United Kingdom. Their large imports from developing countries make them especially interesting markets.
Compare your products and company to the strong competition from China and India. You can use ITC Trademap to find exporters per country. You can compare:
- market segment
- price
- quality
- target countries
European blanket exports consist mainly of trade within Europe and with developed countries.
Germany (€ 63 million) and Spain (€ 42 million) are Europe's leading blanket exporters.
Production and consumption
Europe's demand for blankets is more than double its production. This drives the need for imports, making Europe an interesting market for blankets.
European blanket production fluctuated significantly between 2010 (€ 286 million) and 2014 (€ 260 million). This lower value is mainly caused by a decrease of 17.5% in 2014.
In the same period, European blanket consumption was fairly stable around € 575 million.
With € 51 million, Germany is responsible for 20% of European blanket production. Spain and Italy follow with € 34 million and € 33 million respectively.
European blanket consumption is also highest in Germany, at € 132 million. The United Kingdom follows with € 75 million.
Private consumption expenditure is an important indicator for the European home textiles market. The sector is closely linked to economic conditions. When money is tight, consumers postpone buying non-essential items until they have enough disposable income.
Between 2015 and 2017, European private consumption expenditure is expected to increase. This means that consumption of luxury and decorative products is likely to rise. Especially in emerging markets, consumers will have more money available to spend on these products. Consumers in mature markets already spend a fair amount of money on luxury, so growth in their consumption will be moderate.
3 .

What trends offer opportunities on the European market for blankets?
Sustainability
Consumers and designers shift their preferences towards more sustainable choices. On the one hand, consumers increasingly want to avoid a negative environmental impact as a result of their consumption. On the other hand, producers focus on minimising the impact of their production on the environment. Increasingly, there is a shift to sustainable raw materials, such as organic cotton, wool and bamboo, for the production of blankets.
Tip:
Consider sourcing sustainably produced textiles for your blankets, especially when you are targeting the high-end and middle-high segment of the market.
Traditional design
Traditional craftsmanship and ethnic designs are very popular trends in the European market for blankets. Consumers are impressed by the story behind the product, which adds to the blanket's uniqueness. A successful example that demonstrates the influence of tradition on consumers is the Basotho blanket. Unique to the Kingdom of Lesotho, Basotho blankets remain linked to traditional moments of family life, such as weddings.
Tip:
Promote the traditional production method of your culture, which gives the product a story. Make sure that it comes across clearly to the consumer, perhaps by including a card in the blanket's packaging, describing the product's unique story.
Personalisation
The trend towards personalisation is on the rise this year. The blanket can play an important role as a decorative article, transforming the style and atmosphere of a room. Blankets that are custom-embroidered with words or phrases and a personalised photo are examples that are very successful in the European market.
Tip:
Consider offering diverse and original options to your consumers, avoiding the 'one size fits all' tendency, especially if you are supplying the high and middle-high ends of the market.
Please refer to CBI Trends for Home Decoration & Textiles for more information on general trends in home textiles.
4 .

What requirements should blankets comply with in order to be allowed on the European market?

Figure 6: Buyer requirements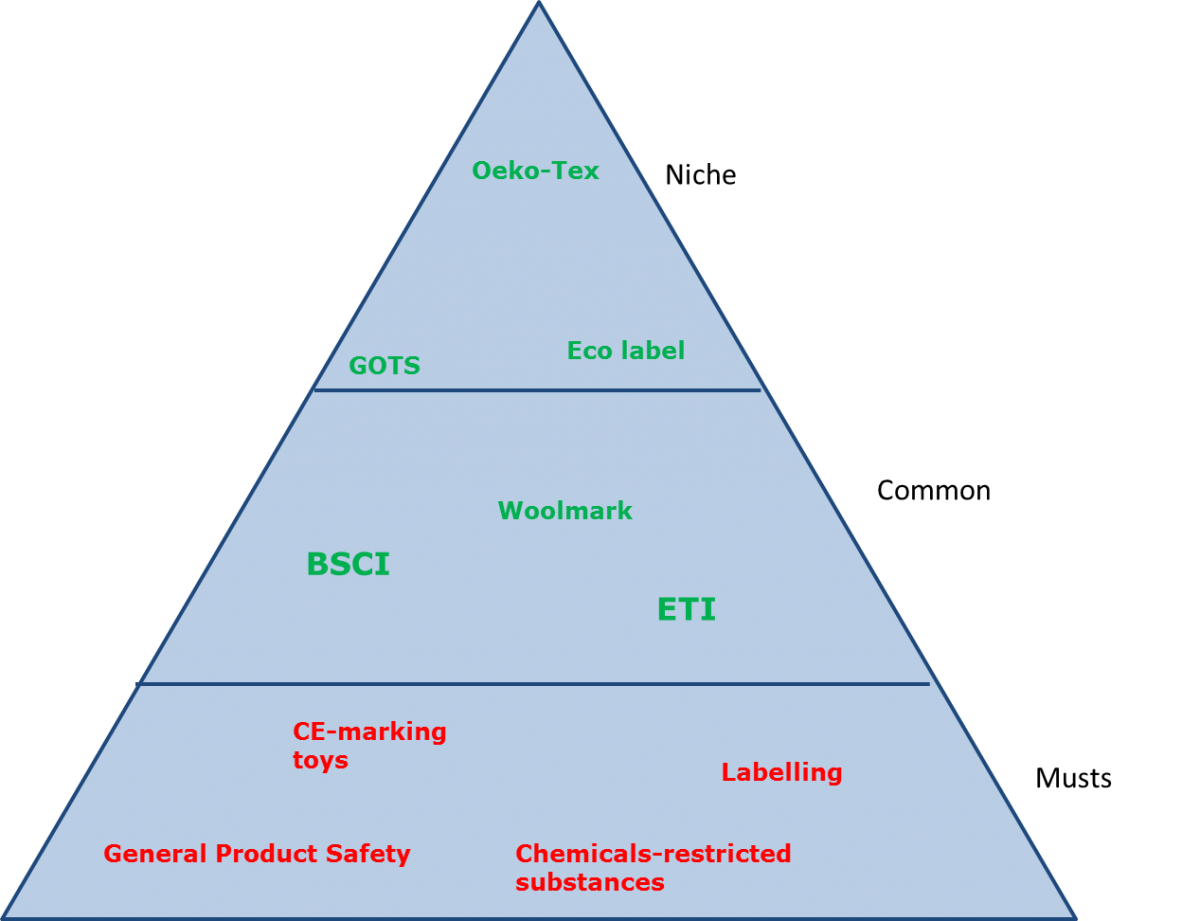 5 .

Legal requirements

General Product Safety: The General Product Safety Directive (GPSD) states that all products marketed in the European Union must be safe to use. It also forms a framework for all legislation established for specific products and issues. If no specific legal requirements have been established for your product and its uses, the General Product Safety Directive still applies. If there are specific requirements applicable to blankets, the General Product Safety Directive applies in addition, covering all other safety aspects that may not have been described exclusively in the product's specific legal requirements.
Tip:
Study the specific legal requirements listed to ensure the product does not cause any danger in its normal use. Most buyers will require proof from the developing country exporter by compliance to legal requirements and most large retailers have their Codes of Conduct. You can read more about the General Product Safety Directive in the EU Export Helpdesk.
Chemicals - Restricted Substances: The European Union has restricted a great number of chemicals in products that are marketed in the European Union. These are listed in the REACH regulation. If you dye your blankets, make sure you do not use any of the azo dyes that release any of the 22 aromatic amines that are prohibited. The European Union's legislation lists the aromatic amines, not the azo dyes that release them. The vast majority of azo dyes are, therefore, legally acceptable.
Especially for professional use, for example in the hospitality sector, blankets need to be fireproof. However, several flame-retardants have been restricted by the European Union. The flame-retardants which have been restricted include Tris (2.3 dibromopropyl) phosphate (TRIS); Tris (aziridinyl) phosphineoxide (TEPA) and Polybromobiphenyles (PBB) have been prohibited in products intended to come into contact with the skin.
Tips:
In the case of dyeing: Make sure your products do not contain any of the azo dyes that release the forbidden aromatic amines. This includes checking your suppliers.
Follow any new developments in the field of flame-retardants, as new alternatives are being developed. You can do so for instance through the European Flame Retardants Association (EFRA). The addition of other flame-retardants and proofing agents is only permitted for products that are intended for use in commercial buildings where they are subject to and fulfil the appropriate fire protection regulations. Familiarise yourself with the full list of restricted substances in products marketed in the European Union by checking out restricted chemicals in textile products in the EU Export Helpdesk.
Labelling - specific rules for textiles: Textiles should be labelled or marked, indicating their fibre composition. Textile labels should be durable and tear resistant, easily legible, visible and accessible. The main purpose of the European Union's Textile Regulation is to ensure that consumers, when purchasing textile products, are given an accurate indication of their fibre composition.
There is no European Union-wide legislation on the use of symbols for washing instructions and other care aspects of textile articles, despite the importance given to that information by European consumers. You are advised, therefore, to follow ISO standards in this matter.
Tips:
Know your own product and study the labelling rules of the European Union to find out how it should be labelled in the European Union. For example, if you use a cotton name, trademark, or other term that implies the presence of a type of cotton, the generic fibre name "cotton" must be used. Find out more about textile labelling rules in the EU Export Helpdesk.
You are advised to follow ISO 3758: 2012 on care labelling code using symbols for textiles.
6 .

Additional requirements

Social performance: Companies can differentiate themselves by introducing sustainability into their business practices. The means of offering sustainable products are numerous, ranging from recycling to certification and use of labels. Three retail initiatives have gained quite some ground especially in West-European countries:

The Business Social Compliance Initiative (BSCI) has been developed by European retailers to improve social conditions in sourcing countries. Suppliers to BSCI participants are expected to comply with the BSCI Code of Conduct. To prove compliance, your production process will be audited at the request of the importer. Once a company has been audited, it will be included in a database that can be used by all BSCI participants.

The Ethical Trading Initiative (ETI) is an alliance of companies, trade unions and voluntary organisations working in partnership to improve the working lives, across the globe, of people who make or grow consumer goods.

The Woolmark brand provides consumers with guaranteed fibre content and an assurance of quality. Companies that become Woolmark licensees can use the logo on their products as an independent quality endorsement, thereby providing licensees with differentiation within the marketplace.
Tips:
Since more and more European importers participate in BSCI and ETI, complying with the BSCI and ETI codes of conduct is currently seen as a basic requirement.
Consider obtaining a Woolmark licence for your company, since it is highly valued across the world. Becoming a Woolmark licensee will increase your business, by taking advantage of increased consumer awareness.
7 .

Niche requirements

While sustainability is gaining ground, the actual use of certification is still not widespread in this sector. Nevertheless, there are several eco- labels used for textiles, including blankets. As this is a means of showing sustainability, there is an increasing interest from buyers. The Woolmark brand provides consumers with guaranteed fibre content and an assurance of quality. The Global Organic Textile Standard (GOTS) is a textile-processing standard for organic fibres; OEKO-TEX stands for no use of hazardous chemicals; and the European Union's Ecolabel also looks at environmentally friendly chemical options.
Tips:
Check the possibility of sourcing organic cotton for your baby blankets. Textile products that contain a minimum of 70% organic fibres can become GOTS certified.
Consider the Oeko-Tex® Standard 100 for your product since it is the world's leading eco-label for testing textiles for harmful substances and is quite popular among European producers.
Consider the Ecolabel for your product. The label is awarded only to products with the lowest environmental impact in a product range.
For a complete overview of certifications for textiles please turn to ITC's Standards Map
What competition do I face on the European blankets market?
Please refer to CBI Home Textile Field of Competition, as the competitive field for blankets does not differ significantly from this general overview for home textiles.
8 .

Through which channels can you get blankets on the European market?

Please refer to CBI Home Textile Channels and Segments for a general overview of market segments, as market segments for blankets do not differ significantly from this general overview.

In the low-end segment, simple and cheap blankets are common. In the middle segment blankets are manufactured using sustainable raw materials, such as organic wool. In the high-end segment designer's quality is common and private labels are the standard.
9 .

What are the end market prices for blankets?

There is a very wide price range within the European market for blankets. Blanket retail prices can vary from €10 to €200 or more. The prices vary based on the size, fabric and composition of the product, as well as on the brand of the blanket.

Table 1: Indicative consumer prices of blankets
| | | | |
| --- | --- | --- | --- |
| Low end | Middle-low end | Middle-high end | High end Blankets |
| €10-€30 | €65-€130 | €130-€200 | €200 or more |
Tip:
Focus on the middle-high segment is recommended, if one can offer some added value, or on the middle-low end if one offers mechanised production.
Figure 7: Indicative price markups
Source: ProFound (2014)
*VAT percentages in Europe range from 18% in Malta to 27% in Sweden. On average these percentages are around 20%.
Your products will be sold to European consumers at a price that is significantly higher than your selling price. The consumer price is approximately 4-6.5 times the FOB price in the country of origin. Besides energy, labour and transport costs, FOB prices depend heavily on the availability and cost of raw materials. Between May of 2015 and 2016, the average prices of cotton, for instance, fluctuated about every three months. In total, they noted a moderate decrease of about 5%. Incidental hikes in the price of raw materials are not directly passed on to the consumer, but do exert pressure on exporters, importers and retailers' margins.
10 .

Useful sources
Trade fairs
Visiting, and especially participating in, trade fairs is highly recommended as one of the most efficient methods for testing market receptivity, obtaining market information and finding prospective business partners. The most relevant trade fairs in Europe for exporters of blankets are: