Exporting baby blankets to Europe
Primary tabs
Takes about 16 minutes to read
Although birth rates in Europe are decreasing, the European market for baby blankets remains a large and interesting market for exporters in developing countries. Germany, the United Kingdom and Poland are especially interesting focus countries. In order to succeed, exporters should keep three increasingly important trends in mind: sustainability, durability and personalisation.
1 .

Product description

A baby blanket is a soft, lightweight blanket used to cover a baby. The blankets are designed to cover a baby securely for warmth, as a covering for nursing, as a secure place to lay a baby down for a nap or as a sense of security for the baby through swaddling. Baby blankets can be made of cotton or synthetic materials. They can also be quilts, which are blankets composed of 2 or more layers with several pieces of cloth patched together.
Classification of baby blankets:
Harmonised System (HS): Within Europe, the following HS codes are used as indications for trade in blankets and travelling rugs:
- 6301.2000: blankets (other than electric blankets) and travelling rugs, of wool or of fine animal hair
- 6301.3000: blankets (other than electric blankets) and travelling rugs, of cotton
- 6301.4000: blankets (other than electric blankets) and travelling rugs, of synthetic fibres
- 6301.9000: other blankets and travelling rugs
Prodcom: the following prodcom codes are used to indicate European production of blankets and travelling rugs:
- 1392.1130: blankets and travelling rugs of wool or fine animal hair (excluding electric blankets)
- 1392.1150: blankets and travelling rugs of synthetic fibres (excluding electric blankets)
- 1392.1190: blankets (excluding electric blankets) and travelling rugs of other textile materials (excluding wool or fine animal hair and synthetic fibres)
Quality:
Functionality: In many cases, keeping the baby warm is only one of the primary purposes of a baby blanket. They can also be used as a covering for nursing or swaddling. A good baby blanket is made of breathable fabrics that do not overheat the baby.
Raw material quality: A baby blanket is usually made of breathable and soft cotton or synthetic materials such as flannel, fleece or acrylic yarn. Other materials that can be used are wool, cashmere, bamboo, silk and blends. Baby blankets can be both handmade and machine made.
Durability: Baby blankets should be easy to clean in a washing machine. The product should not shrink and its colours should not fade due to cleaning and drying.
Design: Bold and fun colours with subtle accents are usually chosen as baby blanket colours. In terms of techniques, baby blankets are often woven, knitted or crocheted. Common sizes for the different types of baby blankets are:
- Swaddle blanket: 70cm x 70cm
- Receiving blanket: 75cm x 75cm
- Knit throw: 90cm x 110cm
- Crib quilt: 115cm x 85cm
Other sizes are also possible; it is therefore wise to communicate your size (range) to potential European importers during the early stages of collaboration.
Labelling:
Labels for transport should include information about the producer, consignee, composition and size, number of pieces, box identification and total number of boxes, net and gross weight.
The most important information on the product or packing labels of baby blankets is: composition, size, origin and care labelling. For more information and illustrations of product labelling please refer to the labelling-specific rules for textiles under buyer requirements.
Packaging:
When shipping your product to a client, the baby blankets should be packed according to the instructions of your buyer. These instructions usually consist of plastic wrapping to protect the blanket from water, solar radiation and staining. The packaging should be . Standards are often related to labour regulations at the point of destination and will have to be specified by the buyer. Cartons are usually palletised for air or sea transport and exporters are requested to maximise pallet space.
Baby blankets are usually displayed unpacked, thus making attractive consumer packaging of minor importance. In general, consumer packaging can be simple in design, for example a simple paper or plastic wrapping. When supplying the mid-high or high-end segment, it is common to have consumer packaging. This packaging should match the design, quality, story and price of the product sold. However, the exporter will not always be responsible for attractive consumer packaging.
2 .

Which European markets offer opportunities for exporters of baby blankets?

European imports of baby blankets have grown strongly after a dip in 2012. Developing countries are Europe's main baby blanket suppliers. Europe's main importers of baby blankets are:
Germany
France
The United Kingdom
Especially Germany and the United Kingdom are interesting focus countries, with a strong market for Developing countries. Poland is also promising, with its strong increase in private consumption expenditure and a high birth rate.
(!) The following data only give an indication of trade in baby blankets. No specific trade data are available. The figures below cover blankets in general.
Imports
After a dip in 2012, European imports of baby blankets have recovered strongly. They reached € 707 million in 2015. This resulted in an average annual growth rate of 6.4% between 2011 and 2015. In the coming years, European imports are expected to keep growing moderately.
Developing countries are Europe's main source of baby blankets. They supply 65% of European imports. This amounted to € 460 million in 2015. This share is predicted to remain stable in the coming years.
Germany is Europe's leading importer of baby blankets, with € 143 million in 2015. France and the United Kingdom follow with € 82 million and € 80 million respectively.
Germany is also leading when it comes to imports from developing countries, with € 106 million. The United Kingdom follows with € 65 million.
Imports from developing countries grew strongly between 2011 and 2015. Especially in the United Kingdom, with € 21 million.
China dominates European baby blanket imports, with 58% in 2015. Another leading supplier from developing countries is India.
Tips
Focus on Germany and the United Kingdom. Their large imports from developing countries make them especially interesting markets.
Compare your products and company to the strong competition from China and India. You can use ITC Trademap to find exporters per country. You can compare
- market segment
- price
- quality
- target countries
Exports
European baby blanket exports consist mainly of trade within Europe and with developed countries.
Germany (€ 63 million) and Spain (€ 42 million) are Europe's leading baby blanket exporters.
Production and consumption
Europe's demand for baby blankets is more than double its production. This drives the need for imports, making Europe an interesting market for baby blankets.
European baby blanket production fluctuated significantly between 2010 (€ 286 million) and 2014 (€ 260 million). This lower value is mainly caused by a decrease of 17.5% in 2014.
In the same period, European baby blanket consumption was fairly stable around € 575 million.
With € 51 million, Germany is responsible for 20% of European baby blanket production. Spain and Italy follow with € 34 million and € 33 million respectively.
European baby blanket consumption is also highest in Germany, at € 132 million. The United Kingdom follows with € 75 million.
Macro-economic indicators
Private consumption expenditure is an important indicator for the European home textiles market. The sector is closely linked to economic conditions. When money is tight, consumers postpone buying non-essential items until they have enough disposable income.
Between 2015 and 2017, European private consumption expenditure is expected to increase. This means that consumption of luxury and decorative products is likely to rise. Especially in emerging markets, consumers will have more money available to spend on these products. Consumers in mature markets already spend a fair amount of money on luxury, so growth in their consumption will be moderate.
Europe's top five baby blanket importing countries also have Europe's highest birth rates. Poland follows at number 6.
Tip
Poland has a relatively high birth rate. This, combined with its predicted strong increase in private consumption expenditure, makes it an interesting target market.
3 .

What trends offer opportunities on the European market for baby blankets?

In the European market for baby blankets, the trends of sustainability, durability and personalisation seem to dominate among designers and consumers.
Better business
The 'better business' trend refers to the choices of consumers, producers and designers regarding sustainability. On the one hand, consumers increasingly want to avoid a negative environmental impact due to their consumption. On the other hand, designers and producers focus on minimising the impact of their production activities on the environment. This has resulted in a shift to alternative materials for baby blankets such as organic cotton, bamboo or corn. This has resulted in a shift to alternative materials for baby blankets, such as organic cotton, bamboo or corn, combined with an increased focus on the baby's safety and health. The latter is guaranteed by using certified fabrics containing no harmful toxins, dyes or pesticides.
Tip
Consider sourcing organic cotton or other alternative textiles for your baby blankets, especially when you are targeting the high and middle-high ends of the market, since sustainable alternatives come with a higher price.
Heirloom: buy once, buy well, and pass it on
Time-neutral and durable design for baby products is a growing trend. Consumers prefer to buy fewer baby products, but the products they buy are of higher quality. By buying high quality baby products they do not need to replace the baby blanket and often pass it on to the next baby in their network. Since the products are lasting longer, it is necessary that they will have a more time-neutral, heirloom design.
Tip
Consider high quality, durable fabrics and time neutral designs, especially when you are targeting the high and middle-high ends of the market. For example, a cashmere fabric might not be the best material to use, due to its low durability.
Personalisation
At the other end of the spectrum, the trend of personalisation remains present. The approach of products not tailored to meet individual needs is considered outdated and parents focus on giving a unique style to the baby's accessories. Thus, combining baby accessories with contrasting colours, as well as prints will remain a significant trend for this year, instead of plain fabrics and colours.
Tip
Consider innovation by combining materials, and/or hand-made and mechanised processes that can blend in well with the personalisation trend.
Please refer to CBI Trends for Home Decoration & Textiles for more information on general trends in home textiles.
4 .

What requirements should baby blankets comply with to be allowed on the European market?

Figure 7: Buyer requirements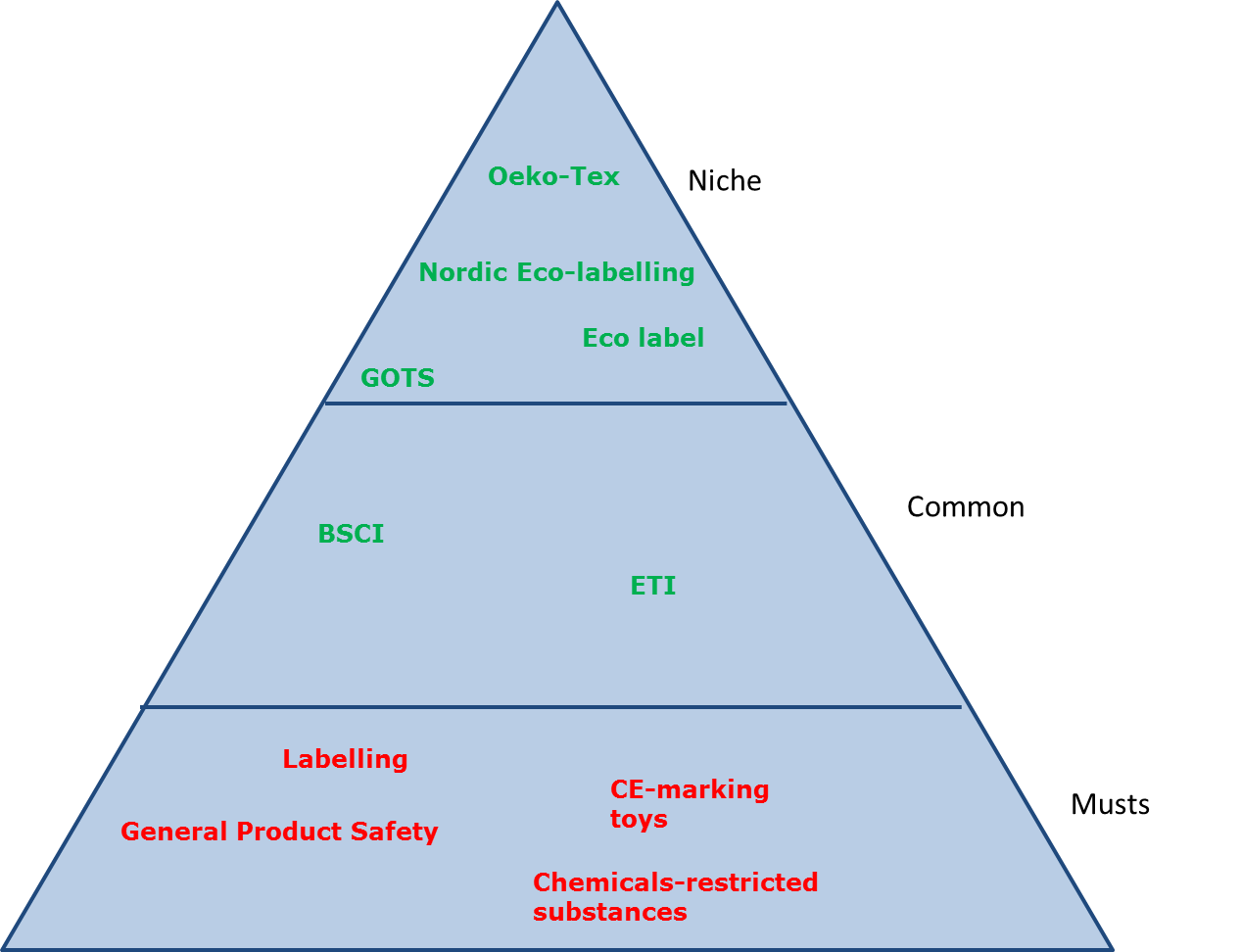 5 .

Legal Requirements

General Product Safety: The General Product Safety Directive (GPSD) states that all products marketed in the European Union must be safe to use, so that it forms a network for all legislation established for specific products and issues. Even if no specific legal requirements have been established for your product and its uses, the General Product Safety Directive still applies. If there are specific requirements applicable to baby blankets, the General Product Safety Directive applies in addition, covering all other safety aspects that may not have been described exclusively in the product's specific legal requirements.
Tip
Study the specific legal requirements listed to ensure the product does not cause any danger in its normal use. Most buyers will require proof exporter by compliance to legal requirements and most large retailers have their Codes of Conduct. You can read more about the General Product Safety Directive in the EU Export Helpdesk.
Chemicals-Restricted Substances: The European Union has restricted a great number of chemicals in products that are marketed in Europe. These are listed in the REACH regulation. If you dye your baby blankets, make sure you do not use any of the azo dyes that release any of the 22 aromatic amines that are prohibited. The European Union's legislation lists the aromatic amines, not the azo dyes that release them. The vast majority of azo dyes are therefore legally acceptable. Furthermore, the flame-retardants that can be used have been restricted, where Tris (2.3 dibromopropyl) phosphate (TRIS); Tris (aziridinyl) phosphineoxide (TEPA) and Polybromobiphenyles (PBB) have been prohibited in products intended to come into contact with the skin.
Tips
In the case of dyeing: Make sure your products do not contain any of the azo dyes release the forbidden aromatic amines. This includes checking your suppliers.

Follow new in the field of flame-retardants, as new alternatives are being developed. You can do so for instance through the European Flame Retardants Association (EFRA). The addition of other flame-retardants and proofing agents is only permitted for products that are intended for use in commercial buildings where they are subject to and fulfil the appropriate fire protection regulations. Familiarise yourself with the full list of restricted substances in products marketed in the European Union by checking out restricted chemicals in textile products in the EU Export Helpdesk.
Labelling-specific rules for textiles: Textiles should be labelled or marked indicating fibre composition whenever they are made available on the market and should be durable, easily legible, visible and accessible. The main purpose of the European Union's Textile Regulation is to ensure that consumers, when purchasing textile products, are given an accurate indication of their fibre composition.
There is no European Union-wide legislation on the use of symbols for washing instructions and other care aspect of textile articles, despite the importance that European consumers place on that information. You are therefore advised to follow ISO standards on this matter.
Tips
Know your own product and study the labelling rules of the to find out how it should be labelled in the . For example, if you use a cotton name, trademark, or other term that implies the presence of a type of cotton, the generic fibre name "cotton" must be used. Find out more about textile labelling rules in the EU Export Helpdesk.
You are advised to follow ISO 3758: 2012 on care labelling code using symbols for textiles.
CE-marking toys: A baby blanket can also be considered a toy. Therefore, the CE-marking needs to be affixed to your product in order for it to be marketed in the Europe. CE-marking shows that a product is assessed before being placed on the market and that it meets the European Union's safety, health and environmental protection requirements. The requirements have been set for a variety of categories, including toys (Toys Safety Directive 2009/48/EC). The safety requirements are set out in the directives and standards have been developed to show compliance with them.
Tip
If CE-marking is relevant to your products, you can follow these steps. You can also use this link to find out whether your product falls within the definition of CE-marking.
6 .

Additional requirements

Social performance: Companies can differentiate themselves by introducing sustainability. The means of offering sustainable products are numerous, ranging from recycling to certification and use of labels. Sustainability issues are very relevant to baby blankets. Two retail initiatives have gained quite some ground especially in West-European countries:

The Business Social Compliance Initiative (BSCI) has been developed by European retailers to improve social conditions in sourcing countries. Suppliers of BSCI participants are expected to comply with the BSCI Code of conduct. To prove compliance, your production process can be audited at the request of the importer. Once a company has been audited, it will be included in a database that can be used by all BSCI participants.

The Ethical Trading Initiative (ETI) is an alliance of companies, trade unions and voluntary organisations working in partnership to improve the working lives, across the globe, of people who make or grow consumer goods.
Tip
Since more and more European importers participate in BSCI and ETI, complying with the BSCI and ETI codes of conduct is currently seen as a basic requirement.
7 .

Niche requirements

While sustainability is gaining ground, the actual use of certification is still not widely spread in this sector. Nevertheless, there are several eco-labels used for textiles, including baby blankets. As this is a means of showing sustainability, there is an increasing interest from buyers. The Global Organic Textile Standard (GOTS) is a textile-processing standard for organic fibres; OEKO-TEX stands for no use of hazardous chemicals and the European Union's Ecolabel also looks at environmentally friendly options. The voluntary Nordic Swan eco-label is used in Sweden, Norway, Finland, Denmark and Iceland for textile products.
Tips
Explore the possibility of sourcing organic cotton for your baby blankets. Textile products that contain a minimum of 70% organic fibres can become GOTS certified.
Consider the Oeko-Tex® Standard 100 for your product. The certification provides textile and clothing companies with more transparent supplier relationships and facilitates the flow of information regarding potential problematic substances.
Consider applying for the Ecolabel for your product. The label is awarded only to products with the lowest environmental impact in a product range.
Consider applying for the Swan eco-label when targeting the Nordic Countries.
For a complete overview of certifications for textiles please turn to ITC's Standards Map
8 .

What competition do I face on the European baby blankets market?

Please refer to CBI Home Textile Field of Competition, as the competitive field for baby blankets does not differ significantly from this general overview.
9 .

Through which channels can you get baby blankets on the European market?

Please refer to CBI Home Textile Channels and Segments, as the market channels and segments for baby blankets do not differ significantly from this general overview.
10 .

What are the end market prices for baby blankets?

There is a very wide price range within the European market for baby blankets. Baby blanket retail prices can vary from €15 to €85 or more. The prices vary based on the size, fabric and composition of the product, as well as the brand of the blanket.

Table 1: Indicative consumer prices of baby blankets
| | | | | |
| --- | --- | --- | --- | --- |
|   | Low end | Middle-low end | Middle-high end | High end |
| Baby Blankets | €15-€22 | €24-€35 | €42.5-€75 | €85 or more |
Tip
Developing country producers are recommended to focus on the middle-high segment if they can offer some added value, or on the middle-low end if one offers mechanised production.
Rising raw material prices pressure on margins
Besides energy, labour and transport costs, FOB prices depend heavily on the availability and prices of the raw materials. Between May of 2015 and 2016, the average prices of cotton, for instance, fluctuated about every three months. In total, they noted a moderate decrease of about 5%. This example shows the fluctuating character of the raw materials´ market. Incidental price hikes of raw materials cannot directly be passed on to the consumer, but exert pressure on exporters, importers and retailers' margins.
Tip
Calculate your prices regularly and carefully, especially when you know that prices of your raw materials are regularly fluctuating. When prices of your raw materials pressure your margin for a longer period, consider your price or another suitable alternative.
Figure 8: Indicative price markups

Source: ProFound (2014)
*VAT percentages in Europe range from 18% in Malta to 27% in Sweden. On average these percentages are around 20%.
11 .

Useful sources
Trade fairs
Visiting and especially participating in trade fairs is highly recommended as one of the most efficient methods for testing market receptivity, obtaining market information and finding prospective business partners. The most relevant trade fairs in Europe for exporters of baby blankets are: