Exporting specialty rice varieties to Europe
Primary tabs
Takes about 35 minutes to read
European interest in speciality varieties of rice is growing. Consumers are drawn to Asian aromatic varieties of rice, as well as to varieties that are suitable for traditional dishes such as sushi, risotto or paella. Brown rice has also increased in popularity thanks to its health benefits. In future, growing opportunities can be expected for niche rice varieties such as red and black rice. The better a rice variety relates to food and cooking trends, the greater your chances are as a supplier.
1 .

Product description

Rice is one of the most important staples for human consumption.

According to the Rice Association in the United Kingdom, there are over 40 thousand varieties of cultivated rice. The possibilities of differentiation in rice are endless, although marketing can be challenging. As an exporter you have the option to vary in processing, size and quality, type, and variety (see the table below).

Table 1: Rice sizes, types and varieties
Processing

Size and quality

Type

Varieties

Paddy rice (includes the inedible husk)

Parboiled rice (partially boiled in the husk)

Whole brown rice (dehusked)

White or polished rice (milled, without the bran and germ)

Long grain

Medium grain

Short grain

Broken rice

 

Indica

Japonica

Glutinous

Aromatics

 

Basmati

Jasmine

Coloured rice

Wild rice

 
For each variation, there is a market in Europe.
Indica and Japonica rice are the most common rice varieties in Europe. Glutinous and aromatic refer to the characteristics of rice. Aromatic rice is classed as a speciality for its fragrance and aroma. Basmati and jasmine rice are the most common aromatic rice varieties. Glutinous rice includes all rice varieties that become glue-like or sticky when cooked. There are several Indica and Japonica cultivars that are categorised as glutinous rice.
This study covers speciality rice varieties as well as some of the specific glutinous and aromatic varieties, among which the following are listed in Table 2.
Table 2: Description of rice varieties
| | |
| --- | --- |
| Basmati rice | Basmati is an aromatic rice type with a long slender grain. The aroma is accentuated by the ripening of the grain. Basmati rice is mainly cultivated in India and Pakistan. In Indian dishes spices are added to enhance the aromatic properties. |
| Jasmine rice | Jasmine is also a long-grain aromatic rice variety. Compared to basmati, jasmine rice has a less pronounced fragrance. The grains are slightly sticky after cooking. Jasmine rice is cultivated in Southeast Asia (Thailand, Vietnam, Cambodia, Laos). Most of Europe's import is Thai jasmine rice. |
| Black rice | Black rice is also known as forbidden rice. It obtains its colour due to a strong antioxidant called anthocyanin. Black varieties can be glutinous or aromatic. They are cultivated in different parts of Asia such as in Thailand, China and Indonesia. It is traditionally used in sweet or dessert-like recipes, but nowadays also encountered in savoury dishes. Black rice is sometimes also called purple rice. |
| Red rice | Red rice varieties are usually consumed as a whole grain or unhulled rice. The bran layer has a distinctive red colour instead of brown. Red rice has a nutty flavour. Both the Indica and Japonica type have red rice varieties. |
| Wild rice | Wild rice is not an actual rice variety, but a grass. The grains are long, slender and dark coloured. Wild rice is mainly grown in North America. |
| Glutinous rice | Glutinous rice is also known as sticky rice. It is popular in sweet dishes, desserts and snacks. Because of its stickiness, the rice is normally steamed instead of cooked. After steaming the white grains become translucent (see-through), which is the reverse effect of other rice varieties that turn from translucent to white when cooked. |
| 'Sushi' rice | For sushi Japanese or Japonica rice is used. This rice is called uruchimai in Japan. It is a short-grain rice that has a sticky texture when cooked. It should not to be confused with glutinous rice. It is a staple food in Japan, while in Europe it is often referred to as 'sushi rice'. |
| 'Risotto' rice | The traditional rice for risotto is Arborio rice. This is a Japonica variety produced in the Po valley in Italy. When cooked the grains become creamy and chewy. Arborio rice is sometimes replaced by cheaper Asian alternatives of short to medium rice with high starch content. |
| 'Paella' rice | The traditional Spanish dish paella uses locally cultivated short-grain rice varieties, such as Bomba rice or Bahia rice. These Spanish varieties that are cultivated in Calasparra and Valencia region are known to absorb liquid very well. |
| Floating rice | Floating rice is a very specific type of rice from Vietnam. Our study on specialty rice from Vietnam describes the opportunities for this type of rice in Europe. |
There is no separate code for different rice varieties. Only the variation in processing has different codes: paddy, husked, milled and broken rice.
Table 3: Combined Nomenclature (CN) Code for rice
Statistical Number

Product

1006

100610

100620

100630

100640

Rice

Rice in the husk

Husked or Brown rice

Semi or wholly milled rice, whether or not polished or glazed

Broken rice
Source: Eurostat (Comext)
2 .

What makes Europe an interesting market for specialty rice exporters?
Rice import from developing countries rising
Rice is a typical commodity that is sourced in developing countries. Volumes are high and suppliers are large and well organised. Aromatic and coloured rice varieties are generally not produced in Europe and these are imported mainly from Asian countries.
Rice imports from developing countries have increased in recent years since 2012. As a supplier, you can profit from these higher trade volumes and explore the opportunities for specific rice varieties with different characteristics in nutritious value, aroma or colour.
Opportunities for milled rice
The import of rice shows an increase in milled rice. According to European statistics in the first quarter of 2017, 71% of the milled rice is non-aromatic and 22% is aromatic but non-basmati.
European imports of milled rice increased by almost 70% in the past five years. The import duties for milled rice are usually higher than for husked rice, but several countries have been granted duty-free quota or completely duty-free access to the market. In addition, you have a small advantage as to its reduced weight and milled rice is less susceptible to fungus and mould.
Milling, or removing the bran, can be an added value process performed in the country of origin. By offering an added value process, you increase the margin on your product.
The relatively high import of husked rice is partly thanks to the duty-free import from Pakistan and India of husked basmati. An estimated 62% of imported husked rice was basmati rice in the first quarter of 2017.
Broken rice has a smaller but stable import share and is often used for starch or feed. Exporting rice in the husk is not very common due to logistical costs; the husks are usually removed immediately after harvesting. Nevertheless, the import of rice in the husk has increased in recent years. Your buyer's decision of which type of processed rice to purchase is often based on profit and cost-efficiency.
Northern Europe is the main destination for imported rice
The majority of the rice imports take place in north-western Europe. Figure 3 shows that the United Kingdom, France and Germany are the largest overall rice importers.
By contrast, France and the Netherlands are the important importers of rice from developing countries. Thanks to its major maritime ports, the Netherlands forms an important entry point for rice into Europe from various developing countries. A significant import share consists of long-grain Indica rice and aromatic varieties (basmati, jasmine), which are popular varieties in northern Europe. The United Kingdom dominates the import of basmati rice, mainly from India.
Southern Europe traditionally produces its own Japonica varieties. However, Indica varieties have also been successfully introduced to Spain. Southern Europe also exports these varieties to the north, in particular to Belgium.
The strong rice import in north-western Europe also provides opportunities if you are looking to enter the market with new or special varieties. In Spain and Italy, you will encounter competition with local varieties.
Consumption is highest in Mediterranean Europe
The rice-producing countries in southern Europe consume much more rice per capita than northern European countries. Ricepedia estimates that Mediterranean countries consume 6 to 18 kilograms annually, while the consumption in the rest of Europe ranges from 3.5 to 5.5 kg. According to EU Agricultural Outlook, the average consumption in Europe increased from 4.7 kg per capita in 2005 to 5.5 kg per capita in 2016. It is assumed that the consumption will further increase because of the diversification of traditional diets.
In the rice-producing countries within Europe, the local Japonica varieties are the most appreciated. Many countries in the north prefer long-grain rice varieties. It is important as a supplier to take into account these regional preferences.
3 .

Which trends offer opportunities on the European market for speciality rice varieties?
Consumer demand for speciality rice increases
The International Rice Research Institute suggests that the demand for speciality rice products is increasing, along with the need to improve rice varieties.
In Europe, this increasing demand has resulted in a higher availability of aromatic rice varieties as well as a small, high-value segment of coloured rice. According to Ricepedia, the European demand for long-grain Indica rice and exotic varieties such as basmati or jasmine rice (and organic rice) is growing by 6% annually.
Most speciality rice finds its origin in developing countries. This provides opportunities if you want to supply speciality rice to the European market. However, some varieties are being adopted by European growers as well.
Black rice, for example, is being imported from Thailand. However, growers in Italy have also taken Chinese black rice into production. In the south of France, a red rice variety is being produced. Consumers are attracted to these rice varieties, because they provide a gourmet experience and are often promoted for their healthy nature.
Opportunities for healthy rice varieties
A growing number of consumers in Europe are increasingly aware of the need for a healthy diet. Online media and food specialists promote the benefits of health foods – foods claimed to have outstanding health characteristics. Brown rice is consumed throughout Europe as a healthier alternative to milled rice, since the rice bran contains important minerals, vitamins and fibre. Parboiled rice is also widely offered for its improved preservation of vitamins.
There are various other rice varieties that also suit this health trend:
wild rice (high in protein, amino acid lysine and dietary fibre)
black rice (high in antioxidants, vitamin E and iron)
red rice (high in fibre and antioxidants)
Coloured rice is still a niche product, but the demand for brown or whole grain rice has been increasing for several years according to industry sources. In the health food segment, your main point of attention as an exporter is supplying a clean and pesticide-free product, often with higher standards than the legal regulation.
Organic is a growing niche
Increased attention to health, environment and social responsibility is leading to a rapid growth of the organic sector.
Many rice varieties are available as organic products. Producing and exporting organic rice can be an opportunity, because the availability is often not sufficient for the growing demand.
Especially when you promote and supply a healthy rice variety, organic production can strengthen your position in the health food segment.
Ethnic food on the rise
Ethnic or migrant populations and local traditional southern European dishes are important drivers for the consumption of several rice varieties.
With the increasing integration of different nationalities, European consumers have become more and more exposed to transnational dishes.
Popular rice varieties are basmati and jasmine rice for Asian cuisine (curry, sushi, stir-fry, pilaf), glutinous rice for desserts (sweet sticky rice) as well as local short-grain rice for Mediterranean dishes (paella, risotto).
Many European countries, especially in the north, are not traditionally rice oriented. Nowadays, however, you can find many different cultural influences and rice preferences.
Product mixes are popular
Consumer rice is more and more used in combination with other grains and pulses. For rice brands, there is a marketing effort to distinguish themselves from other brands. Examples of these include:
Convenience in cooking
Although consumers in general attach great importance to good food, time has become a precious asset in the modern lifestyle. Several convenient rice products have been introduced, such as:
Rice is also a common ingredient for ready-made meals and product mixes.
For the European food industry, it is important to select rice varieties that have the right quality characteristics in order to become part of a convenient product. As a supplier, you have to be able to think in a similar manner. When you anticipate on product development, you have to take into account basic characteristics of cooking time and product behaviour.
Research improves sustainability, health and profitability
A lot of research is being done throughout the world to improve rice varieties. Organisations such as the International Rice Research Institute (IRRI) and the Global Rice Science Partnership (GRiSP) play an active role. They look into developing new hybrid rice varieties and techniques that produce a better grain quality, higher yields, better tolerance against adverse climate and diseases, and fewer farm inputs.
Examples of research and development in rice are the following:
The sustainable production system involved in aerobic rice reduces water loss.
The modified variety golden rice contains a high value of beta carotene (Vitamin A), offering a potential solution to malnutrition. However, Europe has very strict legislation on genetically modified organisms (GMOs) and there is also resistance; see STOP Golden Rice Alliance.
Rice husks are being transformed into many non-food applications such as fertiliser, incubation material, paper, hair and skincare products, and even tyres.
Innovation and research programmes can improve your competitive position and keep you aligned with competitive suppliers. If you do not have the means for innovation yourself, existing international programmes and organisations may be able to aid your company.
4 .

Which requirements should speciality rice varieties comply with to be allowed on the European market?
Which legal and non-legal requirements must your product comply with?
Food safety
To export rice to Europe, you have to deal with strict rules and obligations on food safety. The General Food Law, which regulates food safety in the European Union, also applies to all rice varieties. As a supplier, you must ensure that your products are traceable and that safety systems (such as HACCP: hazard analysis and critical control points) are in place.
Control of arsenic levels in rice
A review by the European Food Safety Authority (EFSA) showed high levels of inorganic arsenic in rice. Based on this review, Regulation 2015/1006 has been introduced. It sets the following inorganic arsenic limits, as listed in Table 4.
Table 4: Arsenic limits for rice
| | |
| --- | --- |
| Non-parboiled milled rice (polished or white rice) | 0.20 mg/kg |
| Parboiled rice and husked rice (brown rice) | 0.25 mg/kg |
| Rice destined for the production of food for infants and young children | 0.10 mg/kg |
| Rice waffles, rice wafers, rice crackers and rice cakes | 0.30 mg/kg |
Maximum residue limits
If you want to export speciality rice varieties to Europe, you must take maximum residue limits (MRLs) into account.
You can find the maximum residue limits (MRLs) for pesticides that might be used on rice in the EU Pesticide Database. Using the term "rice" (code number 0500060) or the type of pesticide as search terms will yield the corresponding MRLs for rice.
A recent change, effective from 2017, is the reduced residue limit for Tricyclazole in rice from 1 mg/kg to 0.01 mg/kg. Importers are worried that this change will affect the trade flows from major supplying countries such as Vietnam and Pakistan. The decreased residue limit allowed means that you should avoid using Tricyclazole in rice cultivation.
Remember that the MRL requirements for organic rice (and for rice used in baby food) are much more stringent.
Quality requirements
If you are planning to export rice to Europe, you will have to meet the right quality standards.
The European Commission has set a standard for paddy rice in Council Regulation No 1785/2003. The standard quality of paddy rice according to European legislation shall:
be of a sound and fair marketable quality, free of odour;
contain a moisture content of maximum 13%;
have a yield of wholly milled rice of 6 % by weight in whole grains (with a tolerance of 3% of clipped grains), of which a percentage by weight of wholly milled rice grains which are not of unimpaired quality:

chalky grains of paddy rice: 1.5–2.0%;
grains striated with red: 1.0%;
spotted grains: 0.50%;
stained grains: 0.25%;
yellow grains: 0.02%;
amber grains: 0.05%.
European regulation distinguishes four size categories, based on grain length (L) and length/width (L/W) ratio.
Long A: L >6.0 mm, L/W <2.1–3.0
Long B: L >6.0 mm, L/W =3.0
Medium: L >5.2 mm, L/W <3.0
Short: L <5.2 mm, L/W <2.0
There is also an international standard for rice, set by the Food and Agriculture Organization (FAO) in the Codex Alimentarius. This standard applies to husked rice, milled rice and parboiled rice, all for direct human consumption. Rice must have the following features:
free of abnormal flavours, odours, living insects and mites;
moisture content max. 15% (or lower, depending on climate, duration of transport and storage);
impurities of animal origin (including dead insects), max. 0.1%;
other organic extraneous matter (foreign seeds, husk, bran, fragments of straw), max. 0.5% (milled) or 1.5% (husked);
inorganic extraneous matter (stones, sand, dust, and so on): max. 0.1%.
Other important components related to quality are:
shape
colour
integrity of the grain
milling quality
cooking and processing behaviour
grain fissuring
Labelling requirements
If you want to export to Europe, you must label your product. These labels must comply with European regulation.
The following items should be on the label of pre-packed rice. On rice exported in bulk, part of this information can be provided in the commercial documents:
official product name;
physical condition or treatment;
list of ingredients and allergens;
class, size (code), number of batches, net weight in metric units;
statement that the product is destined for human consumption;
best-before date or use-by date;
instructions or special conditions for storage or use;
place of origin or provenance;
name and address of the importer established in the European Union;
name and address of exporter;
lot marking on pre-packaged foodstuffs (to ensure the traceability of individual batches).
In addition, the label should include any certification logo (if applicable) and/or retailer logo (in the case of products marketed under a private label).
English is used on the bulk labels, unless your buyer indicates otherwise.
Multilingual labels are often used on consumer packaging, but the language of the destination country must in any case be included.
Packaging and handling requirements
Rice can be packed in different bag sizes of 5, 10, 15, 20, 25 or 50 kilograms. Bags of 20–25 kg are most common. Large bags of 1000 kg are also sometimes used.
The packaging material for bulk packaging is usually woven polypropylene, but multilayer paper bags are also used for specific rice such as organic.
If you want to use other forms of packaging, you should take EU legislation on food contact materials into account.
Rice should kept dry, dark, cool and well ventilated during storage, loading and shipment.
Rice is often shipped as bulk cargo. If you export high-value rice, the use of shipping containers is recommended to ensure quality.
Certificate of authenticity for basmati
To export basmati rice to Europe, you need a certificate of authenticity.
Basmati is exported from India and Pakistan. In these countries, you can apply for such a certificate with the Export Inspection Council (India) and the Trading Corporation of Pakistan.
The approved varieties of basmati rice are:
Basmati 370
Basmati 386 (India)
Type-3 (Dehradun India)
Taraori Basmati (HBC-19 India)
Basmati 217 (India)
Ranbir Basmati (India)
Kernel (Basmati Pakistan)
Pusa Basmati
Super Basmati
The Commission Regulation (EC) No 972/2006 has laid down special rules for imports of basmati rice and a transitional control system for determining their origin. This regulation allows basmati with up to 5% impurity from non-basmati varieties.
The certificate of origin is also needed to exempt basmati from import duties.
5 .

Which additional requirements do buyers often have?
Food safety certification
Food safety is a top priority in all European food sectors. You can therefore expect most buyers to request additional guarantees from you in the form of certification. For both the production and the processing of rice (husking, milling and packaging), you need to comply with recognised food safety management systems.
Organic certification
The market for organic rice is growing, but regulation is strict.
To supply organic rice to the European Union, you need to use production methods as laid down in European Union legislation. You have to avoid any pesticide residue or cross-contamination.
Social compliance and sustainability
European buyers are paying increasing attention to the social and environmental impact of their business. As an exporter, you are part of the supply chain and share this responsibility.
With regard to rice, there are several initiatives that promote a sustainable supply:
the rice project, aiming to develop a pragmatic and globally acceptable Sustainable Rice Practices Standard;
the Sustainable rice platform, aiming to develop and test sustainability guidelines, standards and tools;
Fairtrade Rice, a Fairtrade International initiative that allowed farmers worldwide to export 12,000 tonnes of Fair Trade certified rice in 2013–2014.
6 .

What are the requirements for niche markets?
Fair Trade and environmental certification
Fair Trade and sustainable certification are still niche requirements for rice by European buyers. However, certification can help your product to stand out and attract consumers who are more aware of these issues. As a smaller supplier, you can anticipate the future growth of Fairtrade by preparing your company for the certification requirements.
7 .

What competition do you face on the European market for rice varieties?
What are the opportunities and barriers?
Quality
Quality and food safety are important issues to distinguish your company from other suppliers. European buyers are very aware of the potential risks for quality and food safety when purchasing different rice varieties.
As a new supplier, you can be asked to send a sample. Your buyers analyse it in laboratories to ensure that they are receiving the right quality. In trusted relationships, quality control could take place more often in the country of origin and samples are not needed.
You have to know the quality of your product. However, the quality test in your home country is not necessarily conclusive for your buyer. The tests done in European laboratories may differ considerably from tests by laboratories in your country. For example, there might be differences in terms of parameters tested and the residue levels considered permissible.
Import license
The import of rice is regulated to balance the market and enhance the competitiveness of European producers. European rice traders often need import licenses that allow them to import a quantity of goods within a set period. The details are documented in the European Regulation (EC) No 1342/2003.
The import duties on rice are variable and subject to change. There are also tariff-rate quotas (TRQ) that allow supplying countries to export a certain quantity of rice to Europe without duties.
Table 5: Import duties in € per tonne (February 2015)
| | |
| --- | --- |
| Paddy | 211 |
| Husked | 30 / 42.5 / 65 |
| Milled / semi-milled | 145 / 175 |
| Broken | 65 |
You are exempt from import duties and quotas when you export:
from a country that is one of the least developed countries (LDCs), according to the EU's Everything But Arms arrangement (EBA). Important EBA suppliers are Cambodia and Myanmar. The European import from EBA countries is expected to reach 50% of the total European import by 2026, according to the EU Agricultural Outlook;
from a country that is part of the ACP States or Caribbean Forum (Cariforum), a subgroup of the African, Caribbean and Pacific Group of States;
husked basmati rice from either India or Pakistan.
A certificate of origin is required (see the section on buyer requirements above).
8 .

What are substitute products?

European consumers easily switch between different types or varieties of rice. Often, consumers simply purchase the product with which they are the most familiar. For typical dishes, their preference for a certain type of rice is more determined.

Cooking traditions in Europe include many different grain products. Instead of rice, consumers can choose for an alternative grain or grain product such as couscous, quinoa, bulgur or freekeh.

However, rice consumption also has to compete with other major products that are common in the European diet, such as potatoes, pastas and bread.

You can convince consumers to try something different by introducing new varieties of rice with a functional advantage (fast-cooking) or a unique taste. See also the trends described above.
9 .

Who are your rivals?

Asia dominates foreign rice supply to Europe

Most of the milled rice in Europe is imported from:
Cambodia (306,000 tonnes in 2016)
Thailand (168,000 tonnes)
Brown rice is mainly imported from:
India (290,000 tonnes)
Pakistan (171,000 tonnes)
In 2016, the largest suppliers of broken rice to Europe were:
Myanmar (117,000 tonnes)
Egypt (59,000 tonnes)
Basmati from India and Pakistan
Genuine basmati varieties are exported from India and Pakistan. In 2014-2015, India exported 3.7 million tonnes of basmati rice out of a total 8.2 million tonnes of rice exports from India.
In Pakistan, basmati rice covers 52% of the total cultivated area of rice. In 2014-2015, Pakistan exported 677,000 tonnes of basmati.
Jasmine from south-east Asia
South-east Asia also produces aromatic varieties such as jasmine rice. Thailand and Cambodia are typical suppliers of jasmine rice to Europe.
Thailand exported 1.5 million tonnes of Thai Hom Mali (or jasmine) rice worldwide in 2016. The total Thai rice exports amounted to 9.8 million tonnes.
Around one third of Cambodia's rice crop comprises varieties of jasmine rice. Cambodia also opened its first parboiling facility in 2013 with the intention to fulfil a growing demand in Europe and Africa.
Niche varieties
Every rice-producing country has its own specific varieties:
glutinous black rice from Thailand;
black rice from China, as well as Italy;
wild rice from North America;
red rice varieties from France, Thailand and Bhutan.
Each variety has its own benefits in use or taste, offering numerous opportunities for marketing in Europe.
It is easier to be unique through your product offering than through processing or adding value in another way. With regard to processing such as husking, parboiling and milling, quality and price matter the most.
By exploiting a unique rice variety in your region, your proposition can be much more unique. To export a niche or new rice variety to Europe, you need to explore the market potential first and convince your buyers to adopt your product.
Japonica is the dominant variety in European production
Rice production in Europe consists for over 70% of the Japonica variety; the rest is Indica. After milling, the total estimated production amounts to 1.8 million tonnes. Since 2014, the Japonica varieties has shown a clear increase in European production, while the volume of Indica varieties has decreased.
You can compete with European producers of Japonica rice if your product is well priced and suitable for local dishes. The traditional risotto (Arborio rice) is increasingly being replaced by cheaper varieties from Asia. For authentic Spanish paella, a rounded short-grain rice with good absorbing qualities is essential. Competing with the European production of Indica rice will be easier, as local production is decreasing.
Concentration of rice production in Europe
According to the EU Rice Economic Fact Sheet, Italy was responsible for 51% of the European production in 2014–2015, followed by Spain (29%), Greece (8%), Portugal (6%) and France (3%). Italy and Spain have traditional dishes (respectively risotto and paella) for which their production is primarily destined. Minor production volumes are visible in Romania, Hungary and Bulgaria.
In Europe, the number of rice farms is decreasing, while their size and level of mechanisation is increasing. The production of rice in Europe is more expensive than in Asia or the United States due to the high costs of input. This situation could give you an advantage when exporting to Europe.
Italy is Europe's largest exporter of rice
With a production share of 51% in Europe, Italy is automatically the largest exporter of rice as well. Spain is also a producing exporter, while Belgium is the third-largest exporter of rice. Belgium imports and mills brown rice from mainly Spain before re-exporting it, but also trades a large amount of broken rice from Myanmar.
10 .

How much power do you have as a supplier when negotiating with buyers?

Large food retailers have a strong position in Europe. They therefore also have strong buying power. The same applies to the large millers and brands that supply to them. Unless you are supplying a niche type of rice or offering a superior quality-price ratio, you will have limited room for negotiation.

Negotiating with buyers of organic rice may be easier, although quality compliance will be more challenging.
11 .

Through which channels can you get speciality rice varieties on the European market?
Well-developed trade channels
The trade channels for rice are well developed. This means that businesses are mature and experienced.
Most rice, including basmati and jasmine rice, arrives in Europe in bulk through importers or traders that are specialised in sourcing, milling, trading and/or managing local brands. These are the companies that you should aim for as a supplier from a developing country.
Basic processing such as dehusking and sometimes milling is performed in the country of origin. To supply parboiled, brown or milled rice, you need to have access to a quality processing plant. The trade channels for milled rice and brown rice are similar, while preferences in purchasing are buyer-specific.
Figure 8: Trade channels and segments for rice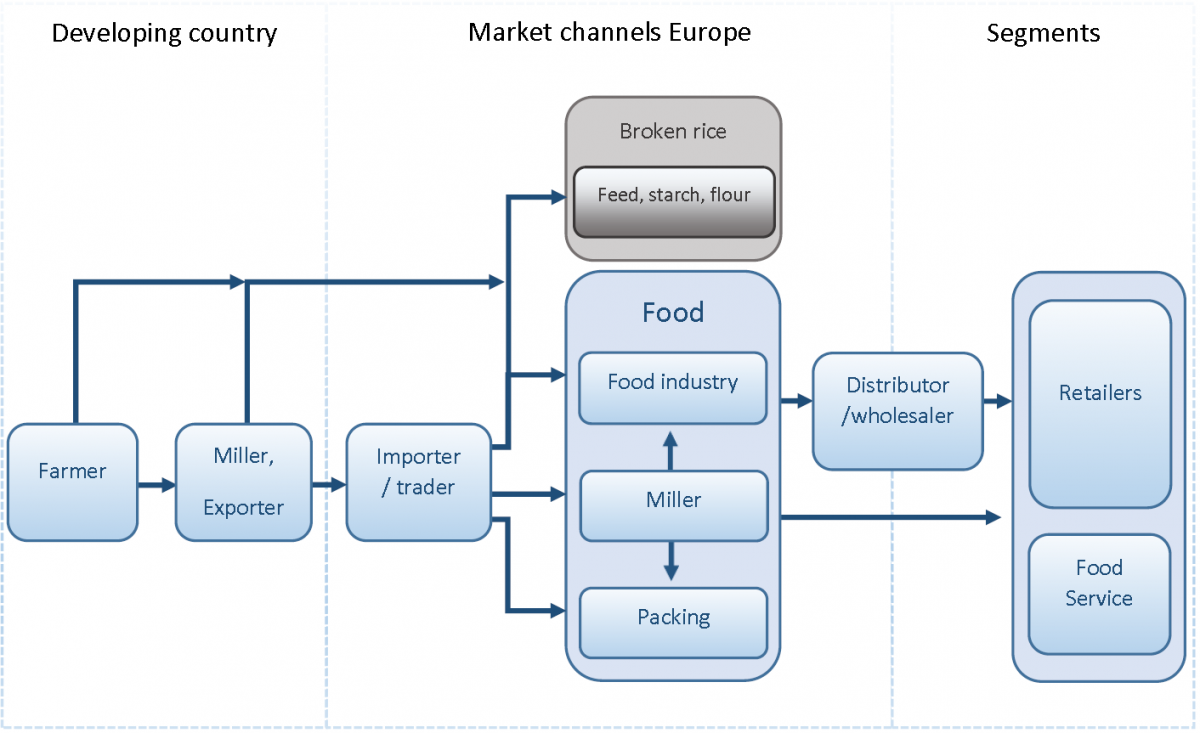 Large brands dominate the supermarkets
Most rice is sold through supermarkets. This channel includes most special varieties such as basmati, jasmine, risotto and sushi rice. Large rice brand companies dominate in the European retail. Examples are:
Many brands also offer rice mixed with other grains such as quinoa, bulgur or spelt.
Food industry is important as a channel
The food industry is an important channel for rice destined for ready-made meals, easy-to-cook meal packs or baby food. The food industry is often supplied by rice millers and traders. Rice can also be processed into starch for various purposes in food preparation or for use as feed. Expect broken rice or feed-grade rice to have a much lower value than the rice used in food products.
Different segments for ethnic or speciality rice
Organic and health shops, catering establishments (such as restaurants), ethnic stores and street markets are a smaller segment. However, this segment can be more interesting for the lesser-known varieties.
Do you want to export varieties such as black, red or glutinous rice in bulk or as consumer products? You will find opportunities with smaller specialised buyers that can connect you to these more specific segments.
12 .

What are the end-market prices for speciality rice varieties?

Costs and margins in the rice trade differ per country, variety and quality. Figure 9 provides an example or rough indication of how the price structure can work out.
Retail prices for speciality rice differ
Retail prices for rice vary a lot, depending not only on variety but also brand, package size and quality:
Common white rice starts at around € 1 per kilogram in supermarkets.
Specific varieties that are widely available include basmati, jasmine, parboiled and brown rice. Their prices normally range between € 2–4 per kg.
Locally produced varieties such as Bomba "paella" rice (Spain) and Arborio "risotto" rice (Italy) have prices around € 3–5 per kg due to higher production costs.
Organic prices can also be expected to be up to 50% higher than the conventional variety, for the same reason of higher production costs.
Smaller varieties such as black rice, red rice and glutinous rice are not widely available. Prices are higher than the common varieties and comparable with the local European specialities. Wild rice has an exceptional value in retail of € 10–20 per kg. Therefore, you can often find it mixed with another rice product.
For exporters, it is important to realise that trade prices and retail prices are not directly linked and behave in their own way. The trade prices of rice produced in Europe have stabilised at around € 300 per tonne. In 2017, Europe will be well stocked with increased imports and a strong local production.
Please review our market information disclaimer.