Through what channels can you get electronics and electrical engineering onto the European market?
When targeting the European market for electronics and electrical engineering there are various approaches to the market segmentation for exporters from developing countries: by position in the value chain, by production capacity, by technological capacity, and by application industry. In regards to sales channels there are three ways to access the market: indirectly (through importers, distributors or agents), directly (through cooperation with European suppliers / Electronic Manufacturing Service providers or manufacturers) or through a strategic alliance with European suppliers/Electronic Manufacturing Service providers or manufacturers.
1.

Which market segments to target?

There are various approaches to the market segmentation of electronics and electrical engineering for exporters from developing countries targeting the European market: value chain, production capacity, technological complexity, and application industry. Understanding your product segment will increase the competitiveness of your products and will help with a market entry and pricing strategy. Plan production and Research and Development (R&D) processes depending on the product segment and the market segments served.

Figure 1: Market segments for Electronics and Electrical Engineering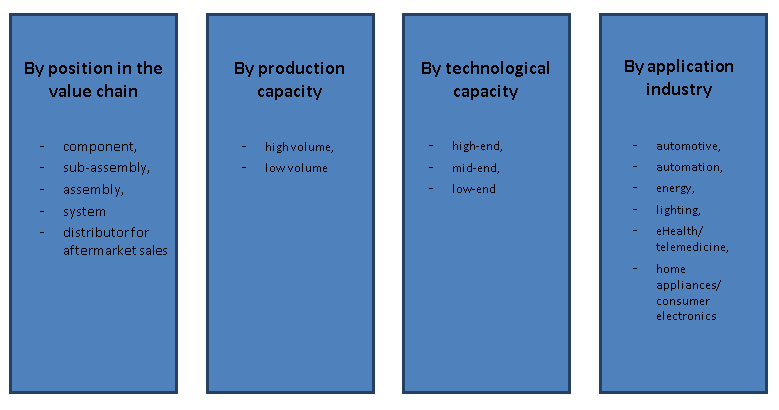 Electronics and Electrical engineering can be segmented in four levels:
1) The 'position in the value chain' type
A component manufacturer will most likely target sub-assembly, assembly or system makers, as well as distributors for after-market sales. A manufacturer of assemblies and systems will work more closely with Original Equipment Manufacturers (OEMs) and Original Design Manufacturers (ODMs).
The significance of suppliers or sub-assembly makers, also called Tier 1 and Tier 2 suppliers, increases continuously. In Europe's largest industry – the automotive industry – this is important to note when targeting market segments. In 2016 around 78% of the value creation is realized by sub-assembly makers, as compared to only 22% by the OEMs such as Audi, BMW, Renault, etc.
Due to intensive competitive pressure the sub-assembly market segment of the automotive industry will concentrate further, meaning that players will merge in larger numbers or go bankrupt. Cost pressure provides low-cost suppliers with market opportunities in the automotive industry.
Tips:
Define the buyer that is most suitable for your portfolio and reach out to it. Try to have a diversified distribution channel by targeting various European buyers to maximize your return on investment.
Strive to keep quality high and not to compromise on it. This will open up market opportunities as, due to increasing cost pressure, suppliers have tended to compromise on quality which has led to more product recalls and dissatisfaction among clients.
2) The 'production capacity' type
Components are more likely to have standardised, conveyor-type production. This is usually high volume production. High volume products are a very price sensitive market.
A system can often be customised and, as a rule, is more cost-intensive. Production of this type of item is typically low-volume. Regardless of the product type, there is a growing demand for highly efficient and customised products. Customisation typically involves more a complex design and functions for specific applications.
Tips:
Regardless of the product type, always work on production process optimisation and eliminate redundant operations and costs.
Add value to your product:

excellent quality for high volume products and low number of defect products;
special functions and design for a specific application industry;
customisation according to the buyer requirements.
3) The 'technological capacity' type
Demanding market conditions are continuously increasing the required product efficiency, capabilities and performance. Electronics are penetrating new markets such as lighting, energy (smart grids), sports and clothing (sensors). Besides this, electronics are gaining a growing share of applications in such sectors as automotive, automation and healthcare (telemedicine).
These expanding new markets create opportunities for manufacturers of electronic components and assemblies with high-end technological capacities, but also mid-end as well as low-end. This provides exporters or manufacturers from developing countries along the diverse levels of technological capacities with market opportunities. For example there is a high market demand for capacitors of average quality or so to say manufacturers with mid-end technological capacities.
End-product manufacturers are faced with a trade-off between product durability, cost level and efficiency of production capacities which regularly results in a demand for components for mid-end or also low-end technological capacities.
Tips:
To meet intensifying buyer requirements, continuously work on products with higher efficiency and better performance. Higher efficiency also means a higher level of integrated functions that reduce size, the number of applications and material.
Develop products with specific requirements for selected growing markets; specialise and differentiate your portfolio to increase competitiveness.
Consider product co-development with European manufacturers and start-ups. Innovation platforms can help in terms of getting into R&D partnerships.
4) The 'application industry' type.
Demand for electronics and electrical engineering in Europe is driven by the demand in various application industries which represent, also based on their requirements, different market segments.
Source: ZVEI and Fraunhofer-Institut (2016)
Compared to the world market segments, the consumer electronics sector in Europe has diminished significantly in size.
a. The automotive industry:
The automotive industry remains the biggest industry in Europe. Of around 92 million vehicles worldwide in 2015, 23 million were manufactured on the European continent. Only China was in front with a production of 24.9 million vehicles. Europe benefits from the circumstance that vehicle production is predominantly located close to the sales market, due to the need for customisation depending on regional or local demand. That is why, for example, Japanese manufacturers such as Honda or Toyota operate manufacturing plants in Europe.
Around 85% of innovations in cars are electronics-based. As a result, there are huge opportunities for DC electronics suppliers on the European market. In 2015 electronics on average worth 391 US-Dollar were built into cars while in 1985 the amount made up around 24 US-Dollar.
The leading manufacturers in this sector and their (procurement) websites are: Audi, BMW, Mercedes-Benz, Volkswagen, Renault, Skoda, Peugeot Citroen, Seat, Dacia, Fiat, Toyota, Honda and Opel.
European car manufacturers have started to develop e-car models and to ramp up production. This drives growth in the larger supplier industry and generates growth opportunities for development country exporters of electronic components. Yet, in 2015 more than 95% of cars in Europe were still powered with gasoline and diesel, including newly produced cars.
E-vehicle production and development will be a major driver of market growth in the long term.
Tip:
Do not focus on OEMs alone, but on the supplier industry as a whole.
It may be easier to approach the supplier industry further up the value chain.
Try to approach European OEMs in particular, but also other globally operating OEMs if they have production facilities in your country. Try to offer your product for their local production. This will help you to access the European market later on.
Source: Destatis
b. The automation industry:
High production costs have been a major driver of industry automation in Europe – especially in high labour cost countries such as Germany, the Netherlands or France. This makes industry automation a key factor for a competitive European production industry.
The leading manufacturers in this sector and their (procurement) websites are: Siemens, General Electric, Beckhoff, Kuka, Harting, etc.
Automation has reached a high level in high-cost European countries, but will experience further growth in both the short and the long term, especially due to the increased crosslinking of production processes and production facilities.Central and Eastern European countries that currently still benefit from low labour costs, such as the Czech Republic and Hungary, will also experience an increased level of automation in the long term as labour cost advantages shrink due to rising income levels.
Tips:
Customisation is a good option to give you an edge over competitors as the automation industry is marked by individual solutions.
Work on your quality management to meet the high market requirements.
Trade fairs such as the annual Hanover Fair/Hannover Messe are good opportunities to reach out to potential buyers, especially for industry applications such as automation.
c. The energy industry:
The energy industry has experienced a major shift away from conventional fossil-fuel-intensive energy production towards renewable energy production across Europe. This shift has created a new demand for technology and a new industry producing renewable energy technology, with a focus on solar/photovoltaic, wind and biogas applications.
The leading manufacturers in this sector and their (procurement) websites are: SMA, Senvion, MWM, etc.
There is now little production of solar or photovoltaic technology in Europe due to massive competition from Asian (in particular Chinese) manufacturers. There is, however, still significant production of energy technology in such fields as wind, smart metering, inverters and control modules. All these applications involve the use of electronic components. The demand for these components will continue in the short and medium term.
Tips:
The market provides good opportunities for developing countryexporters, especially in the smart metering segment. Countries such as India have developed a strong product range here, and local manufacturers have significant expertise in this field.
Visit or exhibit at trade fairs such as the Energy Tech regularly; this will help you to be recognized as a trustworthy partner by potential clients.
d. The lighting industry:
Lighting continues to be a major application industry for electronics in Europe. Manufacturing is primarily based in Germany, the Netherlands and Italy.
The leading manufacturers in this sector and their (procurement) websites are: Osram and Philips
The lighting industry has undergone a fundamental shift from the classical bulb to the light-emitting diode (LED). Innovation continues to drive the growth of this industry in Europe. Approximately every nine month a new generation of LED with a higher degree of light efficiency enters the market. This innovation will be a strong growth driver in the short and medium term.
In the long term, however, Asian countries will catch up in the field of innovation, and there is likely to be a major shift of production to Asia. Samsung (South-Korea) has become a main competitor, but also Chinese manufacturers. Samsung and Chinese companies have benefited from their expertise and experiences in the production of LED screens which they have started to apply in other lighting applications such as home lighting.
e. The eHealth and telemedicine industry: 
Medical technology is a well-established industry in Europe, especially in Germany. It benefits from a sophisticated health system with a high level of demand for technology. The key market for manufacturing is Germany, where production facilities belonging to Siemens, Philips and General Electric are located. Alongside these multinational giants, a multitude of small and medium-sized companies, such as Dräger, manufacture a wide range of medical technology products.
The leading manufacturers in this sector and their (procurement) websites are: Siemens, Philips, General Electric, Dräger, etc.
The industry will remain strong in Europe in the short and medium term due to its proximity to the large European sales market. A major growth driver is telemedicine, which helps to cut costs in the cost-intensive European health systems and to find solutions for remote areas where there is a lack of medical care coverage.
Tips:
Customisation offers opportunities to get a foothold in the market and start business with innovative small and medium-sized manufacturers.
Make sure that you meet industry quality standards.
Offer your products at trade fairs, such as the annual Medica. The fair is the world's largest for medical technology. It provides good opportunities to meet representatives of direct and indirect marketing channels. You need to make yourself known to potential customers.
f. The home appliances, consumer electronics and wearables industry:
The production of home appliances such as refrigerators or washing machines for the European market is largely based in Europe. Most of the production is concentrated in Eastern and Central European countries, such as Poland or Hungary. Western European, but also North American and Asian companies, have set up production facilities there to benefit from the lower production costs. In Germany, Bosch Siemens Hausgeräte (BSH) and the luxury brand Miele assemble home appliances.
Home appliances have become more energy efficient and smarter in recent years, especially thanks to integrated electronic units, which control energy consumption and connect the home appliances to other appliances. This trend will continue in the short and medium term, providing business opportunities for exporters from developing countries.
The leading manufacturers in this sector and their (procurement) websites are: BSH, Miele, Amica, Samsung
Supplying European consumer electronics or wearable manufacturers is a niche market. Production of consumer electronics and wearables will tend to disappear from Europe in the long term.
Tips:
Get more information about Eastern European manufacturers.
It would be a good idea to visit production clusters in Poland, make contact with procurement managers and find out about local demand.
2.

Further characteristics of the market segments to consider when targeting the European market

Most of the application industries depend to a medium or large extend on the economic climate as they are mainly based on investment goods. Companies and private households mainly purchase these goods in times of economic upswing.

After years of weak economic development – which included a decline in production – investments and international trade are expected to recover in Europe in the short- and mid-term. There is a considerable need of investments into equipment whithin Europe to modernise the capital intensive machinery for the production of investment goods. This meant growth rates of 1.5 and 3% in regards to investments in 2015. In Germany the investments were around 3% while in the rest of Europe 1.5% or less were realized.

The increasing integration of industry and information and communication techology, the increased need of energy efficiency and the growing industrialization of emerging markets offer growth opportunities for European investment goods manufacturers in the short- and mid-term. This means growth opportunities for suppliers of electronic and electrical components.
Tip:
Analyse your production capabilities and the demand trends for different product groups in electronics and electrical engineering in Europe. Understand the potential of electronic components in specific applications and gather information on the key trends in target markets to create a unique buying proposition.
Source: ZVEI (2016)
Trade hubs and their role 
Developing country exporters should pursue opportunities through cooperation with the main European trade hubs that benefit from a well established supply chain management. Despite the stagnation in intra-European trade, market experts foresee a growth in the importance of re-exports of electronics and electrical engineering products.
Intra-European trade accounts for around 65% of total exports of electronics and electrical engineering. Germany, France, the UK, Italy, the Netherlands, Belgium and Austria are some of the key trade hubs for active, passive and electromechanical components. These products are exported to destinations or smaller countries such as Sweden, Finland, Ireland, Malta, Cyprus, and other European countries.
Tip:
Target the key trade hubs in Europe, mature countries such as Germany, the Netherlands, France, the UK, Belgium and Italy. By collaborating with trade hubs, developing country exporters can indirectly reach out to other smaller, but just as important markets.
Figure 5: Trade-hubs of electronics and electrical engineering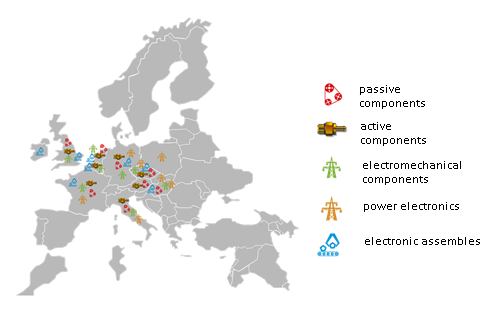 Source: Eurostat
Exports and their destinations in Europe 
Germany, the Netherlands, the UK, France, and Italy are the major importers of electronics and electrical engineering products in Europe due to their larger industrial base than in other European countries. This significance of volume markets will not change in the foreseeable future, even though higher growth rates are realized in especially Eastern and South Eastern European states such as the Baltic states, Croatia or Romania.
Despite its general economic decline – mainly due to the break-down of the national property market years back – Spain still has the second largest car production in Europe which sustains its demand for electronics and electrical engineering.
Tip:
Consider cooperation both with the biggest European markets such as Germany, the Netherlands and the UK, and with rapidly developing but smaller European markets such as the Baltic states, and other Southern and Eastern European countries.
Germany is the industrial leading country in Europe with a population of 80 million. It represents the largest market and the largest workforce of all EU countries. The economy is characterized by a large number of highly innovative industrial small and medium-sized enterprises. Over the decades Germany has sustained a strong and very competitive industrial basis while countries in Europe such as the UK have reduced their industrial sector and rather focused on the service sector.
Source: ZVEI (2016)
Source: Eurostat and ZVEI (2016)
Source: Eurostat and ZVEI (2016)
Source: Eurostat and ZVEI (2016)
3.

Through what channels can you get your Electronics and Electrical Engineering products on the market?

Market channels for the Electronics and Electrical Engineering sector are presented in Figure 12.

Figure 10: Market channel approach for Electronics and Electrical Engineering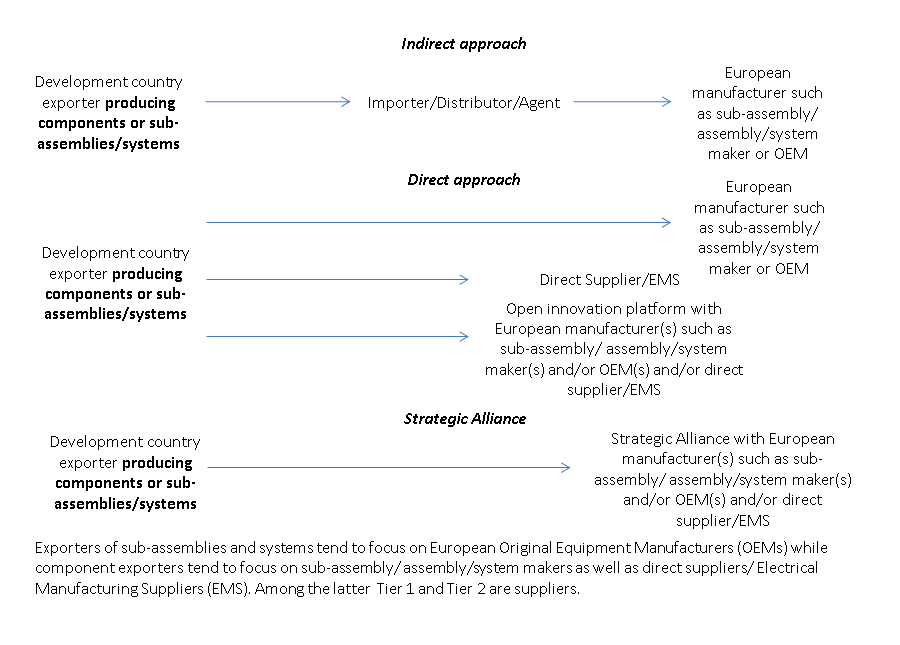 Direct, indirect as well as strategic alliance market entry strategies to fit the developing country exporter product portfolio.
There are three ways to enter the European Electronics and Electrical Engineering market:
1) indirectly through importers, distributors or agents
2) directly through cooperation with European suppliers / Electronic Manufacturing Service providers or manufacturers
3) strategic alliance with European suppliers/Electronic Manufacturing Service providers or manufacturers.
The market entry strategy may depend on the product portfolio or product type you manufacture, production volumes, as well as product positioning, marketing strategy and target market particulars as well as financial targets.
In case the exporter produces a standardized product, the approach via distributors is a good option as they are focused on standardized products and only take products into their portfolio that have proven to be reliable in the market. In case the developing country exporter offers a customized product the direct approach is better. The third of the above mentioned three ways (strategic alliance) requires the highest commitment or closest relationship between partners.
Partners may provide the strategic alliance with resources such as products, distribution channels, manufacturing capability, project funding, capital equipment, knowledge, expertise, or intellectual property. The alliance is a cooperation or collaboration which aims for a synergy where each partner hopes that the benefits from the alliance will be greater than those from individual efforts.
Tips:
Define your product portfolio and product positioning. Identify the best market entry approach for the products you make by answering the following questions:
Does my offering include standardised or customised products?
Does the company have capacities for high volume production?
Do I have the budget for marketing activities in Europe?
Can I establish a customer relationship to a local subsidiary of a company also operating in Europe?
What is the target profit margin and what is the minimum margin to remain profitable (break-even point)?
Opportunities to reach out to numerous end-customers through an indirect market entry approach.
For a standardised product, an indirect approach is the most suitable, as working with an importer, agent, or distributor can help in terms of reaching several manufacturers effectively.
The supply chain in the application industries of electronics and electrical engineering has become increasingly fragmented. OEMs have tended to outsource parts of production to partners as they focus on the development of new products and technologies. This has opened up opportunities for distributors in case they are able to offer the added value to the OEM.
Trade-shows are good location to look for distributors and other buyers and offer an opportunity to present your company's capabilities.
Source: Evertiq (2016)
Distributors experience a consolidation phase. Five years ago there were around 300 distributors operating in Germany – Europe's largest market for electronics and electrical engineering. Today there are still 250. This number is expected to fall to 200 in around five years' time. Reasons for the decline are merger and acquisition activities or closures. Germany's market leader Avnet grew its market share by around 2% from 2014 to 2015. The top 3 distributors in Europe's largest market control around 54% of this market. 
Tips:
Consider approaching the market through distributors, importers or agents to improve your scope and save on marketing costs;
Visit European trade shows to come in contact with the leading distributors;
Get ready for price negotiations in this price-sensitive distribution channel. Consider working on a progressive product discounting scheme depending on the order volume.
A direct approach enables a higher level of engagement with the buyer and is ideal for customised product distribution.
Approaching the market directly has clear advantages, such as direct contact with and feedback from the buyer, thus providing a basis for long-term relationships. A direct approach also means higher margins, as no middlemen are involved. It can, however, also have some drawbacks, such as the need to engage directly in costly distribution, promotion and sales activities. Typically, manufacturers of customised and value-added products will select this approach, as the direct contact with the buyer is crucial for delivery of high-quality products that meet all buyer requirements.
Entering the European market via customer relationships with subsidiaries of European companies such as Philips or Siemens in the country of origin of the exporter (for example India) is promising as it reduces the geographical and cultural gap between supplier and buyer. CBI programme participants have good experiences with this approach.
Tips:
Approach European SME manufacturers directly to offer customised products, engage in a long-term cooperation and co-develop products for new markets.
If you seek partnership with big manufacturers, consider entering the market through indirect suppliers or electronic manufacturing service (EMS) providers.
Constantly research new entry possibilities in niche markets.
Consider joining several European innovation platforms to develop the right partnerships.
Visit or exhibit at trade fairs and contribute to discussions on open innovation and high-tech platforms. This will demonstrate your leadership potential and develop relevant contacts in Europe.
Direct suppliers/EMS gain power in Europe.
European OEMs are increasingly shifting the multi-partner cooperation approach to a single-provider or EMS. This allows European buyers to achieve time and cost savings in supply chain management, sourcing and procurement activities. At the time EMS also benefit from the fact that OEMs increasingly outsource parts of production as mentioned earlier.
Source: Evertiq (2016)
There is a considerable number of European EMS providers. In the vast majority of cases they operate their production plants in Europe. One third of the top 12 are from France which makes it an interesting country when targeting the EMS providers as customers. Other providers and plants are located in Germany, Belgium, Switzerland, the UK, Sweden, Finland and Spain. Labour intensive work has mainly been shifted to Eastern Europe such as Hungary, Slovakia, Czech Republic, Poland, as well as the Baltic states. Production locations outside Europe are mainly in Tunisia, China and the USA. 
The European EMS provide services from prototyping to volume production. They offer a high level of flexibility and capacities for large- and small-scale production. The EMS providers operate in all market segments covering automotive, automation, building applications, consumer electronics, energy, environmental measurement, lighting, life science, or ICT networks.
In recent years mergers and acquisitions have been on-going among EMS providers in Europe and beyond, mainly to increase competitiveness, but also bankruptcies have taken place. This provides suppliers from developing countries with new business opportunities as purchase volumes of EMS companies might increase, but it also means some being exposed to some risks.
Tip:
Identify direct suppliers and EMS through local directories, tradeshows (look for lists of participants) or specialised associations. Approach these market players with a value-added proposition, ensuring high quality products, good service, short delivery times, flexibility in answering buyer needs and customisation possibilities;
Look for strong and well established EMS providers to increase market opportunities.
Secure long-term revenues by collaborating through open innovation platforms.
Besides traditional direct and indirect market entry strategies, open innovation platforms are another option for suppliers that focus on long-term partnerships and emerging market segments and technologies.
The EU is home to a very wide range of different manufacturers, from big multinationals to SMEs and start-ups. SMEs and start-ups often need to form partnerships both in the innovation sector and in the supply chain to optimise their resources and to share costs and risks. This trend has led to the formation of several European open innovation platforms that support innovations and a shared supply chain, such as:
Tip:
To secure long-term partners and revenue growth, consider joint operation with European SMEs and start-ups for development and innovation. Evaluate all investment risks thoroughly. Approaching open innovation platforms can broaden your reach and give you access to several players as well as knowledge of the state of the industry.
Counterfeiting practices may threaten the business.
European buyers are constantly faced with counterfeiting problems. To avoid counterfeit products, European buyers prefer authorised distributors with good references, without a negative image.
Tip:
Carefully select potential distributors. Do not work with suppliers or distributers that are known for counterfeiting. Explicitly state your anti-counterfeiting practices and measures on your company's website and in marketing materials.
Fast growing developing countries drive the demand for electronic components and become the end-buyers.
As a result of growing EU support for re-shoring (bringing manufacturing back to Europe), the manufacturing of higher level assemblies, configuration and services is being set up in Europe, while lower and middle-end assemblies and components are being made in developing countries. The value chain, however, may change in the future as market demand will increasingly come from Asian markets (such as China and India). This will have a considerable impact on the supply chain and may result in traditional, high volume suppliers becoming high volume consumers (end-buyers). Against this background, producers already exporting to these developing countries will have an advantage as they will have already built and optimised their channels.
Tip:
When preparing to export to Europe and other regions, consider the potential and the needs of new, emerging consumer countries, such as China and India. Not only are they fast-growing markets, they could also represent a gateway to Europe and the United States, as these countries are already very active in exporting to these regions.
Disclaimer CBI market information tools: www.cbi.eu/disclaimer
Download this research
Through what channels can you get your product onto the European market?