Entering the European market for specialty cocoa
Primary tabs
Takes about 19 minutes to read
Both chocolate makers and consumers highly value transparency, consistency and quality, for which they are willing to pay higher prices. As such, it is key in the specialty segment to identify the aspects that differentiate your cocoa from conventional cocoa (examples: certification, origin, quality, genetics). Direct trade, long-term relationships and fair (premium) pricing, based on rewards for quality, are all important features of the specialty cocoa trade, which make it a high-potential market for cocoa producers and exporters.
1 .

What requirements must specialty cocoa comply with to be allowed on the European market?

You can only export cocoa to Europe if you comply with strict European Union requirements. For a complete overview of these standards, refer to our study on buyer requirements for cocoa or consult the specific requirements for cocoa at the EU Trade Helpdesk.

Buyer requirements can be divided into the following.
Musts: legal and non-legal requirements you must meet to enter the market.
Additional requirements: those you need to comply with to keep up with the market.
Niche requirements: applying to specific niche markets.
The highlights for these requirements are given below, specified for the specialty cocoa market when relevant. In general, as specialty cocoa commands a significant premium over bulk cocoa (in some cases two to three times the price), purchasers of specialty cocoa are much more demanding, and focus on higher quality and strict food-safety regulations.
1. Legal and non-legal requirements you must comply with
Legal requirements
You must follow the European Union legal requirements for cocoa, mainly dealing with food safety and hygiene. Related to this are the legal limits for food contaminants, of which the most common are:
Note that specialty cocoa tends to have stricter restrictions on the use of pesticides and fertilisers than bulk cocoa. This is particularly so to encourage sustainable farming practices, ensure a healthier environment for the producer and enhance the sensory experience for consumers.
Quality requirements
If you want to access the European market for specialty cocoa beans, you will have to meet your buyer's high quality standards. Besides flavour, the quality of the specialty cocoa is also related to the uniqueness and scarcity of the origins of specific varieties.
Buyers in Europe currently assess the quality and flavour of cocoa beans in different ways and often use a combination of two or more methodologies. The guide entitled Cocoa Beans: Chocolate & Cocoa Industry Quality Requirements provides recommendations on cocoa growing, post-harvest practices and quality evaluation methods that contribute to cocoa quality.
Other common cocoa quality assessment methodologies and international cocoa standards used among chocolate makers and cocoa traders are, for instance:
There are no harmonised international procedures, nor is there a specific terminology for assessing cocoa bean quality and flavour and its direct relation to high-quality chocolate for buyers and consumers. However, a working group, coordinated by the Cocoa of Excellence Programme, is currently developing international standards for assessing cocoa quality.
Labelling and packaging requirements
In the specialty cocoa segment, jute bags are still commonly used. For very high-quality micro lots vacuum-sealed GrainPro packaging can be used.
The labelling of specialty cocoa beans exported to Europe should comply with the general food labelling requirements of the European Union. The label should be in English and include the following topics to ensure traceability of individual batches:
Product name
Grade
Lot or batch code
Country of origin
Net weight in kilograms
If your cocoa is organic and/or fair-trade certified, the label should contain the name/code of the inspection body and certification number.
Figure 1: An example of cocoa bean labelling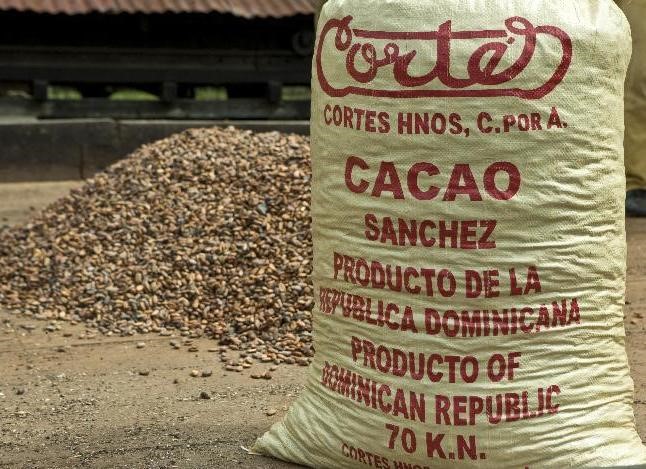 Source: Chocolate Cortés
Figure 2: Examples of packaging for specialty cocoa: jute bag and GrainPro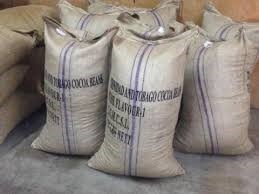 Sources: Osu.edu and GrainPro
2. Additional requirements to keep up with the market
Additional food safety requirements
You can expect buyers in Europe to request extra food safety guarantees from you. Regarding production and handling processes you should consider the following.
Implementation of good agricultural practices (GAPs): The main standard for good agricultural practices is provided by GLOBALG.A.P. This is a voluntary standard for the certification of agricultural production processes that provide safe and traceable products. Certification organisations (such as Rainforest Alliance/UTZ) often incorporate GAP in their standards.
Implementation of a quality management system (QMS): A system based on Hazard analysis and critical control points (HACCP) is often a minimum standard required at the level of storage and handling of cocoa beans. If you export semi-finished cocoa products, some buyers will also expect you to have certification such as International Featured Standards: Food (IFS) or British Retail Consortium Global Standards (BRC) certificates for your manufacturing facilities.
Additional sustainability requirements
Traders and chocolate makers in the specialty segment usually follow the principles of ethical and sustainable sourcing. This means that direct contact with producers, transparency, and promoting sustainable practices are key aspects of their operations. Examples of specialised importers include French companies Ethiquable, Alter Eco, Kaoka and Saveurs & Nature, British company Twin Trading, and German companies GEPA and El Puente. These importing companies work on projects with cocoa-producing cooperatives in the countries of origin.
3. Niche requirements
Demand for cocoa with organic certification is growing rapidly in Europe, making this an interesting niche market. In order to market your cocoa as organic in the European market, it must comply with the regulations of the European Union for organic production and labelling.
Before you can market your cocoa beans as organic, an accredited certifier must audit your growing and processing facilities. Examples of accredited certifiers are Control Union, Ecocert, FLOCERT, ProCert and SGS.
Note that, in addition to certification, supply chain transparency is important in the specialty segment. Communicate a traceable and clear direct link between yourself as a producer and your buyer and/or the consumer.
Tips:
Learn more about organic farming and organic guidelines on the European Union website and the Organic Export Info website.
Find importers that specialise in organic products on the website of Organicbio.
Visit trade fairs for organic products, like Biofach in Germany. Check out their website for a list of exhibitors, seminars and other events at this trade fair.
Try to combine audits, if you have more than one certification, to save time and money. Also investigate the possibilities for group certification with other producers and exporters in your region.
2 .

Through what channels can you put specialty cocoa on the European market?
1. How is the end market segmented?
Mainstream cocoa beans are used for processing in four different industries: confectionery, food, cosmetics and pharmaceutical. Specialty cocoa beans are mainly used for the production of middle-range and high-end chocolate products. In the high-end segment, specialty cocoa is usually used without blending, whereas specialty cocoa in the middle-range segment is often used to blend with other cocoa, to standardise and stabilise chocolate's flavour and aroma.
The figure below shows the general segmentation of the chocolate end-market. The high-end market is the smallest but fastest growing segment, with an estimated share of around 5-7%.
Figure 3: Segmentation of the chocolate market based on quality


Middle range: The middle-range segment includes chocolate products of good quality, which are commonly sustainably certified. Storytelling and the origin of the cocoa beans are important in this segment, mainly for marketing purposes.
Examples of middle-range products available in Europe include the popular Swiss brand Lindt. Lindt is mainly known for their wide range of premium chocolate bars from either Trinitario and/or Forastero cocoa. Another example of a middle-range brand is Green & Black's (United Kingdom), which is both organic and Fairtrade certified.
Middle-range products are mainly sold at supermarkets or specialised shops, such as organic supermarkets; for examples Farmy (Switzerland) and Ekoplaza (the Netherlands). The table below gives an indication of consumer chocolate prices for middle-range products:
 

Product

Price (€/kg)

Middle range

Lindt Excellence (dark chocolate 70%)

16.90

Vivani (organic dark chocolate, Ecuador, 70%)

23.50

Chocolat Stella (Demeter certified dark chocolate, Brazil, 70%)

44.14
High-end: This segment is dominated by a large number of smaller, more specialised chocolate makers, producing bean-to-bar or premium chocolate products. They predominantly use specialty cocoa for these products, which is usually a mix of Criollo, Trinitario and/or to a lesser extent Forastero. The cocoa genetics, cocoa cultivation and post-harvest practices, environmental conditions at origin and the chocolate-making techniques all contribute to the final quality of the end product. End products tend to be characterised by a high cocoa content and are often of single origin, which is important for the flavour, traceability and uniqueness of the cocoa.
Examples of bean-to-bar brands in Europe are Blanxart (Spain), Original Beans (the Netherlands), Domori (Italy), Willie's Cacao (United Kingdom), Mi Joya (Belgium) and Fjåk Chocolate (Norway).
These products are mainly sold through (online) specialty shops. Examples of specialty web shops in Europe are Chocolats de Luxe (Germany), Chocoladeverkopers (the Netherlands) and Cocoa Runners (the United Kingdom). High-end chocolate products are also sold at trade fairs, such as Salon du Chocolat (with fairs in France, Belgium, Italy and the United Kingdom), Chocoa and Origin Chocolate Event (the Netherlands).
Chocolate consumer prices for high-end chocolate products are given in the table below (based on retail prices in 2019). To compare, chocolate products on the low-end of the market typically range between €7.50 and €15 per kilogram.
 

Product

Price (€/kg)

High end

Blanxart (dark chocolate, Dominican Republic, 72%)

53.37

Original Beans (organic dark chocolate, Congo, 70%)

63.27

Domori (dark chocolate, Venezuela, 70%)

133.40

Friis Holm (dark chocolate, Nicaragua, 70%)

145.21

Georgia Ramon (organic dark chocolate, Belize, 70%)

155.83
Source: Cocoarunners
Prices: For exporters of cocoa it is important to realise that trade prices and retail prices follow different patterns, thus are not directly linked. Export prices of cocoa beans and the share kept by cocoa producers will depend on the cocoa bean quality, the size of the lot and the supplier's relationship with the buyer. Prices for specialty cocoa have a reference on the international London and New York cocoa market prices, but will command differentials. As such, in the specialty segment these shares of added value for farmers tend to be higher than on the mainstream cocoa market (where only 6.6% of added value per tonne of sold cocoa goes to farmers). Nevertheless, for specialty cocoa it is true as well that chocolate companies retain the largest shares.
Tips:
Learn more about the promotion of standard quality and speciality chocolate by mainstream European supermarkets such as Albert Heijn (the Netherlands), Coop (Switzerland) or Carrefour (France), and compare their product assortment and price levels with specialised online stores such as Cocoa Runners (United Kingdom) or Chocoladeverkopers (the Netherlands).
Refer to our study on trends in the cocoa sector to learn more about developments within different market segments.
2. Through what channels does specialty cocoa reach the end market?
The market for specialty cocoa is relatively small and highly specialised, with its own characteristics of supply and demand. In general, the specialty value chain is short and transparent, unlike the longer value chain for bulk cocoa/chocolate. Farmers often sell their specialty cocoa either directly to agents or specific chocolate companies. This increases the possibilities of reaching a more efficient and equitable distribution of prices across different actors along the chain.
Figure 4: The main export channels of cocoa to Europe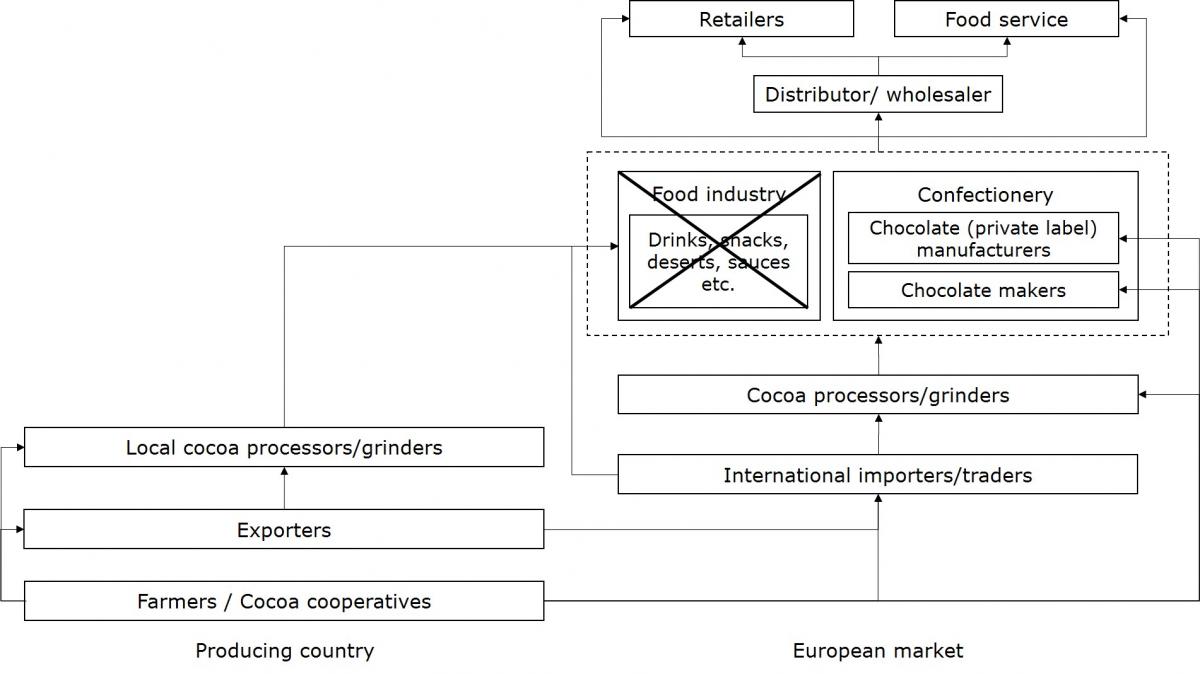 The different channels to enter the European market for specialty cocoa are:
Importers: There are several importers active in the specialty cocoa segment. They usually deal with smaller quantities, and often work directly with producers and producer cooperatives. Examples of specialty cocoa trading companies are Bohnkaf Kolonial (Germany), Silva (Belgium) and Tradin Organic (the Netherlands). They distribute specialty cocoa in their own country, or elsewhere in Europe. These importers do their own quality checks, and sometimes engage in processing as well. Bear in mind that many specialised importers prefer to work directly with producers and/or cooperatives and not through exporters.
Mid-sized and larger (private label) chocolate manufacturers: Barry Callebaut is the largest industrial chocolate manufacturer worldwide, mainly dealing with bulk cocoa but also processing specialty cocoa. Other chocolate manufacturers sourcing specialty cocoa beans for their chocolate manufacturing are Lindt & Sprüngli (Switzerland) and Valrhona (France). Both companies have their own importing departments and source their cocoa beans directly from producing countries.
As it becomes more common for large brands to outsource their production to specialised private label manufacturers, private label companies can also be an interesting entry point for your specialty cocoa beans. Dillicious (Germany) and Felchlin (Switzerland) are examples of companies offering high-quality private-label manufacturing. Chocolate Naïve (Lithuania) also offers private label, while also producing its own bean-to-bar brands.
Small chocolate makers: In the specialty cocoa segment, cocoa beans are increasingly traded directly from farmer (association) to chocolate maker. Examples of bean-to-bar makers in Europe that source part of their cocoa directly from producing countries are Blanxart (Spain), Mesjokke, Original Beans (the Netherlands), Domori (Italy), Friis Holm (Denmark) and Georgia Ramon (Germany).
Although direct trade is growing, it still represents a very small part of the cocoa market. Not all chocolate makers are able to sustain direct trade, since responsibilities that are usually outsourced to traders (such as logistics, documentation and pre-financing) now need to be handled by the chocolate maker.
In this sense, direct trade can also have an importer as intermediary (such as Daarnhouwer, in the Netherlands), acting as a service provider and contact point in the transactions between the source and the end market. Such importers can also guarantee traceability and communicate the story of the cocoa beans accurately along the chain.
An example is Kokoa Kamili, a social enterprise which distributes Tanzanian specialty cocoa to several European bean-to-bar makers, such as Krak Chocolade (the Netherlands) and Svenska Kakaobolaget (Sweden). Other examples of such specialty cocoa intermediaries are Uncommon Cocoa and Cocoanect. Direct Cacao is a platform which helps connect cocoa producers with chocolate makers.
Which of these channel is most interesting for you? A producer association selling specialty cocoa is likely to be successful by selling its cocoa beans directly to specialised cocoa importers. If you produce or have very high-quality cocoa beans and you are working through an importer, it might be interesting to directly link up with high-end chocolate makers.
Targeting specialty chocolate makers directly is recommended for producers and exporters dealing with specialty cocoa beans. This means you must have the financial means and technical know-how to organise export activities. You could also consider setting up local processing facilities to add more value to your cocoa beans. Our study on the European market for semi-finished cocoa products discusses this in greater depth.
3 .

What competition do you face on the European specialty cocoa market?

On the market side, the level of competition in the specialty cocoa market is generally lower than in the market for bulk cocoa. In the specialty segment there is a strong focus on quality, taste, origin, sustainability and long-term direct trade relations. The role of governments in cocoa producing countries and their policies for the cocoa sector are also important to take into account, as they have a big influence on the opportunities and development of the sector.
Latin America largest supplier of fine flavour cocoa beans to Europe
According to the International Cocoa Organisation (ICCO), there are 23 countries that export fine flavour cocoa, of which 18 are Latin American. The table below shows that Ecuador, the Dominican Republic and Peru were the largest producers of fine flavour cocoa beans exporting to Europe in 2018. Note that not all imported cocoa beans from these countries are defined as fine flavour.
Latin American is currently responsible for about 80% of all fine flavour cocoa production in the world. Ecuador is the main producer, but other Latin countries, such as Peru, also play an important role. It is estimated that 53% of the Criollo variety, which belongs to the fine flavour segment, comes from Ecuador, followed by Peru (16%), Papua New Guinea (10%), Dominican Republic (9.6%), Colombia (3.9%), Madagascar (2.9%) and Venezuela (2.6%). The competitive advantages of these countries producing high-quality cocoa, linked to origin, give them great potential to access the European high-value specialty market.
However, the competitiveness of some origins in this region is threatened by the new regulation on cadmium in cocoa for the European market. This has led to stricter controls on cocoa beans by European importers – particularly on supplies sourced from Latin America, as cocoa from there often has higher cadmium levels than cocoa from other regions. You can read more about the cadmium regulation in our study covering buyer requirements for cocoa.
Table 1: The main suppliers of fine flavour cocoa beans to Europe, in tonnes, 2014-2018
| | | | | |
| --- | --- | --- | --- | --- |
| Country | Fine flavour export shares | Total imports by Europe in 2014 | Total imports by Europe in 2016 | Total imports by Europe in 2018 |
| Ecuador | 75% | 50,600 | 70,994 | 76,295 |
| Dominican Republic | 75% | 31,001 | 44,451 | 34,315 |
| Peru | 40% | 26,885 | 53,089 | 31,812 |
| Madagascar | 100% | 6,259 | 9,514 | 8,450 |
| Papua New Guinea | 90% | 5,191 | 5,209 | 4,560 |
| Venezuela | 100% | 2,109 | 1,904 | 3,140 |
The fine flavour cocoa market is highly competitive and hard to enter
It is difficult to enter the market as a new fine flavour cocoa producer, due to its high quality requirements and the fact that there are not a single set of criteria determining whether cocoa can be classified as fine flavour. In addition, only governments can apply for fine flavour status, which gives a political component to this market. Countries with an organised cocoa sector, with governmental support and strong lobbying power have higher chances of success.
Governments strongly supportive of the development of the fine flavour cocoa market in their country include those of Peru, Ecuador and Venezuela. Several countries have sought the fine flavour status and were added to the list in 2016, namely Belize, Guatemala, Honduras, Nicaragua, Panama and Vietnam. Other countries are still pursuing the fine flavour status. In 2017, cocoa beans from the Philippines were selected as among the best in the world. The Philippines is now also applying for a membership at ICCO.
Latin America leads organic supplies
Latin American countries are known for their high production shares of organic cocoa; about 70% of organic cocoa in 2016 was produced in Latin America. The world's largest organic cocoa producer is the Dominican Republic. A major share of organically produced cocoa from the Dominican Republic is also Fairtrade certified. Peru is the world's third largest producer of organic cocoa beans. Both Peru and the Dominican Republic have adopted national strategies to distinguish their cocoa from their competitors, with a focus on quality and sustainability. A large share of their total supply is defined as specialty cocoa.
Africa produced about 29% of total organic cocoa in 2016: Congo is the world's second largest cocoa producer, Sierra Leone the fourth largest, with Tanzania ranking fifth.
Tips:
Identify your potential competitors. To be successful as an exporter, it is important to learn from them. Focus on their marketing strategies, the product characteristics they highlight and their value addition approaches. Successful companies that already export to the European market from which you can learn include Casa Franceschi (Venezuela), Hacienda Betulia (Colombia), Ingemann (Nicaragua) and Xoco Gourmet (Central America, mainly active in Honduras, Guatemala, Belize and Nicaragua). By adhering to strict quality regulations, endorsing high technical standards and deploying the right marketing strategies, you can stand out from your competition.
Identify and promote your unique selling points. Give detailed information about your cocoa growing region (origin), the varieties, qualities, processing techniques and certification of the cocoa you offer. You can also tell about the history of your organisation, your cocoa growing farm(s) and the passion and dedication of the people working there. These are all elements that make your company unique.
Actively promote your company on your website and at trade fairs. Flavour quality competitions also provide good opportunities to share your story (example: International Chocolate Awards of the Cocoa of Excellence Programme).
Work together with other cocoa producers and exporters in your region if you lack company size or product volume. Together you can promote goodquality cocoa from your region and be a more attractive and more competitive supplier for the European market.
Develop longterm partnerships with your buyer. This is often intrinsic to the specialty cocoa segment and implies always complying with buyer's requirements and keeping your promises. This will provide you with a competitive advantage, more knowledge and stability on the European specialty market.
Read more about the profiles of the different fine flavour cocoa origins in the world in this blog of Perfect Daily Grind.
See our studies on how to find buyers and how to do business for more information on how to access the European market successfully.
This study has been carried out on behalf of CBI by ProFound – Advisers in Development.
Please review our market information disclaimer.