Through what channels can you get automotive parts and components onto the European market?
The automotive market is changing rapidly. Trade hubs shift, purchase procedures become stricter and IT becomes a very important aspect within all segments. The most attractive way to access the aftermarket is through the independent distribution segment, while the Original Equipment Manufacturer (OEM) segment is best accessed through Tier 2 and Tier 3 suppliers.
1.

Market segments

The two major European automotive customer segments for suppliers from developing countries include the OEM segment and the aftermarket segment.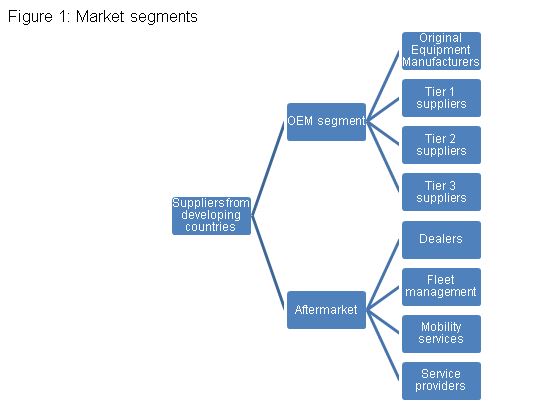 The OEM segment
The OEM segment is becoming increasingly polarised, with the premium and the urban car segments experiencing the most growth. The premium cars are characterised by a high level of technology and telematics, while the commodity cars are characterised by fewer accessories and being environmentally friendly. Premium trends and accessories are adopted in the commodity segment after a lag of a few years.
Original Equipment Manufacturers
OEMs are vehicle manufacturers such as Volkswagen, Peugeot and Fiat with a very strong buyer power. Their procedures for purchase are strict, while their demands on quality, price and volume are very high. For most suppliers from developing countries, it will be impossible to supply to OEMs directly.
Tier 1 suppliers
Tier 1 suppliers sell directly to the OEMs. In recent years, they have become system integrators, meaning they are involved in the design, development and testing of the modules and systems that they supply. Tier 1 suppliers are increasingly gaining bargaining power, and their role in the supply chain is becoming more important. At the moment, they are the most profitable tier within the segment. Like OEMs, Tier 1 suppliers have very high demands on quality, quantity and price. 
Tier 2 suppliers
Tier 2 suppliers supply mainly finished parts and components to Tier 1 suppliers as well as directly to OEMs. OEMs are very much willing to bypass Tier 1 suppliers in order to be less dependent of them, offering opportunities for Tier 2 suppliers.
Tier 3 and lower-tier suppliers
Tier 3 suppliers (indirect suppliers) supply raw materials and basic parts (such as screws and rivets) as well as components to Tier 2 suppliers, mainly through subcontracting agreements. Although the quality requirements of all European buyers are high, the demands of lower-tier buyers are usually less strict and the volumes demanded are lower. This offers opportunities for suppliers from developing countries. 
Service providers
Service providers are organisations that provide any sort of automotive service. Some service providers operate under a given name/brand, such as Volkswagen, Peugeot or Fiat. Because these are supplied by OEMs, there are usually few chances for suppliers from developing countries. Independent service providers, however, offer more opportunities for suppliers from developing countries.
The aftermarket segment
The aftermarket segment secures the maintenance and part replacement of vehicles. In the aftermarket, we distinguish several subsegments as noted below.
Dealers
Dealers sell cars at the retail level through dealership contracts with OEMs, and provide maintenance services and spare parts. European dealers are in business either with only one or a few OEMs, or with many. Some dealers are eager to trade with suppliers from developing countries, if they offer a good price.
Fleet management
Fleet management is the management of a B2B client transportation fleet. Leasing companies are an important example of this process. Since they usually have contracts with OEMs, there are very few chances for suppliers from developing countries.
Mobility services
Mobility services are different kinds of mobility concepts for urban regions (such as car rental and parking solutions). Most mobility services have contracts with OEMs and are unlikely to trade with suppliers from developing countries.
2.

Market channels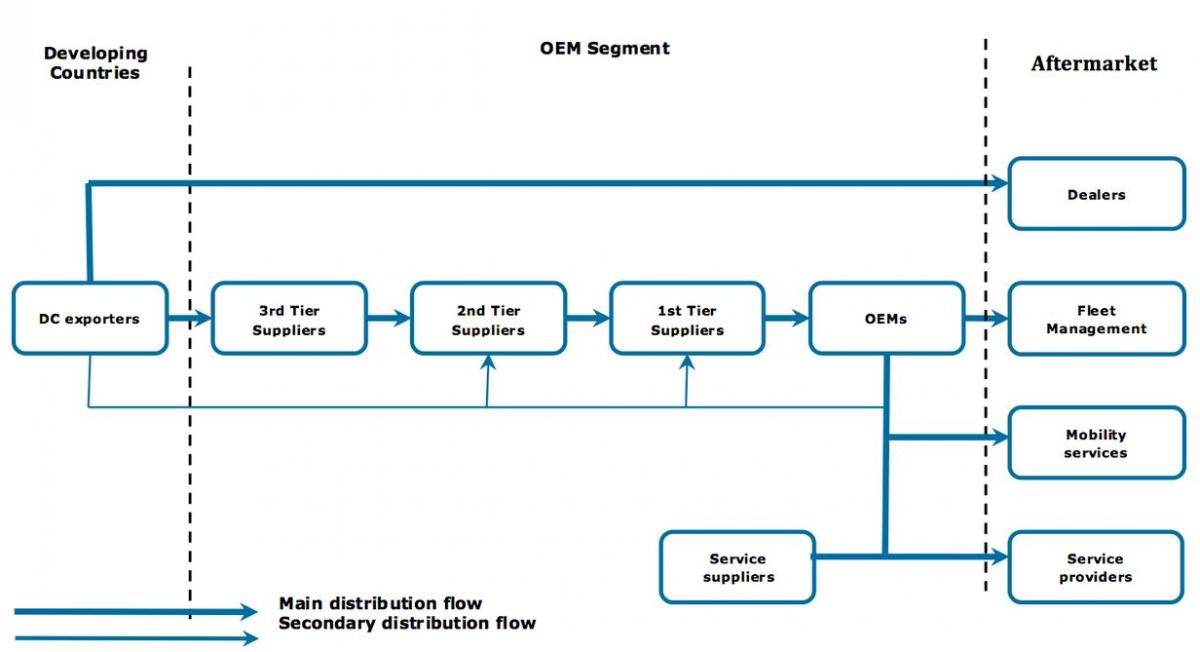 Accessing the OEM market segment
The European production is organised in production clusters
European production is focused on production clusters (areas with concentrated production, which comprise OEMs, Tier 1-3 suppliers, design engineers, universities and research institutes).
Tips:
Start with a narrow focus on one or two production clusters.
Concentrate your supply chain in one area.
Trade hubs move to Eastern and Central Europe
Most OEMs, and therefore most Tier 1-3 suppliers as well, are situated in Germany, France, Italy, Spain and the United Kingdom. Poland and the Czech Republic have high growth rates, although their production is not yet as high as in Germany, France, Italy, Spain and the United Kingdom.
Tip:
Approach Eastern and Central European clusters with your products and visit trade fairs in the region to make contact with the relevant importers.
OEMs and Tier 1 buyers have strict purchase procedures
When trying to sell to Tier 1 buyers and OEMs, you usually first need to establish contact with their purchase department. Next, you need to register in the supplier database. Afterwards, your buyer will audit you. If the outcome is successful, you will be granted the opportunity to supply a small amount of parts. Only if the buyer is still satisfied after that, you may be awarded a quotation for a bigger deal.
Tips:
Be prepared to invest time, effort and money when your aim is to export to Europe.
Provide extra services, such as logistic services and pre-assembly services to an OEM distribution channel. This can create additional competitive advantage.
Position yourself well by delivering parts to Tier 1 suppliers that improve the performance or safety of a vehicle's original components. Using lightweight materials, for example, may achieve this.
Industry 4.0 changes the market chain        
Within Industry 4.0, the vertical partners within the chain (Tier 1, 2 and so on) integrate their IT systems in order to smoothen the process along the chain. Due to this trend, logistical information technology becomes more important and vertical partners are more tightly related to each other. Generally, it will be harder for you to compete with suppliers whose IT systems have already been integrated. However, if you already have a well-developed IT infrastructure, Industry 4.0 is an opportunity to excel.
Tips:
Explore how Industry 4.0 affects the buyer-supplier relationship in your business.
Be prepared to invest in IT systems.
Accessing the aftermarket
The aftermarket is growing
The aftermarket segment is expected to experience continuous growth due to the saturation in the new car market and the increase in the average vehicle's age. In Eastern and Central Europe, the average age of a vehicle is higher than in Western Europe, creating more opportunities for aftermarket sales.
Tip:
When you supply to the aftermarket, target Eastern and Central Europe.
Be flexible
Just-in-time delivery is crucial in the aftermarket sector, as customers want their vehicles to be repaired and back on the road as soon as possible.
Tips:
Arrange your production in the optimal way so as to cater to the aftermarket needs and to make sure that you are able to increase production volumes at short notice.
Make sure that you can offer and deliver products at competitive and reliable lead and delivery times.
The aftermarket is complex
The European aftermarket is complex and holds a multitude of different players, which ultimately creates opportunities for those who are familiar with the market structure.
Tips:
Tailor your terms and conditions to the aftermarket suppliers.
Visit European trade fairs to become acquainted with them and to learn about their demand and supply preferences.
The aftermarket is becoming more intelligent
The service industry is changing to accommodate the need for specialised diagnostics. Telematics in high-end cars may give vehicle manufacturers an advantage over their competitors by alerting and advising drivers in terms of maintenance requirements and directing them to the nearest franchised dealership for maintenance.
Tip:
Provide parts that are in line with the more advanced technologies available.
Develop an online sales channel
Automotive parts are increasingly sold online, while service providers and dealers are also buying online more often.
Tips:
Develop an online marketing and sales strategy.
Know how your buyers search for products online.
Be aware that price becomes a very important factor when selling online.
Make use of the available (big) data to target your buyers.
OEMs will gain power in the aftermarket    
When autonomous vehicles become available on the market, the aftermarket will change drastically. Due to the specific know-how required for this type of software, OEMs will become more important. This is a risk for suppliers from developing countries, as autonomous vehicles will probably become widely available in the next ten years.
Tip:
Do not become too dependent on European dealers in the aftermarket, as OEMs might take over your market share.
Disclaimer CBI market information tools: http://www.cbi.eu/disclaimer.
Follow us for the latest updates
Search
Enter search terms to find market research