Exporting denim to the Netherlands
Primary tabs
Takes about 25 minutes to read
The European market for denim is a very strong one. Despite the economic recession, demand for jeans and other denim products has continued to rise at several percent annually almost all over Europe. Consumers perceive denim as a fabric that is durable, affordable and permanently in style. Today, the denim market is more diverse than ever, offering many opportunities to suppliers from developing countries. Some of the best opportunities are in sharp pricing and product and design diversification.
1 .

Product description

Jeans are the most widely known and worn denim product. But denim is increasingly used for many other products, from shirts, tops and jackets to hats, bags, footwear and lingerie. It is also often combined with other materials. Denim is made from cotton woven as a 3/1 warp-faced twill fabric, with a yarn-dyed warp and an undyed weft yarn. The pockets on denim products are typically reinforced with copper or steel rivets to increase durability.
HS Codes
Denim products encompass the following main product categories (HS codes):
62034231 Men's or boys' trousers & breeches, of denim
62046231 Women's or girls' trousers & breeches, of denim
61011010 Men's or boys' overcoats, car coats, capes, cloaks, anoraks (incl. ski jackets), windcheaters, wind-jackets and similar
61021010 Women's or girls' overcoats, car coats, capes, cloaks, anoraks (incl. ski jackets), windcheaters, wind jackets and similar
61031010 Men's or boys' suits, ensembles, jackets, blazers, trousers, overalls, breeches & shorts
61041100 Women's or girls suits, ensembles, jackets, blazers, trousers, overalls, breeches & shorts
42022100 Handbags, wallets & purses
42033000 Belts
42034000 Other clothing accessories
2 .

Key technical specifications  
Quality
Denim twill is made with two yarns – one dyed indigo, the other undyed. The indigo yarn is most visible on the outside and the undyed yarn on the inside. Many denim products have rivets to reinforce the stitching. Jeans are made from dark or raw denim, but most are washed or treated before sale. Over time, the indigo dye rubs off, giving denim products their typical faded look.
Pricing
Denim products are available in various qualities and price categories: high-priced luxury; upper middle-priced; middle-priced; low to middle-priced; and discount. You can read more about this in the section of this study on competition.
Colour and design
Dry denim can be identified by its lack of a wash, or 'fade'. It typically starts out as a dark blue colour. Denim was traditionally coloured blue with indigo dye: this is how blue jeans began. Nowadays denim is available in different colours. The most challenging colour is black. Creating a nice black colour usually requires chemicals that have been banned in Europe. You can read more about this in the section of this study on legislative requirements.
Denim has a very wide appeal. Some consumers choose denim because it is comfortable, durable and easy to wear, others like it because of its trendy, cool appearance. Because of its popularity, basic denim has been complemented with many kinds of fashion denims. These vary with the latest trends and developments in design and style. Examples include coloured denim, metallic denim, printed denim, jewel-tone finished denim and coated denim.
Materials
There are different production varieties for denim. Dry or raw denim, as opposed to washed denim, is a denim fabric that is not washed after being dyed during its production. To fixate the colour faster, washing denim is recommended.
After being crafted into an article of clothing, most denim is washed to make it softer and to reduce or eliminate shrinkage. In addition to being washed, non-dry denim is sometimes artificially 'distressed' to create a worn look. Today, jeans are mostly sold pre-shrunk and pre-worn.
Jeans are made out of 100% cotton, including the threads. Polyester blends are available, however the majority of jeans sold are 100% cotton (or 98% cotton and 2% elastane). The most commonly used dye is synthetic indigo. The belt loops, waistband, back panel, pockets, and leggings of a pair of blue jeans are all made of indigo-dyed denim.
Other features on jeans include the zipper, buttons, rivets, and label. Rivets were traditionally made of copper, but today most zippers, snaps and buttons are made of steel. Designers' labels tend to be tags made out of cloth, leather, or plastic, while some are embroidered on with cotton thread.
On today's market there are a lot of imitation indigos and denims. These look like real denims, but they do not change colour and shade after washing. Genuine denim becomes softer and more attractive after wearing.
Tips:
Think of different ways to tap into the strong, steadily growing denim market in Europe. In addition to manufacturing jeans, consider other – or even new – denim products, for examples bags or accessories.
Combine denim with other materials or add details such as rivets, buttons or embroidery to create a new style.
New developments
There are a lot of new developments going on in the denim market. Some examples:
Recycled denim: made partly from second-hand clothes or waste cuttings;
Laser finishing: using a laser machine to create a fashionable finishing, allowing many more trends to develop;
Organic denim: a technique in which the substance used for dying is organic and reduces the impact dyes have on the environment.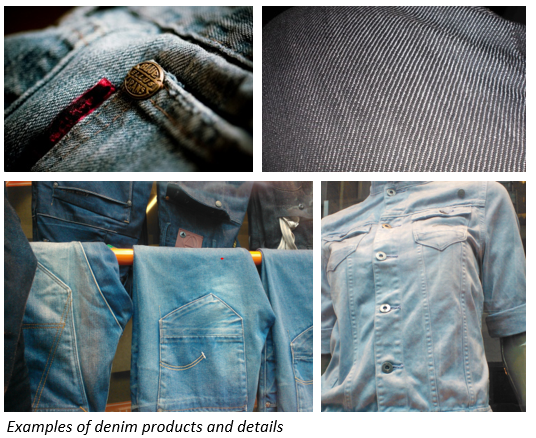 Tips
Keep in step with new developments and opportunities in recycling, finishing and organic dying. For example, find new uses for waste cuttings.
For more information on recycling and sustainability, see the section on this study devoted to those topics.
Manufacturing, dyeing and finishing
Unlike many other fabrics, denim is woven and dyed at one location. Dying is only applied to the warp yarns before the weaving begins; this is done with chemically synthesized indigo. The yarns are dipped in the indigo mixture several times so that the dye covers the yarn in layers. After drying the yarns are sized to make them stronger. Then the cloth is woven by inserting undyed weft yarns. The denim cloth is then cut into pattern pieces, which are then assembled into completed products.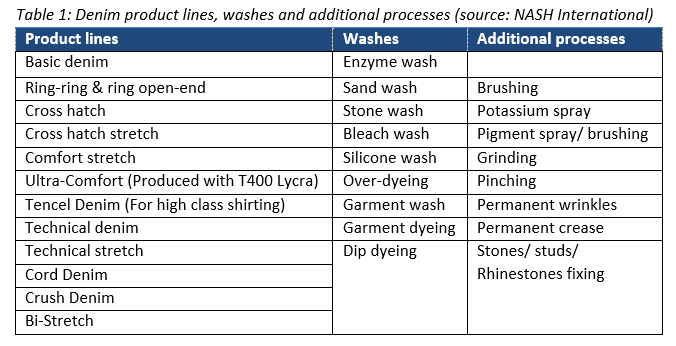 Prewashing and/or stone-washing or enzyme washing is used to alter the appearance or texture of the finished denim product. Prewashing involves washing the fabric in industrial detergent to soften it. Stone-washing, in a mixture that includes pumice, results in a faded look, as does enzyme washing. Other washing methods – many of them manual – include acid or ball washing. Mechanical grinding is also an option (see also Table 1). After finishing, the products are inspected and ready for transport.
Tips:
Inform your customer about the different washing techniques you can offer. The best way to do this is to send your buyer several pieces of fabric washed in different ways.
Consider washing or pre-shrinking as a way of making sure your final product matches the requested sizes and will stay in tolerance after washing.
Packaging
Products imported into Europe are subject to European packaging requirements. These requirements aim to promote the reuse of packaging and to reduce waste. Retailers are responsible for the way their products are packed for sale in shops, but they often ask suppliers to do this for them. Offering to meet their packaging requirements may strengthen your competitive position.
The fact that the dyes commonly used in denim are sensitive to the ultraviolet light poses a particular challenge in denim packaging. Too much exposure to daylight – either in the shop window, on the shelf or during transport – causes severe fading. One way to prevent this problem is to package your denim products in a UV-resistant polybag.
Different buyers will give you different instructions and preferences regarding packaging. These will usually cover the following aspects:
The dimensions and quality of the cardboard boxes in which you pack products;
The weight of the boxes (most buyers require a maximum weight of 15 kg for the sake of the health of the employees lifting the boxes);
Polybag format and quality;
The position of the bar codes and data on products, bags and boxes (many storage systems are automated, which means the bar code has to be in a specific position on product and packaging, or it cannot be read).
Tips:
Make sure your boxes are always full to prevent collapsing during transport.
Use a UV-resistant packaging to avoid discolouring as a result of exposure to daylight.
Find out as many details as you can regarding your buyer's specific packaging requirements and wishes.
Ask where to place bar codes and data in order to align with the buyer's processing and storage systems.
Look for ways to reduce and reuse packaging waste. If you can improve your performance in this area, use it as a selling point in communicating with buyers.
Do not use polybags that contain polyvinylchloride (PVC), as these are banned in Europe.
3 .

What makes Europe an interesting market for denim?
The European denim market is growing in volume and diversity
Europe is an interesting market for denim products because it is growing in volume and diversity. Also, the European market sets the trend for other markets in the world regarding quality, buyer requirements and styles. This means that if your denim products make it on the European market, your chances on other markets will also increase.
In 2014, Europe imported over 4 billion euros worth of jeans, over 8% more than in 2013, according to a study published by Texworld. Jeans and denim constitute one of the largest and most dynamic apparel segments in Europe. Growth has remained strong in recent years, despite economic troubles.  Between 2004 and 2014, European jeans imports doubled in volume (+99%) and more than doubled in value (+120.7%). Pricing rose by only 10.9% in the same period.
While denim faces competition from cheaper synthetic products, the denim market is expected to remain robust in Europe and even worldwide. Many sources in the textile industry – such as Just-style.com – believe denim will remain a dominant material in casual clothing in the years ahead.
This means there are good opportunities for denim producers in Europe. Sharp pricing is important. Product and design diversification are also good ways to get more business, as they will enable you to compete with other materials on more fronts.
Asian countries are the leading suppliers
The most important supplier countries for Europe's denim market in 2014 were Bangladesh (23%), Turkey (21%), China (16%) and Pakistan (14%). These four together accounted for 74% of European jeans imports in terms of value and 82% in terms of volume.
Tunisia (9%) and Morocco (4%) also played a significant role, but these Mediterranean suppliers, along with Turkey, are losing ground, while Asian suppliers are increasing their share. Bangladesh increased its share from around 10% in 2004 to 23% in 2014. Cambodia pushed its share in European jeans imports up from 0.1% in 2008 to 3% in 2014. Other Asian countries exporting jeans and denim to Europe are India, Vietnam, Sri Lanka, Indonesia and Thailand.
There are good opportunities for denim products from developing countries on the European market. According to this article in Sourcing Journal, countries with particular export growth potential in denim include India, Vietnam and Pakistan. More broadly speaking, Asia and also South America are expected to gain importance in denim production.
Germany remains the largest importer in Europe
The biggest denim importer in Europe is Germany, followed by Spain, the United Kingdom, the Netherlands, France and Italy. Germany's growth lagged behind the average European growth for denim, but because of its volume it remains an attractive market for suppliers from developing countries.
In Spain demand for low-cost, durable clothing is high
Spain imported 621 million euros worth of jeans in 2014, achieving an annual growth of over 15% since 2004. The Spanish market is especially interesting if you can supply cheap to mid-range jeans and denim. The reason for this is that the economic situation there is difficult and unemployment is very high (23.7%). This means demand for low-cost, durable clothing is high.
The Netherlands is often called 'the denim capital of the world'
Another interesting country for suppliers from developing countries is the Netherlands. With only 17 million inhabitants, this country is a large denim importer. In 2014, the Dutch imported 69 million pairs of jeans worth 525 million euros. The Dutch market is a strong re-export market. This means Dutch buyers resell denim to other European countries.
The Netherlands and its capital city Amsterdam are often referred to as the 'Denim capital of the world'. Levi's has its design studio there and Tommy Hilfiger and G-Star are headquartered in the Netherlands. The country also boasts the world's only Jean School. The average Dutch consumer owns 5.4 pairs of jeans (the highest in the world), and the market is forecast to grow moderately during the next 3 years.
Tips:
Look for markets in Europe that match your offer. For example, Spain has a growing need for low- to mid-priced denim.
When you do market research, do not just look for end markets in Europe, but also consider the possibility of re-exports. This means you sell your products to a European buyer who re-exports them to another (non-European) market. The Netherlands is particularly interesting in this respect, because it has high re-export levels and is also a leading denim developer.
Consider niche markets, such as extra-large denim sizes for overweight consumers.
For more general information, see our studies on channels and segments in the European apparel market and competition on the European apparel market.
4 .

Which trends offer opportunities in the denim market?
Sustainability is gaining ground
A key trend in the apparel industry is that the supply chain will need to become fully transparent in terms of sustainability. More and more buyers in Europe are including sustainability issues in their purchasing policies. This certainly applies to the denim market, as denim traditionally has a high environmental impact (see also the section in this study on Codes of Conduct and Consumer Labels).
The main environmental issues are water use and pollution; energy use; and chemical use. Examples of initiatives aimed at tackling these challenges include those of sustainable denim brands Kuyichi and Kings of Indigo. These brands focus on sustainable production. Kings of Indigo claims it has reduced its water consumption by 50-70% through washing its jeans with ozone and laser.
Innovative business models are also attracting interest. Mud Jeans' lease-a-jeans concept is a good example. The idea is that consumers lease a pair of jeans and return them when they are worn out, after which Mud Jeans recycles the worn out products into new ones.
Tips:
Find out what buyers in your segment expect in terms of sustainability and make sure you comply.
If you can, go a step further than the minimum requirements and make a strong sustainability performance a competitive advantage of your company.
If you still apply sand-blasting as a technique for treating denim products, find an alternative technique. Sand-blasting is prohibited in Europe, because of the health hazards it involves.
Try to adopt sustainable washing techniques: the more sustainable your approach, the more easily you will be able to target higher market segments and get bigger margins.
Look for other ways in which you can present your company as environmentally and socially aware and communicate these with buyers. Show them you are different from your rivals.
For detailed information on sustainability and standards prevalent in Europe and for tips on how to cope with these common requirements, see our study on buyer requirements on the European apparel market.
Building and workplace safety
Factory and building safety is another issue gaining more and more attention. This is because in the garment industry lives have been lost in factory fires and collapses that could have been avoided with the right precautions. The Accord on Fire and Building Safety in Bangladesh, signed in 2013, is a good example of how safety awareness in the garment industry has come to include fire and building safety.
Tips:
If you can, take measures to ensure the (fire) safety of your building or factory. Also, try and get certification for this aspect. It will give you an edge on competitors.
If you have taken good fire and safety measures, communicate this proactively with buyers. It may bring in more business and higher margins for you. Also, actively look for buyers to whom this is an important condition. Otherwise you may end up doing business with companies used to lower safety standards – and lower margins.
5 .

Online denim sales are growing rapidly

European consumers increasingly buy their clothes online and not just in physical shops. They also use the Internet and social media to follow trends and develop their own styles and preferences. For example, denim brand Madewell was praised for launching one of the most effective Instagram campaigns in 2014, involving their own staff, bloggers and editors of leading fashion magazines, such as Allure, NYLON, Elle, and Marie Claire.

Being active on the Internet and in social media is a must on today's market. But the growth of e-commerce does not mean Europe will no longer have offline fashion denim shops. The opposite is true: online commerce works best when combined with offline commerce.
Tips:
Ask your buyers which threats and opportunities they face regarding e-commerce and find out if you can help.
For more detailed information on the growth of e-commerce, see our studies on trends on the European apparel market and trends on the European footwear market.
Visit trade fairs to keep in touch with general trends on the denim market. These are the leading fairs for this segment:
6 .

What requirements must denim products comply with on the European market?
Legal requirements, common requirements and niche requirements
Buyer requirements can be divided into three categories: 1) musts, requirements you must meet in order to enter the market, such as legal requirements; 2) common requirements, or those you have to comply with in order to keep up with your competitors; and, 3) niche market requirements for specific segments.
Legal requirements: product safety, chemicals and labelling
There are many requirements your products have to comply with by law in order to be sold in Europe. The main areas they cover are:
Product safety;
Use of chemicals;
Labelling (there are specific rules for textiles).
Product safety
Europe's General Product Safety Directive basically states that all products marketed in Europe must be safe to use. The directive forms a framework for all legislation aimed at specific products and issues. Whether there are specific legal requirements for your denim product and its uses or not, the General Product Safety Directive always applies.
Chemicals and restricted substances
The European Union has restricted a great number of chemicals in products marketed in Europe. These are listed in the so called Registration, Evaluation, Authorisation and Restriction of Chemicals (REACH) regulation (Regulation (EC) 1907/2006). The rules laid down in this regulation are mandatory. If you do not follow them, you cannot compete in Europe.
Labelling
Textile products entering the European market have to be labelled. The label must include information about the fibre composition, using the fibre names laid down in European legislation. The purpose of these labelling rules is to ensure that consumers will know what they are buying.
The following information is common on apparel labels in Europe: care symbols (see below for more details), composition or fibre content (percentages of fibres used), size, country of origin (made-in). Additional information may include eco labels, labels for sustainable cotton et cetera.
Common requirements: care labelling, sizing standards and Codes of Conduct
In addition to the legal requirements you will face as a developing-country supplier exporting denim to Europe, you will also face requirements that are not mandatory, yet unavoidable.
Care labelling
Care labels attached to garments offering care and cleaning instructions are important to European consumers. Most European countries use the care labelling system of the International Association for Textile Care Labelling, GINETEX. This system uses easily recognizable symbols to recommend garment care. According to the GINETEX standards, your denim labels should include instructions on general care and warnings; washing; drying; ironing; and/or professional textile care (dry-cleaning).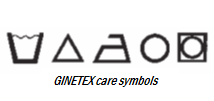 Tips:
Find out what your buyers want in terms of care labelling and follow their wishes as far as possible.
Do not forget that most consumers prefer machine-washable products. Dry cleaning only will limit sales.
Sizing
The sizing of clothes sold on the EU market tends to vary from country to country and even from store to store. This can be very confusing. The European textile industry is urging the European Union to lay down legislation on standard sizing.
Tips:
As long there is no legislation on sizing, use a recognised standard for clothes sizing. For example, if you serve the mainstream market, you can use the H&M size specifications as a reference. These will cover the biggest part of the market. If you export to just one country in Europe, make sure you take the size specifications used by a market leader in that country as reference.
Make sure you know the tolerances and measurement systems preferred by your buyers in order to prevent problems during development.
Buyers may want you to comply with their Codes of Conduct or with consumer labels
Part of the sustainability trend (see above) is that European buyers may expect you to comply with their Codes of Conduct. This can be an individual importer's Code of Conduct or one that is part of a broader initiative, such as the Business Social Compliance Initiative (BSCI), Fairwear or the Clean Clothes Campaign.
Consumer labels are labels used on the final product to show consumers that the product they are buying was produced in a socially responsible or environmentally friendly way. To be allowed to carry the label, producers must meet certain standards and are often audited by independent auditors.
Some consumer labels focus on a specific issue. For example, FairTrade deals mainly with social conditions, the EU Ecolabel covers environmental issues, Made-By aims at social and environmental issues and the Global Organic Textile Standard (GOTS) is an organic textiles label.
Another important label is OEKO-TEX. The OEKO-TEX standard consists of three types of certification for textiles. These address the effects of textile production processes on humans and the environment, and the effects of the textiles themselves – including the chemicals used to produce or dye them – on the health and well-being of consumers.
Tips:
Even if you specific initiatives are too demanding for your business at this time, make sure you do all you can to follow the sustainability trend, as it is an important part of keeping in step with the European market.
Implement practical measures aimed at reducing or minimising negative sustainability impacts of your operations.
Use the criteria you find in the certification schemes and Codes of Conduct mentioned by your clients as a source of information and inspiration.
7 .

What competition do you face on the European denim market?
Competition is growing in the denim segment
Competition in the denim market is comparable to that of the overall apparel market. The fragmentation of the apparel market, combined with a weak retail landscape in recent years, has increased rivalry. On the Dutch denim market, C&A has the largest market share in the low- to mid-priced segments, while G-Star and Scotch & Soda are leading in the upper middle price range.
Tips:
Increase your competitive strength by adding value to your offer. You can do this in many ways: developing a stronger sustainability performance, creating a more differentiated collection in terms of colours and designs or using innovative materials.
For more information on the kind of competition you face on the apparel market, see our study on competition on the European apparel market.
8 .

Through what channels can you get your denim products onto the European market?

Denim products are sold through the standard channels common to the apparel industry in Europe. As for segmentation, the denim market in Europe can roughly be divided into the following five segments, each with its own characteristics.
High price luxury segment
Market share 5%
Limited collections, made with special care, sometimes hand-made, high-quality materials
Highly fashionable collections, exclusively designed materials and artwork, trend-setting
Designer / brand name stands for exclusivity and fashionable clothing
Examples: Evisu, Atelier La Durance, Cerruti, Arnassalon, Marithe & Francois Girbaud, Drykorn, Aigle
Upper middle price segment
Market share 15%
Collections are produced after pre-sale; extra attention to fitting and accessories
Branded products, good quality materials, broad range of designs
Large variety of styles and materials, styles and fitting are vitally important
"Style lab" products in line with the latest fashion trends, experimental products
Examples: Pepe Jeans, Citizens of Humanity, Diesel, G-Star, KOI (Kings of Indigo) Blue Blood, Nudie Jeans, Mud jeans, Denham, Circle of Trust, Levis, Scotch & Soda, Kuyichi, Chasin
Middle price segment
Market share 30%
Collections are produced after pre-sale; good quality materials
Trend-following with highly varied assortment, branded products
Fashion feel and good fit are important, visible branding
Examples: LTB jeans, Vingino, Cars jeans, Meltin pot, Fornarina, Miss Sixty, Replay, Energy,
G-sus, Pall Mall, Tripper, 10 Feet, Vanguard, Il Dolce, 7 for all Mankind, Marco Polo, Wrangler, Geisha
Low to middle price segment
Market share 40%
Produced in larger quantities to lower the price, fancy fashion styles, less changes to patterns, fitting in-seam only 2 sizes
Medium to good fashion, basic quality materials, variety of denim washes
Collections less fashionable, but close to trends
Examples: C&A, WE, HEMA, Etam, Hennes & Mauritz, Zara, Mango, Topshop, River Island, Vero Moda, Villa, Jack & Jones, Shoeby
Discount segment
Market share 10%
Large quantities, fashion following, standardized fitting, standard denim washes
Close to trends only at low cost: price is the main argument
Examples: Primark (fashion), Zeeman, Aldi ( low end designs), Wibra
Tips:
Develop a clear market position before setting up distribution channels for your market. For example, some retailers attract younger consumers and some target older demographics. For high-end segments, your product quality must be in line with customer expectations. Minimum delivery volumes and terms of payment vary greatly; you have to request these on an individual basis.

Realise that the competition in the upper middle and middle price segments is intense. In order to differentiate yourself from competitors, consider offering excellent fit/model, the newest washings and coatings, the newest fabric compositions (warp weft, broken twills, space denim et cetera).

For more information on this topic, see our study on channels and segments on the European apparel market.
9 .

What are the end prices for denim products?

The price of jeans has not risen much in recent years. Between 2004 and 2014, the price increase was only 10.9%, a study published by Texworld shows. The average import purchasing price for jeans in Europe was lower in 2014 than it was in 2012. There was a slight rise in the period between: the price rose by 3.1% from 2013 to 2014, from 7.45 euros per pair of jeans to 7.68. One of the reasons for this moderate price growth is the weakened price of cotton.

The price range is quite large. The cheapest pair of jeans sold at 5.47 euros (import price), while the most expensive pair sold at 17.06 euros per pair.

Please review our market information disclaimer.