Through what channels can you get apparel onto the European market?
Primary tabs
Takes about 18 minutes to read
The European apparel market has a lot of different segments and niches. At the lower end, price, speed and volume are important and margins are low. The middle and upper segments are more specialised. They offer higher margins, provided you can deliver uniqueness, added value and extra services – for example, by expanding your pre-production services and trimming supply abilities. The more experienced and specialised you are, the higher you can climb on the market segment ladder.
1 .

Which European market segments should you target?

The apparel sector can be divided into six segments.

Figure 1: Segmentation in the European apparel sector

The low segment
If you can deliver high volumes at low prices, the low end may be a good segment for you to get started in Europe.
The low segment offers basic quality clothes at very low prices (€2–20) and in large quantities. These mass-market products are retailed by hypermarkets, outlets and discounters with 150 stores or more and also at street markets. Retailers in the middle-low segments – clothing chains, department stores, mail-order companies and independent retailers – offer medium quality items at a medium-low price in medium to large quantities.
Competition at the low end is extremely fierce. Order volumes range from 10,000 to 50,000 and from 50,000 to 100,000.
Examples: Lidl, Aldi, Zeeman, Kik.
The middle and middle-low segments
The middle segment offers medium to good quality in medium to large volumes; the middle-low segment offers medium quality, usually in larger volumes. The two segments have almost the same retail channels, except that independent specialty shops are rare in the middle-low segment.
In the middle segment, quality and volume requirements are higher: typical middle-low order volumes range from 5,000 to 30,000, while middle segment order volumes range from 1,000 to 10,000. Prices range roughly from €20–120 in the middle-low segment to €50–200 in the middle segment.
Examples: Primark, H&M, Lefties, Terranova.
Tip:
Move from low to middle-low or middle in order to trade up. To succeed, you have to work on refining your offer and ensuring you stand out from the mass of other low-end suppliers.
The upper-middle segment
In the upper-middle segment, independent specialty shops and luxury department stores with roughly 25–30 stores offer good quality garments. Unique standard products are produced in small to medium-sized quantities that are not particularly season-based.
This segment relies on designers, but lesser-known ones.  Order volumes here are smaller than in the segments below this one, ranging from 1,500 to 4,500. Prices can range from €100–500.
Examples: We Fashion, Zara, Jack & Jones.
Tips:
Aim for this segment if you can meet the quality and design requirements. The fashion cycles here are slower than in the higher segments, giving you more time to deliver high quality.
Research the competition in this segment, so you can find out how to distinguish yourself. Because price pressure is lower here than in the lower segments, you will have competition from European manufacturers.
The high-end segment
At the high end, prêt-à-porter and haute couture designers mostly sell exclusive and unique top-quality garments through their own shops and channels as well as through designer and independent specialty shops. They work with exclusive international designers and brands.
Prêt-à-porter prices range from €120–1000, with order volumes at around 500–1500. In the haute couture niche, prices start at €1000 and order volumes may be as low as 300.
Examples: Galeries Lafayette, Chloé, Joseph.
Tip:
Aim for small orders in this segment if your company has outstanding technical skills and can meet strict requirements in terms of quality, delivery service and design. The high end is very difficult to access as a supplier from a developing country.
2 .

The best opportunities are in the middle segments

If you are a small or medium-sized exporter from a developing country, the best opportunities lie in the middle and upper-middle segments. In these segments, good quality and well-priced garments are offered by independent specialty shops, fashion retailers, brands and luxury department stores.

One advantage of doing business with independent shops is that it does not involve extensive supply chain processes. Also, the quantities required are low to medium and delivery times are often reasonable.
Tips:
Work on a clear offer: consistent quality, service and prices and distinct collections. Fine-tune this package with your buyer so you are sure you are delivering what they want.
Develop a strong relationship with your buyer. This is good for them and for you. Talk and listen to them, understand their needs and wants – and those of their customers – and adapt your offer accordingly.
Be a problem solver. If you anticipate problems in the market, bottlenecks in production or delivery or any other challenges, be proactive and work hard to resolve them. This will impress your buyer and make you stand out from other suppliers.
3 .

Large retailers are gaining control, small retailers have to specialise

Buyers can be divided into many categories. Small retailers, such as boutiques, have only one sales point, or maybe a few more. Large retailers, such as clothing chains and mail-order wholesalers, have many sales points. More and more, large retailers are controlling the supply chain. Independent retailers – for example, mono-brand and multi-brand retailers – are having difficulty competing with them.
Tips:
Independent, smaller buyers are an interesting target for you as a small or medium-sized exporter from a developing country. You must have experience on the European market to supply to this segment.
If you are a new market player, you should try to gain experience catering to larger retail chains. The margins there are low, but you will learn a lot and be well prepared should you decide to turn your attention to niche markets.
4 .

Different segments dominate different European countries

The different countries across Europe are characterised by different kinds of buyer categories. Hypermarkets are prevalent in France, while specialty shops are stronger in southern European countries than in most northern countries. Department stores are relatively important in Germany and the Netherlands, but their position is under pressure.
Tips:
Realise that Europe is a mix of many different countries, each with its own culture and market structure. The best way to familiarise yourself with the differences is to visit the European countries you want to do business with.
If you can arrange a visit, make appointments with as many different players in the market as you can, from buyers to traders, importers and CBI market experts.
For more information on different cultures in different European countries, see Businessculture.org, a website that offers free business culture guides (as part of a project funded with support from the European Commission).
For more information on legislation, buyers' demands and how buyers address these demands in contracts, see our studies on buyer requirements on the European apparel market and on how importers list their buyer requirements in contracts.
5 .

Brands offer higher margins, but you have to have a sample room

Brands are another category of buyers. They exist in different segments from mid-market to high-end. Brands work differently to retailers. For retailers one sample item is often enough to place an order, but a brand will want a salesmen sample (SMS). These are samples you have to make (often for a fee of FOB x 1.5 or 2) before the brand places an order. With these samples, the brand's salesmen go and collect orders that will then be placed with you as a supplier.

This way of working has its advantages. One is that you have approval from the buyer before producing samples. Another is that once an order has been placed you can immediately begin production. Also, you will enjoy higher profit margins than you will in retail. The downside is that you have to have a sample room in order to serve these clients. This is often a pricy investment.
Tips:
Adopt your distribution strategy per target market, as each and every segment in each country requires a different approach.
Be aware that each segment and country has its own ways of communication and marketing.
Study the differences between channels and segments and the companies that operate there and find the best match for your business.
Visit trade fairs in Europe to familiarise yourself with trends, segments, buyer behaviour, country differences and more (for more trade fair information, see our study on finding buyers).
For more information about segment-specific trade fairs, see our studies on specific apparel segments, such as denim or children's wear.
For more information on general market trends, see our study on trends on the European apparel market.
6 .

Through which channels can you get apparel on the European market?

Figure 2: An overview of apparel channels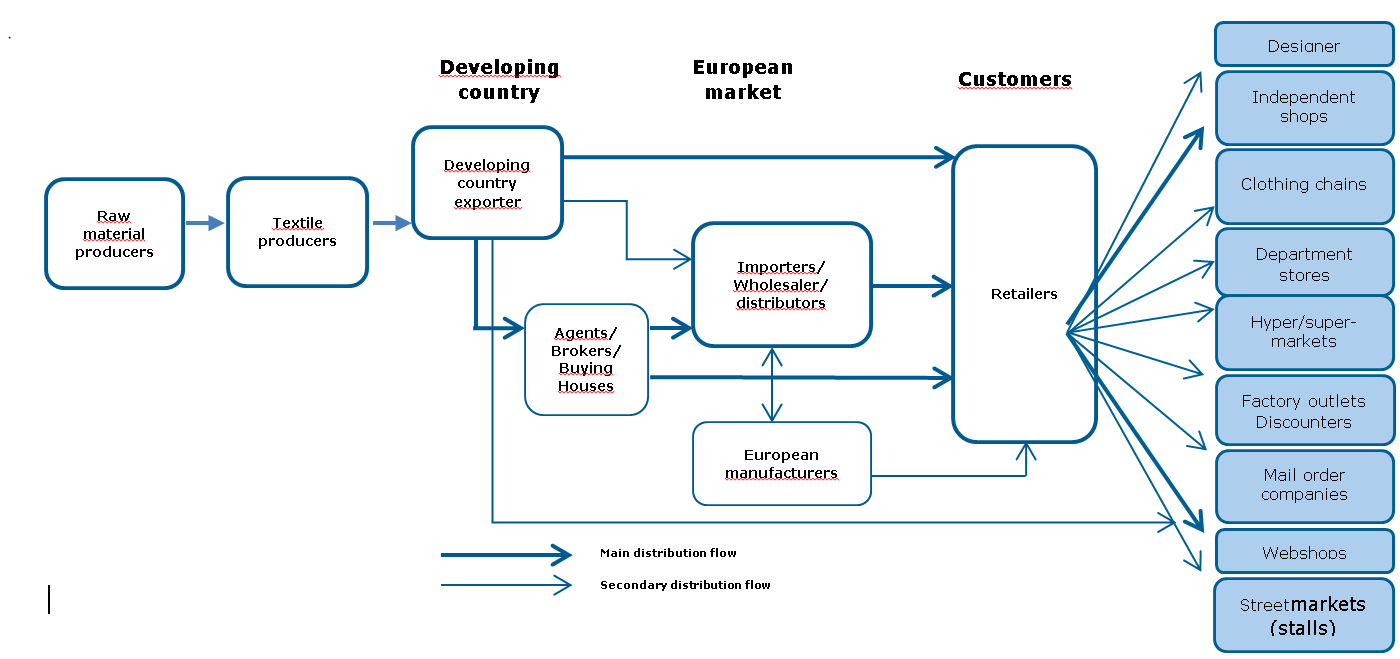 7 .

Different ways of reaching European buyers

The most commonly used channel in Europe is that of specialist apparel retailers. In most European countries this channel accounts for 40 to 60% of distribution. Non-store retail, for example online and through direct selling, is the second largest channel, taking 10 to 20% in most countries. The share of online is growing (see also point 10). Hypermarkets and supermarkets, along with specialist retailers in leisure and personal goods, also account for up to 10%.

There are different ways to reach the European apparel market as a supplier from a developing country:
Indirectly, through an agent, broker or buying house in your country or region;
Indirectly, through a European importer, wholesaler or distributor;
Directly, through a European retailer;
Directly and indirectly, through your own web shop or an online trading platform.
8 .

Working with representatives, distributors or wholesalers can give you a good start

If you want to start in a new European market area or niche, it may be a good idea to begin with a representative. This person knows the market and the buyers, so you don't have to invest heavily straight away. All you do is agree to pay a commission for any orders that are placed. The disadvantage is that the representative will want a percentage of 3-5%, which will make you more expensive as a supplier.
Tip:
Work together with your partners in the value chain, as this is vital to being able to serve your target group effectively. Together, you can come up with new services. And if you team up with specialists near you, you can create attractive sourcing hub for buyers. You will also benefit from each other's channels.
9 .

Direct trade with retailers and chains is a growing opportunity

There are growing opportunities for you to sell (more) directly to buyers in Europe. This means cutting out agents, distributors, importers and/or wholesalers. More and more department stores, other large retailers and apparel chains are doing this. Vertical integration and 'fast fashion', along with demand for faster and more flexible product delivery, are driving direct trade.

This 'disintermediation' does not just result in a faster, more flexible supply chain, it also cuts costs. And it means the buyers can get as involved in production as they want to.

A direct approach means higher margins, as no intermediary agents are involved. It can also give you more first-hand market insights. This will help you keep up with European developments.

It can also have disadvantages. For example, you may have to spend more money on distribution, promotion and sales activities. If you use an indirect trade channel you will have lower margins, but also low marketing and distribution costs – and possibly higher sales volume.
Tips:
Depending on your product portfolio and production capacities, consider approaching European retailers directly. Think, for example, of department stores, big apparel chains and multi-brand apparel chains.
If you do this, make sure your presentation, your proposition and the organisation behind them are in tip-top shape. If they are not, it will be difficult, if not impossible, to get a second chance.
Work on every aspect of your offer: product uniqueness, pricing, marketing, organisation et cetera and prepare a strong, credible and realistic marketing message.
Make sure you include all costs (including marketing and sales costs) in your pricing calculation.
10 .

Online sales channels are growing

Online shopping is growing in Europe. When consumers order a product online, the brand owner delivers it directly. This can be through a pick-up point, home delivery or a drop shipment at a marketplace or e-fulfilment centre. Home delivery is the fastest grower.

The share of online shopping is smaller in southern European countries than it is in the north of Europe. The importance of e-commerce will keep growing./

The growth of online sales in Europe will have growing implications for you as a supplier. For example, your buyer may require different packaging, or greater volume flexibility.
11 .

Factory-to-consumer sales are interesting, but still challenging

In some cases you can sell directly to retailers or even final consumers. Consumers in Europe are certainly open to this option. They are familiar with online shopping and the Internet reduces the distance between consumer and manufacturer.

Selling directly to consumers through your own web shop is a possibility, but consumers in Europe may never find you. Findability is difficult for small to medium-sized companies on a global market. Even if they can find you, consumers may not feel they can safely make a purchase, as they know nothing about you.

Another way to sell directly to customers from your factory is via a collective buying site. Groupon, for example, offers online platforms where manufacturers can present their goods to consumers who want to buy the same item as a group. That way they pay less. One advantage for you as a supplier is a higher margin. But distributing directly to consumers in Europe can be troublesome, as return shipments may result in extra costs and logistical problems.

Most online purchasing from the manufacturer happens on big web platforms such as Alibaba and AliExpress. These are gaining popularity in Europe, especially among young people seeking cheap products. These platforms can be a good place for you to start experimenting with online sales. They are well-known and they have a good distribution network.
Tips:
For more information on e-commerce and social media, see our study on trends on the European apparel market. This study contains a lot of information on how e-commerce is affecting business and how you can benefit from it. It also deals with the pros and cons of trading on existing consumer platforms, like Alibaba.
Talk to your buyers about their experiences and ambitions with regard to e-commerce. They may need different kinds of packaging, logistics and software solutions. Try to help. Be prepared for the directions your clients will be taking.
As you become more visible to consumers online, invest more in marketing and, possibly, in branding. Invest in your website, and make sure to adapt your product presentation and communications to your target groups. In addition, be sure that your website can be viewed on mobile devices.
Take time right away to invest in meeting the Business to Consumer (B2C) challenge. Among other things, this means faster production and delivery, smaller but far more frequent orders, and more focus on individual items rather than entire collections. The future importance of e‑commerce cannot be understated. If you fail to integrate your business in the (online) logistical processes of European buyers within the next few years, you are likely to lose business.
12 .

In the lower segments, speed is important

Many European buyers are looking for faster deliveries from low-cost countries. Of course, flying your products to Europe will save you a full three weeks of time, but it is also expensive. There are several alternative ways of speeding up deliveries.

The approval process prior to the production of fabric and products takes a lot of time. If you can get your quality, colours and fit approved at the beginning of the season, you can consider keeping stock fabrics that will be readily available on demand the moment the buyer places an order.

This option can save you a lot of time – up to two months. Another advantage is that it involves a long-term arrangement with the client, in which sales are guaranteed. So there is a sense of mutual dependency and continuity. However, there is always the risk that buyer pulls out and you are stuck with the stock.

Another time-saving option is to lay up stock in Europe, allowing your buyers to quickly access it. This option does require a sales guarantee. The advantage for your client is that he will not have to reserve capital for holding stock (which often involves large volumes of basic products). The risk for you as supplier is that the products may not all be purchased from you in the end. This is quite a big risk, as these styles often feature the buyer's brand name, which means they will be difficult to resell.

A trend that is growing strongly at the moment is to finalise production in Europe. Chinese companies, especially, are working on a system in which the half-finished product is delivered from Asia and then finished in Europe – according to buyer wishes. This approach creates greater flexibility and also increases the speed of delivery and response to trends in the market.
Tip:
As a supplier you can speed up production and delivery in many ways. You can also choose to avoid the speed trend, aiming for slower niche market. For more ideas and insights, see our study on trends on the European apparel market.
13 .

Sales through non-apparel channels can offer interesting quick wins

Garment sales through channels not related to the apparel industry are growing. Think, for example, of supermarkets, petrol stations, building companies or restaurants. More and more of these companies are selling clothing.

These non-apparel retail concepts have a lot of visitors, which means their turnover rates are often high. Their goal is to sell large amounts in a relatively short amount of time. A successful example of this in Europe is supermarket chain Lidl.
Tip:
Selling batches of basic, unbranded goods to non-apparel retailers can yield quick wins. They usually involve low margins, large volumes and fast turnover. The downside of selling to these channels is that they offer very little continuity.
14 .

Agents, sales offices, in-house sales and marketing

Whichever segment you aim for in Europe, the most important thing is to understand your customers and your market's characteristics. This process of opening up new markets and reaching new customers requires focus and dedication. There are several approaches to making it more doable.
Find a local agent
As each European market or segment has separate requirements, it can be helpful to find a person living in the area who is familiar with these requirements and who can open doors for you in exchange for a percentage of each order sold.
The work of these agents is increasingly challenging: opening doors to new buyers can take many months or even years of constant visits and contacts. For this reason many agents now require a fixed monthly fee to compensate expenses in addition to a percentage of sales. This explains why traditional agency work is losing ground.
Open a sales office in Europe
Sales and marketing costs time and money, but can be the difference between profit and loss. Investing in sales training of your staff is an important way of ensuring you offer customers realistic products and agreements. Starting a sales office in Europe can be an important part of this.
A strong salesperson understands the market, has the ability to open doors and can also sit down with your buyer to discuss current problems and push for development. He or she also recognises the possibilities and challenges you face as a supplier.
If you start a sales office in Europe, remember that the wages and expenses of staff living and working in Europe will be much higher than they are in developing countries.
Another option: connect with buying offices in your own location
More and more European businesses are opening up offices near their manufacturers in supplier countries. If your buyers are doing this, make arrangement for selling from your own office, especially if you feel confident your staff can handle sales and marketing well.
If you take this approach, do not make the mistake of focusing your sales efforts exclusively on the buying house near you, but keep in touch with your customer's head office in Europe, too – even if its local buying office discourages you from doing so.
Realise that selling to a buying house in your own location may not always be cheaper than finding a European agent or starting a European sales office, as you will still incur travel and other expenses in order to keep in touch with Europe.
Marketing
Many manufacturers neglect their marketing, counting instead on one-on-one contacts with buyers. In today's apparel market, marketing is important for every player, including small suppliers in developing countries. It means promoting your organisation and trying to open sales doors, but also building a good image.
Many end customers want to know about the factories supplying their clothes, not just about the European brands designing and selling them. Creating brand awareness for your organisation is a good way of feeding this need for transparency. Showing the world what your company stands for and promoting your organisation online and offline are an essential part of business development. It will lead you to new sales opportunities and help your business and profits to grow.
A good example of a developing country supplier that illustrates this practice is Ha-Meem Group from Bangladesh.
Please review our market information disclaimer.